Name

Darren Callahan





Role

Playwright







Books

The White Airplane & Horror Academy: Two Plays by Darren Callahan
Darren callahan stage play under the table chicago festival
Darren Callahan is a Los Angeles-based film director, playwright, novelist, screenwriter and musician whose primary works include The Audrey Green Chronicles, City of Human Remains, The White Airplane & Horror Academy: Two Plays by Darren Callahan, the three-play cycle about Hollywood entitled Beautiful Women in Terrible Trouble, the films Under the Table and Children of the Invisible Man, Twin Cinema (short stories and essays), the 20-volume set The Collected Screenplays of Darren Callahan (Battery Filmtext), and the 12-album discography of Travel, a noise rock band featuring poet Matt Hart.
Contents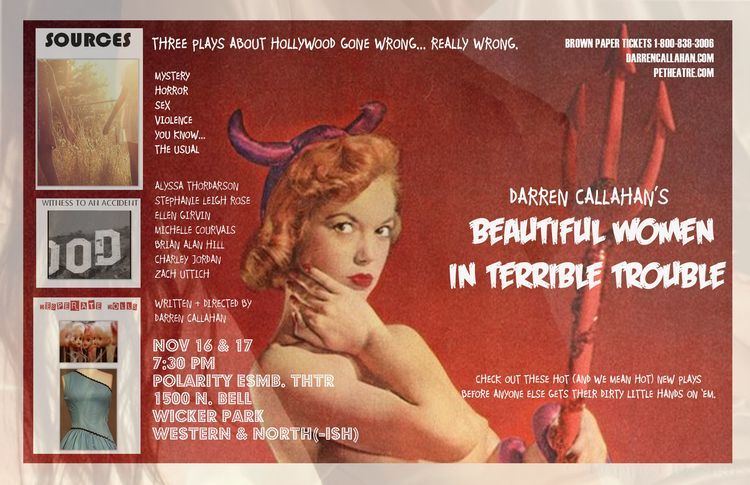 His work has been reviewed and interviewed in the Chicago Tribune, Chicago Reader, Dayton Daily News, Time Out Magazine, Chicago Examiner, Daily Herald,Metromix, and the Chicago Sun-Times.
His plays have been produced by Chicago's Strawdog Theatre, Babes With Blades, Polarity Ensemble Theatre, Chicago Dramatists, Breadline Theatre, Stage 773, PROP THTR, and City Lit. Chicago Reader named him Critics Choice for his novel The Vanishing of Archie Gray (2004).
He is the author of several produced radio dramas, including Uncle Ant (1997), The Death Guard (2000), The Tokyo Tourist Bureau (2005), The Wave (1998), and Carnival of Spies (2001) as well as the audio book The 30 Day Baby Company.
He is president and founder of Phantom Soundtracks, a U.S.-based recording company that only releases soundtracks to nonexistent films. The exception is the release of the soundtrack of the film Chrysalis (later named Battled Apocalypse) (2014) and Cry It Out (2017), two scores by Darren Callahan.
In 2012, he wrote, directed, and composed the score for Glass City Films' production of Under the Table, a horror movie.
In 2014, his play Desperate Dolls was produced and caused a significant controversy due to the violent and sexual content. The play was reviewed by the Chicago Tribune, Chicago Reader, Windy City Times, Gapers Block, Stage and Cinema, LA Splash Magazine, and The Independent.
In 2015, he produced the film Chat Room, directed by Emily Bennett. That year also saw the re-release of 1993's debut album from his pop band, OO OO WA, entitled Screen Kiss, as well as the release by Trouble Press of a collection of 31 fiction and non-fiction pieces, entitled Twin Cinema.
In 2016 and 2017, Battery Filmtext of LA began publishing a multi-volume series highlighting Callahan's exploitation screenplays. The set includes Documentia, Kiss Me with Blood, Red Park Road, Nerves, Weird Double Features (with Desperate Dolls and I Am An Agent), Summer of Ghosts, Afterschool Specials (with Scott Carson & Susan Rose, Turn Signals, Under the Table, and Lesbian Pornographic Feature Film), Terror/13, The Battle For Carlyle, All These Devils, Sexxina, Schoolgirl Sweethearts, Dead Stranger, 16MM Accident Film, All These Demons, Salamander Lake, The Judy Solution, Conventioneers, and The Airship. He also scored the horror film Cry It Out, about haunted baby monitors, and contributed to articles about the legacy of David Bowie for The Federalist and other publications.
Darren callahan s under the table short film
References
Darren Callahan Wikipedia
(Text) CC BY-SA