Philippines


118.64 km2


Bicol




2nd district




June 12, 1772




Gerry R. Jaucian




Bicol University – Daraga, Immaculate Conception College Albay, Ago Medical Educational Center



Daraga is a first class municipality in the province of Albay, Philippines. According to the 2010 census, it has a population of 115,804 people. It is home to the landmark Cagsawa Ruins.

The Municipality of Daraga is located in the southwest portion of Albay Province along the Maharlika Highway, making it accessible from Manila and the Visayas, as well as the other municipalities of eastern Bicol Peninsula. It is roughly "boot-shaped", with the "tall" part ranging 13.05–13.25° north latitude and 123.66–123.73° east longitude and the "wide" part ranging 13.02–13.09° north latitude and 123.56–123.71° east longitude. It is bounded on the north and east by Legazpi City, on the south by the Province of Sorsogon (particularly the municipality of Pilar), and on the west by the Municipalities of Camalig and Jovellar.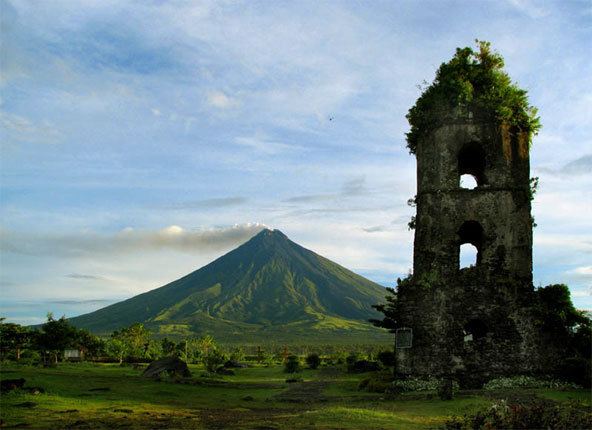 A land-locked municipality, Daraga has a total land area of 11,860 hectares (29,300 acres). This is about 4.70% of the land area of Albay Province. This municipal land area is distributed among the present 16 urban barangays and 42 rural barangays. The urban barangays total 1,500 hectares (3,700 acres) (12.65%) and the rural barangays make up the remaining 10,360 hectares (25,600 acres) (87.35%) of the total municipal land area.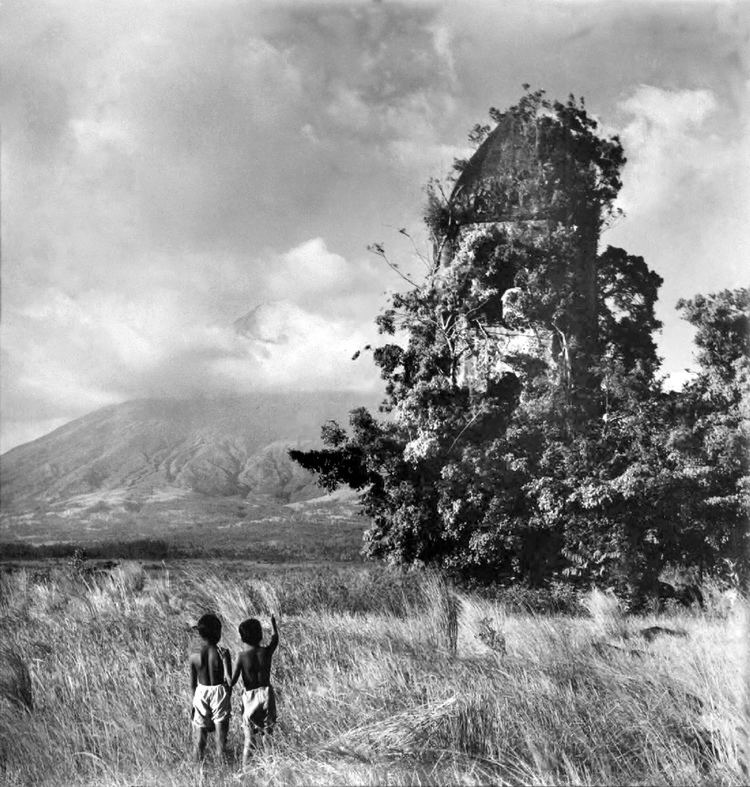 The word "Daraga" historically refers to a maiden; it is the local term for an unmarried woman, not only in the municipality of Daraga, but in the entire Bicol Region. The original settlement of Daraga dates back to 12th century, but it has changed location repeatedly due to the constant threats posed by Mayon Volcano, adopting the names Budiao, Cagsawa, Locsin, and finally, Daraga.
Daragas economy, originally agriculture-based, has rapidly transformed into an emerging urban system, benefiting from the economic opportunities of being located contiguously with the urban center of Legazpi. It draws trade relations with the island province of Masbate through the nearby Port of Pilar.
Its existing tourist spots/attractions are the Cagsawa Ruins and Resort and Our Lady of the Gate Parish.
Cagsawa Ruins and Resort is located in Barangay Busay. Its prominent attraction is the Belfry of the Cagsawa Church which submerged in mudflow during the February 2, 1814, Mayon Volcano Eruption and killed 1,200 people. The site is presently developed and complete with facilities for rooms, lodging and food, toilets/bathrooms, stalls for native products /ornamentals, restaurant/eateries, telephones and administration office significant number of foreign and local tourist visit the site all year round and realizes a sizeable profit.
The Our Lady of the Gate Parish was constructed in 1773 atop Sta. Maria Hill in Brgy. San Roque and is uniquely known for its rich baroque architecture.
Daraga, Albay Wikipedia
(,)https://c1.staticflickr.com/7/6212/6314376348_971da7e8d6_b.jpg(,)http://upload.wikimedia.org/wikipedia/commons/0/08/CAGSAWA_RUINS.jpg(,)http://upload.wikimedia.org/wikipedia/commons/4/48/Oldcagsawapi2.jpg(,)https://c1.staticflickr.com/3/2851/10452718433_352a9eb72a_b.jpg(,)http://travelalbay.com/wp-content/uploads/2011/05/1890print_mount-mayon.jpg(,)https://c1.staticflickr.com/9/8463/8427964097_f53bd38f40_b.jpg(,)http://www.lakwatseradeprimera.com/wp-content/uploads/2011/08/Daraga-Church-1.jpg(,)http://4.bp.blogspot.com/-kSi7v4eVCV0/Uxn5qAjkW4I/AAAAAAAADms/vduKB2BZ08E/s1600/DSC_0960.JPG(,)https://farm7.staticflickr.com/6228/6245358261_584325651c_s.jpg(,)https://thejoysofjourneying.files.wordpress.com/2013/01/daraga_church_magicmadness.jpg(,)https://c2.staticflickr.com/6/5342/9867474773_7871e26952.jpg(,)http://img.scoop.it/0UGuwPEP0ZVT8Umg4qxzMDl72eJkfbmt4t8yenImKBVvK0kTmF0xjctABnaLJIm9
(,)http://farm5.static.flickr.com/4119/4751447603_63597ba5f2_t.jpg(,)http://tourism-philippines.com/images/nature8.jpg(,)https://traveltripph.files.wordpress.com/2015/02/2338254_orig.jpg%3Fw%3D1180(,)http://farm5.static.flickr.com/4074/4751447713_312abdfe48_s.jpg(,)https://c1.staticflickr.com/5/4084/4971153792_e39b5c921a_b.jpg(,)http://www.fmfotography.com/img/s4/v63/p1333311784-3.jpg(,)http://cache3.asset-cache.net/gc/530017237-philippines-daraga-albay-barangay-busay-gettyimages.jpg%3Fv%3D1%26c%3DIWSAsset%26k%3D2%26d%3DqA%252B7pRKsRn7f8ptzIWD74o319unKn8O9ZWD7y8qbmvLP3SUk6ZGZltjyehByH8Mc(,)http://cache1.asset-cache.net/gc/530017239-philippines-daraga-albay-barangay-busay-gettyimages.jpg%3Fv%3D1%26c%3DIWSAsset%26k%3D2%26d%3DSa4W6YIxYNzYw4xrte7Bl2UniF8xw1b2BMfsOLuUJUtdhR394GAyNlcJH6kb2piv(,)http://40.media.tumblr.com/tumblr_m3suu7n3xh1qg0d6yo1_500.jpg(,)http://mw2.google.com/mw-panoramio/photos/medium/52654881.jpg(,)http://treasuresoftheinternet.org/philippines/photos/estan/estan_12638222_a74ab4a999.jpg
(,)http://images.gmanews.tv/v3/webpics/v3/2014/05/2014_05_25_21_22_39.jpg(,)http://2.bp.blogspot.com/-4VtAzPi8dZ4/UDRFSrxEkII/AAAAAAAAAuI/NSm6VmttQ30/s1600/picture2life_32045_original.jpg(,)http://balikbayanmag.com/wp-content/Cimy_Header_Images/0/2SeafoodCuisineAtMariventCafeinLasCasasFilipinasDeAcuzarBataan.jpg(,)http://static.rappler.com/images/ls-pics-albay-1-2012-july-09.jpg(,)http://media-cdn.tripadvisor.com/media/photo-s/02/8e/55/43/balay-cena-una.jpg(,)http://www.nsobicol.com/albay-tourism-stat/food%26dining/1st%2520Colonial%2520Grill/colonial_grill_wqt.jpeg(,)http://legazpi.gov.ph/wp-content/uploads/2014/11/leg_dar.jpg(,)http://farm3.static.flickr.com/2717/4199698104_ff40298a4c.jpg(,)http://i.ytimg.com/vi/P518B1MG32s/hqdefault.jpg
(,)http://wowlegazpi.com/wp-content/uploads/2009/02/Cagsawa-Ruins.jpg(,)http://2.bp.blogspot.com/_3QopYmqMXLU/Sz7fDmoLSCI/AAAAAAAABw0/EILTQTHV9hA/s1600-h/DSC09379sm.JPG(,)http://vigattintourism.com/assets/article_main_photos/optimize/1347082740Q0EUpEBw.jpg(,)http://img132.imageshack.us/img132/2066/corangonisland2ae6.jpg(,)http://vigattintourism.com/assets/article_main_photos/optimize/1343209036dIIGBCNb.jpg(,)http://www.traveltothephilippines.info/wp-content/uploads/2012/10/Albay-Mayon-Volcano1.jpg(,)http://motivestravels.com/wp-content/uploads/2013/08/Daraga-church-Albay.jpg(,)http://3hb16247e7cw396nr92x2pjx78n.wpengine.netdna-cdn.com/wp-content/uploads/2010/11/misibis.jpg(,)https://thejoysofjourneying.files.wordpress.com/2012/12/12211_3453246670102_1826809700_n.jpg(,)http://vigattintourism.com/assets/tourist_spots_photos/optimize/1343458234TiXDpmH7.jpg(,)http://vigattintourism.com/assets/tourist_spots_photos/optimize/1347244896spLF3gVo.jpg(,)http://www.lakwatsero.com/wp-content/uploads/2011/11/albay1.jpg(,)https://c1.staticflickr.com/9/8371/8551226734_4625cf0dee_z.jpg