Preceded by

District created




Preceded by

William C. Cramer




Education

University of Miami




Succeeded by

Harry Johnston




Succeeded by

J. Herbert Burke




Party

Democratic Party




Preceded by

District created




Name

Dante Fascell




Books

Fascell on Cuba




Succeeded by

E. Clay Shaw, Jr.




Role

American Politician








Died

November 28, 1998, Clearwater, Florida, United States




Awards

Presidential Medal of Freedom




Similar People

Ander Crenshaw, Bill Posey, Dennis A Ross, Ted Deutch
Dante fascell present 1 3
Dante Bruno Fascell (March 9, 1917 – November 28, 1998) served as an American politician from the state of Florida.
Contents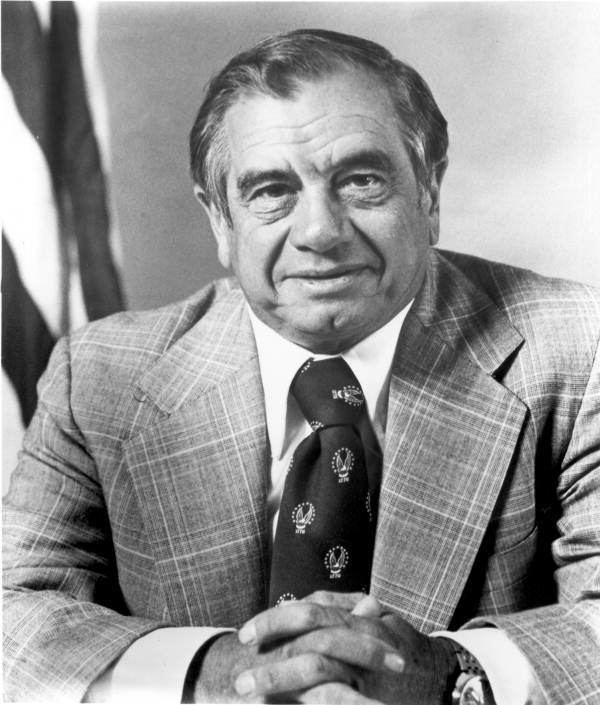 Early life
Dante Fascell was born in Bridgehampton, New York. In 1925, his family moved to Florida. In 1938, he graduated from the University of Miami School of Law. Fascell was a brother of Phi Mu Alpha Sinfonia Fraternity and the Kappa Sigma Fraternity. While a University of Miami law student, Fascell was inducted into its Iron Arrow Honor Society, the University of Miami's highest honor.
Fascell served in the Florida National Guard during World War II, serving in the African, Sicilian, and Italian Campaigns.
Political career
Fascell's constituents elected him to the Florida House of Representatives in 1950. In 1954 he was elected to the U.S. House of Representatives as a Democrat in a district representing Dade County, Florida. Fascell refused to sign the Southern Manifesto in 1956. Fascell began as a supporter of the Vietnam War, but he soon spoke out against the war. Fascell cosponsored the War Powers Act of 1973 and he won aid for Cuban-Americans who had settled in his district. He served as the chairman of the House Committee on Foreign Affairs from 1984 to 1993. He worked to repeal the Clark Amendment, allowing the U.S. government to send aid to UNITA rebels in Angola, as a partner in the Black, Manafort, Stone and Kelly lobbying firm.
Fascell worked to champion the creation of Biscayne National Park, south of Miami. It was signed into law by President Lyndon B. Johnson in 1968. The visitor center in the park is named after Representative Fascell. Similarly, a public park located in South Miami is named for him. The Dante B. Fascell North-South Center Act of 1991 established the prestigious think-tank at the University of Miami.
During the time between 1981 and 1988, Shirley Mae Albertus was Fascell's administrative assistant.
Fascell retired from the House after his 19th term ended in 1993. When President Bill Clinton took office he proposed to nominate Fascell as the United States Ambassador to Italy, however Fascell declined for family reasons as he had developed colorectal cancer. On October 29, 1998 Fascell was presented with the Presidential Medal of Freedom by President Clinton. He died the following month from colorectal cancer, at the age of 81.
Works or publications
United States. Congress. Commission on Security and Cooperation in Europe; Fascell, Dante B. (1977/), Basket III, Implementation of the Helsinki Accords, Washington: U.S. G.P.O., OCLC 70310979
Combatting International Terrorism : the Role of Congress, 1986, OCLC 769294159
United States. Congress. House. Committee on International Relations; Fascell, Dante B. (1976), Commission on Security and Cooperation in Europe ... : Report to Accompany S.2679, Washington: U.S. Govt. Print. Off., OCLC 2236258
Fascell, Dante B. (1987), Congress and Arms Control, OCLC 847013401
United States. Congress. House. Committee on Foreign Affairs; Fascell, Dante B. (1961), Establishment of the Caribbean Organization : Report to Accompany H.J. Res. 384, Washington, DC: U.S. G.P.O., OCLC 35624037
Fascell, Dante B.; Suchlicki, Jaime (2001), Fascell on Cuba : Selected Speeches and Statements on the Cuban Revolution, Fidel Castro and U.S.-Cuban Relations, Miami, Fla.: Institute for Cuban and Cuban-American Studies, University of Miami, OCLC 46461428
United States. Congress. House. Committee on Government Operations; Balderston, C. Canby; Martin, Wm. McChesney, Jr., 1906-; Mitchell, Geo. Wilder, 1904-; United States. Congress; Farrell, John R.; Fascell, Dante B. (1966), Federal Reserve System--check Clearance Float Hearing Before a Subcommittee ... 89th, 2nd Sess. February 9, 1966, Washington: U.S. Govt. Print. Off., OCLC 21217645

CS1 maint: Multiple names: authors list (link)
United States. Congress. House. Committee on Government Operations. Legal and Monetary Affairs Subcommittee; Fascell, Dante B. (1967), GAO Bid Protest Procedures : R̲̲eport, Washington: U.S. G.P.O., OCLC 26615100
International Communications Policy : Preparing for the Future, London: University Press of America, 1987, OCLC 16924709
International Communications Policy : Preparing for the Future : the Third David M. Abshire Endowed Lecture, October 8, 1985, Washington, D.C.: Center for Strategic and International Studies, Georgetown University, 1986, OCLC 13526652
Fascell, Dante B. (1979), International News : Freedom Under Attack : With Essays by David M. Abshire, Beverly Hills, Calif., Sage Publications, OCLC 471775169
Abshire, David M.; Fascell, Dante B.; Georgetown University. Center for Strategic and International Studies (1979), International News : Freedom Under Attack, Beverly Hills, Calif.: Sage Publications, OCLC 5103140
United States. Congress. House. Committee on Foreign Affairs. Subcommittee on International Organizations and Movements; Fascell, Dante B. (1966), Report on Activities of the International Cooperation Year, Washington D.C.: U.S. G.P.O., OCLC 2188183
Selden, Armistead I.; Fascell, Dante B.; United States. Congress. House. Committee on Foreign Affairs (1961), Special Study Mission to Latin America: Venezuela, Brazil, Argentina, Chile, Bolivia, Panama, Washington: U.S. Govt. Print. Off., OCLC 3290889
Scheman, L. Ronald; Kennedy, Edward Moore, 1932-2009; Fascell, Dante B. (1988), The Alliance for Progress : a Retrospective, New York: Praeger, OCLC 468687033

CS1 maint: Multiple names: authors list (link)
Fascell, Dante B.; United States. Congress. House. Committee on Foreign Affairs (1982), Twenty-third Meeting of the Canada-United States Interparliamentary Group, March 4-8, 1982, Washington, DC: U.S. G.P.O., OCLC 25397536
United Nations Financial Situation Background and Consequences of the Article 19 Controversy Over the Financing of U. N. Peacekeeping Operations ..., Subcommittee on International Organizations and Movements of the Committee on Foreign Affairs, House of Representatives, Together with Hearings Before the Subcommittee, Washington, D.C.: U. S. Gov. Print. Off., 1966, OCLC 753644385
United States. Congress. House. Committee on Foreign Affairs. Subcommittee on International Organizations and Movements; Fascell, Dante B. (1966), United Nations Financing : Background and Chronology of the Article 19 Controversy, Washington: U.S. G.P.O., OCLC 35621799
References
Dante Fascell Wikipedia
(Text) CC BY-SA