Name

Daniel Roth




Education

Conservatoire de Paris


Role

Organist






Albums

Great European Organs No. 64: Saint Sulplice, Paris




Similar People

Marie‑Claire Alain, Vincent Warnier, Thierry Escaich
Biography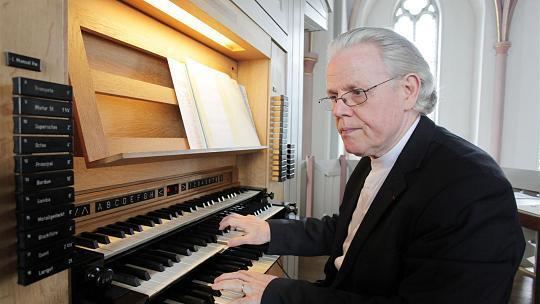 Roth began his musical training at the conservatory in his home town, Mulhouse with Professeur Joseph Victor Meyer. In 1960, he entered the Paris Conservatory, where he graduated with five first prizes — in organ and improvisation (1963, class of Rolande Falcinelli), harmony (1962, class of Maurice Durufle), counterpoint and fugue (1963, class of Marcel Bitsch), and piano accompaniment (1970, class of Henriette Puit-Roget). He also studied organ with Marie-Claire Alain.
Daniel Roth is the father of conductor and flautist Francois-Xavier Roth and violist Vincent Roth.
Career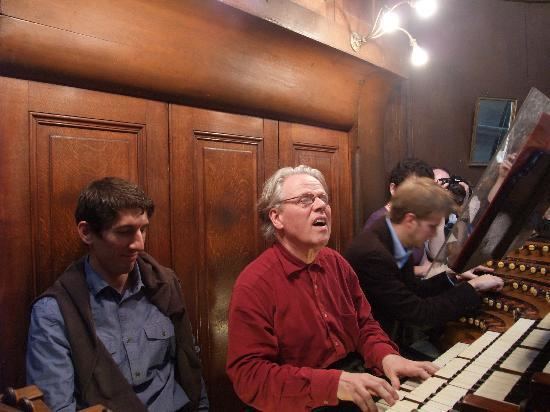 In 1963, Daniel Roth became Rolande Falcinelli's substitute at the great organ at Sacre-Coeur in Paris, where he succeeded his former teacher as titular organist in 1973, a position he held until 1985, when he was appointed titular organist at Saint-Sulpice in Paris, where his predecessors were Charles-Marie Widor, Marcel Dupre, and Jean-Jacques Grunenwald.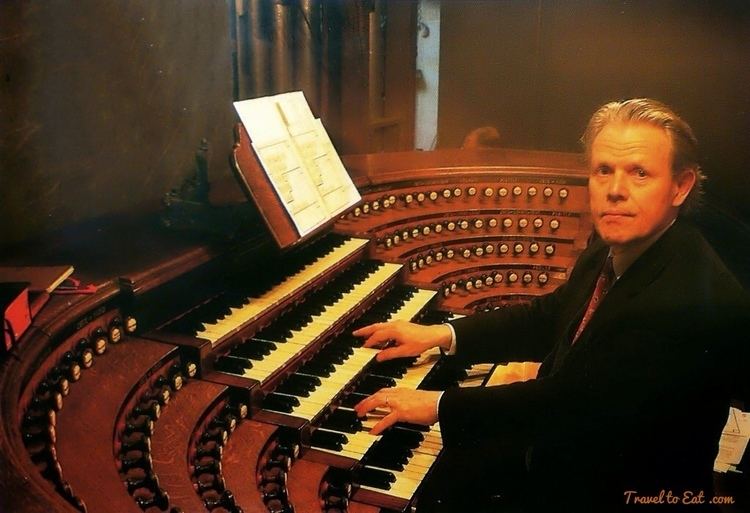 Daniel Roth was the winner of several prestigious organ competitions, such as the competition of the "Amis de l'orgue", and the Grand Prix in organ performance and improvisation at the Concours de Chartres in 1971.[1]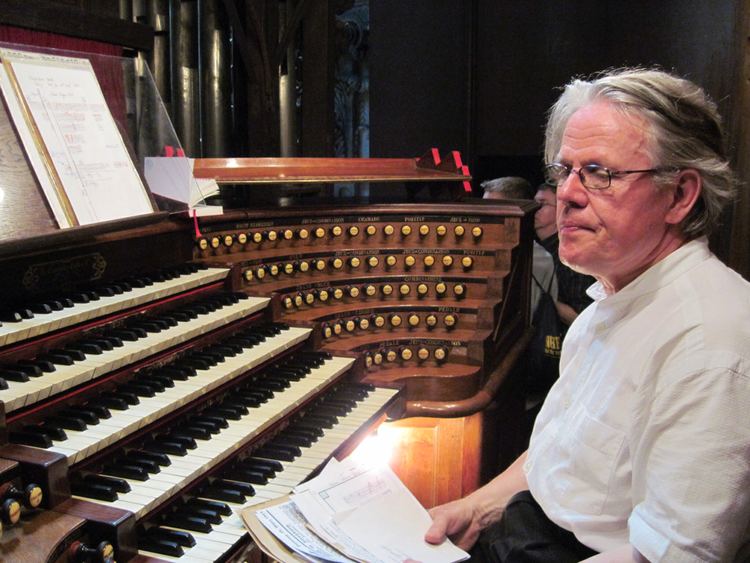 From 1974-76, Daniel Roth was Artist-In-Residence at the National Shrine of the Immaculate Conception and professor of organ at the Catholic University in Washington, D.C.. He also held teaching positions of organ in Marseille (1974-1979), Strasbourg (1979-1988), and Saarbrucken (1988-1995). From 1995-2007, he taught organ performance and improvisation at the Frankfurt Musikhochschule. In addition, he was consultant for the new organ by Karl Schuke at Luxembourg Philharmony, which he dedicated in 2005.
Daniel Roth is "Chevalier de la Legion d'Honneur", "Officier de l'Ordre des Arts et des Lettres", and "Honorary Fellow of the Royal College of Organists". In 2006, he received the European Prize of European sacred music from the Schwabisch Gmund Festival (Germany).
Organ solo
Cinq Versets sur Veni Creator for organ manualiter (In: L'organiste liturgique n°53. Paris: Editions Schola Cantorum)
Evocation de la Pentecote (composed 1979. Paris: Leduc, 1979/revised 1996, inedit)
Final Te Deum (composed 1981. Kassel: Barenreiter, 1993)
Joie, Douleur et Gloire de Marie (composed 1990. London: Novello, 1990)
Hommage a Cesar Franck (composed 1990. Paris: Leduc, 1993)
Apres une Lecture... (composed 1993. In: 1er recueil d'œuvres pour orgue. Paris: Editions Billaudot, 1993)
Pour la nuit de Noel (composed 1993. Paris: Leduc, 1993):
Prelude "Veni, veni Emmanuel"
Communion
Postlude
Triptyque - Hommage a Pierre Cochereau (composed 1995 Paris: Leduc, 1996):
Prelude
Andante
Toccata
Introduction et Canzona (composed 1977-1990. Leutkirch/Allgau: Pro Organo, 1992)
Artizarra - Fantaisie sur un chant populaire basque, pour la fete de I'Epiphanie (composed 1999. Mainz: Schott, 2002)
Petite Rhapsodie sur une chanson alsacienne (In: Elsassische Orgelmusik aus vier Jahrhunderten. Mainz: Schott, 1998)
Livre d'orgue pour le Magnificat, Hommage au Facteur d'orgues Aristide Cavaille-Coll:
Vol. 1 (Paris: Editions Association Boellmann-Gigout, 2007):
1a. Magnificat
1b. Et exsultavit
2. Quia respexit
3. Quia fecit
4. Et misericordia
5. Fecit potentiam
Vol. 2 (unpublished):
6. Deposuit
7. Esurientes
8. Suscepit
9. Sicut locutus est
10. Gloria Patri
Fantaisie fuguee sur Regina Caeli (Mainz: Schott, 2007)
Organ for four hands
Diptyque (2009, unpublished):
Andante
Allegro giocoso
Chamber music
Ain Karim; Fantasia for flute and organ (Mainz: Schott, 1998)
Legende for oboe and piano (Paris: Editions Billaudot)
Vocal works
Ave Maria for four equal voices (Sampzon: Delatour France)
In manus tuas Domine for SATB (St. Augustin: Butz-Verlag)
Regina Caeli for mixed voices (Sampzon: Delatour France)
Reine du ciel a capella (Strasbourg: Editions Caecilia, 1977)
Notre Pere a capella (Strasbourg: Editions Caecilia, 1977)
Messe breve - Missa Brevis for SATB choir and organ (Mainz: Schott, 2001):
Kyrie
Gloria
Sanctus
Agnus Dei
In manus tuas for SATB choir and organ accompaniment ad lib. (St. Augustin: Butz-Verlag)
Ego sum panis for SATB choir and organ (St. Augustin: Butz-Verlag)
Missa de archangelis for SATB choir and organ (Sampzon: Delatour France):
Kyrie
Sanctus
Benedictus
Agnus Dei
Dignare me o Jesu for soloists, choir and organ (Sampzon: Delatour France)
Gebt Zeugnis! for soloists, choir and organ (Mainz: Schott)
Orchestra
Licht im Dunkel for organ, piano and orchestra:
I. L'Esperance (Poeme for orchestra) (Mainz: Schott, 2005)
II. L'Amour (for organ, piano and orchestra) (unpublished)
III. La Joie (Fantaisie for organ, piano and orchestra) (Mainz: Schott, 2007)
Transcriptions for organ
Cesar Franck: Interlude symphonique from the oratorio "Redemption" (Kassel: Barenreiter, 1996)
Camille Saint-Saens: Scherzo from Six Duos op. 8 for harmonium and piano (Paris: Editions Jobert)
Cesar Franck: Symphony in D minor for orchestra; transcription after the composer's piano version for four hands (unpublished)
Songs
Fantaisie en mi bemol majeur
Suite du 2eme ton: Recit de Nazard
Improvised Crescendo to the Tutti
Hymne a l'univers
Improvisation on the Plein-jeu
Improvised Dialogue on the Big Reeds
Suite du 3eme ton: Plein Jeu
Sonata: Recit En Taille
Paraphrase sur le Te Deum
Suite no 2: Scherzetto
Sonate pour orgue: Recit en taille
Arioso barocco
Suite du 3eme ton: Prelude
Spoken comments by Daniel Roth
Improvisation on the Celestes
Apparition de l'Eglise Eternelle
Prelude & Fugue in B major
Improvisation sur un theme donne
Cathedrales from Pieces de Fantaisie: Troisieme Livre - op 54
Suite du 3eme ton: Fugue
Choral Dorien
Noel Suisse
Suite du 3eme ton: Duo
Marche Episcopale from Trois Improvisations
Prelude in F minor
Livre d'Orgue pour le Magnificat: Gloria Patri
Improvisation on the Solo Reeds
Trois Pieces - Op 29: II Cantilene
Livre d'Orgue pour le Magnificat: Deposuit
Suite du 3eme ton: Grand Jeu
Livre d'Orgue pour le Magnificat: Quia respexit
Sixieme Symphonie en Sol Mineur - Op 42 - No 2: I Allegro

References
Daniel Roth (organist) Wikipedia
(Text) CC BY-SA