Dan Burzotta; Born on 28 December 1974 in Mazara del Vallo, Italy is a mixed martial artist. He is the Founder and Head Instructor of the TSG MMA (Team Sure Grip Mixed Martial Arts) Schools. He is also the Co-Founder of UWC - Ultimate Warrior Challenge which promotes and organises MMA events.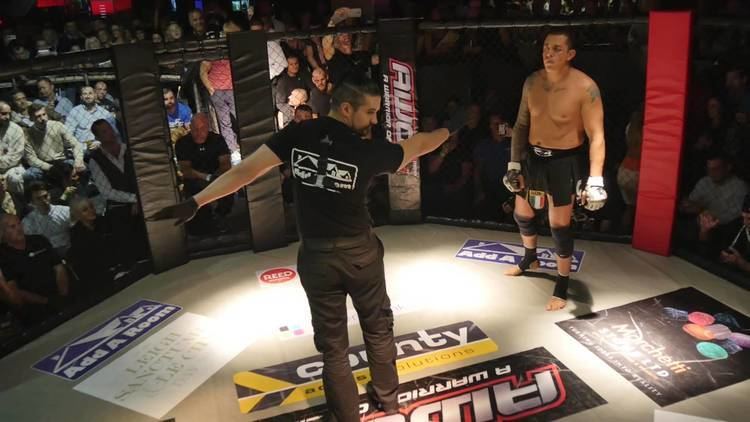 Burzotta has a black belt in Brazilian Jiu Jitsu, a black belt in Judo, a black belt in kickboxing and a black belt in karate and has trained under Royce Gracie and Renzo Gracie. He has won the British Jiu Jitsu Championship twice as well as the European Jiu Jitsu beating Remco Pardoel.
Burzotta has won the International Jiu Jitsu Gold Medal 8 times. He won the United Nations Heavy Weight Championship twice, the Open Combat Championship and the UK Gold Medal in Judo. Burzotta's further achievements are winning the MMA UKMMAC Title Belt.
Burzotta was born on 28 December 1974 in Mazara Del Vallo, Italy to Salvatore & Patricia Burzotta (née Helsby). He has 3 brothers, Alex, Riccardo & Davide. Salvatore Burzotta moved to the UK when Daniel was 14 years old. He opened an Italian Restaurant in Southend On Sea called Il Pescatore (The Fisherman) which is run by Members of the Burzotta family. Salvatore's wife Patricia Burzotta was a Jazz Dancer and loved music, perhaps this is where Daniel's Brother, Davide, gets his musical skills from. Davide Burzotta is an Opera singer and his talent is often performed at the Family Restaurant. While Alex, with whom Daniel co-founded UWC - Ultimate Warrior Challenge with, manages the promotional side of the MMA Events in the UK and abroad.
Daniel started Karate lessons at the age of 13. In 1993, he took on Kick Boxing and reached Black Belt. In 1997, Burzotta decided to turn to Judo Jiu Jitsu and subsequently won the UK Gold Medal.
In 2002, Burzotta opened his first Fight School in Southend On Sea, England, naming it Team Sure Grip Mixed Martial Arts. The School started teaching Brazilian Jiu Jitsu and Vale Tudo and expanded to Mixed Martial Arts and Muay Thai.
At the TSGMMA School, Burzotta saw the potential in many of his Trainees. This was the mental attitude rather than the physical side of Fighting. Burzotta would train his Pupils hard to achieve results but he believes that their mental attitude is paramount. He always refers to the Buddha proverb: "The man that conquers himself is superior to the man who conquers a thousand man in battle".
Burzotta's School went on to produce many Fighters who won Title Belts including, Valentino Petrescu, Ivan Serati and Stav Economou.
Burzotta trained Ian Freeman in 2008 in order to regain his British Cage Rage Light Heavyweight title prior to Freeman's retirement from MMA. Ian trained at the TSGMMA School under Burzotta to fight Paul Cahoon on May 10, 2008, for the title. He won after three rounds with a unanimous decision.
Following his retirement, Freeman now hosts Burzotta's UWC - Ultimate Warrior Challenge events throughout the UK
Burzotta refers to the TSGMMA Fighters as a Family rather than Fighters. Burzotta's TSG Family has now expanded. There are TSGMMA Schools in Thurrock & Harlow in the UK, in Norway, Italy and Dubai. The latter being the first full MMA facility in Dubai which is run and managed by Tam Khan.
Burzotta trained with the Gracie Family and travelled to Los Angeles, U.S in 1997 to join them for 2 weeks of constant training.
Ever since, Burzotta kept training with them and especially Royce Gracie who, in 2010 awarded him the Gracie Jiu Jitsu Black Belt.
Burzotta is now very close to the Gracie Family and even mentions the Legendary Hélio Gracie on his TSGMMA website front page.
Daniel Burzotta is married, has 2 boys and a girl. He is very close to his Family. The Burzotta's restaurant is run by Members of their Family and Daniel is always there.