Director

Cedric the Entertainer




Initial DVD release

October 4, 2011




Duration




Language

English






Genre

Comedy




Screenplay

Kel Mitchell, Janis Woody




Country

United States







Release date

October 4, 2011 (2011-10-04)




Writer

Kel Mitchell (screenplay), Janis Woody (screenplay)




Cast

Kel Mitchell

(Chicago Jones / Pretty Eyed Willy),

Cedric the Entertainer

(Detective),

Kat Graham

(Chaka),

Gary Anthony Sturgis

(Daddy J)


Similar movies

Drunken Master (1978)



Dance fu 2011 movie trailer
Dance Fu is a 2011 martial arts comedy film starring Kel Mitchell. The film was co-written and co-produced by Mitchell and directed by Cedric the Entertainer, which is his directorial debut. It was released straight to DVD on October 4, 2011. In the film, Kel plays two roles: a young dancer named Chicago Pulaski Jones and a villain named Pretty-Eyed Willy. Cedric the Entertainer makes a cameo appearance as a homicide detective. Other cast members include Katerina Graham, Affion Crockett and Tommy Davidson.
Contents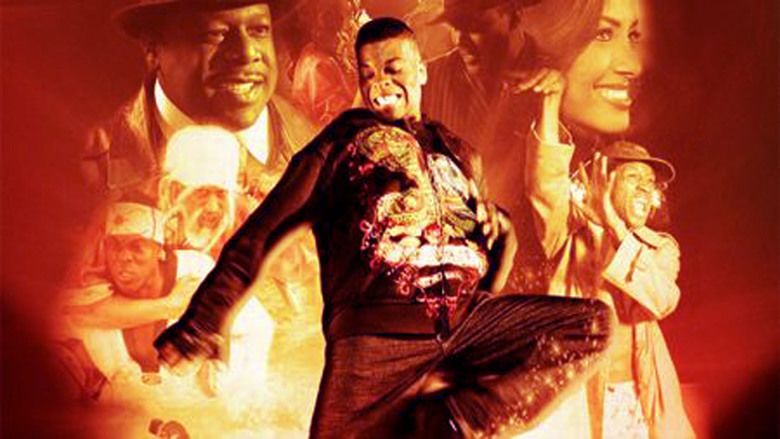 Plot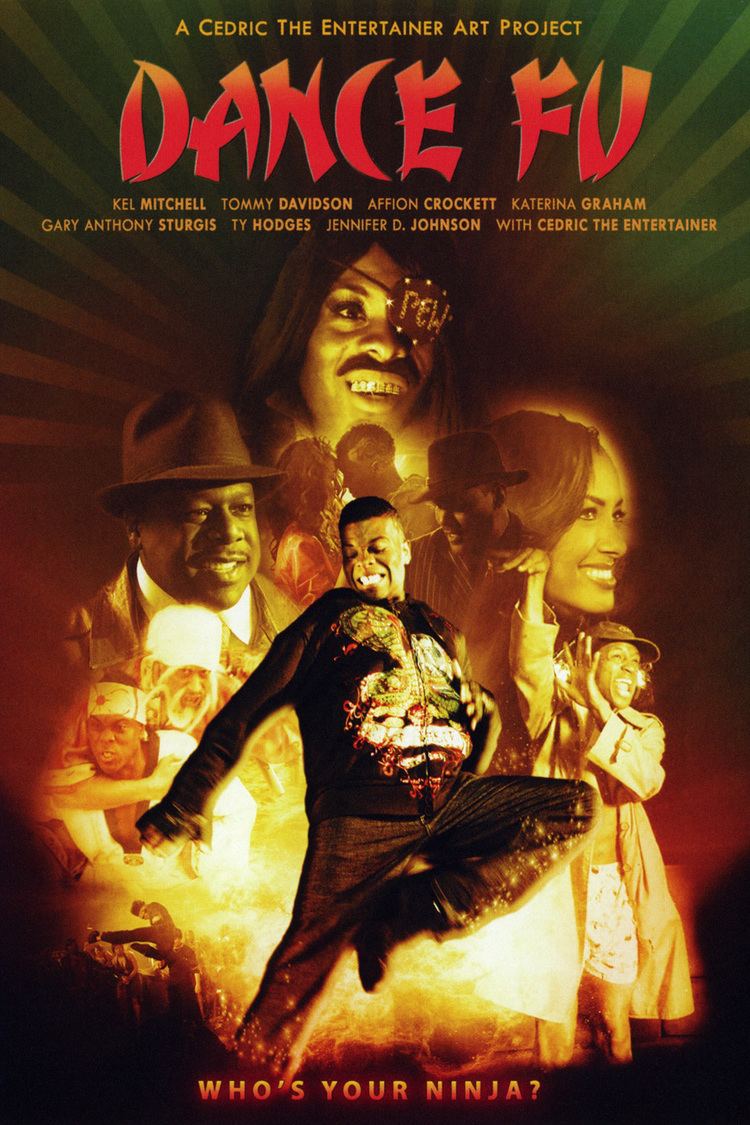 Chicago Pulaski Jones (Mitchell) is a young championship dancer and choreographer from Chicago seeking fame and fortune. He prepares for a final dance battle with his crew before he goes to work with his uncle in Hollybank.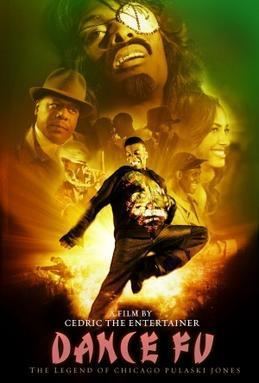 Chicago's uncle, Daddy J (Gary Anthony Sturgis), opens up his new club called the Tatou. His nemesis, Pretty-Eyed Willy (also Mitchell), owns a club across the street called Mascara, which is an unpopular club. One day, Pretty-Eyed Willy shows up at a barber shop where Daddy J is and offers him to sell his club to him and Daddy J refuses. Chicago finally arrives in Hollybank and heads straight to his uncle's club. He meets Daddy J upstairs and Daddy J tells Chicago that he has a surprise for him. They go downstairs to watch the show and the singer turns out to be Chicago's old friend, Chaka Lovebell (Katerina Graham).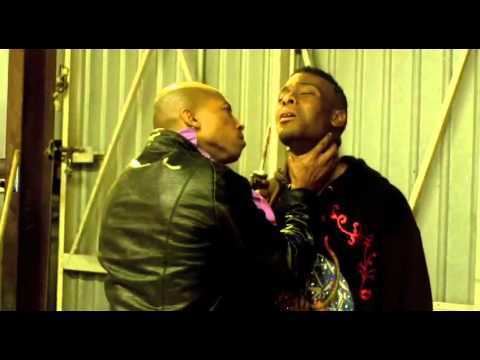 Daddy J goes back upstairs to his office while Chicago continues to watch Chaka's performance. When he gets there, Pretty-Eyed Willy and his gang make a special and unwelcome appearance. Pretty-Eyed Willy tells Daddy J that he is prepared to take over his club. Daddy J orders Pretty-Eyed Willy to take his gang and leave, but they refuse. Pretty-Eyed Willy takes off his glove on his right hand and shows Daddy J his "death hand", chokes him to death and destroys his office.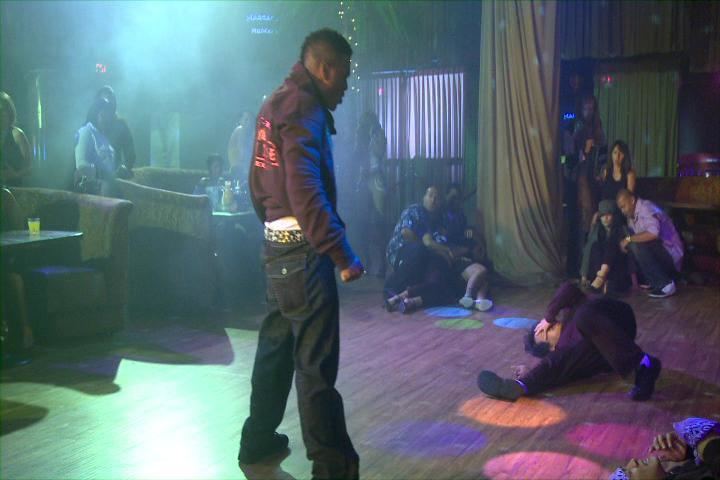 Downstairs, Chicago meets up with Chaka and has a nice conversation with her. They go back upstairs and find Daddy J dead on the floor and Chicago tells Chaka to get help. The police arrive and one of the detectives (Cedric the Entertainer) says there's nothing that they can do. Chicago demands the police to find out what happened to his uncle, but it's no help. The next day, Chicago and Chaka go to Daddy J's funeral. Chaka asks Chicago if he will return to his hometown now that his uncle is dead, but Chicago tells her that he will not leave until he finds out who killed Daddy J.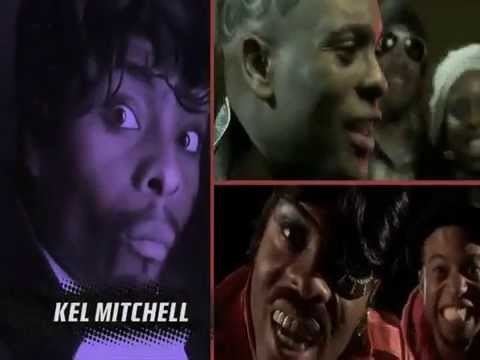 Chaka goes up and sings a tribute song to Daddy J and suddenly Pretty-Eyed Willy shows up. He confesses in front of everyone that he killed Daddy J, which makes Chicago very angry and vows revenge against him. Pretty-Eyed Willy demands to know who Chicago is and someone yells out that Chicago is Daddy J's nephew. After hearing this, Pretty-Eyed Willy orders two of his men to kill Chicago. The two men chase Chicago to a park and beat him senseless. Suddenly, a man in a white suit and a white mask appears out of nowhere and beats up the two men, but Chicago is so weak from his wounds he passes out.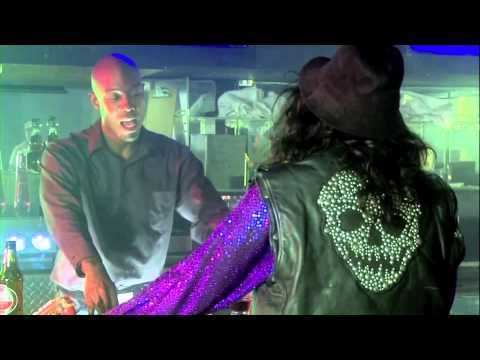 Chicago wakes up in the man's home and the man introduces himself as Julius Ho (Affion Crockett), a 75-year-old martial arts expert. Chicago tells Julius that he's trying to find Pretty-Eyed Willy, but Julius tells Chicago that Pretty Eyed Willy is not easy to defeat because he once trained him and Pretty-Eyed Willy used his moves for evil things, including trying to kill Julius. Due to the fact that Chicago can't fight, Julius tells him that he will teach him kung-fu.
Pretty Eyed Willy has now taken over the Tatou club and has called it Mascara Remixed. He fires Daddy J's employees, kidnaps Chaka and forces her to be one of his singers. Pretty-Eyed Willy's girlfriend, Vandetta, (Jennifer D. Johnson), warns Chaka that if she doesn't cooperate, she'll die just like Daddy J and the assumed dead Chicago.
Meanwhile, Julius starts training Chicago to learn kung-fu, but it turns out that Chicago is not kung-fu material. Chicago finds a radio and starts playing music. He starts dancing and Julius notices that Chicago's dancing moves seem similar to kung-fu moves. Julius sneaks up on Chicago with a long stick to test him out and Chicago blocks every move that Julius makes. Julius tells Chicago that he can only fight if there's music playing.
Chicago and Julius go to a mechanic shop and notices that one of Pretty-Eyed Willy's men is there. Julius sneaks in and begins fighting him. Chicago walks in and he somehow distracts Julius, which causes the man to pull out a knife and stab Julius in his back, killing him. The man grabs Chicago by the throat with his knife in the other hand and threatens to kill him. Suddenly, music starts playing and Chicago tests out his new fighting skills on the man, defeats him and runs towards Julius, who is lying on the ground. Julius tells Chicago that "the music is all around you" and dies.
The man that Chicago beat up before gets a call from Pretty-Eyed Willy's right hand man, Jamal (Ty Hodges), and the man tells him that Chicago is still alive and is on his way to kill Pretty-Eyed Willy. Jamal warns Pretty-Eyed Willy about Chicago. Pretty Eyed Willy gets angry and kills one of his men for lying to him. Chicago makes his way to his uncle's club, but on his way there, he runs into some more of Pretty-Eyed Willy's goons.
Chicago finally arrives at the club and runs into a fighting crack addict (Tommy Davidson) and kicks him off the balcony of a bar. He runs into two more guys and after defeating them, he is knocked out by the crack addict, who takes him to a basement and ties him to a pipe. The crack addict calls Jamal and tells him he has captured Chicago. Jamal arrives at the basement and tells the crack addict not to kill Chicago and save him for Pretty Eyed Willy. However, neither of them are aware that Chicago can hear music coming from the vent and he begins to untie himself. As the crack addict prepares to burn Chicago with an iron, Chicago becomes free and knocks the crack addict to the floor with the iron falling on him instead.
Chicago continues to search for Pretty Eyed Willy, but he is stopped by a group of fighting females and three other guys. While he's fighting, he's unaware that Pretty-Eyed Willy is watching. The DJ starts mixing up the music and Chicago has trouble fighting, which makes Pretty-Eyed Willy discover his secret.
After the fight, Chicago finally finds Pretty-Eyed Willy and notices that he has kidnapped Chaka. Pretty-Eyed Willy and Jamal take Chaka on the roof where Chicago follows them. Pretty-Eyed Willy pushes Chaka against a car, knocking her out. Chicago gets angry and prepares to fight him, but he realizes that there's no music playing. Pretty-Eyed Willy beats Chicago up and knocks him to the ground. He pulls off his glove and chokes Chicago with the "death hand", which is the same way he killed Daddy J. Pretty-Eyed Willy announces that he will take over the whole city, however, he gets disappointed in Jamal for letting Chicago in the club and knocks him out.
Wounded on the ground, Chicago starts having flashbacks and remembers what Julius Ho said before he died. Suddenly, Chicago starts hearing sounds from bottles, water drops, trash cans and other items and notices that all of them make a beat and he stands to his feet. Pretty-Eyed Willy turns around and is shocked to see that Chicago is still alive. Chicago starts dancing and beats up Pretty-Eyed Willy, but Pretty Eyed Willy continues to remain unharmed. Pretty-Eyed Willy shows Chicago his "death hand" and somehow Chicago takes full control of the "death hand" and forces it to choke and kill Pretty-Eyed Willy.
Chicago revives and rescues Chaka and the two of them head back to the club. Chicago becomes the new owner of the Tatou club and he and Chaka become a couple. He picks up a photo of his uncle and says that Pretty-Eyed Willy is gone and tosses Pretty-Eyed Willy's eye patch in a trash can.
Pretty-Eyed Willy's body is shown at a morgue and somehow his "death hand" comes alive on its own and injects him with a syringe, bringing him back to life. The movie ends with Pretty-Eyed Willy laughing as the "death hand" jumps in front of the camera and he says "Why am I naked?".
Cast
Kel Mitchell as Chicago Pulaski Jones / Pretty-Eyed Willy
Katerina Graham as Chaka Lovebell
Gary Anthony Sturgis as Daddy J
Cedric the Entertainer as Detective
Ty Hodges as Jamal
Tommy Davidson as Addict
Affion Crockett as Julius Ho
Craig Lamar Traylor as Lil' Ryat
Jennifer D. Johnson as Vendetta
Bigg Slice as Lamont
Cecelia Antoinette as Mable
Rodney Perry as Mayor Pope
Kristian Bernard as DJ Rough Knuckles
Gerald Neal Allen II as Pipe
References
Dance Fu Wikipedia
(Text) CC BY-SA
Dance Fu IMDb
Dance Fu themoviedb.org