Dan Rosensweig is an American business executive, the President and Chief Executive Officer of Chegg. Previously, Rosensweig served as President and Chief Executive Officer of Guitar Hero, a series of music rhythm games published by RedOctane and Harmonix, Chief Operating Officer at Yahoo!, President of CNET, and President and Chief Executive Officer of ZDNet.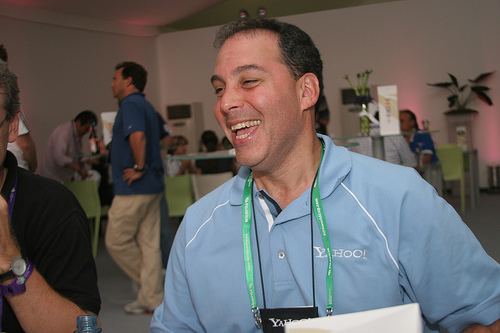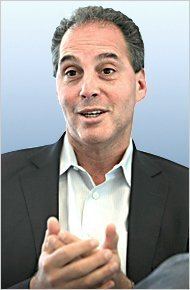 Rosensweig was born in Dobbs Ferry, New York and raised in Scarsdale, New York, where he graduated from Scarsdale High School. He played offensive lineman on the school's football team.
Rosensweig enrolled at Hobart and William Smith, graduating in 1983 with a Bachelor of Arts in political science. As a Hobart student, Rosensweig was a member of Kappa Sigma fraternity and the Little Theatre, and studied abroad in London.
Rosensweig's first job out of college was at Pitney Bowes Dictaphone, selling word processors door-to-door in Manhattan. Within three hours on the job he was informed that the company had to lay off nearly 1,000 people, including his division.
Following this experience in 1983, Rosensweig took a job at Ziff Davis Publishing Company as a cold caller selling magazines to mom-and-pop computer retail stores. He continued to work for Ziff Davis until 2000, where he worked his way up from the circulation department, to classified ad sales, to front-of-book ad sales, then publisher of PC Magazine. Under Rosensweig's leadership, PC Magazine became the leading computer magazine in both audience reach and revenue.
In 1996, Rosensweig met the founders of Yahoo! and launched a series of Internet magazines including Yahoo! of Internet Life Magazine. In 1998, he took over Ziff Davis' Internet Operation as President and CEO of ZiffNet, now known as ZDNet, where he took the company public and sold it to CNET in 2001. While serving as CEO and president of ZDNet, Rosensweig played a critical role in the successful merger with CNET. During his tenure at CNET, Rosensweig served as a key participant in company-wide efforts to develop and introduce innovative new Internet advertising formats, such as interactive messaging units.
In 2002, Rosensweig joined Yahoo! as COO where he was responsible for product development, marketing, international operations and North American operations until 2006.
In 2007, Rosensweig joined private investment firm Quadrangle Group as a partner opening an office in Silicon Valley founded by Steven Rattner.
In March 2009, Rosensweig went to work for Guitar Hero, serving as president and CEO and under his management, the company launched Band Hero and DJ Hero.
In February 2010, Rosensweig joined Chegg as President and Chief Executive Officer, where he oversees the overall business operations and executive management. The company has since moved from textbook rental into other ventures.
Rosensweig participates on the Advisory Board of the non-profit DonorsChoose.org, contributes as member of the Executives in Residence program at Columbia University and resides on the Board of Directors of Adobe Systems, Inc., & Katalyst Media, Ashton Kutcher and Jason Goldberg's social media company. Rosensweig also sits on the board at Hobart and William Smith Colleges, Colgate University and is a board member and investor in many Silicon Valley companies including Rent The Runway and Reputation.com. He also works with the Boys and Girls Club.