Damone Lamar Brown (born June 28, 1979) was an American professional basketball player, formerly in the National Basketball Association (NBA). He is a 6'9" and 212 lb forward. After playing college basketball at Syracuse University, he was selected by the Philadelphia 76ers in the second round of the 2001 NBA draft. Throughout his NBA career he has played for the 76ers, the Toronto Raptors, the New Jersey Nets and the Washington Wizards while averaging 2.8 points and 1.3 rebounds per game. He played seven games with the Indiana Pacers in the 2005–06 preseason.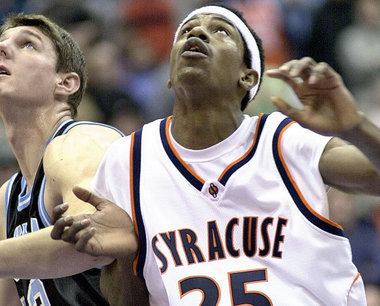 In 2007, Brown was a member of the NBA Development League's Sioux Falls Skyforce. In the 2008 D-League Expansion Draft Brown had his rights drafted by the Reno Bighorns.
On February 26, 2009, Brown was arrested in Reno, Nevada and charged with money laundering in connection with a cocaine ring operating in Buffalo, New York.
In 2010, Brown played for the Buffalo Stampede of the PBL (Premier Basketball League).
In 2015, Brown was hired an assistant coach at Villa Maria College in Buffalo, New York.