7.6

/

10

1

Votes

Alchetron

Rate This





Comedy, Drama




Czechoslovakia






Vera Chytilova





Czech






30 December 1966 (1966-12-30) (Czechoslovakia) 25 October 1967 (1967-10-25) (US)




Vera Chytilova (story), Vera Chytilova (screenplay), Ester Krumbachova (screenplay), Pavel Juracek (screenplay)




December 30, 1966 (Czechoslovakia)




June 1, 2009 (United Kingdom)




Vera Chytilova, Ester Krumbachova, Pavel Juracek




Ivana Karbanová

(Marie II),

Jitka Cerhová

(Marie i),

Marie Cesková

(Woman in toilet),

Jirina Myskova

,

Marcela Brezinova

,

Julius Albert

(Elderly Gentleman)


Lust, Caution

,

From Dusk Till Dawn

,

Cruel Intentions

,

Lolita

,

Eyes Wide Shut

,

Basic Instinct



Daisies (Czech: Sedmikrásky) is a 1966 Czechoslovak comedy-drama film written and directed by Věra Chytilová. Generally regarded as a milestone of the Nová Vlna movement, it was made with the support of a state-sponsored film studio and follows two teenage girls (played by Jitka Cerhová and Ivana Karbanová), both named Marie, who engage in strange pranks.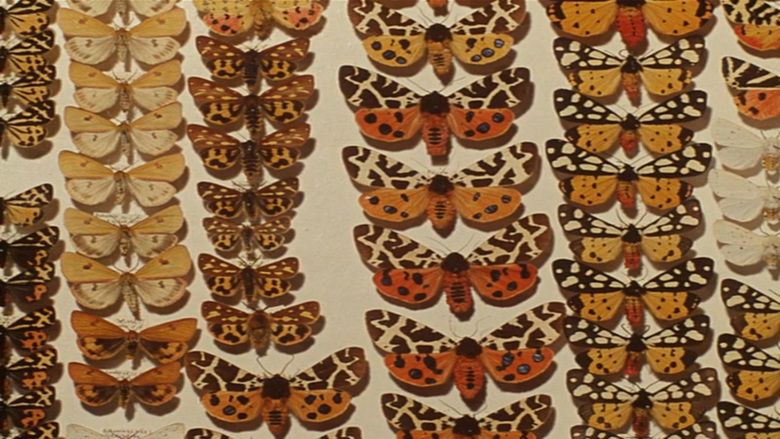 Innovatively filmed, and released two years before the Prague Spring, the film was labeled as "depicting the wanton" by the Czech authorities and banned. Director Chytilová was forbidden to work in her homeland until 1975. The film received the prestigious Grand Prix of the Belgian Film Critics Association.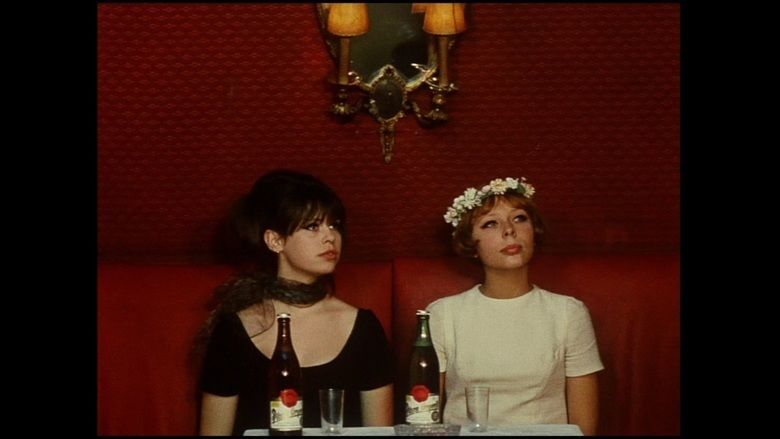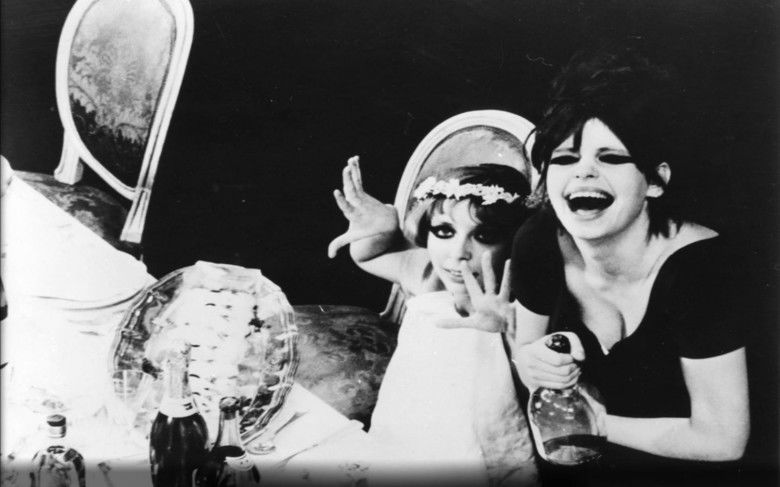 The opening sequence is that of a spinning flywheel with shots of airplanes strafing the ground. The shots of the airplanes are from US Navy footage shot in the Pacific Theatre during World War II. The first scene shows the two main characters sitting in bathing suits. Their conversation is robotic and from that point on they decide to be bad. The next scene shows Marie I and Marie II dancing in front of a tree. The tree has many fruits and resembles the Tree of Knowledge of Good and Evil. Once Marie I eats from the tree, they both fall and appear in their apartment. There is significant action here, with Marie I looking through the window at a parade and Marie II eating. The next few scenes are all similar. They show the two girls on a date with an older man, a "sugar daddy". Marie II eats voraciously and Marie I eventually starts acting like her, eating a lot of food.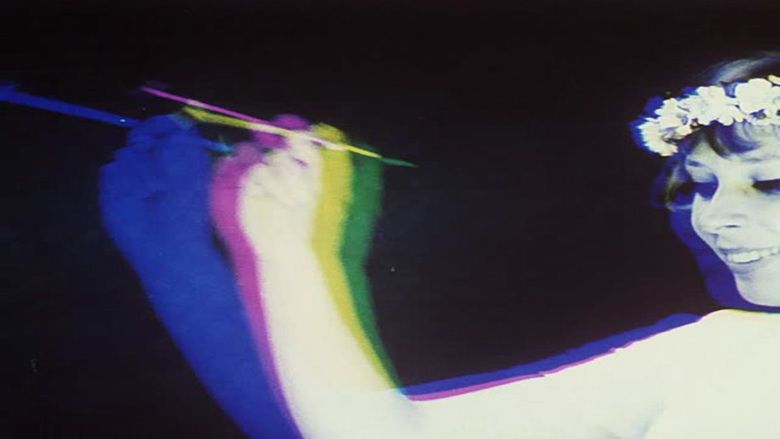 The girls eventually go to a nightclub with 1920s-style dancers and cause a ruckus. Marie II also goes to the apartment of a man who is a butterfly collector. In this scene, there are a lot of butterflies shown as still frames. At the end, she says that she wants to eat. Later on, they go to a factory. There are still frames of locks, and the building looks run down. They look for "nourishment" and stumble upon a feast presumably set out for communist leaders. They eat the food, make a mess and destroy the room. It then cuts to them being dunked in water like witches. They decide to go back and make everything right again, and at the end a giant chandelier crushes them.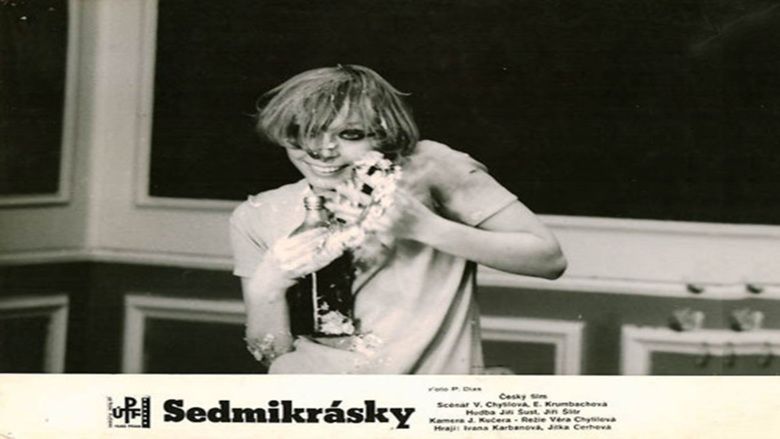 Jitka Cerhová as Marie I
Ivana Karbanová as Marie II
Marie Češková
Jiřina Myšková
Marcela Březinová
Julius Albert as Man About Town
Dr. Oldrich Hora
Jan Klusák
Josef Konicek
Jaromír Vomácka
V. Mysková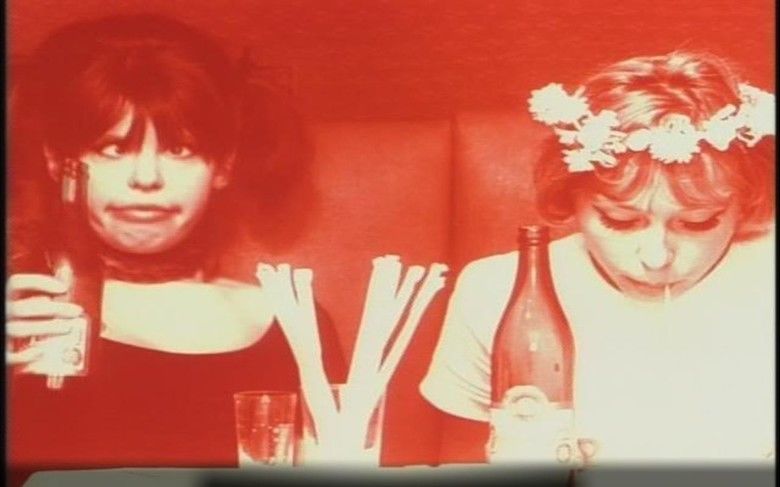 Daisies (film) Wikipedia
Daisies (film) IMDb
Daisies (film) Rotten Tomatoes
Daisies (film) themoviedb.org