Occupation

Actress




Movies

A Marriage




Role

Television actress




Name

Cyrina Fiallo




Years active

2007–present










Born

December 29, 1991 (age 31) (

1991-12-29

)

Miami, Florida, U.S.




Profiles




Twitter
Happy Birthday Cyrina Fiallo
Cyrina Fiallo (born December 29, 1991) is an American actress. She is perhaps best known for her recurring role as Vonnie on the Disney Channel sitcom Good Luck Charlie. She also has guest starred on Everybody Hates Chris, Community, Gigantic, Glee, Switched at Birth, Girl Meets World and Supernatural. She also starred in the internet television series My Alibi and The Subpranos, the latter of which she co-wrote, co-directed and co-produced with fellow actress Chrissie Fit.
Contents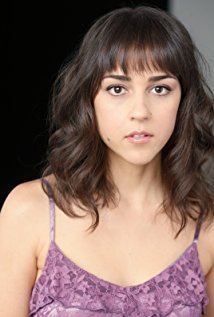 Born in Miami, Florida, she is of Cuban and Italian descent. She is also a member of the cover group The Girls, made up of fellow actresses Alison Brie and Julianna Guill.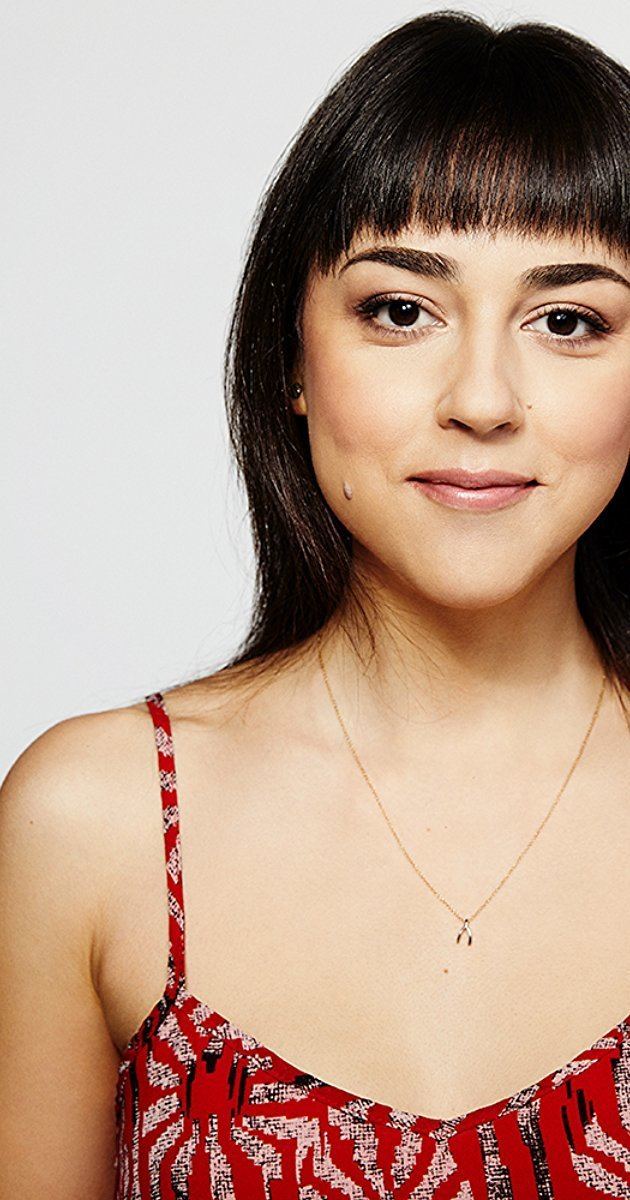 She has appeared and numerous TV commercials for various retailers, such as Allstate, America's Best, Diet Pepsi, and Subaru.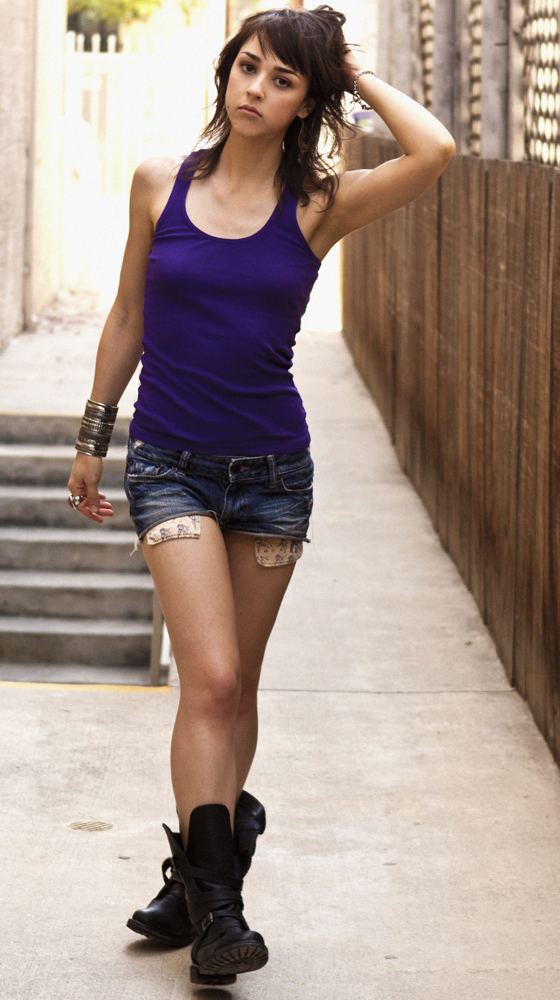 Her uncle is the iconic Heavy Metal bassist Rudy Sarzo.
Filmography
Actress
-
Hoodie (Short) (post-production)
as
Quibbling Friend 1
-
Singing in My Sleep (post-production)
as
Tess
2023
Erin & Aaron (TV Series)
as
Miss Nelson
- Un-break My Heart (2023) - Miss Nelson
2022
I'm Totally Fine
as
Megan (voice)
2022
The Vindicators (TV Series short)
as
Calypso
- Girls Night (2022) - Calypso (voice)
- The Dance (2022) - Calypso (voice)
- Rick Can Handle It (2022) - Calypso (voice)
2022
Fishpriest (Podcast Series)
as
Bella / Kari
- Flip - Bella
- Napalm, Amended - Kari
- Fallout - Bella
- Raid - Bella
2021
Someone to Carry You (Short)
as
Serena
2021
9-1-1: Lone Star (TV Series)
as
Tonya
- Slow Burn (2021) - Tonya
- Back in the Saddle (2021) - Tonya
2021
This Meeting Has Been Ended by Host (Short)
as
Diana
2021
Long Weekend
as
Bank Employee
2020
Raven's Home (TV Series)
as
Mei
- Baking Bad (2020) - Mei
- 10 Things Debate About You (2020) - Mei
2020
Who the F is Mike Young (TV Series)
as
Rachel
- Episode dated 9 April 2020 (2020) - Rachel
2020
Silent Date (Short)
as
Genevieve
2020
Errands (TV Series)
as
Carina
- Christmas Special (2020) - Carina
2019
Prince of Peoria (TV Series)
as
Sage
- Saving Stank Nation (2019) - Sage
2019
Abby's (TV Series)
as
Dani
- Free Alcohol Day (2019) - Dani
2019
Into the Dark (TV Series)
as
Katie
- Treehouse (2019) - Katie
2019
The Night Is Young
as
Sara
2018
Over the Hill (TV Short)
as
School Teacher
2018
Epic Seven (Video Game)
as
Lilias / Conqueror Lilias / Elena / ... (English version, voice)
2018
Ride Sesh (TV Series short)
as
Caro
- Dave & Caro (2018) - Caro
2018
Gosnell: The Trial of America's Biggest Serial Killer
as
Molly Mullaney
2018
The Resident (TV Series)
as
Rachel Bird
- 00:42:30 (2018) - Rachel Bird
2018
Bizaardvark (TV Series)
as
Rory Finch
- No Way Whoa (2018) - Rory Finch
2018
Life in Pieces (TV Series)
as
Mavis
- Renter Portrait Plagiarism Scam (2018) - Mavis
2018
Barry (TV Series)
as
Woman #1
- Chapter Three: Make the Unsafe Choice (2018) - Woman #1
2018
Brooklyn Nine-Nine (TV Series)
as
Nikki
- Safe House (2018) - Nikki
2017
Overdue (TV Series)
as
Bea Jones
- Breakthrough (2017) - Bea Jones
- Push It (2017) - Bea Jones
- Makeover (2017) - Bea Jones
- Bored (2017) - Bea Jones
- Breakdown (2017) - Bea Jones
- Trapped (2017) - Bea Jones
2017
StartUp (TV Series)
as
Cassi
- Leverage (2017) - Cassi
- Growth Hacking (2017) - Cassi
2017
Samsung Galaxy Note8: I Love You (Video short)
2017
Radio 88 (Short)
as
Angie Defozzio
2017
Temporary (TV Series)
as
Sam
- Poe Fashion (2017) - Sam
- Shady Art Show (2017) - Sam
- Sampled (2017) - Sam
- The Real Elizabeth Banks (2017) - Sam
2017
Budding Prospects (TV Movie)
as
Marianna
2016
We're Not Alone (TV Series)
as
Carly
- Uhhh (2016) - Carly
- The Tragic Life of Jermiah Brizz (2016) - Carly
- Fine Madame President (2016) - Carly
- Sky Monster Action Planners (2016) - Carly
- Pilot (2016) - Carly
2016
Rush Hour (TV Series)
as
Mrs. Ortiz / Lawyer
- Knock, Knock- House Creeping! (2016) - Mrs. Ortiz / Lawyer
2016
The Fosters (TV Series)
as
Gabby
- Now for Then (2016) - Gabby
2016
RePlay (TV Series)
as
Sasha
- Know Your Sound (2016) - Sasha
- Too Many People in the DJ Booth (2016) - Sasha
- No Requests (2016) - Sasha
- Don't Invite Your Ex (2016) - Sasha
- Match Your Beats (2016) - Sasha
- I'm on the List (2016) - Sasha
- Friends for the Bottle Service (2016) - Sasha
- It's Never Too Loud (2016) - Sasha
- Only the Bangers (2016) - Sasha
- No Shortcuts (2016) - Sasha
- Don't Repeat Repeat Yourself (2016) - Sasha
- Play the Hits (2016) - Sasha
2016
Killing Poe
as
Wynona Thompson
2015
Call of Duty: Black Ops III (Video Game)
as
Additional Voices (voice)
2015
Girl Meets World (TV Series)
as
Ms. Oben
- Girl Meets Farkle (2015) - Ms. Oben
2015
Married (TV Series)
as
Jordan
- Aftershocks (2015) - Jordan
2015
Hollywood
as
Mary Elizabeth
2014
The Crew (Video Game)
as
Alita (voice)
2014
Criminal Minds (TV Series)
as
Jesse Moore
- Angels (2014) - Jesse Moore
2014
Glee (TV Series)
as
Web Critic
- Opening Night (2014) - Web Critic
2012
Good Luck Charlie (TV Series)
as
Vonnie
- Good Bye Charlie (2014) - Vonnie
- Fright Knight (2013) - Vonnie
- Rat-a-Teddy (2013) - Vonnie
- All Fall Down: Part 1 (2013) - Vonnie
- Nurse Blankenhopper (2012) - Vonnie
- Team Mom (2012) - Vonnie
- T. Wrecks (2012) - Vonnie
2013
Grand Theft Auto V (Video Game)
as
The Local Population (voice)
2012
je vous adore (Short)
as
Claire
2012
Supernatural (TV Series)
as
Delta Mendota
- A Little Slice of Kevin (2012) - Delta Mendota
2012
Switched at Birth (TV Series)
as
Art Student Girl
- The Art of Painting (2012) - Art Student Girl
2011
Friends Forever (Short)
as
Lisa
2011
Gigantic (TV Series)
as
Tara
- Scramble (2011) - Tara
2011
Community (TV Series)
as
Claire
- Early 21st Century Romanticism (2011) - Claire
2010
Delusions of Love: A Case Study in Jealousy and 19th Century Formal Wear (Short)
as
Mary
2010
My Roommate the (TV Series)
as
Mildred
- Hipster (2010) - Mildred
2010
Made... The Movie (TV Movie)
as
Tuba
2010
The Subpranos (TV Series)
as
Giovana Stratatelli
- Gypsies, Tramps and Thieves (2010) - Giovana Stratatelli
- Sunshiny Day (2010) - Giovana Stratatelli
- Concrete Jungle (2010) - Giovana Stratatelli
- Clash of the Titans (2010) - Giovana Stratatelli
- Do You Believe in Magic (2010) - Giovana Stratatelli
- Subway Surprise Part Deux (2010) - Giovana Stratatelli
- Subway Surprise Part 1 (2010) - Giovana Stratatelli
- Ring Around the Tony (2010) - Giovana Stratatelli
- You Are What You Eat (2010) - Giovana Stratatelli
- Belongings (2010) - Giovana Stratatelli
2009
A Marriage (TV Movie)
as
Jenelle
2009
My Date (TV Series)
as
Gemma
- Must Love Tech (2009) - Gemma
2008
My Alibi (TV Series short)
as
Marley Carabello
- The Final Alibi (2009) - Marley Carabello
- Burn, Baby, Burn (2009) - Marley Carabello
- Revenge of the Emos (2009) - Marley Carabello
- Confession (2009) - Marley Carabello
- Nerds Gone Wild (2008) - Marley Carabello
- Indecent Disclosure (2008) - Marley Carabello
- I Know What You Did Last Trig Final (2008) - Marley Carabello
- My Spy (2008) - Marley Carabello
- Mortals and Cyntaurs (2008) - Marley Carabello
- Ah, Young Love (2008) - Marley Carabello
- Awkward Move (2008) - Marley Carabello
- Appearances (2008) - Marley Carabello
- Mission Improbable (2008) - Marley Carabello
- Picture Perfect (2008) - Marley Carabello
- Cat-astrophe (2008) - Marley Carabello
- Out of the Bag (2008) - Marley Carabello
- First Period (2008) - Marley Carabello
- Busted?! (2008) - Marley Carabello
2008
Little Miss CEO (TV Movie)
as
Cousin Hilary
2008
Everybody Hates Chris (TV Series)
as
Gigi
- Everybody Hates Cake (2008) - Gigi
2008
Quitters (TV Movie)
as
Cyrina
2007
Winter and Spring
as
Aurelia
2007
Room 401 (TV Series)
as
Debra
- Spare Some Change (2007) - Debra
Writer
2021
Someone to Carry You (Short)
-
Temporary (TV Series) (created by - 4 episodes, 2017) (written by - 4 episodes, 2017)
- Poe Fashion (2017) - (creator) / (written by)
- Shady Art Show (2017) - (creator) / (written by)
- Sampled (2017) - (creator) / (written by)
- The Real Elizabeth Banks (2017) - (creator) / (written by)
2015
Collide in 1986 (Short)
2014
Once Upon a Prince (Short) (writer)
2010
The Subpranos (TV Series) (10 episodes)
- Gypsies, Tramps and Thieves (2010)
- Sunshiny Day (2010)
- Concrete Jungle (2010)
- Clash of the Titans (2010)
- Do You Believe in Magic (2010)
- Subway Surprise Part Deux (2010)
- Subway Surprise Part 1 (2010)
- Ring Around the Tony (2010)
- You Are What You Eat (2010)
- Belongings (2010)
Producer
2017
25 (Short) (producer)
2017
Temporary (TV Series) (producer - 4 episodes)
- Poe Fashion (2017) - (producer - produced by)
- Shady Art Show (2017) - (producer - produced by)
- Sampled (2017) - (producer - produced by)
- The Real Elizabeth Banks (2017) - (producer - produced by)
2016
Killing Poe (associate producer)
2010
The Subpranos (TV Series) (producer - 10 episodes)
- Gypsies, Tramps and Thieves (2010) - (producer)
- Sunshiny Day (2010) - (producer)
- Concrete Jungle (2010) - (producer)
- Clash of the Titans (2010) - (producer)
- Do You Believe in Magic (2010) - (producer)
- Subway Surprise Part Deux (2010) - (producer)
- Subway Surprise Part 1 (2010) - (producer)
- Ring Around the Tony (2010) - (producer)
- You Are What You Eat (2010) - (producer)
- Belongings (2010) - (producer)
Director
2021
Someone to Carry You (Short)
2014
Once Upon a Prince (Short)
2010
The Subpranos (TV Series) (10 episodes)
- Gypsies, Tramps and Thieves (2010)
- Sunshiny Day (2010)
- Concrete Jungle (2010)
- Clash of the Titans (2010)
- Do You Believe in Magic (2010)
- Subway Surprise Part Deux (2010)
- Subway Surprise Part 1 (2010)
- Ring Around the Tony (2010)
- You Are What You Eat (2010)
- Belongings (2010)
Composer
2012
je vous adore (Short)
Thanks
2021
Language Lessons (thank you)
References
Cyrina Fiallo Wikipedia
(Text) CC BY-SA