Origin

Aarhus, Denmark (1989)




Genres

Eurodance, Hip house






Years active

1989 (1989)–1996 (1996)




Labels

SoulPower, Epic, Medley




Past members

Per Holm Jørn K MC Zipp Thera Hoeymans (1990–94) Zindy Laursen (1993–96)




Members

Zindy Laursen, MC Zipp, Thera Hoeymans, Per Holm, Grassskirt, Christine Christiansen




Albums

Get Serious, The Sound of Now, Peace, Love & Harmony




Awards

Danish Music Award for Danish Hit of the Year




Similar

Sound of Seduction, Harry Wayne Casey, Captain Hollywood Project, Culture Beat, Melodie MC
Cut 'N' Move was a dance/hip hop group from Århus, Denmark. The group was founded in 1989 by keyboard player Per Holm, disc jockey Jørn K (Jørn Kristensen), and rapper MC Zipp (Jens Kjær Larsen). In December 1990 singer Thera Hoeymans joined the group.
Contents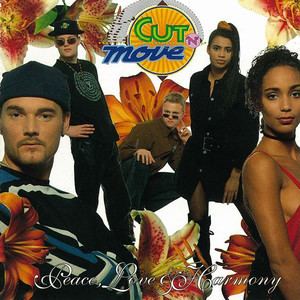 Their debut single "Take No Crap" featured vocals by Danish singer Christine Christiansen and was released in 1990. The following year the single was released as "Get Serious" internationally. The song became a moderate hit on the Billboard Hot 100, but a top 10 hit on the dance chart. Their debut album, Get Serious was released on Epic Records in 1991, which was a moderate success in dance clubs in Europe. The album sold 53.000 copies in Denmark, with an additional 200.000 copies worldwide. In 1992, the group was awarded three Danish Grammy Awards for Danish Newcomer of the Year, Danish Hit of the Year ("Get Serious"), and Danish Rap/Dance Album of the Year (Get Serious).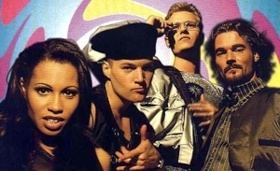 For their second album, Peace, Love & Harmony (1993) Danish-American singer Zindy Laursen joined the group. On the album Zindy provided lead vocals on four tracks, while Thera Hoeymans sang lead vocals on two tracks. Their cover of the KC & the Sunshine Band song "Give it Up" went to No. 1 in Australia for 4 weeks in 1994. The track reached No. 61 in the UK Singles Chart.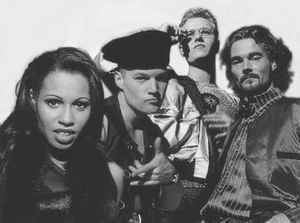 In March 1994, Thera Hoeymans left the group to pursue a career as an actor in theatre.
Cut 'N' Move released their third and final studio album, The Sound of Now in 1995. They scored a minor hit in the U.S. with lead single "I'm Alive", which went to No. 46 on the Hot Dance Club Play chart. The song reached No. 49 in the UK chart.
In 1996 Cut 'N' Move released the greatest hits album, Into the Zone '91-'96 which included three new songs. The album was awarded Danish Dance Album of the Year at the Danish Grammy Awards. The following year the group disbanded.
In a retrospective article in 2009, Politiken called Cut 'N' Move "a kind of big sister to the 90's biggest Danish hit group Aqua" and wrote: "18 years later the band still stands as a milestone in Danish music. Cut 'N' Move was simply the band that brought dance music to the country".
Cut n move give it up 93 2 hd 1993
Albums
Get Serious (Epic Records, 1991)
"Cut 'N' Move Theme" (2:29)
"Get Serious (Take No Crap)" (3:49)
"How To Allow" It (5:36)
"Spread Love" (4:27)
"Message Of Love" (5:14)
"Girl You Got Me Working" (4:22)
"No Connection" (4:25)
"Cyclone Zone" (3:44)
"Say It Loud" (3:39)
"Jazz House" (5:06)
"Cut 'N' Move Theme" (Bass Race Mix) (5:12)
"Get Serious (Take No Crap)" (Basement Boys Ground Level Mix) (4:28)
Peace, Love & Harmony (1993) – AUS #97, GER #62
"Cut 'N' Move Theme Part II" (2:51)
"Give it Up" (4:22)
"Sunshine" (4:06)
"Peace, Love & Harmony" (4:19)
"Feel So Right" (4:35)
"Good To Go" (4:09)
"Upside Down" (3:42)
"All I Ever Wanted" (4:14)
"Somewhere In Between" (4:43)
"Take The Money & Run" (4:00)
"Lover's Choice" (5:29)
The Sound of Now (Originally released 1995, Denmark, re-released 2000)
"Cut 'N' Move Theme Part III" (2:40)
"I'm Alive" (4:18)
"Get Yourself Together" (4:15)
"I've Been Waiting" (5:20)
"Real Emotion" (4:03)
"Saved By The Bell" (4:16)
"Nuttin' But A Groove" (3:55)
"I'm Free" (4:51)
"As Long As There's Music" (4:11)
"Special Love" (4:22)
"Keep The Funk Alive" (4:19)
"All My Lovin'" (4:43)
"Magic In The Air" (6:21)
Into the Zone (1999)
"Cut 'N' Move Theme" (Mega-Mix) (2:02)
"Get Serious (Take No Crap)" (3:49)
"Give It Up" (4:22)
"Missionary Man" (4:14)
"Missionary Man" (Dub Reprise) (3:07)
"Real Emotion" (Real Version) (4:08)
"I'm Alive" (Tin Tin Out Radio Edit) (3:45)
"Peace, Love & Harmony" (4:19)
"U & I" (4:13)
"Get Yourself Together" (Thumpin' Club Mix) (3:58)
"Feel So Right" (4:35)
"Spread Love" (Radio Remix) (3:59)
"Rock Da House" (4:12)
"Upside Down" ('96 Version) (3:52)
"Cyclone Zone" (3:44)
"Jazzhouse" ('96 Remix) (5:16)
"Magic In The Air" (Late Nite Version) (3:59)
Hits 'N' Remix (2003)
Disc One
Get Serious / Take No Crap
Give It Up
Spread Love
I'm Alive
Peace, Love & Harmony
Real Emotion
Missionary Man
Sunshine
Feels So Right
Nuthin But A Groove
Upside Down
Girl You Got Me Working
Keep The Funk Alive
Cyclone Zone
Take The Money And Run
Say It Loud
Cut 'N' Move The Part 3 (Club Version)
Disc 2
Real Emotion (Greed's Euphorik Club Mix)
I'm Alive (Vinny Vero's Refreshing Breath Mint Mix)
Spread Love (G-Man Master Mix)
Missionary Man (Tabu's Missionary Position Mix)
Nuthin But A Groove (Old School Version)
Get Serious 2003
Indianer (Wigwam Mix)
Baby, Du Har Det (Cut Club Mix)
Let Your Head Fall Down On Me (Ext. Remix).
Kærlighedens Lysthus (Ext. Remix)
Elsker Dig (Just-Another-Love-You-Mix)
Lygtemanden (Cut 'N' Move Remix)
Lav Sol Over Aarhus (Lav Dub Over Aarhus)
Songs
Missionary ManFor Fuld Musik · 2009
Spread LoveGet Serious · 1991
Get SeriousGet Serious · 1991

References
Cut 'N' Move Wikipedia
(Text) CC BY-SA