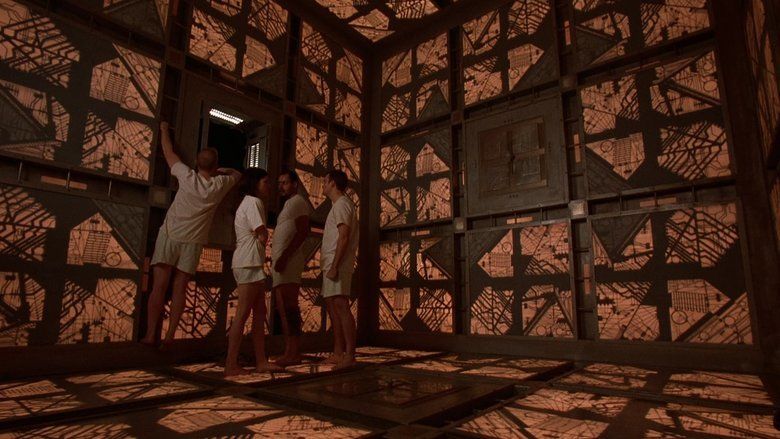 A man named Alderson awakens in a cube-shaped room with a hatch in each wall, the ceiling and the floor, each of which leads to other cube-shaped rooms, identical except for their color. He enters an orange room and, without warning, is cut to pieces by a wire grid that swings down from the ceiling.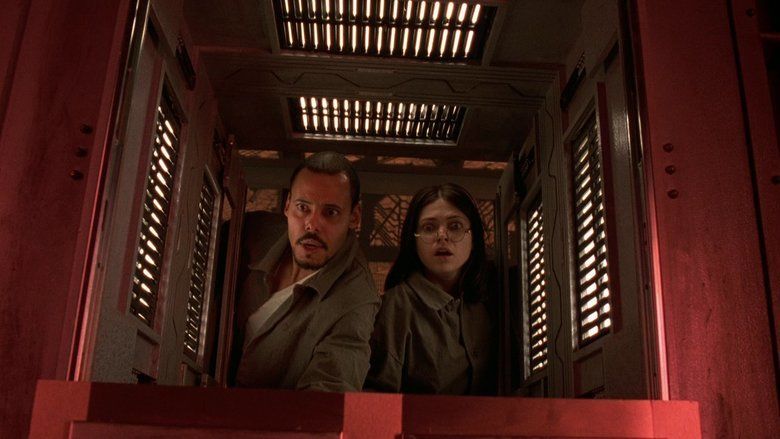 In another such room, five people – Quentin, Worth, Holloway, Rennes, and Leaven – meet. None of them knows where they are or how they got there. Quentin informs the others that some rooms contain traps, which he learned by nearly being killed by one. Rennes assumes each trap is triggered by a motion detector and tests each room by throwing one of his boots in first. Leaven notices numbers inscribed in the passageways between rooms. Quentin recognizes Rennes as "the Wren", an escape artist renowned for getting out of jails. After declaring one room trap-free, Rennes enters and is killed when he is sprayed with acid. The others realize that there are different kinds of detectors, and Quentin deduces that this trap was triggered by heat.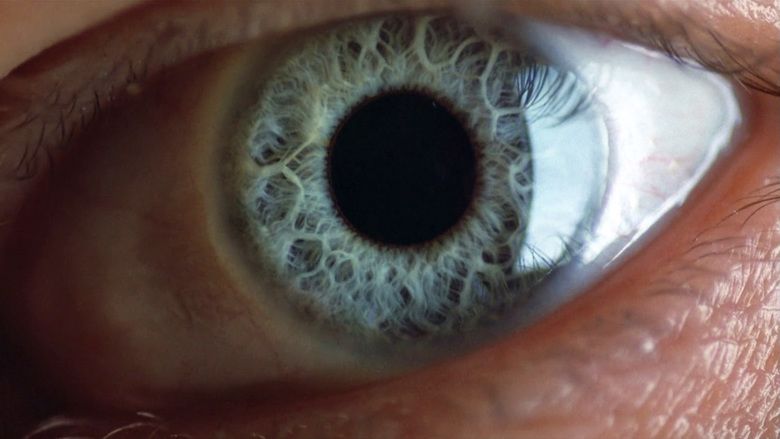 Quentin believes each person has a reason for being there. Leaven is a mathematics student, Holloway a physician and conspiracy theorist, and the surly Worth declines to talk about himself. Leaven hypothesizes that any room marked with a prime number is a trap. They find a mentally challenged man named Kazan, whom Holloway insists they bring along. When Quentin nearly dies in a room deemed safe by Leaven's calculations, tensions rise due to personality conflicts and lack of faith in Leaven's system. Quentin provokes Worth into an argument about finding the exit, and Worth accidentally reveals that he has knowledge of the Cube. Worth admits that he designed the Cube's outer shell for a shadowy bureaucracy and guesses that its original purpose has been forgotten; they have been imprisoned within simply to put it to use.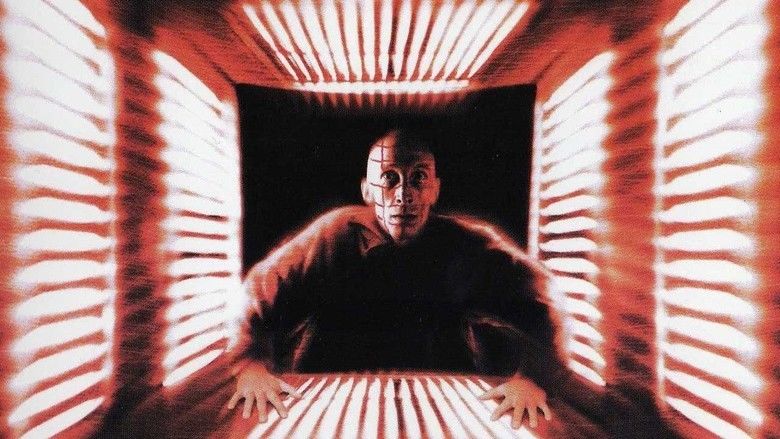 Worth's knowledge of the outer shell's size allows Leaven to determine that each side of the Cube is 26 rooms across and that there are 17,576 rooms in total. She guesses that the numbers indicate the Cartesian coordinates of the rooms. The group moves toward the nearest edge as determined by her theory, but each of the rooms near the outer wall are trapped. Rather than backtrack, they travel silently through a room with a sound-activated trap. After Kazan makes a sound and nearly causes Quentin's death, Quentin threatens Kazan. Holloway defends Kazan and provokes Quentin into an argument by calling him a Nazi. The acrimonious argument escalates until Quentin slaps her, further increasing tension within the group. When they reach the edge, Holloway scouts the gap between the Cube and its outer shell, but slips during a violent quake; Quentin initially saves her, but then lets her fall to her death and reports it to the others as an accident.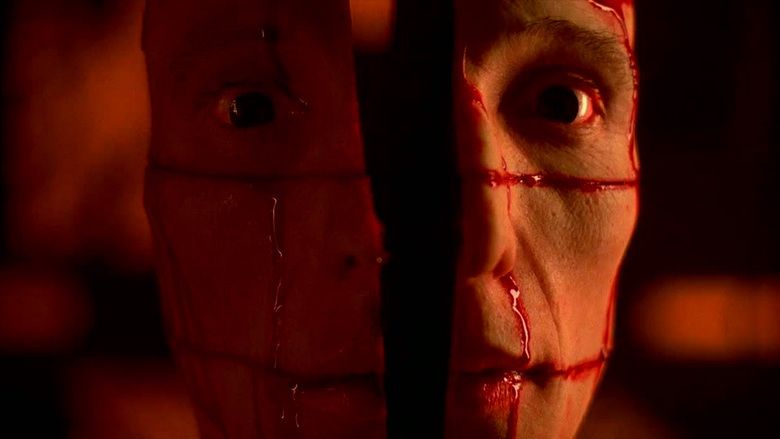 Quentin attempts to persuade Leaven to abandon the others with him and makes a sexual advance, but she rejects him. When Quentin becomes aggressive, Worth intervenes; Quentin beats him savagely and drops him through a floor hatch. Worth laughs hysterically at what he finds — Rennes's corpse. The group is demoralized by the thought of having been wandering in circles. Worth realizes that the rooms move periodically through the Cube, and this is the source of the quaking. Leaven deduces that traps are not tagged by prime numbers, but by powers of prime numbers. Much to Quentin's surprise, Kazan reveals himself to be an autistic savant who can quickly do prime factorisations mentally. With Kazan's help, Leaven guides them to a bridge room which will lead them out of the maze in two movements. Worth preemptively ambushes Quentin and leaves him behind. Kazan opens the supposed final door, revealing a bright white light, but Worth declines to leave the Cube, as he has lost faith in humanity.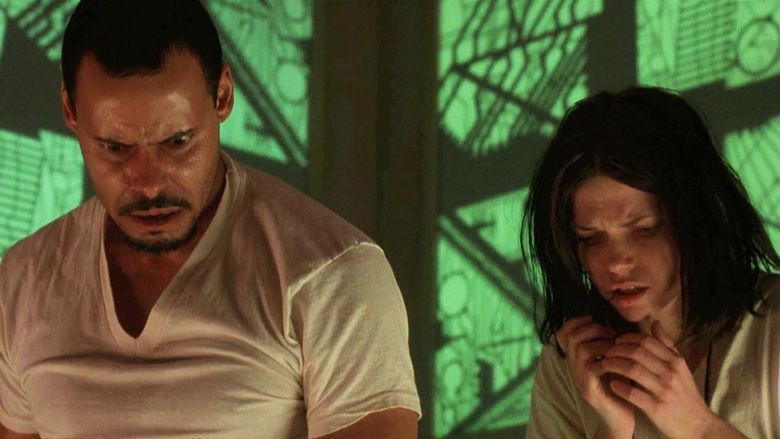 Leaven objects and attempts to convince Worth to join her, but Quentin reappears, kills her, and mortally wounds Worth. As Quentin moves to kill Kazan, Worth expends the last of his strength to grab Quentin's leg, pinning him in the passageway as the rooms shift again. Quentin is torn apart, leaving Worth to die, next to Leaven. Kazan then slowly walks into the bright light, his ultimate fate unknown.
Maurice Dean Wint as Quentin McNeil, a police officer. He is a gruff and aggressive man who takes charge and undertakes most of the dangerous tasks. He is said to be in his 40s.
Nicole de Boer as Joan Leaven, a young student with mathematical skills. She is said to be in her early 20s.
David Hewlett as David Worth, a chronic malcontent and cynic who unwittingly designed the outer shell of the Cube. He is said to be in late 20s to early 30s.
Andrew Miller as Kazan, an autistic man with the ability to rapidly and accurately perform prime number calculations. He is said to be in his 20s.
Nicky Guadagni as Dr. Helen Holloway, a free clinic doctor and a paranoid conspiracy theorist. She is said to be in her early 50s.
Wayne Robson as Rennes, also known as "the Wren", an escape artist who has gotten out of seven prisons. He is said to be in his early 60s.
Julian Richings as Alderson, a prisoner and an unknown character. He woke up in another room and never met the rest of the group.
Each character's name is connected with a real-world prison:
Feature Film Project, Odeon Films, Viacom Canada, Ontario Film Development Corporation, Cube Libre, Téléfilm Canada, The Harold Greenberg Fund Trimark Pictures
An episode of the original The Twilight Zone television series, "Five Characters in Search of an Exit" (first aired 22 December 1961), was reportedly an inspiration for the movie.
After writing Cube, Vincenzo Natali developed and filmed a short entitled Elevated. The short was set in an elevator and was intended to give investors an idea of how Cube would hypothetically look and come across. It eventually got the feature financed. Cube was shot on a Toronto soundstage.
The fictional Cube device in the film was conceived by David W. Pravica, a mathematician. It consists of an outer cubical shell (the sarcophagus) and the inner cube. One side of the outer shell is 434 feet long. The inner cube consists of 263 = 17,576 cubical rooms (minus an unknown number of rooms to allow for movement, as shown in the film), each having a sidelength of 15.5 feet. There is a space of 15.5 feet between the cube and the shell. Each room is labelled with three identification numbers, for example, 517 478 565. These numbers encode the starting coordinates of the room and the x, y, and z coordinates are the sums of the digits of the first, second, and third number respectively. The numbers also determine the movement of the room and the subsequent positions are obtained by cyclically subtracting the digits from one another. The resulting numbers are then successively added to the starting numbers.
Only one cube, measuring 14 by 14 by 14 feet, was actually built, with only one working door that could actually support the weight of the actors. The color of the room was changed by sliding panels. Since this task was a time-consuming procedure, the movie was not shot in sequence; all shots taking place in rooms of a specific colour were shot one at a time. It was intended that there would be six different colours of rooms to match the recurring theme of six throughout the movie; five sets of gel panels plus pure white. However, the budget did not stretch to the sixth gel panel and so there are only five different room colours in the movie. Another partial cube was made for shots requiring the point of view of standing in one room looking into another.
The film won the award for Best Canadian First Feature Film at the 1997 Toronto International Film Festival; Brussels International Festival of Fantasy Film – Silver Raven.
Cube polarised critics, with many highly positive reviews against negative, earning an overall approval rating of 62% on Rotten Tomatoes based on 37 reviews, with a weighted average score of 6.3/10. On Metacritic the film has a score 61 out of 100, based on 12 critics, indicating "generally favorable reviews". Movie critics for Electric Sheep magazine and Empire Online gave the film positive reviews, while critics for Nitrate Online and the San Francisco Chronicle panned the film.
Critics favored the film out of direction, and artistic ability of the sets. Bloody Disgusting gave the movie a positive review, writing, "Shoddy acting and a semi-weak script can't hold this movie back. It's simply too good a premise and too well-directed to let minor hindrances derail its creepy premise."
Critics panned the film for its acting, production, and premise. "Vincenzo Natali's 1997 cult favorite has a Twilight Zone mood that's initially quite chilling — the victims try to come to grips with their bizarre surroundings and the tension mounting among each other." Nick Schager, a reviewer for Slant Magazine, added, "The struggle to discern the cube's purpose increasingly takes on prominence in the frazzled crew's search for answers, but Natali's film is infinitely more competent at creating a clever situation than positing any sort of semi-logical explanation." Slant mostly panned the film, concluding with the line "like lab rats futilely running on their treadmill, Cube eventually winds up going nowhere fast.[sic]"
The New York Times found a more positive reviewer in critic Anita Gates, who wrote, "Cube, the story in question, proves surprisingly gripping, in the best Twilight Zone tradition. The ensemble cast does an outstanding job on the cinematic equivalent of a bare stage... Everyone has his or her own theory about who is behind this peculiar imprisonment... The weakness in Cube is the dialogue, which sometimes turns remarkably trite... The strength is the film's understated but real tension. Vincenzo Natali, the film's fledgling director and co-writer, has delivered an allegory, too, about futility, about the necessity and certain betrayal of trust, about human beings who do not for a second have the luxury of doing nothing."
After Cube achieved cult status, a sequel was produced, Cube 2: Hypercube, released in 2002.
In 2004, a prequel, Cube Zero, was released.
According to The Hollywood Reporter, Lionsgate Films were planning to remake the film under the title Cubed as of April 2015.