Flavored water




www.CrystalLight.com




1982




All




Kraft Foods






On The Go (single-serve packets of beverage mix), multi-serve canisters (multi-serve packets of beverage mix), liquid
Crystal Light is a low-calorie powdered beverage mix produced by Kraft Foods.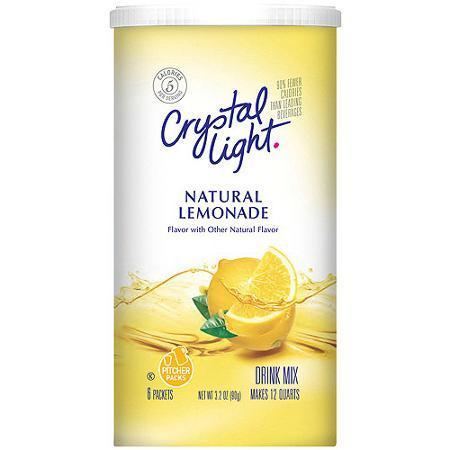 Originally marketed in 1982 with Linda Evans as its spokesperson, the company later had celebrities Raquel Welch and Priscilla Presley as spokeswomen.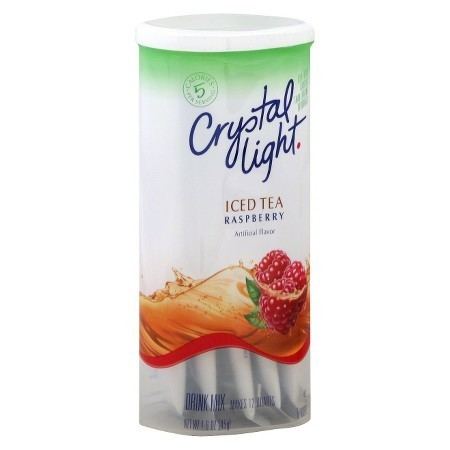 Crystal Light is sweetened with a combination of aspartame, acesulfame potassium, Sucralose, and/or sugar depending on the specific product line and flavor. First packaged in multi-serve canisters, Crystal Light launched single-serve "On The Go" packets in 2004. In 2009, Crystal Light redesigned its multi-serve packaging. On a finished case goods basis, the new design uses 250 tons less packaging than the original. In 2010, Crystal Light launched Pure Fitness, a "naturally-sweetened" low-calorie fitness drink mix which is sweetened with sugar and Truvia, a sweetener derived from the stevia plant. It is currently sold in "On The Go" packets. In 2011, Crystal Light Pure Fitness was renamed Crystal Light Pure, and three additional flavors were introduced. In April 2012, several Crystal Light varieties were added to the line of sodamix syrups for SodaStream home soda makers.
Kraft Foods, the parent company of Crystal Light, offers a product locator on its website to help locate flavors in a desired location. Crystal Light is sold in the U.S. and Canada.
Crystal Light is available in naturally and artificially sweetened varieties, and some, but not all of the flavors may be gluten free. Most Crystal Light flavors (24) contain five calories per a serving of 8 fl. oz. It is sold in different package sizes. Single-serve "On The Go" varieties come in both 7- and 10-count packages. Multi-serve packets are available in 8-quart canisters (eight 1-qt. packets), 10-quart canisters (five 2-qt. packets), and 12-quart canisters (six 2-qt. packets). Crystal Light varieties include Refreshment, Sunrise, Tea, Enhanced and Skin Essentials. The Hunger Satisfaction variety contains 5g of fiber and 3 g of protein (from milk) per serving. The Focus and Energy varieties contain 40 and 60 mg of caffeine per serving, respectively, and the Fiber variety contains 3 g of prebiotic fiber from inulin, advertised as supporting digestive health.
Crystal Light Wikipedia