Occupation

Comedian; actress




Website

cristelaalonzo.com




Years active

2006–present




Name

Cristela Alonzo





Home town

San Juan, Texas, U.S.




Role

Stand-up comedian




Television

Cristela




TV shows

Cristela






Born

January 6, 1979 (age 36) (

1979-01-06

)

Hidalgo, Texas, U.S.




Parents

Adalberto Alonzo, Natalia Gonzalez




Similar People

Terri Hoyos, Maria Canals Barrera, Andrew Harrison Leeds, Carlos Ponce, Sam McMurray




Profiles




Twitter

Facebook

Tumblr
Cristela 80 s music sequels stand up comedy
Cristela Alonzo (born January 6, 1979) is a Mexican-American comedian, actress, writer and producer, who created and starred in the ABC sitcom Cristela. She is the first Latina woman to create, produce, write, and star in her own US network show.
Contents
Cristela alonzo 2015 comedy up late on abc ep2
Early life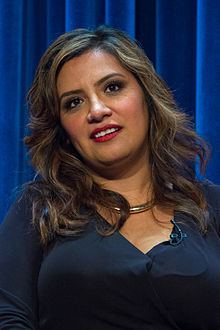 Alonzo was born in San Juan, Texas, the youngest of four children of mother Natalia Gonzalez, who worked double shifts at a Mexican restaurant for about 20 years, and father Adalberto Alonzo, who are Mexican. When Alonzo's mother was pregnant with Alonzo, Alonzo's mother left her abusive husband and raised the children alone. Alonzo has said that she never met her father, who died in 2009. Alonzo grew up in the U.S. town that happens to be close to the border of Mexico San Juan, Texas, in the Rio Grande Valley.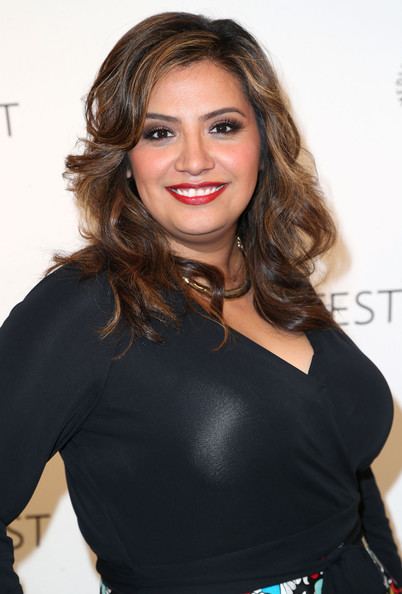 She has three siblings, older sister Julisa Maria Alonzo and older brothers Eloy Eduardo Alonzo and Ruben G Alonzo. Alonzo's mother came from the small village of El Zancarron in San Luis Potosi, Mexico. Throughout her childhood, on her mother's weekly day off, Alonzo spent time with her paternal grandmother in Reynosa, Mexico, just across the border.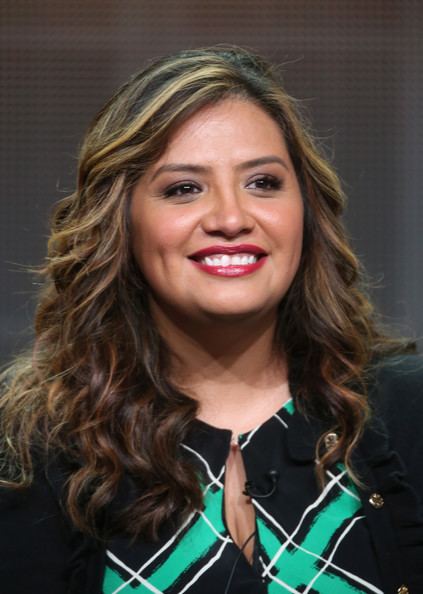 For the first eight years of Alonzo's life, the family squatted in an abandoned diner, and were homeless and destitute, even with her mother working double shifts as a waitress. She often went hungry, and had problems with skin pigment due to a lack of nutrition. Alonzo said her mother often used humor to offset the abject poverty. Alonzo learned English from watching TV as her family spoke only Spanish at home; her mother never learned to speak English. Television was a way for the family to stay inside, avoiding the violence from drug trafficking in their neighborhood. Alonzo would translate American shows into Spanish and act them out for her mother. Alonzo and her mother were inseparable. Alonzo and her mother shared a bed until Alonzo turned 18.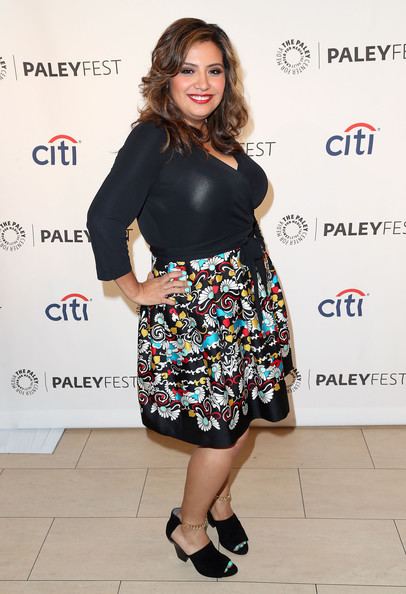 Alonzo was raised in a very strict Catholic household. Because her older sister married young, she spent much of her childhood hanging out with her older brothers and became interested in comic books, trading playing cards, a lot of Star Trek: TNG, Dungeons and Dragons and metal music. She graduated from Pharr-San Juan-Alamo High School.
At age 18, Alonzo left home to attend Webster University to study theater in St. Louis. However, Alonzo dropped out because she could no longer afford school. She went back to Dallas and moved in with her sister, where she took care of her mother who was sick and of her sister's children. Alonzo's mother died in 2002.
Career
In 2003, a year after her mother died, Alonzo got a job as an office manager at the Addison Improv, and started doing stand-up. Alonzo said that she started doing stand-up as a way to process her grief and talk about her mom and her family. She was part of a small Dallas scene. Alonzo eventually moved to Los Angeles to become a stand-up comedian.
Alonzo spent two years traveling on a bus with the Honduran-born American comedian Carlos Mencia and several other comics. Alonzo ended up leaving the tour. Alonzo then spent a lot of time on the road doing college comedy shows, where she found a lot of success.
Alonzo did a 30-minute segment of Comedy Central's The Half Hour on June 7, 2013. She has appeared on Conan, Late Late Show with Craig Ferguson, Gabriel Iglesias Presents Stand Up Revolution, Showtime, Last Comic Standing, The Late Show with Stephen Colbert and Live at Gotham.
In January 2014, Alonzo was named as one of "10 L.A. Comedy Acts to Watch in 2014" by L.A. Weekly. She was also named one of "13 Funny Women to Watch in 2014" by Cosmopolitan.
Alonzo voiced Cruz Ramirez in the Disney-Pixar film Cars 3 (2017).
Cristela
In 2013, with TV producer Becky Clements, Alonzo created her own semi-autobiographical comedy pilot Cristela for ABC. She wrote the pilot with her writing partner, Kevin Hench. It was not greenlit as a part of the 2013–2014 television season. In an unusual move, they decided to plan to shoot a pilot presentation with the penalty money (a 30% fee they got when the network initially passed). On February 26, 2014, they shot a pilot presentation, filmed on the stage of Last Man Standing with much of that show's crew to save money; it got a strong testing response from the audience.
On May 10, 2014, ABC picked up the pilot to series for the 2014–15 television season. After an initial order of 13 episodes, 9 additional episodes were ordered, bringing the total count of episodes for season 1 to 22. Cristela is a multi-camera show, shot in front of a live audience. The series concluded on May 7, 2015 and has since been cancelled.
Comedic style
Alonzo has a trademark, raucous laugh: "If I'm laughing, you know I'm either very happy or very sad," she said. "I cope with things with jokes." She is an observational comic who reflects on stories in her own life. Inspired by Bill Cosby and Roseanne Barr and her favorite childhood shows (The Cosby Show and Roseanne),
Personal life
Alonzo lives in Los Angeles. Her "home club" is the Comedy and Magic Club in Hermosa Beach, California.
Alonzo was named after the midwife who delivered her. The midwife turned out to be her Cristela co-star, Maria Canals-Barrera's husband's (actor David Barrera) aunt.
Film
2016: The Angry Birds Movie, Shirley
2017: Cars 3, Cruz Ramirez
Television
2015: General Hospital actress - 1 episode
2014-2015: Cristela, creator, executive producer, writer, actor
2012: Ladies Room Diaries, producer, writer - 3 episodes: "Rubik's Cubicle," "Okey Dokey Karaoke," "Hide n' Cake"; also actor
2012: Hey It's Fluffy!, actor - 4 episodes
2012: The Book Club, actor - 2 episodes: "The Warrior Reads On," "All Valley"
2011: Sons of Anarchy, actor - 1 episode: "Fruit for the Crows"
2009: Turtles Forever, Holly Day Inn, Annie Buddyhome, Susan Williams (voices)
2006: Mind of Mencia, writer - 15 episodes
Video games
2017: Cars 3: Driven to Win, Cruz Ramirez
Shorts
2013: Hot Pursuit, actor
2011: The North Council, writer
2009: TGIF: The Musical, writer, story
2008: Life After, writer
2008: Recycled, writer
2007: Carpet Diem, writer
2007: Cookie de Mayo, writer
Stand up
2017: Netflix Original Cristela: Lower Classy.
2014: Just for Laughs: All-Access, episode: "Jimmy Carr"
2014: Conan, episode: "Episode #4.80"
2012: Conan, episode: "Dracula Meets the Mummy, & the Two Hit It Off Swimmingly"
2014: @midnight, episode: "Episode #2.5"
2013: The Half Hour
2011: Gabriel Iglesias Presents Stand-Up Revolution, episode: "Cristela Alonzo/Larry Omaha/Maz Jobrani"
2011: Legally Brown
2010: Ladies Night Out
2010: Last Comic Standing, episodes: "Episode #7.7,"Episode #7.1"
2009: Stand-Up 360: Muy Caliente Edition 2
2007: Live at Gotham, episode: "Episode #2.7"
References
Cristela Alonzo Wikipedia
(Text) CC BY-SA