Kingdom

Plantae




Genus

Cosmos




Higher classification

Cosmos




Order

Asterales




Scientific name

Cosmos bipinnatus




Rank

Species






Similar

Cosmos, Cosmos sulphureus, Tickseed, Daisy family, Zinnia elegans
Dr a on cosmos bipinnatus
Cosmos bipinnatus, commonly called the garden cosmos or Mexican aster, is a medium-sized flowering herbaceous plant native to Mexico. The species and its varieties and cultivars are popular as an ornamental plant in temperate climate gardens. It naturalized in scattered locations across North America, South America, the West Indies, Italy, Australia, and Asia, where it is a garden escape (introduced species) and in some habitats becoming a weed.
Contents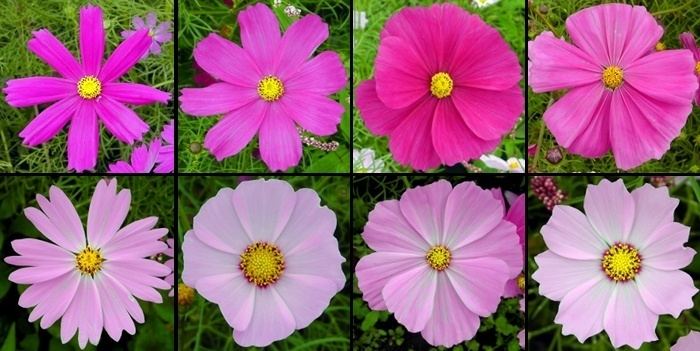 Gardenofaaron com playing favorites with cosmos bipinnatus and the american goldfinch
Description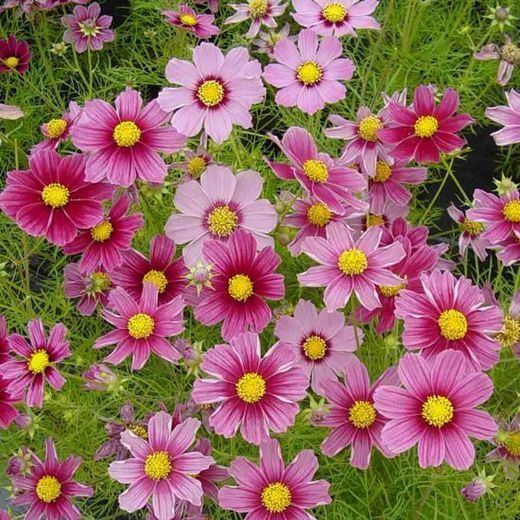 Cosmos bipinnatus is considered a half-hardy annual, although plants may reappear via self-sowing for several years. The plant height varies from 2–4 ft (0.61–1.22 m). The cultivated varieties appear in shades of pink and purple as well as white. Its foliage is finely cut into threadlike segments. When flowering, the plant can become top heavy. This problem is alleviated when grown in groups, as the bipinnate leaves interlock, and the colony supports itself.
Varieties
Some of the varieties of Cosmos bipinnatus in cultivation today include: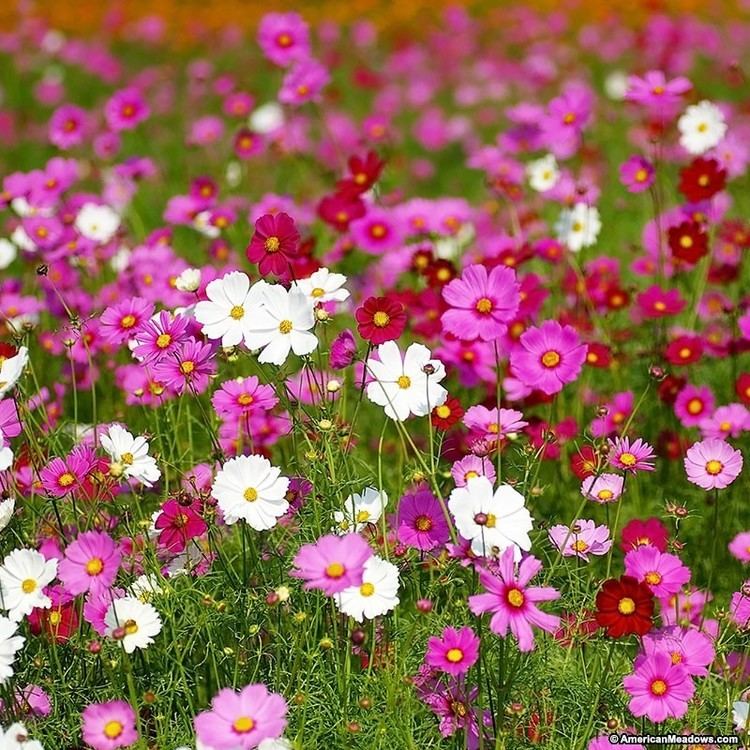 'Sensation', also known as 'Early Sensation', is a widely available mix of tall varieties
'Sensation Pinkie'

agm
Sonata series

agm
'Versailles', developed for the cut flower trade, are shorter than the species, with heights remaining below three feet
'Daydream' features a pink inner ring on a white background
'Seashells' features quilled petals
(those marked agm have gained the Royal Horticultural Society's Award of Garden Merit).
Cultivation
Growth characteristics of this plant include: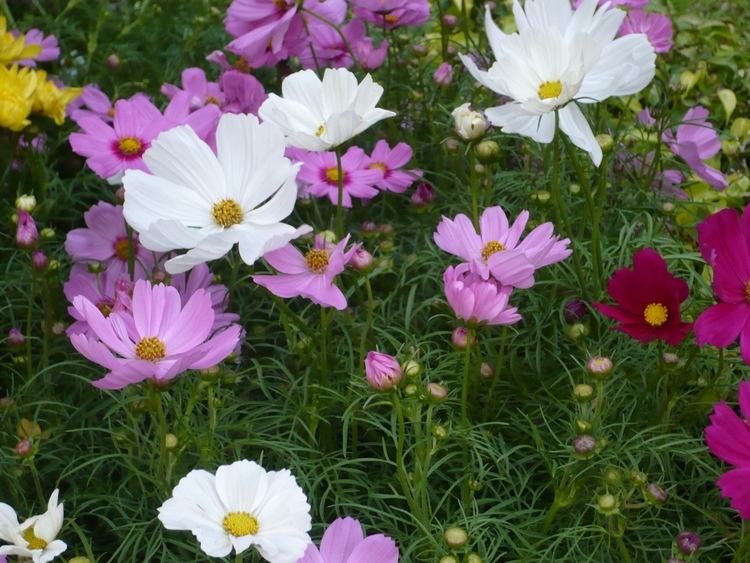 Germination takes between 7 and 10 days at the optimal temperature of 75 degrees Fahrenheit (24 °C); flowering begins between 60 and 90 days after germination
It prefers a soil pH between 6.0 and 8.5, reflecting its native habitat in the alkaline regions of Central America
Flowering is best in full sun, although partial shade is tolerated
Excessive rain can cause cultivation problems, due to the delicate nature of the stems. Heavy rain can cause breakage. Cosmos bipinnatus can tolerate heat as long as adequate moisture is provided, however, it does not handle droughts, strong winds or cold temperatures well. Snails, slugs and aphids have a taste for Cosmos bipinnatus. Successfully cultivated plants can mature 2 to 4 feet x 12 to 18 inches.
Pollinators
The flowers of Cosmos bipinnatus attract birds and butterflies, including the monarch butterfly. It can be part of butterfly gardening and pollinators-honey bee habitat gardens.
References
Cosmos bipinnatus Wikipedia
(Text) CC BY-SA