Years active

1996-present




Name

Connor Trinneer





Role

Film actor




Children

Jasper Trinneer







Born

March 19, 1969 (age 54) (

1969-03-19

) Walla Walla, Washington, U.S.


Spouse

Ariana Navarre Trinneer (m. 2004)




Education

Pacific Lutheran University, University of Missouri–Kansas City


Movies and TV shows

Star Trek: Enterprise, Star Runners, Prey for Death


Similar People

Dominic Keating, Anthony Montgomery, Linda Park, Jolene Blalock, Rick Berman
Connor Trinneer & Dominic Keating interview with Riker's Beard
Connor Trinneer (born March 19, 1969) is an American film, stage, and television actor. He is best known for his role as Charles "Trip" Tucker III on Star Trek: Enterprise and as Michael on the series Stargate Atlantis.
Contents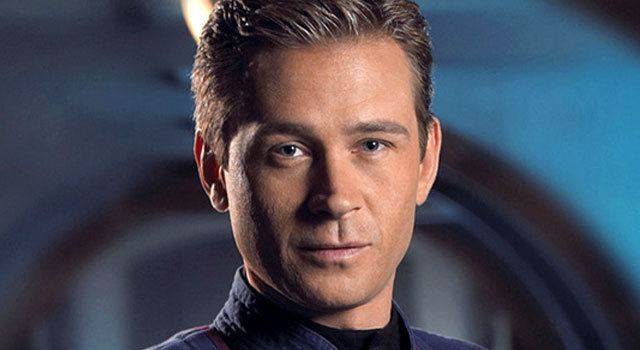 That time actors connor trinneer dominic keating talked to a puppet at unbelievable premiere
Early life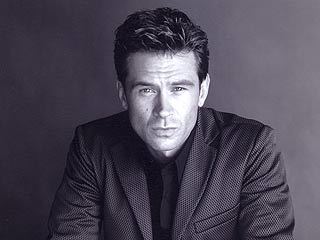 Trinneer was born on March 19, 1969, in Walla Walla, Washington, but spent many years in Kelso, Washington, where he attended elementary and middle schools, and then Kelso High School. He attended Pacific Lutheran University in Tacoma. While at PLU, he played college football. He graduated with a Bachelor of Fine Arts degree in acting, and went on to obtain a Master of Fine Arts degree from University of Missouri–Kansas City.
Career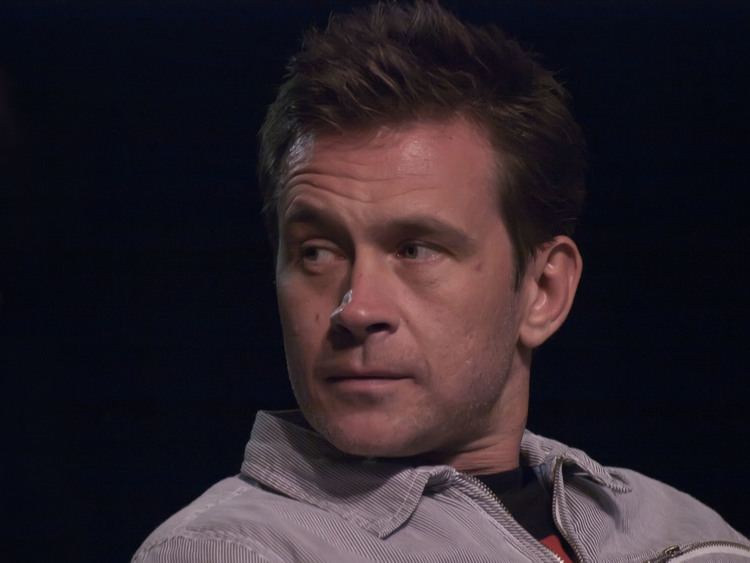 Trinneer first came to attention in Arcadia at the Huntington Theater Company in Boston. Much of his work to date has been in theater, specifically a long association with the Circle X Theatre Company in Hollywood.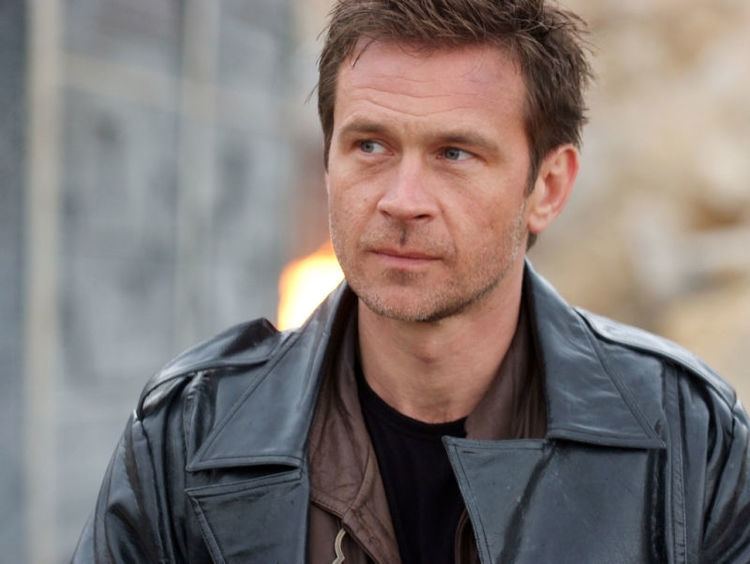 He has had several guest-starring roles on television, including One Life to Live, Sliders, and Touched by an Angel. He also had a significant role in the TV adaptation of A.R. Gurney's Far East, playing the conflicted gay officer Bob Munger.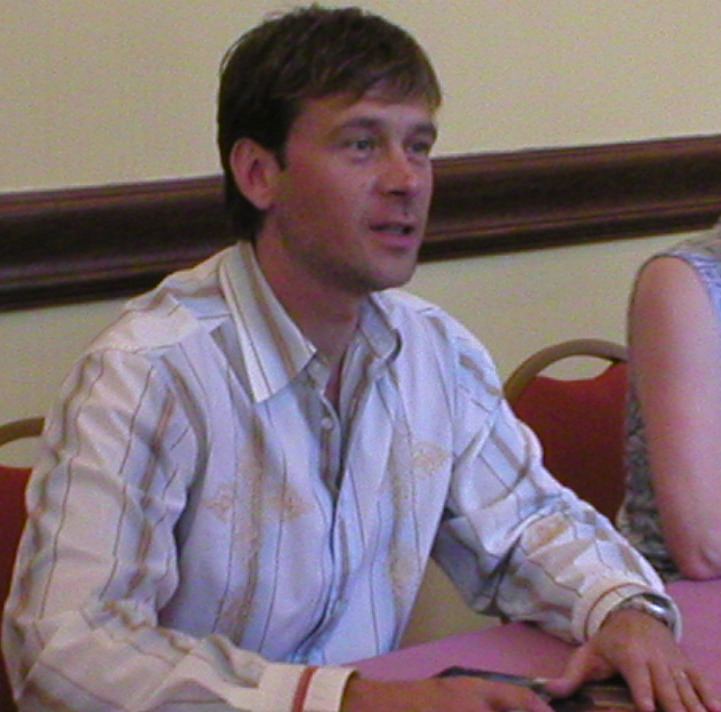 In 2001, Trinneer auditioned for Star Trek: Enterprise. At the time, he did not follow science fiction and was unaware of the franchise's significance. He said that he gained the role of Tucker through sheer luck, as he anticipated that more than a hundred actors would audition for the part. Trinneer did not know what to expect from the part. During the audition, he had only seven pages of a script on which to base his performance, and was told only that the character originated from the southern United States.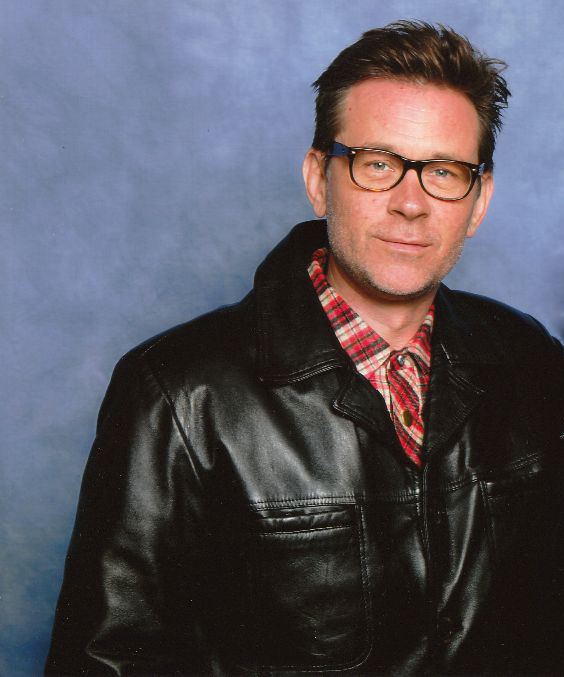 After the cancellation of Enterprise, Trinneer returned to guest-starring roles on series such as Terminator: The Sarah Connor Chronicles and 24, and a recurring role as the Wraith Michael in Stargate Atlantis.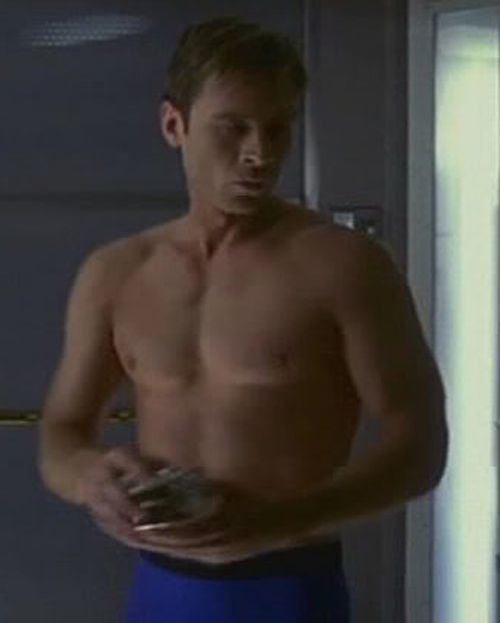 Trinneer attended the GO3 Electronic and Entertainment Expo in Perth, Western Australia, and appeared with fellow Stargate Atlantis co-star David Nykl on the 2009 Channel Seven Perth Telethon.
Personal life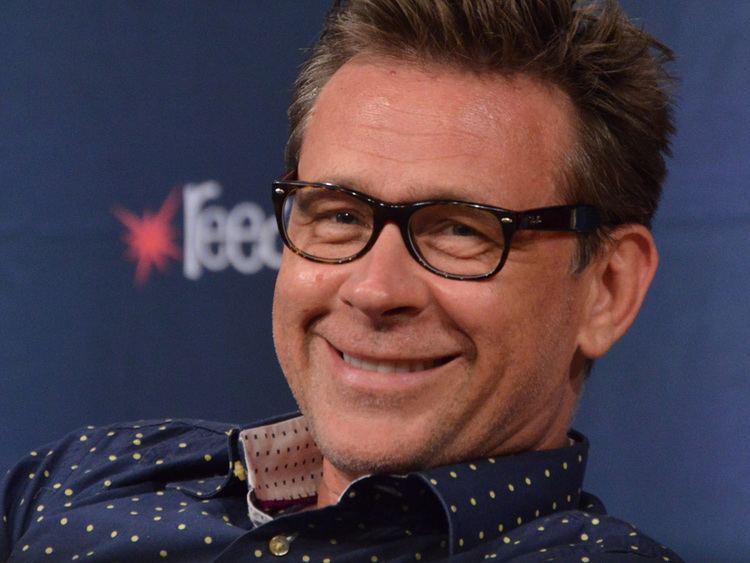 Trinneer married Ariana Navarre on May 29, 2004; they have a son, born in 2005.
Filmography
Actor
2022
Shuttlepod Show (Podcast Series)
- Life Before Enterprise with Dominic Keating Part 1 (2022)
- Life Before Enterprise with Dominic Keating Part 2 (2022)
- The Bossman Cometh with Rick Berman Part 1 (2022)
- The Fan Questions Show #2 (2022)
- Later, Navigator with Anthony Montgomery (2022)
- The Fan Questions Show #1 (2022)
- Wham, Bam, Thank You Trip with Julianne Christie (2022)
- Check Your Rear, Admiral with Vaughn Armstrong (2022)
- A Vulcan Walks into a Bar with Gary Graham (2022)
2022
The Fabelmans
as
Phil Newhart
2022
The Baby Pact
as
Kevin Pyle
2018
9-1-1 (TV Series)
as
Jessie
- Outside Looking In (2022) - Jessie
- 9-1-1, What's Your Grievance? (2021) - Jessie
- Fools (2020) - Jessie (uncredited)
- This Life We Choose (2019) - Jessie
- Under Pressure (2018) - Jessie
2021
Jon Hamm (Short)
as
Randy
2020
Unbelievable!!!!!
as
Captain Jack Youngblood
2020
The Resident (TV Series)
as
Mark Lawson
- Reverse Cinderella (2020) - Mark Lawson
2019
The Purge (TV Series)
as
Curtis
- 7:01am (2019) - Curtis
- Hail Mary (2019) - Curtis
- Before the Sirens (2019) - Curtis
- Should I Stay or Should I Go (2019) - Curtis
- Happy Holidays (2019) - Curtis
- House of Mirrors (2019) - Curtis
- Grief Box (2019) - Curtis
- Blindspots (2019) - Curtis
- Everything Is Fine (2019) - Curtis
- This Is Not a Test (2019) - Curtis
2019
Dark Harbor
as
Chief Sanders
2019
Ben, frankly. (Short)
as
Harrison
2019
Riley Parra: Better Angels
as
Samael
2018
Guilty Party (TV Series)
as
Professor Moynihan
- The Final Lie (2018) - Professor Moynihan
- The Boy is Bad (2018) - Professor Moynihan
- The Ugliest Truth (2018) - Professor Moynihan
- Betrayal and Breakdown (2018) - Professor Moynihan
- Secrets Too Big to Keep (2018) - Professor Moynihan
- We're All Liars (2018) - Professor Moynihan
- I Know You Did It (2018) - Professor Moynihan
- The Liars' Club (2018) - Professor Moynihan
2018
Stargate Origins: Catherine
as
Professor Paul Langford
2018
Stargate Origins (TV Series short)
as
Professor Langford
- Episode #1.10 (2018) - Professor Langford
- Episode #1.9 (2018) - Professor Langford
- Episode #1.8 (2018) - Professor Langford
- Episode #1.7 (2018) - Professor Langford
- Episode #1.6 (2018) - Professor Langford
- Episode #1.5 (2018) - Professor Langford
- Episode #1.3 (2018) - Professor Langford
- Episode #1.2 (2018) - Professor Langford
- Episode #1.1 (2018) - Professor Langford
2017
Hot Break (TV Movie)
as
Mason DeGuere
2017
Riley Parra (TV Series)
as
Samael
- Episode #1.6 (2017) - Samael
- Episode #1.5 (2017) - Samael
- Episode #1.4 (2017) - Samael
- Episode #1.3 (2017) - Samael
- Episode #1.2 (2017) - Samael
2017
American Made
as
George W. Bush / Texan
2017
Take It from the Top (TV Movie)
as
Bob
2016
ReCore (Video Game)
as
Dr. Thomas Adams (voice)
2016
Exorcist: House of Evil
as
Gordon
2015
Kittens in a Cage (TV Series)
as
Officer Jerry
- Ain't Even Got a Mustache (2015) - Officer Jerry
2015
American Odyssey (TV Series)
as
Michael Banks
- Real World (2015) - Michael Banks
- Fubar Bundy (2015) - Michael Banks
- Kmag Yoyo (2015) - Michael Banks
- Beat Feet (2015) - Michael Banks
2015
Prey for Death
as
Chamberlain
2013
Zarg Attack! (Short)
as
Father
2012
Suits (TV Series)
as
Preston Reed
- Asterisk (2012) - Preston Reed
2012
Fairly Legal (TV Series)
as
A.D.A. Tracey Barber
- Force Majeure (2012) - A.D.A. Tracey Barber
2011
The Protector (TV Series)
as
Tom Fowler
- Help (2011) - Tom Fowler
2011
NCIS: Los Angeles (TV Series)
as
NCIS Agent Boyle
- Empty Quiver (2011) - NCIS Agent Boyle
2011
Pretty Little Liars (TV Series)
as
Nick McCullers
- The New Normal (2011) - Nick McCullers
2010
The Mentalist (TV Series)
as
Deputy Bob Woolgar
- Red Moon (2010) - Deputy Bob Woolgar
2009
Lincoln Heights (TV Series)
as
Detective Kersey
- Persons of Interest (2009) - Detective Kersey
- Home Again (2009)
2009
The Closer (TV Series)
as
Jeff Webb
- Waivers of Extradition (2009) - Jeff Webb
2009
Star Runners (TV Movie)
as
Tycho 'Ty' Johns
2009
24 (TV Series)
as
Carl Gadsen
- Day 7: 10:00 p.m.-11:00 p.m. (2009) - Carl Gadsen
2009
Terminator: The Sarah Connor Chronicles (TV Series)
as
Sheriff Alvan McKinley
- The Good Wound (2009) - Sheriff Alvan McKinley
2006
Stargate: Atlantis (TV Series)
as
Michael Kenmore
- The Prodigal (2008) - Michael Kenmore
- Search and Rescue (2008) - Michael Kenmore
- The Last Man (2008) - Michael Kenmore
- The Kindred: Part 2 (2008) - Michael Kenmore
- The Kindred: Part 1 (2008) - Michael Kenmore
- Vengeance (2007) - Michael Kenmore
- Misbegotten (2006) - Michael Kenmore
- No Man's Land (2006) - Michael Kenmore
- Allies (2006) - Michael Kenmore (voice)
- Michael (2006) - Michael Kenmore
2008
Criminal Minds (TV Series)
as
Dan Torre
- Minimal Loss (2008) - Dan Torre
2007
Manchild (TV Movie)
as
Jerry
2007
Family Guy (TV Series)
- Road to Rupert (2007) - (voice)
2006
Without a Trace (TV Series)
as
Coach Robert Owens
- Fade-Away (2006) - Coach Robert Owens
2006
NCIS (TV Series)
as
James Dempsey
- Jeopardy (2006) - James Dempsey
2006
Close to Home (TV Series)
as
Eric Foster
- Privilege (2006) - Eric Foster
2005
Numb3rs (TV Series)
as
Bob McHugh
- Toxin (2005) - Bob McHugh
2001
Star Trek: Enterprise (TV Series)
as
Cmdr. Charles 'Trip' Tucker III
- These Are the Voyages- (2005) - Cmdr. Charles 'Trip' Tucker III
- Terra Prime (2005) - Cmdr. Charles 'Trip' Tucker III
- Demons (2005) - Cmdr. Charles 'Trip' Tucker III
- In a Mirror, Darkly, Part II (2005) - Cmdr. Charles 'Trip' Tucker III
- In a Mirror, Darkly (2005) - Cmdr. Charles 'Trip' Tucker III
- Bound (2005) - Cmdr. Charles 'Trip' Tucker III
- Divergence (2005) - Cmdr. Charles 'Trip' Tucker III
- Affliction (2005) - Cmdr. Charles 'Trip' Tucker III
- The Aenar (2005) - Cmdr. Charles 'Trip' Tucker III
- United (2005) - Cmdr. Charles 'Trip' Tucker III
- Babel One (2005) - Cmdr. Charles 'Trip' Tucker III
- Observer Effect (2005) - Cmdr. Charles 'Trip' Tucker III
- Daedalus (2005) - Cmdr. Charles 'Trip' Tucker III
- Kir'Shara (2004) - Cmdr. Charles 'Trip' Tucker III
- Awakening (2004) - Cmdr. Charles 'Trip' Tucker III
- The Forge (2004) - Cmdr. Charles 'Trip' Tucker III
- The Augments (2004) - Cmdr. Charles 'Trip' Tucker III
- Cold Station 12 (2004) - Cmdr. Charles 'Trip' Tucker III
- Borderland (2004) - Cmdr. Charles 'Trip' Tucker III
- Home (2004) - Cmdr. Charles 'Trip' Tucker III
- Storm Front, Part II (2004) - Cmdr. Charles 'Trip' Tucker III
- Storm Front (2004) - Cmdr. Charles 'Trip' Tucker III
- Zero Hour (2004) - Cmdr. Charles 'Trip' Tucker III
- Countdown (2004) - Cmdr. Charles 'Trip' Tucker III
- The Council (2004) - Cmdr. Charles 'Trip' Tucker III
- E² (2004) - Cmdr. Charles 'Trip' Tucker III
- The Forgotten (2004) - Cmdr. Charles 'Trip' Tucker III
- Damage (2004) - Cmdr. Charles 'Trip' Tucker III
- Azati Prime (2004) - Cmdr. Charles 'Trip' Tucker III
- Hatchery (2004) - Cmdr. Charles 'Trip' Tucker III
- Doctor's Orders (2004) - Cmdr. Charles 'Trip' Tucker III
- Harbinger (2004) - Cmdr. Charles 'Trip' Tucker III
- Stratagem (2004) - Cmdr. Charles 'Trip' Tucker III
- Proving Ground (2004) - Cmdr. Charles 'Trip' Tucker III
- Chosen Realm (2004) - Cmdr. Charles 'Trip' Tucker III
- Carpenter Street (2003) - Cmdr. Charles 'Trip' Tucker III
- Similitude (2003) - Cmdr. Charles 'Trip' Tucker III
- North Star (2003) - Cmdr. Charles 'Trip' Tucker III
- Twilight (2003) - Cmdr. Charles 'Trip' Tucker III
- The Shipment (2003) - Cmdr. Charles 'Trip' Tucker III
- Exile (2003) - Cmdr. Charles 'Trip' Tucker III
- Impulse (2003) - Cmdr. Charles 'Trip' Tucker III
- Rajiin (2003) - Cmdr. Charles 'Trip' Tucker III
- Extinction (2003) - Cmdr. Charles 'Trip' Tucker III
- Anomaly (2003) - Cmdr. Charles 'Trip' Tucker III
- The Xindi (2003) - Cmdr. Charles 'Trip' Tucker III
- The Expanse (2003) - Cmdr. Charles 'Trip' Tucker III
- First Flight (2003) - Cmdr. Charles 'Trip' Tucker III
- Bounty (2003) - Cmdr. Charles 'Trip' Tucker III
- Regeneration (2003) - Cmdr. Charles 'Trip' Tucker III
- Cogenitor (2003) - Cmdr. Charles 'Trip' Tucker III (credit only)
- The Breach (2003) - Cmdr. Charles 'Trip' Tucker III
- Horizon (2003) - Cmdr. Charles 'Trip' Tucker III
- Judgment (2003) - Cmdr. Charles 'Trip' Tucker III
- The Crossing (2003) - Cmdr. Charles 'Trip' Tucker III
- Canamar (2003) - Cmdr. Charles 'Trip' Tucker III
- Future Tense (2003) - Cmdr. Charles 'Trip' Tucker III
- Cease Fire (2003) - Cmdr. Charles 'Trip' Tucker III
- Stigma (2003) - Cmdr. Charles 'Trip' Tucker III
- Dawn (2003) - Cmdr. Charles 'Trip' Tucker III
- The Catwalk (2002) - Cmdr. Charles 'Trip' Tucker III
- Precious Cargo (2002) - Cmdr. Charles 'Trip' Tucker III
- Vanishing Point (2002) - Cmdr. Charles 'Trip' Tucker III
- Singularity (2002) - Cmdr. Charles 'Trip' Tucker III
- The Communicator (2002) - Cmdr. Charles 'Trip' Tucker III
- The Seventh (2002) - Cmdr. Charles 'Trip' Tucker III
- Marauders (2002) - Cmdr. Charles 'Trip' Tucker III
- A Night in Sickbay (2002) - Cmdr. Charles 'Trip' Tucker III
- Dead Stop (2002) - Cmdr. Charles 'Trip' Tucker III
- Minefield (2002) - Cmdr. Charles 'Trip' Tucker III
- Carbon Creek (2002) - Cmdr. Charles 'Trip' Tucker III
- Shockwave, Part II (2002) - Cmdr. Charles 'Trip' Tucker III
- Shockwave, Part I (2002) - Cmdr. Charles 'Trip' Tucker III
- Two Days and Two Nights (2002) - Cmdr. Charles 'Trip' Tucker III
- Fallen Hero (2002) - Cmdr. Charles 'Trip' Tucker III
- Desert Crossing (2002) - Cmdr. Charles 'Trip' Tucker III
- Vox Sola (2002) - Cmdr. Charles 'Trip' Tucker III
- Detained (2002) - Cmdr. Charles 'Trip' Tucker III
- Oasis (2002) - Cmdr. Charles 'Trip' Tucker III
- Acquisition (2002) - Cmdr. Charles 'Trip' Tucker III
- Rogue Planet (2002) - Cmdr. Charles 'Trip' Tucker III
- Fusion (2002) - Cmdr. Charles 'Trip' Tucker III
- Shuttlepod One (2002) - Cmdr. Charles 'Trip' Tucker III
- Shadows of P'Jem (2002) - Cmdr. Charles 'Trip' Tucker III
- Sleeping Dogs (2002) - Cmdr. Charles 'Trip' Tucker III
- Dear Doctor (2002) - Cmdr. Charles 'Trip' Tucker III
- Silent Enemy (2002) - Cmdr. Charles 'Trip' Tucker III
- Cold Front (2001) - Cmdr. Charles 'Trip' Tucker III
- Fortunate Son (2001) - Cmdr. Charles 'Trip' Tucker III
- Civilization (2001) - Cmdr. Charles 'Trip' Tucker III
- Breaking the Ice (2001) - Cmdr. Charles 'Trip' Tucker III
- The Andorian Incident (2001) - Cmdr. Charles 'Trip' Tucker III
- Terra Nova (2001) - Cmdr. Charles 'Trip' Tucker III
- Unexpected (2001) - Cmdr. Charles 'Trip' Tucker III
- Strange New World (2001) - Cmdr. Charles 'Trip' Tucker III
- Fight or Flight (2001) - Cmdr. Charles 'Trip' Tucker III
- Broken Bow, Part 1 (2001) - Cmdr. Charles 'Trip' Tucker III
2001
Far East (TV Movie)
as
Bob Munger
2001
61* (TV Movie)
as
Writer #2
2000
M.K.3 (TV Movie)
as
Aramis
2000
Gideon's Crossing (TV Series)
as
Steve Tedesco
- The Way (2000) - Steve Tedesco
2000
FreakyLinks (TV Series)
as
Ted
- Subject: Three Thirteen (2000) - Ted
1998
Sliders (TV Series)
as
Samson
- Prophets and Loss (1998) - Samson
1998
Touched by an Angel (TV Series)
as
Paul Ratcliff
- Seek and Ye Shall Find (1998) - Paul Ratcliff
1998
ER (TV Series)
as
EMT
- Sharp Relief (1998) - EMT
1998
Pensacola: Wings of Gold (TV Series)
as
Lt. Kevin Willis
- Trials and Tribulations (1998) - Lt. Kevin Willis
1968
One Life to Live (TV Series)
as
Zeus Zelenko #2 (1996)
Thanks
2011
The Captains (Documentary) (the producers wish to thank)
2011
Cifimad Weekendtrek 2010 (Documentary short) (thanks)
2007
Star Trek: Beyond the Final Frontier (TV Movie documentary) (special thanks)
Self
2022
Shuttlepod Show (Podcast Series)
as
Self / Self - Host
- O Director! My Director! with David Livingston (2022) - Self
- You've Got A Silik Mind with John Fleck (2022) - Self
- That's Shrantastic! with Jeffrey Combs (2022) - Self
- What the Phlox? with John Billingsley (2022) - Self
- Shuttlepod One 20th Anniversary Table Read (2022) - Self - Host
2021
The Center Seat: 55 Years of Star Trek (TV Series documentary)
as
Trip Enterprise / Self - Trip, Enterprise
- It's Been A Long Time- (2022) - Trip Enterprise
- Trekking through the '70s - Phase II and The Motion Picture (2021) - Self - Trip, Enterprise
2020
Berlin Sci-fi Presents (TV Mini Series)
as
Self
- Welcome to the Future (2020) - Self
2020
Ujokes (TV Series)
as
Self
- Episode #1.27 (2020) - Self
2018
Sidewalks Entertainment (TV Series)
as
Self - Guest
- Connor Trinneer (2018) - Self - Guest
2016
Collector's Café (Video short)
as
Self - Guest
2014
Before Her Time: Decommissioning Enterprise (Documentary)
as
Self
2014
Star Trek: Enterprise - In a Time of War (Documentary)
as
Self
2013
Star Trek: Enterprise - In Conversation - The First Crew (Documentary)
as
Self
2013
Star Trek: Enterprise - Uncharted Territory (Documentary)
as
Self
2013
The Captains Close Up (TV Mini Series)
as
Self
- Scott Bakula (2013) - Self
2013
To Boldly Go: Launching Enterprise (Video documentary)
as
Self
2012
William Shatner's Get a Life! (TV Special documentary)
as
Self
2011
The Captains (Documentary)
as
Self
2011
Cifimad Weekendtrek 2010 (Documentary short)
as
Self
2009
FedCon XVIII: The Golden Future (Documentary)
as
Self
2009
The Jace Hall Show (TV Series)
as
Self
- Star Trek & Duke Nukem Forever (2009) - Self
2004
Trekkies 2 (Documentary)
as
Self
2001
70th Annual Hollywood Christmas Parade (TV Special)
as
Self
Archive Footage
2021
CBS News Sunday Morning (TV Series)
as
Charles Tucker III
- 08-29-2021 (2021) - Charles Tucker III
2008
Stargate: Atlantis (TV Series)
as
Michael Kenmore
- Inquisition (2008) - Michael Kenmore
References
Connor Trinneer Wikipedia
(Text) CC BY-SA