Occupation

Boxer




Martial art

Boxing




Height

1.65 m




Role

Boxer




Name

Conjestina Achieng







Born

20 October 1977 (age 38) (

1977-10-20

)

Umiru village, Yala division, Siaya District, Kenya
Conjestina conjestina achieng lives in pale life after boxing bout
Conjestina Achieng (born 20 October 1977 in Umiru village, Yala division, Siaya District. Conjestina is the fifth born in a family of ten. Her father Clement Adalo is a retired medical officer and her mother is Gertrude Auma. Her elder brother, Joseph Kusimba is an ex-boxer who runs a boxing club in Mathare, Nairobi. She is a Kenyan female boxer who has been nicknamed "Hands of Stone" and is ranked number five in the world. She became the first African woman to hold an international title when she beat Ugandan Fiona Tugume to take the vacant WIBF Middleweight title. She also lost out in controversial title fight circumstances to then WBC, and WBA Super middleweight Natascha Ragosina Achieng, a single mother, plays in the middleweight division.
Contents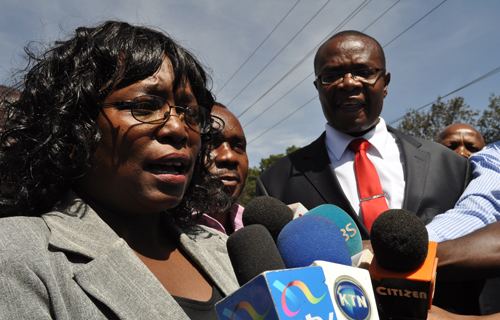 Yvonne reis vs conjestina achieng
Sporting history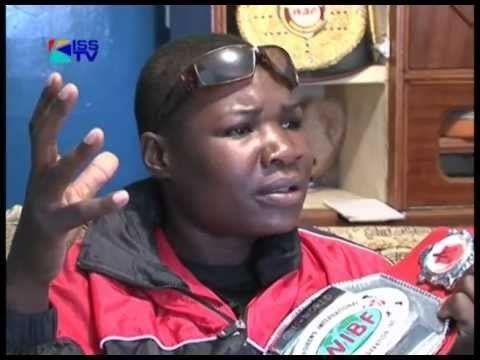 Her passion for sports began at age 9 when she was a pupil at St. Jesus Primary School in Yala.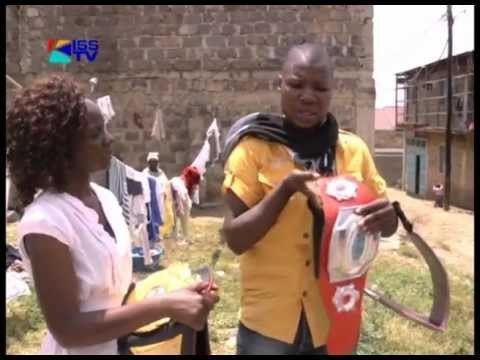 Conjestina took to the ring in 2000 after graduating through the youth soccer ranks in Nairobi's Makongeni Estate, inspired by her elder brother who was a member of the national boxing team. "Being a boxer, he trained and nurtured me, taking me away from playing football to boxing. I trained in boxing for one month, before I was able to face my opponent in the amateur ranks. As an amateur, I once technically knocked out a Ugandan opponent, Sharon Akinyi."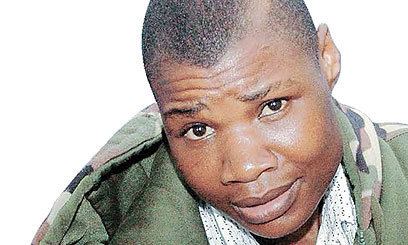 After seven amateur bouts, "Conje" made her pro debut on 8 June 2002 in Nairobi, winning a four-round decision over Naomi Wanjiku of Kenya who fell to 0-2.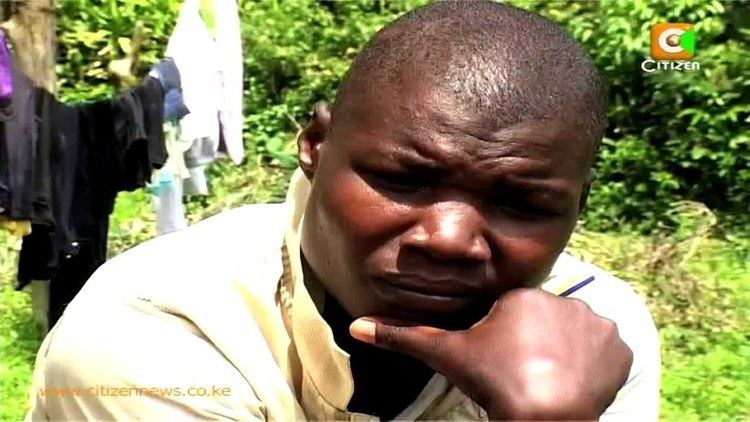 In her second pro bout, also in Nairobi, she fought to a four-round draw with Damaris Muthoni of Nairobi, whose record was then 2--1-2 (1 KO).
In May 2003 in Nairobi she won a four-round decision over Jane Kavulani of Uganda who fell to 2-2-0 (0 KO).
On 13 December 2003 at Nyayo National Stadium in Nairobi she fought to a four-round draw with unbeaten Zarika Njeri, also of Nairobi, who was then 3-0-1 (1 KO).
On 28 August 2004 at Jam Rescue 2 Club in Nairobi, Conjestina fought to a four-round draw in a rematch with Jane Kavulani. On 23 October 2004 at Nyayo National Stadium in Nairobi Conjestina TKO'd Fiona Tugume of Uganda in the seventh round of a scheduled eight-rounder. Achieng consistently beat Fugume to the punch throughout this fight. Tugume fell to 4-1-1 (1 KO).
On 15 November 2004 at Triple A Hotel in Arusha, Tanzania, Conjestina lost a six-round unanimous decision to Monica Mwakasanga of Tanzania who improved to 4-0-1.
On 19 December 2004 at Nyayo National Stadium in Nairobi Conjestina won a ten-round unanimous (100-97.100-91,100-92) decision over Fiona Tugume for the vacant GBU Middleweight title. Tugume fell to 4-2-1 (1 KO) with the loss while Achieng became the first African woman to win a professional boxing title.
On 25 March 2005 at Nyayo National Stadium, Nairobi, Kenya Conjestina knocked out Monica Mwakasanga of Tanzania midway through the fifth round of a scheduled six-rounder, dropping Mwakasanga to 5-1-1. A right hook sent Mwakasanga crashing to the canvas and the Tanzanian was rushed to Kenyatta National Hospital for a check-up. Achieng spoke of the revenge factor for her only loss prior to this bout, saying "I wanted to punish her first before putting her to rest."
On 21 August 2005 at Moi International Sport Centre, Nairobi, Kasarani, Kenya, Conjestina TKO's Monica Mwakasanga in the ninth round of a scheduled ten-rounder for the WIBF Middleweight title. Mwakasanga fell to 5-2-1.
On 24 December 2005 at Kenyatta International Conference Centre in Nairobi, Kenya, Conjestina TKO'd Guillermina Fernandez of Argentina at 1:42 in the first round of a mismatch for the vacant WBF Middleweight title. Fernandez backtracked all the way and fell to 0-4 as her coach thrww in the towel after Fernandez took a mandatory eight count following a knockdown and then was assailed by a flurry of punches.
On 4 February 2006 at Nyayo National Stadium, Nairobi, Kenya 3000 spectators saw Conjestina win a hard-fought six-round unanimous decision over Monalisa Sibanda of Lusaka, Zimbabwe.
On 1 April 2006 at Moi International Sports Centre in Nairobi, Kenya, a partisan crowd of 3000 saw Yvonne Reis of Ft. Lauderdale, Florida win a ten-round split decision over Conjestina for the vacant WBC Middleweight title. Achieng came out aggressively and kept Reis on the defensive in the opening rounds, but from the fifth round onwards Reis began to assert her authority and Achieng tired. The judges' scorecards read Alfred Buqwana 96-94 for Reis, Nemes Kavishe 96-94 for Reis and Atta Eddie Pappoe 100-94 for Achieng. Yvonne Reis, who was the first southpaw Achieng had faced, improved to 6-9-1 (0 KO) with this win while Achieng fell to 8-2-3 (4 KOs) with her first loss in Kenya.
On 5 August 2006 at Nyayo National Stadium in Nairobi, Conjestina (159 lbs) bounced back from her loss to Yvonne Reis with a six-round unanimous decision over Florence Nalukwago (159¾ lbs) of Uganda. For the third time in a row, Conjestina failed to make good her now famous threat "Come Early coz I'll finish early" when she had to slug it out for the whole six rounds against the heftily built Ugandan. Conjestina, who had a reputation for knocking out her opponents, had now failed to stop three in a row. Achieng improved to 9-2-3 (4 KOs). On 2 December 2006 at the Moi International Sport Center in Nairobi, Kenya, Janaya Davis (164¼ lbs) of Atlanta, Georgia won a six-round (60-58,58-56,59-55) unanimous decision over Conjestina (154¼ lbs) who fell to 9-3-3 (4 KO's) with her second home loss to a visiting American. Janaya Davis improved her record to 5-2 (1 KO) with the win. Achieng was slated to fight Texan Valerie Mahfood until a few days before the fight, but Mahfood withdrew. This was a disappointing outcome for Achieng, who had trained in Edison, New Jersey since her fight with Yvonne Reis.
On 20 January 2007 at the Travellers Beach Hotel in Mombasa, Kenya, Laura Ramsey (160 lbs) of Lake Wales, Florida, United States, TKO'd Conjestina (159¾ lbs) at 1:13 in the sixth round of a scheduled 10-round GBU Middleweight title bout. Kenyan news sources reported that Ramsey dominated the fight from the beginning, and could have won it in the second round when she sent Achieng into the ropes. In the sixth, she unleashed a heavy combination of punches that saw a hapless Conjestina hit the canvas, gasping for breath, and the referee stopped the fight at the five count. Ramsey took the fight on short notice to fight Achieng in her home turf when Kimberly Harris canceled out after suffering an injury. Ramsey improved to 8-2-0 (4 KOs) while Achieng fell to 9-4-3 (4 KO's) with her third home loss to a visiting American.
On 10 March 2007 at Nyayo National Stadium in Nairobi, Kenya Conjestina won a non-title fight by a 5th-round TKO of Tanzanian Monica Mwakasanga. Mwakasanga suffered a deep cut on her left eyebrow that forced the medics to advise the referee Shabaan Ogola to discontinue the fight. Achieng in the first of three non-title fights she has to win to be considered for any title challenges showed a different self when she comfortably switched to southpaw stance to contain her opponent. Mwakasanga gave a good account of herself despite suffering a second round knockdown. Mwakasanga kept her form by avoiding skillfully Achieng's hard right throughout the rounds. The Tanzanian left the ring bleeding profusely from a devastating hook from Achieng, vowing to return to Kenya for another encounter against her old foe. Mwakasanga fell to 3-4-1 (1 KOs)
On 12 May 2007 at Charter Hall in Nairobi, Kenya Conjestina won by a second round KO over Jalala Salum in a scheduled eight round bout. WBAN had not previously heard of Salum, who appeared to be making her debut. Local news sources reported the following: "There was disappointment as the non title fight which was expected to be a thriller between Conjestina Achieng and Jalala Salum of Tanzania turned out to be a mismatch. Achieng outclassed her opponent in all the department of the game. The Tanzanian was worse than a novice boxer and it was hardly surprising when she lost." Achieng advanced to 11-3-2 (6 KOs).
On 14 July 2007 at Moi International Sport Centre in Kasarani, Nairobi, Kenya, Conjestina won a six-round bout by unanimous (60-54,60-54,60-55) decision over Emily Kabwalo. Achieng improved to 12-4-2 (6 KOs) while Kawalo fell to 0-1-0 (0 KOs).
On 12 December 2008 at Charter Hall in Nairobi, Conjestina won a six-round majority (58-58,60-56,57-55) decision over Charity Mukami of Nairobi, who fell to 1-1 with the loss.
On 13 April 2008 at Club Afrique in Nairobi, Conjestina (159¾ lbs) TKO'd winless Patroba Lihavi of Eldoret, Kenya in the third round of a scheduled six-rounder. Lihavi fell to 0-3 with the loss.
On 11 July 2008 at Rundturnhalle in Cuxhaven, Germany Natascha Ragosina (168 lbs) of Magdeburg, Germany won by a 10-round unanimous (97-93,96-94,97-93) decision over Conjestina (167½ lbs) for the WIBF and GBU Super Middleweight titles. WBAN correspondent Ewan Whyte wrote: "She came dressed as Supergirl but it would be a lie to say Natascha Ragosina fought like a girl. She didn't fight at all. She 'boxed' (we are told), which meant trying to keep the challenger at arm's length (further still, if possible) for twenty short minutes while the clock ran down. She didn't even make a very good job of that, it has to be said; Achieng cornered her on quite a few occasions with surprising ease, and when she did, she landed some quite good punches. Ragosina neither landed nor even threw anything all night that would have smudged your granny's make-up, yet according to the promoter, Ulf Steinforth, the decision in her favor was correct. What we saw tonight, he told us, was 'a class boxer against a fighter'". Ragosina advanced to 18-0 (11 KO's) with the win.
On 28 November 2008 at the Maritim Hotel in Magdeburg, Germany, Natascha Ragosina (165½ lbs) of Germany won a second 10-round unanimous (97-93,99-91,98-92) decision over Conjestina (161¾ lbs) defending her WIBF and WBA Super Middleweight titles. Erik Schmidt of BoxingNews24.com wrote that "All in all, it was really terrible boxing to watch. Ragosina fought as if she were on a set of tall stilts, never bending her knees and walking stiff-legged around the ring. In rounds eight through ten, Achieng continued pressuring Ragosina constantly, landing the much harder shots and giving her a lot of problems. Ragosina never changed her game during these rounds, continuing to jab weakly, bend backwards to prevent getting hit and clinching constantly. At some point, the referee should have taken points away from her because she looked to be trying to run out the clock in the fight. Because of that, I couldn't give her any of the last three rounds and had Achieng easily winning in the end." Ragosina advanced to 19-0 (11 KO's) even as the decision was booed by the German crowd.
On 28 February 2009 at Hotel Casuarina in Nairobi, Conjestina won a six-round unanimous (59-54,59-55,60-57) decision over her perennial rival Charity Mukami of Nairobi. According to reporter Erick Ochieng: "Achieng, who lived up to her earlier promise of causing havoc in the ring, took the match head on from the start. The boxers, who were unsettled at the start of the fight, ducked forth and back in the first round. Achieng then opened floodgates of punches on her rival's left temple to break the deadlock towards the end of round one, with agitated spectators fearing she would knockout Mukami in the second round, only to slow down in the second. 'I resolved to make the fight a training session rather than to go for my traditional KO', said Achieng. 'From the jabs I threw in the first round, I realised the duel was not going to be a furious one and so I decided to tone down.' But Mukami struck back furiously in the third round to defend herself from being turned into a punching bag. However, this only called for more torture from Conje who caught her off guard with vicious punches. Though Conje dominated, it was Mukami who kept fans at the edge of their seats with her resilient nature even though it was apparent she was losing. Achieng, who appeared rejuvenated and kept changing tactics and solidified her lead with heavy punches in the last round, which left her opponent gasping for breath and short of tricks." Mukami fell to 4-2 (0 KO's).
On 8 May 2009 at the Royal Event Center in Berlin, Germany, Conjestina Achieng fought to a 10-round draw (95-95,97-95,96-97) with Maria Lindberg of Malmo, Sweden for the vacant WIBF Middleweight title. According to a report by Per Ake Persson, it was a fast paced, not very clean fight in which Lindberg pressed the action and Achieng countered, but few telling punches were landed. Lindberg is now 2-0-2 as a pro boxer, while Achieng progressed to 15-6-5 (7 KO's). Lindberg is the 1998 Swedish amateur 71-kg champion who was suspended from boxing competition after an injury in 1999 but returned in 2003 to fight professionally.
Personal life
Being otherwise unemployed, Achieng, who normally earned about $250 a fight, relied on boxing to pay for her inexpensive one-room rented apartment in Nairobi's impoverished Lucky Summer estate. Her greatest challenge was to finance her training and maintain a well-balanced diet. In a country where many survive on less than $1 a day, Achieng struggled to put food on the table and meet her basic needs. Government support for training facilities and equipment is limited and reliable boxing promoters are rare, so prize money is hard to come by.
"I earn a living the hard way", she said in an interview with Women Boxing Archive Network. ""I can't afford the right foods and sometimes I don't even have the bus fare to go for training. When I look at other boxers like Mike Tyson and Laila Ali, my soul bleeds. They are rich and the kind of life they lead is not comparable to ours. But us we lead a dog's life. Things don't fall on a silver plate. Every individual has to reap where he or she has sown and I am no exception."
"In Kenya, boxing is not well paying as people may think. I don't have a permanent salary and I'm only paid when there is a fight and if I have won. Boxing is hard and should be treated with the seriousness it deserves. One has to be committed and train hard."
"I have a son and younger sisters who are still in school, and all of them depend on me. My aging parents can no longer afford to cater for these people and I'm left in charge," she added.
Achieng's day began at 5.30 a.m. with 15 km of road work, then at 8.30 am she resumed her normal gym training till midday. "I enjoy boxing in the company of male boxers", said Achieng. "We train and share ideas."
In any spare time she volunteered at a nearby school assisting children through their assignments and marking their books. The school's owner, Jean Ikenga has always supported Achieng and sometimes paid her rent.
When Conjestina was in school she excelled in arts and crafts, and still pursues drawing and painting. Some of her work is displayed at Upendo Nursery in Mathare North. She said that one of her aims is to nurture young and aspiring artists.
She also wanted to fight Laila Ali. "I am training hard and hope to face her in the ring. She does not sound a threat to me and I long to fight her. I will decide on whether to continue boxing or stop only after I snatch that title from her." Her promoter Caleb Kuya, a Danish-based Kenyan, was equally confident but said "Conje" needs at least three more fights under her belt before she faces Ali, especially as she has boxed professionally only once outside Kenya. "She will be much better if she fights out of the country to get the feel of away matches and even jeering from other fans," he said as he outlined plans for seeking sponsorships for a potential Achieng vs. Ali showdown.
Health issues
In January 2011, Conjestina's father sent an appeal to Kenyans to help him take her to hospital after her behaviour deteriorated from the norm. According to her father, Conjestina had removed her son from school, set ablaze to all her boxing gear and disposed of all the equipment from her gymnasium, which she had opened in 2009. She was admitted at the Mathari hospital in Nairobi which specialises in mental health care. She was later released.
On 4 September 2012. a story ran on Citizen TV showing Conjestina in a state of confusion and utter despair. The former boxer showed off her belts. She was said to be living in poverty having not paid her Ksh 2000 ($23) rent for 4 months. She was under the care of her younger sister. Conjestina was later taken to the Mathari Hospital by Ida Odinga. A popular campaign on social media raised enough money for her to move into a more comfortable dwelling. The comedian Daniel Ndambuk (Churchill) personally donated 180,000 s to pay her rent after public pressure reminded him of a promise he had made to support her.
References
Conjestina Achieng Wikipedia
(Text) CC BY-SA