Covid-19
Colin James Marston




Musician




Colin Marston





2004-present




Musician, producer




New York University





September 13, 1982 (age 33) (

1982-09-13

)


Philadelphia, United States of America




Bass guitar, guitar, Warr guitar




Behold... The Arctopus, Byla, Dysrhythmia, Gorguts, Krallice, Indricothere, Infidel?/Castro!




Krallice, Gorguts (Since 2009), Dysrhythmia (Since 2004), Behold... The Arctopus (Since 2001), Byla




Technical death metal, Black metal, Avant-garde music




Colored Sands, Years Past Matter, Dimensional Bleedthrough, Horrorscension, Skullgrid




Kevin Hufnagel, Mick Barr, Luc Lemay, Lev Weinstein, Weasel Walter
Colin Marston (born September 13, 1982) is an American musician and record producer residing in New York City. He graduated from New York University with a Bachelor of Arts degree in music technology in 2004, and runs Menegroth The Thousand Caves Recording Studios in Woodhaven, Queens while not on tour with one of his four active bands. He is perhaps most famous for fronting the progressive metal band Behold... The Arctopus, in which he plays a Warr guitar, or for his work on bass guitar in the progressive metal trio Dysrhythmia. He is also known for his work in Krallice and the reunion lineup of Gorguts. Marston has produced, mastered and mixed music for artists such as Genghis Tron, Kayo Dot, Jarboe, Capillary Action, and Orthrelm, as well as for his own bands.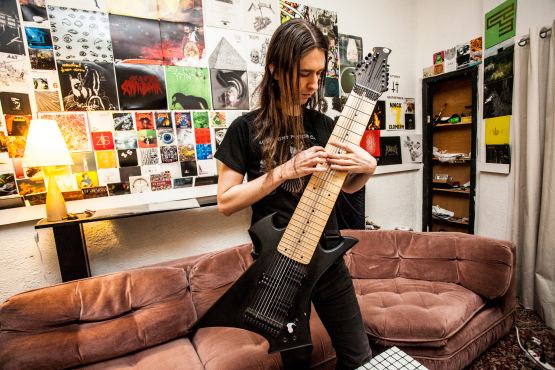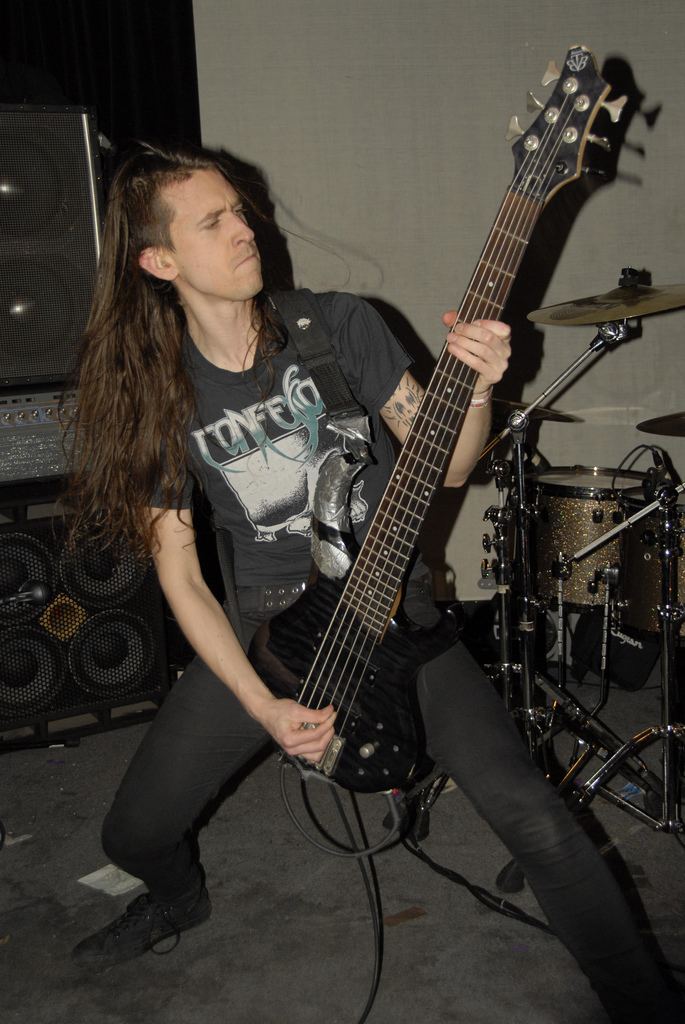 Behold... The Arctopus - (technical metal with jazz influences).
Dysrhythmia - (experimental post rock).
Byla - (ambient/drone soundscapes with guitar melodies).
Krallice - (avant-garde/experimental/progressive black metal featuring Mick Barr of Orthrelm).
Indricothere - technical death metal with various metal influences, formerly known as "Vegan Death," and ambient soundscapes.
Infidel? / Castro! - (abstract electroacoustic, conceptual metal with George Korein).
Gorguts - (Technical death metal, bass in Gorguts reunion line up)
Domestigrind - (grindcore)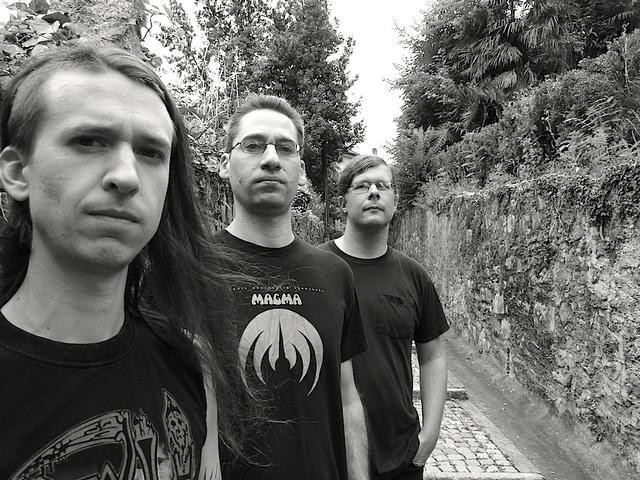 In Dysrhythmia Marston plays an Ibanez BTB 6-string bass guitar with a pick into a Hartke 3500 head with an Eden 410 XLT cabinet and a Roland JC-120 guitar combo. In Behold... the Arctopus he plays a 12-string Raptor Warr guitar (which has been discontinued) as well as a "Metal" Series Warr guitar into the same amps plus an extra Crate 2x12 combo. He uses various distortion and delay pedals in both bands. In Krallice, he uses a pre-2008 Ibanez Iceman guitar. In Gorguts he uses a similar set up with a Boss RC20XL, Morley Distortion, Boss Metalzone and Boss DD7, amongst other pedals.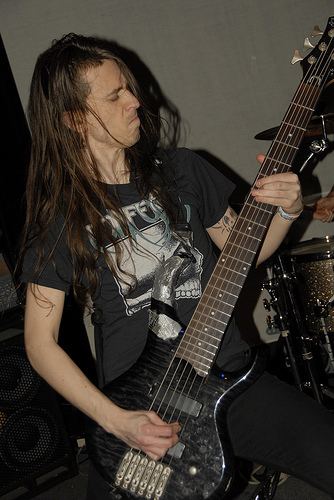 2000: Infidelicacy (Self-released/independent)
2001: Case Study In Bioentropy (Self-released/independent)
2003: Infidel?/Castro! And Friendly Bears - A Split Experience (Epicene Sound Systems / Rice Control)
2005: 'Bioentropic Damage Fractal (Crucial Blast)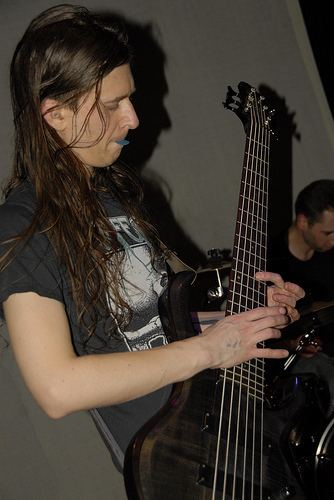 2003 Arctopocalypse Now... Warmageddon Later (Epicene Sound Systems)
2005: Nano-Nucleonic Cyborg Summoning (Troubleman Unlimited)
2006: Split with Orthrelm (Crucial Blast)
2007: Memphis 6-3-06 (s.l.a.p.)
2007: Skullgrid (Black Market Activities)
2012: Horrorscension (Black Market Activities)
2016: Cognitive Emancipation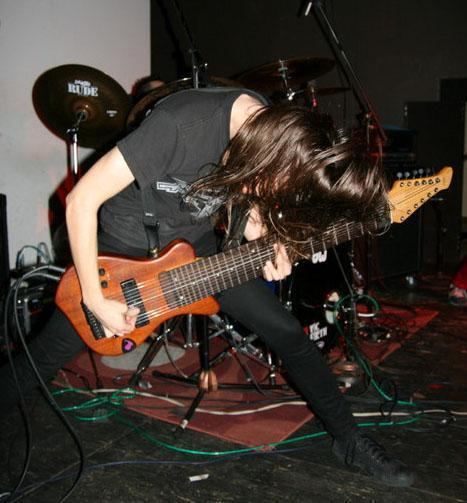 2005: Byla (Translation Loss Records)
2007: Byla + Jarboe - Viscera (Translation Loss Records)
2006: Barriers And Passages (Relapse Records)
2007: Split with Rothko - Fractures (Acerbic Noise Development)
2009: Psychic Maps (Relapse Records)
2012: Test of Submission (Profound Lore)
2016: The Veil of Control (Profound Lore)
2007: Colin Marston - 200220032004 (Self-released/independent)
2007: Indricothere - Indricothere (The Sacrosanct Opuscule)
2013: Indricothere - II (Self-released/independent; vinyl on Gilead Media)
2013: Indricothere - XI (Self-released/independent)
2015: Indricothere - Plagued (Self-released/independent)
2015: Indricothere - XI. (Self-released/independent)
2016: Indricothere - III. (Self-released/independent)
2008: Krallice (Profound Lore Records)
2009: Dimensional Bleedthrough (Profound Lore Records)
2011: Diotima (Profound Lore Records)
2012: Years Past Matter (Self-released/independent; vinyl on Gilead Media)
2015: Ygg huur (Self-released/independent; vinyl on Gilead Media)
2016: Hyperion (EP) (Self-released/independent; vinyl on Gilead Media)
2016: Prelapsarian (Self-released/independent; vinyl on Gilead Media)
2010: Sailors With Wax Wings (Angel Oven Records)
2009: Pyramids With Nadja (Hydra Head Records)
2015: A Northern Meadow (Profound Lore Records)
2013: Colored Sands (Season of Mist)
2016: Pleiades' Dust (Season of Mist)
2004: Dysrhythmia - Live from the Relapse Contamination Festival (Relapse Records)
2005: Child Abuse / Octis split (Forge Records)
2005: Atheist - Elements (remaster) (Relapse Records)
2005: Atheist - Piece of Time (remaster) (Relapse Records)
2005: Atheist - Unquestionable Presence (remaster) (Relapse Records)
2005: Orthrelm - OV (Epicene Sound Systems)
2005: Octis / Ocrilim - Untitled (Troubleman Unlimited)
2006: Battletorn - Burn Fast (Mad at the World Records)
2006: Beret! - Une Tête Pour Deibler (Self Core)
2006: Kayo Dot / Bloody Panda split (Holy Roar Records)
2006: Giggle the Ozone - Order (Laser Seizure Records)
2006: Monocle - Lounge Act (Pralaya)
2006: Astomatous - The Beauty Of Reason (Independent)
2006: Weasel Walter / Mick Barr / Sam Hillmer release (Epicene Sound Systems)
2006: Child Abuse / Miracle Of Birth split (Lovepump United)
2007: Zs - Arms (Planaria Recordings)
2007: Cleric - Cumberbund (Sound Devastation Records)
2007: Time Of Orchids - Namesake Caution (Cuneiform Records)
2007: Octis / Ocrilim - Neerdeth (Independent)
2007: Stylofone - Nighttime 9Young and Lost Club)
2007: Monocle - Outer Sunset (Hidden Shoal Recordings)
2007: Rosetta - Wake/Lift (Translation Loss Records)
2007: Octis - The Social Club No. 6 (The Social Registry)
2008: Ocrilim - Annwn (Hydra Head Records)
2008: Kayo Dot - Blue Lambency Downward (Hydra Head Records)
2008: No Neck Blues Band - Clomeim (Locust Music)
2008: Pyramids - Pyramids (Hydra Head)
2008: Krallice - Krallice (Profound Lore Records)
2008: Jarboe - Mahakali (The End Records)
2008: Ocrilim / Octis - Ment (Brown Sounds)
2008: Mitochondrion - Archaeaeon (self-released)
2008: Incisor - Trendshitter (Saw Her Ghost Records)
2008: Rich Bennett - Music For Underwater Supermarkets (Hidden Shoal Recordings)
2008: Jarboe - Pandora's Box (Season of Mist / The End Records)
2008: Extra Life - Secular Works (Planaria Recordings)
2008: Winterfylleth - The Ghost Of Heritage (Profound Lore Records)
2008: Zevious - Zevious (Independent)
2009: Battletorn / Double Negative split (Volcom Entertainment)
2009: Altar of Plagues - White Tomb (Profound Lore Records)
2009: Liturgy - Renihilation (20 Buck Spin)
2009: Nadja - 'Pyramids with Nadja (Hydra Head)
2009: East of the Wall/Year of No Light/Rosetta - East of the Wall/Year of No Light/Rosetta (Translation Loss Records)
2009: Noveller - Paint On The Shadows (No Fun Productions)
2009: Capillary Action - So Embarrassing (Discorporate Records / Natural Selection Records)
2009: Kevin Hufnagel - Songs For The Disappeared (Nightfloat Recordings)
2009: Zevious - After the Air Raid (Cuneiform Records)
2009: Dysrhythmia - Psychic Maps (Relapse Records)
2009: Krallice - Dimensional Bleedthrough (Profound Lore Records)
2010: Vasaeleth – Crypt Born & Tethered to Ruin (Profound Lore Records)
2010: The Howling Wind - Into The Cryosphere (Profound Lore Records)
2010: Extra Life - Made Flesh(Loaf)
2010: Zs - New Slaves (The Social Registry)
2010: Orthrelm - Orthrelm (ugEXPLODE)
2010: Castevet - Mounds of Ash (Profound Lore Records)
2010: The Howling Wind - Into the Cryosphere (Profound Lore Records)
2010: Cleric – Regressions (Web of Mimicry)
2010: Pyrrhon - Fever Kingdoms (self-released)
2010: Defeatist - Sixth Extinction (Willowtip Records)
2010: Drunkdriver – Drunkdriver (Independent)
2010: Night Heir - Wind in My Dream Mist in My House (self-released)
2010: National Sunday Law – The Fifth Ape (Saw Her Ghost Records)
2011: Liturgy- Aesthethica (Thrill Jockey)
2011: Defeatist - Tyranny of Decay (Nerve Altar)
2011: Absu/Infernal Stronghold - Tour 2011 Flexi (self-released
2011: Issfenn - Issfenn (Hvergelmir Records)
2011: Lycus - Demo MMXI (Graceless Recordings)
2011: Pyrrhon - An Excellent Servant But a Terrible Master (selfmadegod Records)
2011: Les Rhinocéros - Les Rhinocéros (Tzadik Records)
2011: Krallice - Diotima (Profound Lore Records)
2011: Panopticon - Social Disservices (Flenser Records)
2011: Origin - Entity (Nuclear Blast)
2011: Omegas - Blasts of Lunacy (Parts Unknown Records/Hardware Records)
2011: Mitochondrion - Parasignosis (Profound Lore Records)
2011: Antediluvian - Through the Cervix of Hawaah (Profound Lore Records)
2012: Wreck and Reference - No Youth (The Flenser)
2012: Anicon - Anicon (Eternal Warfare)
2012: Imperial Triumphant - Manifesto (Single) (self-released)
2012: Krallice - Years Past Matter (self-released/Gilead Media)
2012: Dysrhythmia - Test of Submission (Profound Lore Records)
2012: Animals Killing People/Andromorphus Rexalia - Phylum Morph-Apokalupsis (Sevared Records)
2012: Behold the Arctopus - Horrorscension (Black Market Activities)
2012: Palace of Worms/Mastery - Palace of Worms/Mastery (Flenser Records)
2012: Dephosphorous/Wake - Dephosphorous/Wake (Wake side only) (7 Degrees Records)
2012: Cephalopod - Materialization (self-released)
2012: Vaura - Selenelion (Weird Records)
2012: The Howling Wind - Of Babalon (Profound Lore Records)
2012: Titan - Burn (Hypaethral Records)
2012: Sanity Obscure - Subterranean Constellation (self-released)
2012: Panopticon - Kentucky (Pagan Flames Productions)
2012: Imperial Triumphant - Abominamentvm (self-released)
2012: Zvoov - Planned Obsolescence (self-released)
2013: Altars - Paramnesia (Nuclear Winter Records)
2013: When Bitter Spring Sleeps - Coven of the Wolves (Pagan Flames Productions)
2013: Geryon - Geryon (self-released)
2013: Vaura - The Missing (Profound Lore Records)
2013: Sannhet - Known Flood (Sacrament Music)
2013: Seidr - Ginnungagap (Bindrune Recordings)
2013: Sun Worship - Surpass Eclipse (An Out Recordings)
2013: Indricothere - II (self-released)
2013: Mitochondrion - Antinumerology (Dark Descent Records)
2013: Woe - Withdrawal (Candlelight Records)
2013: Gorguts - Colored Sands (Season of Mist)
2013: Vestiges/Panopticon - Vestiges/Panopticon (Flenser Records)
2013: Oblivionized/Plague Widow - This Black Earth (Buriedinhell Records)
2014: Artificial Brain - Labyrinth Constellation (Profound Lore Records)
2014: Origin - Omnipresent (Agonia Records)
2014: Panopticon - Road to the North (Bindrune Recordings)
2014: Pyrrhon - The Mother of Virtues (Relapse Records)
2014: Defilementory - The Dismal Ascension (Torture Music Records)
2015: Language - Remus (self-released)
2015: Immortal Bird - Empress/Abscess (Broken Limbs Recordings)
2015: Panopticon - Autumn Eternal
2015: The Lumberjack Feedback - Blackened Visions (mastering) (Kaotoxin records)
2016: Krallice - Hyperion (EP) (Self-released; vinyl on Gilead Media)
2016: Pyrrhon - Running Out of Skin (Self-released/PRC Music)
2016: Gorguts - Pleiades' Dust (Season of Mist)
2016: Geryon - The Wound and the Bow (Self-Released)
2016: Panopticon - Revisions Of The Past (Binrude/Nordvis)
2016: Kevin Hufnagel - Backwards Through the Maze (Nightfloat Recordings/Nostalgium Directive)
2016: Efferat - Bainianling Juhui (Mastering)
2016: Mitochondrion / Auroch - In Chronian Hour (Dark Descent Records)
2016: Indricothere - III (Self-released/independent)
2016: Anicon - Exegeses (Gilead Media)
2016: Dysrythmia - The Veil of Control (Profound Lore)
2016: Behold the Arctopus - Cognitive Emancipation (Self-released)
2016: Krallice - Prelapsarian (Self-released; vinyl on Gilead Media)
2017: Kevin Hufnagel - The Protected Shards (Nightfloat Recordings)
2017: Hathenter - 10000 (Hathenter)
2017: Fraxinus - Pennsylvanica (Hathenter)
2017: Sunless - Urraca (Self-Released)
2017: Unearthly Trance - Stalking the Ghost (Relapse Records)
2017: Artificial Brain - Infrared Horizon (Profound Lore Records)
2017: Mossenek - Paranoia Plague Shrine (Hathenter)
2017: Hathenter - Hathenter Ouija (Hathenter)
2017: Pyrrhon - What Passes For Survival (Deathwish Inc./Throatruiner)
2017: Oldest - Bacterial Insight (Hathenter)
Colin Marston Wikipedia