Occupation

Actress, writer

Years active

1979 – present







Born

1950 (age 71)

Melbourne, Australia

Books

Give Me a Break: A Mother, Two Boys and Crutches

Nominations

Logie Award for Best Supporting Actress in a Series

Movies and TV shows




Similar People

Elspeth Ballantyne, Val Lehman, Patsy King, Sheila Florance,

Betty Bobbitt




Profiles



Neighbours backstage colette mann sheila canning
Colette Mann (born 1950, in Melbourne) is an Australian actress, singer, choreographer and author/writer who plays bartender Sheila Canning in Neighbours, she remains best known most for playing the role of Doreen Burns (née Anderson) in the Australian series Prisoner. Mann has also appeared in The Flying Doctors and Blue Heelers and the Australian film The Dish in 2000. She has penned two books and had a column in New Idea magazine.
Contents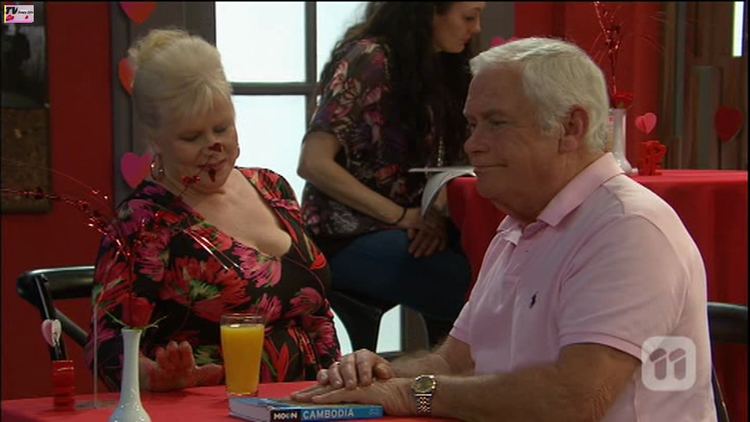 Colette mann doreen burns on whats cooking
Career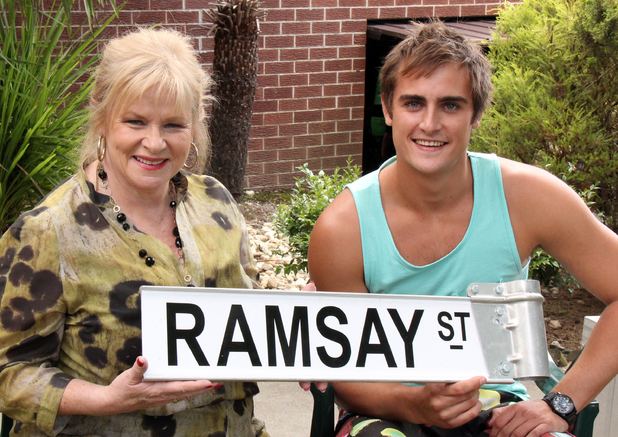 Mann appeared as Doreen Burns in Prisoner from 1979–1982, with return appearances in 1983 and in 1984. She has appeared in The Flying Doctors, MDA and Blue Heelers. In 1988, Mann portrayed the role of "Edith Fraser" in the American Television movie, Outback Bound, which also starred American actors, Donna Mills and John Schneider. From late 1995, Mann took over the role of Cheryl Stark in the soap opera Neighbours for eight weeks when Caroline Gillmer was taken ill. From February 2012, Mann joined the cast of Neighbours again as regular character, Sheila Canning.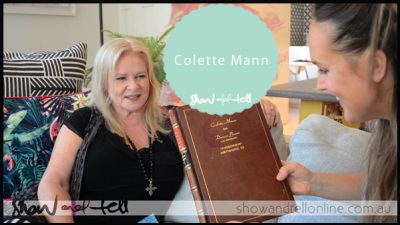 Mann has also appeared as a presenter on many TV shows including The Don Lane Show, Hey Hey It's Saturday, What's Cooking, Good Morning Australia and The Circle. Mann has been a fill-in presenter for Glenn Ridge on talk back radio MTR 1377.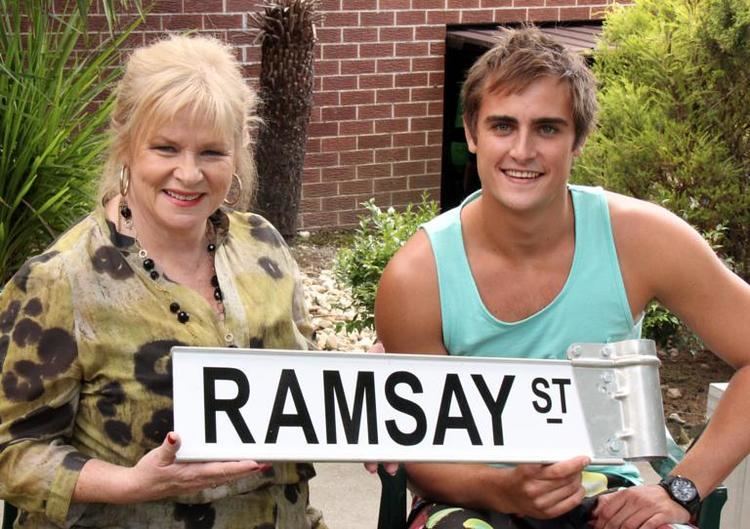 Mann was part of a three-woman troupe in the 1980s called The Mini Busettes with fellow Prisoner actresses Jane Clifton and Betty Bobbitt. They performed for three seasons at Melbourne's Le Joke comedy venue and at many Sydney League's Clubs.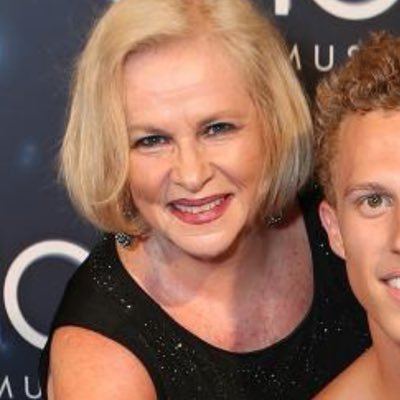 Mann played the role of Buttercup in Opera Australia's acclaimed production of HMS Pinafore by Gilbert and Sullivan in 2005. Her portrayal of the "bumboat woman" was contrary to most performances of this role – her singing voice was more coarse than most contraltos or mezzo-sopranos who tackle this role. This production is available on DVD. Mann also appeared on stage as Shirley, the battleaxe owner of Broken Hill pub, in Priscilla Queen of the Desert - the Musical in 2010.
Author
Mann has been a regular feature writer in New Idea magazine. She wrote about her life and that of her sons. Mann has also written two books entitled It's A Mann's World (released in 1990); and Give Me A Break (released in 2002).
Filmography
Actress
2021
Fisk (TV Series)
as
Irma / Mrs Popovitch
- A Very Handsome Woman (2022) - Irma
- Taken (2021) - Mrs Popovitch
1995
Neighbours (TV Series)
as
Sheila Canning / Cheryl Stark
- Roxy & Kyle Forever (2022) - Sheila Canning
- Curtis arrives (2021) - Sheila Canning (credit only)
- Neighbours: End Game (2020) - Sheila Canning
- Neighbours: End Game (2020) - Sheila Canning
- Who Dies?: Part Two (2016) - Sheila Canning
- Tornado (2014) - Sheila Canning
- The Shooting: Part Two (2014) - Sheila Canning
- The Shooting: Part One (2014) - Sheila Canning
- The Eclipse (2013) - Sheila Canning
2017
Neighbours vs. Time Travel (TV Mini Series)
as
Sheila Canning / Sheila
- Episode #1.5 (2017) - Sheila
- Episode #1.4 (2017) - Sheila Canning
- Webisode 2 (2017) - Sheila Canning
2016
Neighbours: Summer Stories (TV Series)
as
Sheila Canning
- Episode #1.2 (2016) - Sheila Canning
- Episode #1.1 (2016) - Sheila Canning
2016
Night Terrace (Podcast Series)
as
The Tea Lady
- Sense & Susceptibility (2016) - The Tea Lady (voice)
2014
Grace Under Water (Short)
as
Toni
2013
By a Loved One (Short)
as
Mother
2010
Sleuth 101 (TV Series)
as
Ann
- Late and Live (2010) - Ann
2009
Just Desserts (Short)
as
Frances
2005
H.M.S. Pinafore (TV Movie)
as
Little Buttercup
2003
House of Bulger (The AFL Footy Show)
2003
Blue Heelers (TV Series)
as
Denise Petrucci
- Motherhood (2003) - Denise Petrucci
2003
MDA (TV Series)
as
Daphne Lowe
- A Time and a Place (2003) - Daphne Lowe
2000
The Dish
as
Betty the Bush Poet
1999
Party of Five (TV Series)
as
Nurse
- Fate, Hope and Charity (1999) - Nurse
1997
JAG (TV Series)
as
E. R. Nurse
- Ghosts (1997) - E. R. Nurse
1995
The Client (TV Series)
as
Lorraine
- Child's Play (1995) - Lorraine
1994
Snowy River: The McGregor Saga (TV Series)
as
Mrs. Carney
- The Race (1994) - Mrs. Carney
- The Loneliness of Luke McGregor (1994) - Mrs. Carney
- Partnerships (1994) - Mrs. Carney
- Pascoe's Principles (1994) - Mrs. Carney
1993
Stark (TV Mini Series)
as
Dixie
- Episode #1.3 (1993) - Dixie
- Episode #1.2 (1993) - Dixie
- Episode #1.1 (1993) - Dixie
1991
The Flying Doctors (TV Series)
as
Trisha / Grace
- Dirty Linen (1991) - Trisha
- Family (1991) - Grace
1988
Outback Bound (TV Movie)
as
Edith Fraser
1988
Always Afternoon (TV Mini Series)
as
Doreen
- Episode #1.3 (1988) - Doreen
1979
Prisoner (TV Series)
as
Doreen Burns / Doreen Anderson / Doreen
- The Tunnel Collapse (1981) - Doreen Burns
1982
Kitty and the Bagman
as
Doris de Salle
1981
Prisoner in Concert (TV Movie)
as
Doreen Burns
1980
The Franky Doyle Story (TV Movie)
as
Doreen Anderson
1978
Cop Shop (TV Series)
as
Chris
- Episode #1.35 (1978) - Chris
1974
Between Wars
as
Student in Revue
1974
The Champion (TV Movie)
Writer
1981
Prisoner in Concert (TV Movie)
Casting Department
1989
Celia (children's casting)
Soundtrack
1981
Prisoner in Concert (TV Movie) (performer: "Y.M.C.A.", "Style", "Steam Heat", "Jailhouse Rock", "Find Out What They Like", "That's All Brother", "Sweep Down the Corridors" ("We're a Couple of Swells"), "There's Gotta Be Something Better Than This", "I'll String Along with You" - uncredited)
Thanks
2001
Turn Me On: The History of the Vibrator (Documentary short) (thanks)
Self
2023
Thrash 'n Treasure (Podcast Series)
as
Self (Guest)
- Ep91 Alma Mater's Day w/ Colette Mann! (AUS) (2023) - Self (Guest)
2022
Talking Prisoner (Podcast Series)
as
Self
- Interview with Colette Mann (2022) - Self
2022
Isolation Interviews (TV Series)
as
Self
- Colette Mann (2022) - Self
2019
Jeremy Vine (TV Series)
as
Self - Neighbours star / Self - Neighbors Star / Self - Panellist
- Episode #4.19 (2021) - Self - Neighbours star
- Episode #3.102 (2020) - Self - Neighbors Star
- Episode #2.135 (2019) - Self - Panellist
2019
Loose Women (TV Series)
as
Self
- Episode #23.152 (2019) - Self
2016
All Star Family Feud (TV Series)
as
Self - Contestant
- Wentworth vs Prisoner (2016) - Self - Contestant
2015
The Living Room (TV Series)
as
Self
- Episode #4.5 (2015) - Self
2013
The Morning Show (TV Series)
as
Self
- Episode dated 26 August 2013 (2013) - Self
2011
The Circle (TV Series)
as
Self
- Episode #3.62 (2012) - Self
- Episode #3.61 (2012) - Self
- Wednesday, 20 April, 2011 (2011) - Self
- Episode #2.61 (2011) - Self
2011
A Current Affair (TV Series)
as
Self / Doreen Anderson
- Prisoner Reunion (2011) - Self / Doreen Anderson
2010
Spicks and Specks (TV Series)
as
Self
- Deleted Scenes 2010 (2010) - Self
- Best of 2010 (2010) - Self (uncredited)
- Episode #6.8 (2010) - Self
2007
20 to 1 (TV Series documentary)
as
Self
- Adults Only 20 to 1: Sex on the Screen (2010) - Self
- Big Screen Buddies (2009) - Self
- TV Couples (2009) - Self
- Adults Only 20 to 01: Sexiest Movie Scenes (2009) - Self
- Adults Only 20 to 01: World's Most Daring Movies (2009) - Self
- Child Stars: Where Are They Now? (2008) - Self
- Crazy Customs (2008) - Self
- Movie Saints and Sinners (2007) - Self
- Sexiest Movie Moments (2007) - Self
- Scandals & Sensations (2007) - Self
- Movie Heroes & Villains (2007) - Self
- 50 to 01: Great Movie One Liners (2007) - Self
- Funny Films (2007) - Self
- Life-Changing Moments (2007) - Self
- Aussie Parties and Pastimes (2007) - Self
2009
Guide to the Good Life (TV Series)
as
Self - Presenter
2006
Temptation (TV Series)
as
Self
- Superchallenge: Heat 4 (2006) - Self
2006
Crown Australian Celebrity Poker Challenge (TV Series)
as
Self
2005
Good Morning Australia (TV Series)
as
Self
- Episode dated 16 November 2005 (2005) - Self
- Episode dated 3 June 2005 (2005) - Self
- Episode dated 16 March 2005 (2005) - Self
2002
History's Mysteries (TV Series documentary)
as
Re-enactor
- Salem Witch Trials (2002) - Re-enactor
1997
Breaking News (TV Series)
as
Self
- Addicted to Fame (1997) - Self
1995
Sale of the Century (TV Series)
as
Self
- The Sullivans, Prisoner and the Young Doctors Special (1995) - Self
1994
Day to Day (TV Series)
as
Self
- Kilroy Down Under (1994) - Self
1986
Punchlines (TV Special short)
as
Self
1982
The Don Lane Show (TV Series)
as
Self
- Final (1983) - Self
- Episode dated 19 September 1983 (1983) - Self
- Special Edition Bushfire Appeal (1983) - Self
- Episode dated 11 November 1982 (1982) - Self
- Episode dated 2 August 1982 (1982) - Self
- Episode dated 26 July 1982 (1982) - Self
- Episode dated 15 July 1982 (1982) - Self
- Episode dated 3 June 1982 (1982) - Self
- Episode dated 10 May 1982 (1982) - Self
1972
Matt Flinders (TV Series)
as
Self
Archive Footage
2022
The Project (TV Series)
as
Sheila Canning
- Episode dated 28 July 2022 (2022) - Sheila Canning
2022
Neighbours: End of the Road (TV Movie)
as
Sheila Canning
2022
Studio 10 (TV Series)
as
Sheila Canning
- Episode dated 10 June 2022 (2022) - Sheila Canning
2014
Neighbours (TV Series)
as
Sheila Canning
- Episode #1.7913 (2018) - Sheila Canning
- Episode #1.7009 (2014) - Sheila Canning
- Episode #1.6978 (2014) - Sheila Canning
2007
Stark: An Interview with Ben Elton (Video documentary short)
as
Dixie
2006
Temptation (TV Series)
as
Self
- Superchallenge: Grand Final (2006) - Self
1985
Prisoner (TV Series)
as
Doreen Anderson
- Episode #7.31 (1985) - Doreen Anderson
References
Colette Mann Wikipedia
(Text) CC BY-SA