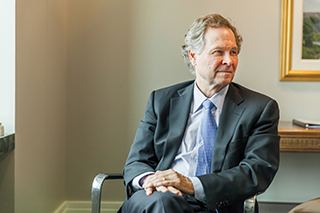 Finegan was born in Tulsa, OK, and attended Cascia Hall Preparatory School on a scholarship. Through a scholarship and loans, he attended the University of Notre Dame from 1974 to 1978, earning a degree in English. After graduating, Finegan worked full-time as Chief Legislative Assistant and then Chief of Staff to U.S. Representative James R. Jones of Oklahoma, Chair of the House Budget Committee. While working, Finegan also attended Georgetown University Law Center and graduated in 1986. He served as a member of The Tax Lawyer law review.
Tom Strickland and Andy Loewi recruited Finegan in early 1987 to join Brownstein Hyatt Farber Schreck (then Brownstein Hyatt Farber & Madden), a national law firm based in Denver, CO. From 1993 to 2003, Finegan was a partner in the Denver office and advised on land use, regulatory, municipal, legislative, and election law.
While working for Congressman Jones, Finegan managed his 1984 re-election and his bid for the U.S. Senate in 1986. Finegan was Campaign Manager for mayoral candidate Norm Early, who lost the 1991 election to Wellington Webb. From 1991 to 1993, Finegan served both as Chief Legal Counsel and Director of Policy and Initiatives for Colorado Governor Roy Romer. With these dual jobs, he handled the governor's legal matters, advised him on judicial appointments, and supervised a policy development staff of 60 people working on policy issues related to the economy, education, energy, environment, healthcare, transportation, and telecommunications.
From 2003 to 2007, Finegan served first as Denver's City Attorney and later as both City Attorney and Chief of Staff to Mayor John Hickenlooper. Finegan is the only person ever to hold both positions at the same time. As City Attorney, he reorganized the office of 100 lawyers for the first time in 20 years. He reduced the City's outside legal bills by over $1 million by cutting outside legal services and expanded the city's capabilities to try its own cases. As Chief of Staff, he led the successful campaign to change Denver's charter to add a Chief Financial Officer and to modernize the city's 100-year-old financial services structure.
Finegan joined Hogan Lovells (then Hogan & Hartson) in 2007 as a partner. He became Managing Partner of Hogan Lovells' Denver office in May 2007, and focuses his practice on public-private partnerships, regulatory issues, land use and development, and legislative and public policy law. In May 2013, Finegan was elected to the Hogan Lovells board as the representative for the Americas (excluding Washington, D.C.). Finegan's notable projects at Hogan Lovells include helping lead the $500 million redevelopment of Denver's Union Station area and the ongoing development by Western Development Group in Cherry Creek, and he most recently is engaged in the development of L.C. Fulenwider Company's Aviation Station at 61st Avenue near Denver International Airport.
While City Attorney, Finegan worked closely with former District Attorney Mitch Morrissey to ensure that both offices were more effective in helping domestic violence victims. Since leaving the city, Finegan has worked with Morrissey and Denver Mayor Michael Hancock to create a domestic violence resource center in Denver. Hogan Lovells serves as the pro bono legal counsel for the effort, and Finegan serves as principal fundraiser. Finegan has served on a number of boards in the Denver community, including Downtown Denver Partnership, Metro Denver Chamber of Commerce, The Children's Hospital, The Denver Foundation, Colorado Black Chamber of Commerce, and Teach for America. He also serves as a member of the Colorado Forum, Quarterly Forum, and Economic Club of Denver.
For more than a decade, Finegan served on the Denver Public Schools Foundation board of directors and is also a past member of the Colorado I Have A Dream Foundation board of directors, the Legal Aid Foundation of Colorado board of directors, the State Board of Agriculture, the State Board of Colleges, the Auraria Higher Education Center board, the Rocky Mountain Mutual Housing Association board, and the Greater Denver Corporation board.