Criminal penalty

35 years




Born

May 11, 1931 (age 89) (

1931-05-11

)

Criminal charge

Armed robbery, attempted escape from prison

Imprisoned at

Last imprisoned at Alcatraz Federal Penitentiary until escape in 1962

Siblings

John Anglin, Alfred Anglin, George Anglin, Rufus Anglin

Parents

Rachael Van Miller Anglin, George Robert Anglin

Similar People

John Anglin, Frank Morris, Allen West (prisoner), Alfred Anglin, Robert Stroud, John Paul Scott
55 Years Later, Daring Alcatraz Prison Break Still Baffles Experts
Clarence Anglin (born May 11, 1931) is an American criminal and folk figure who took part in the infamous June 1962 Alcatraz escape.
Contents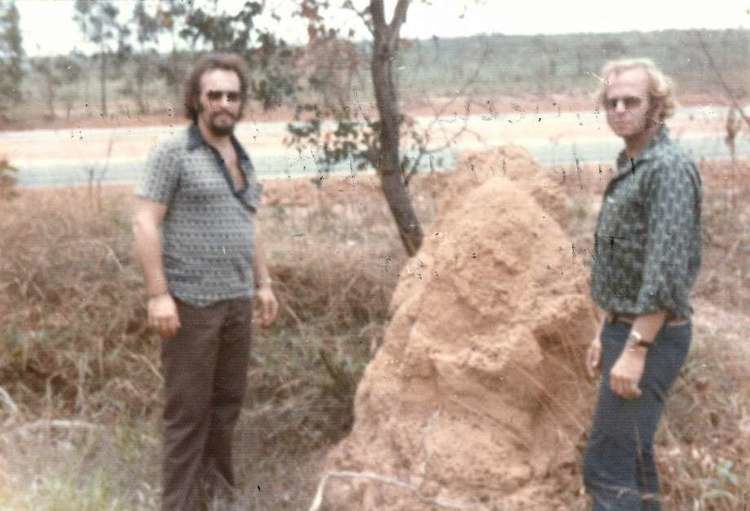 The three men who took part in the escape attempt are officially listed by the Federal Bureau of Investigation as missing and presumed drowned. On October 12, 2015, however, a History Channel documentary, Alcatraz: Search For The Truth, provided new evidence in the case. A photograph and other items purporting to show Anglin and his brother John on a farm somewhere in Brazil in the mid-1970s were provided to law enforcement by family members of the brothers. A retired U.S. Marshals investigator who had led the case had the photo analyzed by a forensic artist who said the photo was likely to depict the brothers, while a current Marshals investigator said the photo was worthy of further investigation.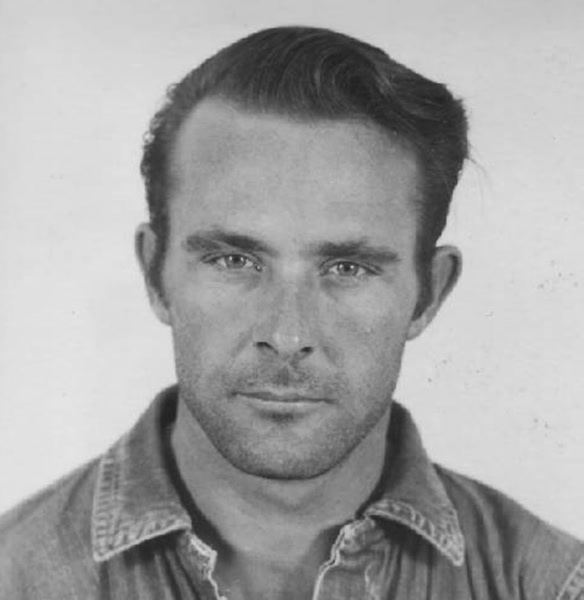 Clarence Anglin's Real Son in New Orleans
Early life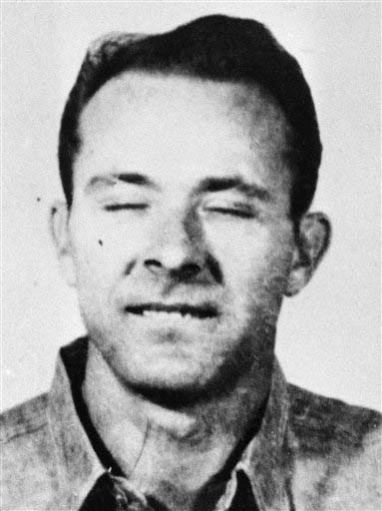 Clarence Anglin, along with brothers John and Alfred, was born in Donalsonville, Georgia, one of fourteen children born to George Robert Anglin and Rachael Van Miller Anglin. The family moved to Ruskin, Florida. The brothers worked as farmers and laborers. Clarence was first caught breaking into a service station when he was just 14 years old. Together the brothers started to rob banks in Georgia, and were arrested in 1958 after robbing the Bank of Columbia branch in Columbia, Alabama. John and Clarence were given 15-to-20 year sentences and were sent to Atlanta Penitentiary (where they first met Frank Morris and Allen West), Florida State Prison, and Leavenworth Federal Penitentiary. Clarence Anglin was known to have a tattoo of "Zona" on his left wrist and one of "Nita" on his right upper arm.
Alcatraz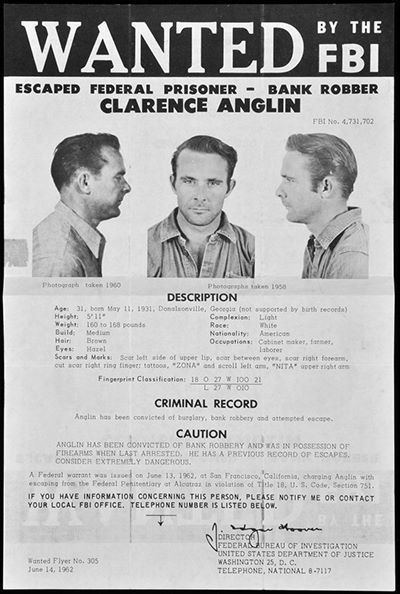 Clarence and John were both sent to Alcatraz after being caught attempting to escape from the state penitentiary. John arrived on October 21, 1960, as Alcatraz inmate AZ1476, and Clarence arrived on January 10, 1961, as Alcatraz inmate AZ1485. By September 1961, Morris, West, and the Anglin brothers were planning an elaborate escape attempt, which was carried out on the night of June 11, 1962. The four reportedly spent months using spoons and forks to dig holes in the crumbling masonry surrounding the air vents in their cells. The crawl spaces they fashioned eventually pierced the six-and-a-half-inch thick walls until they reached a utility corridor, from which they were then able to shimmy out through a roof vent. To prepare for their flights, they also produced a raft and life vests out of more than 50 cotton raincoats with rubberized backing, that inmates were assigned. They also had created mannequin heads out of paper mache, paint, and hair purloined from the prison barber shop, leaving them in their beds while they worked on the raft.
Morris and the Anglin brothers subsequently disappeared without a trace and are still wanted by the FBI, and are officially believed to have drowned in San Francisco Bay. Conversely, there have been reported sightings of the three men over the years; friends and family members have received many unsigned postcards and messages. The mother of the Anglin brothers received flowers anonymously every Mother's Day and two very tall unusual women were reported to have attended her funeral before disappearing. Another factor used to assume their survival is that the bodies of two out of every three people who go missing in San Francisco Bay are eventually recovered. If he were alive today, Clarence Anglin would be 84 years old. Marie Anglin Widner, the sister of the two brothers, visited the iconic federal penitentiary on the 50th anniversary of the Anglin Alcatraz escape. According to Widner at the time, she had no doubt (or never has), in her mind that the men survived their escape.
Recent developments
On October 12, 2015, the History Channel premiered a documentary about the 1962 Alcatraz escape, focusing on John and Clarence Anglin and the possibility that their escape was successful. The program, Alcatraz: Search for the Truth provided viewers with evidence kept by the brothers' family that included: Christmas cards signed by "John" and "Clarence"; an audio tape of a childhood family friend, Fred Brizzi, (who died in 1998) telling the family in the early 1990s about a chance encounter in 1975 with the brothers in Rio de Janeiro, Brazil; a photograph taken by the same family friend in 1975 of two men resembling John and Clarence Anglin. After presenting this evidence to Art Roderick, a former deputy U.S. Marshal who had been assigned to the 1962 cold case before his retirement, the evidence was examined by forensic experts. Among the experts was a photo and facial recognition analyst who determined the photograph of the two men to be John and Clarence Anglin.
Popular culture
In 1963, J. Campbell Bruce published his book Escape from Alcatraz about escapes from Alcatraz Island, including that of Morris and the Anglin brothers. The 1979 film Escape from Alcatraz starred Clint Eastwood, Fred Ward, and Jack Thibeau as Frank Morris, John Anglin, and Clarence Anglin respectively. Allen West was played by Larry Hankin; his character's name was changed to Charlie Butts.
References
Clarence Anglin Wikipedia
(Text) CC BY-SA