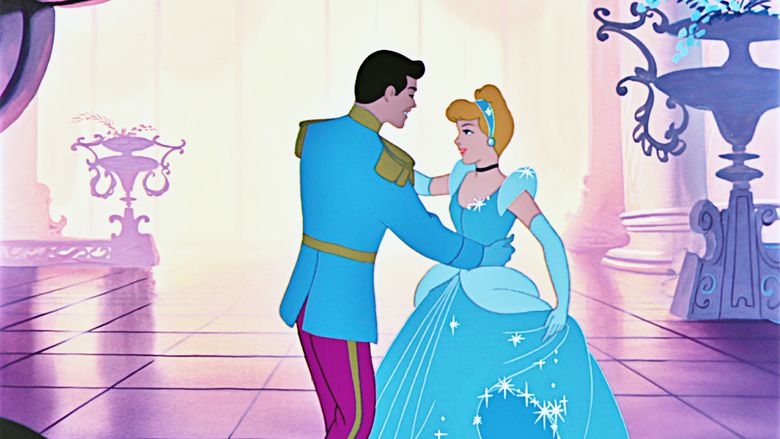 Cinderella is living a dissatisfying life, having lost both parents at a young age, and being forced to work as a scullery maid for her cruel stepmother, Lady Tremaine, jealous of Cinderella's beauty, and stepsisters Drizella and Anastasia, in the dilapidated château they live in. Despite this, Cinderella is a kind and gentle young woman, and is friends with mice and birds that live in and around the château. Meanwhile, at the royal palace, the King is frustrated that his son, the Prince, is still unmarried. He and the Grand Duke organize a ball in an effort to find a suitable wife for the Prince, requesting every eligible maiden attend. Upon receiving notice of the ball, Tremaine agrees to let Cinderella go if she finishes her chores and can find a suitable dress to wear.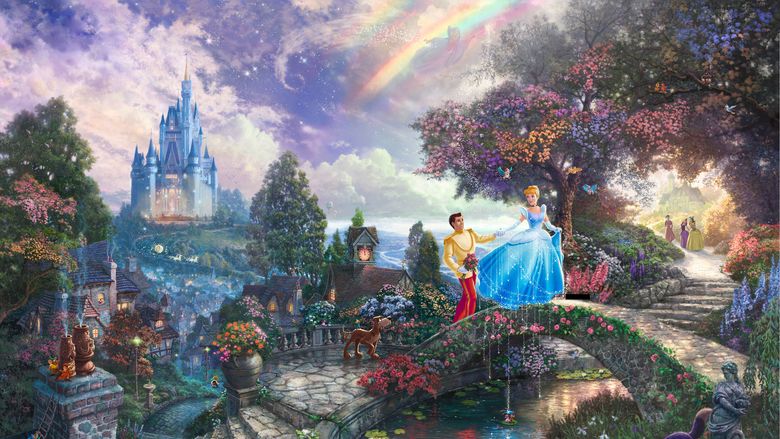 Cinderella finds a gown that belongs to her mother and decides to refashion it for the ball, but her step family impedes this by giving her extra chores. Cinderella's animal friends, including Jaq and Gus, refashion it for her, completing the design with a necklace and sash discarded by Drizella and Anastasia, respectively. When Cinderella comes downstairs wearing the dress, the stepsisters are upset when they realize Cinderella is wearing their accessories, and tear the dress to shreds before leaving for the ball with their mother. A heartbroken Cinderella storms out into the garden in tears, where her Fairy Godmother appears before her. Insisting that Cinderella goes to the ball, the Fairy Godmother magically transforms a pumpkin into a carriage, the mice into horses, Cinderella's horse, Major, into a coachman, and dog, Bruno, into a footman, before turning Cinderella's ruined dress into a white ball gown and her shoes into glass slippers. As Cinderella leaves for the ball, the Fairy Godmother warns her the spell will break at the stroke of midnight.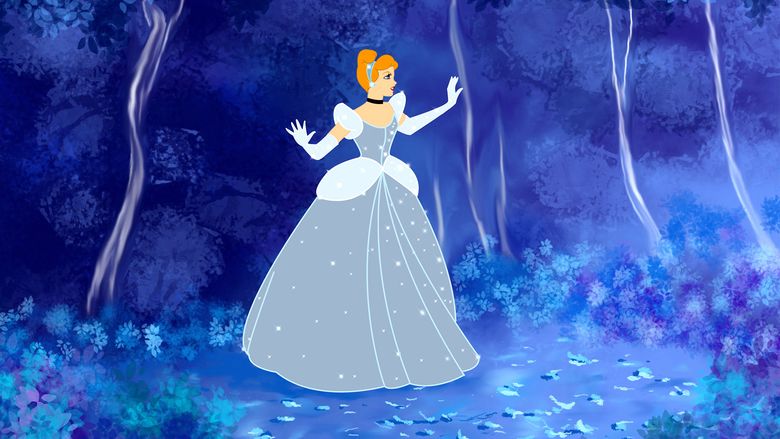 At the ball, the Prince rejects every girl until he sees Cinderella, who agrees to dance with him. The two fall in love and go out for a stroll together in The castle gardens. As they are about to kiss, Cinderella hears the clock start to chime midnight and flees. As she leaves the castle, one of her slippers falls off. The palace guards give chase as Cinderella flees in the coach before the spell breaks on the last stroke of midnight. Cinderella, her pets, and the mice hide in a wooded area as the guards pass.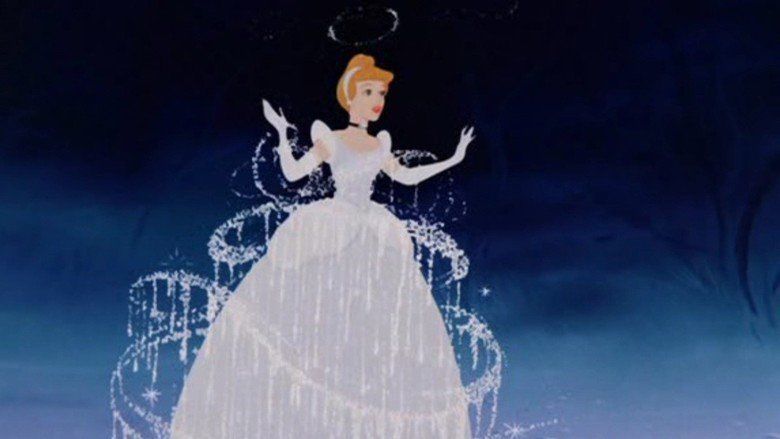 The Grand Duke informs the King that Cinderella, who remains anonymous, has escaped, and that the Prince wishes to marry her. The lost glass slipper is the only piece of evidence. The King issues a royal proclamation ordering every maiden in the kingdom to try on the slipper for size in an effort to find the girl. After this news reaches Cinderella's household, Tremaine realizes her stepdaughter is that girl when hearing her humming the waltz played at the ball and locks her in her attic bedroom. Later, the Duke arrives at the château, and Jaq and Gus steal the key from Tremaine's dress pocket and take it up to the attic as Anastasia and Drizella unsuccessfully try on the slipper. Tremaine's cat, Lucifer, ambushes the mice, but Bruno chases him out of the house, allowing the mice to free Cinderella. As the Duke is about to leave, Cinderella appears and asks to try on the slipper. Knowing it will fit, Lady Tremaine trips the footman as he brings the Duke the slipper, causing it to shatter on the floor. Much to her horror, Cinderella presents the Duke with the other slipper, which fits perfectly. The film ends with a now-married Prince and Cinderella at their wedding, sharing a kiss as they leave.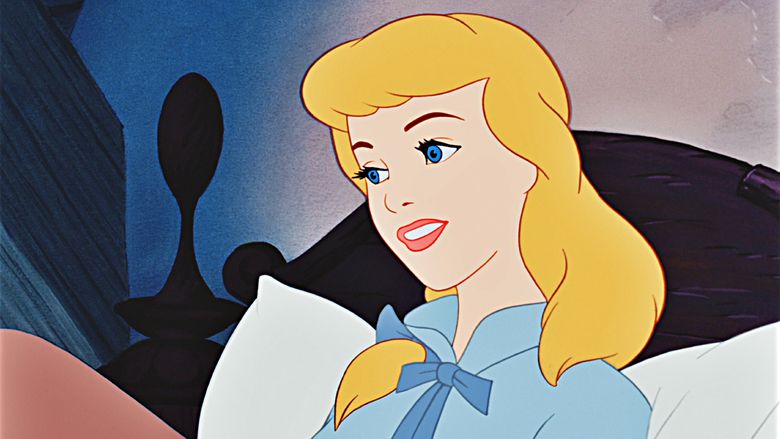 Marc Davis, Eric Larson, and Les Clark were the supervising animators of Cinderella
Frank Thomas was the supervising animator of Lady Tremaine
Milt Kahl was the supervising animator of Fairy Godmother and Prince Charming
Ollie Johnston was the supervising animator of Drizella Tremaine and Anastasia Tremaine
Ward Kimball and John Lounsbery were the supervising animators of Jaq and Gus
Ward Kimball, John Lounsbery, and Norman Ferguson were the supervising animators of Bruno
Ward Kimball, Wolfgang Reitherman, John Lounsbery, and Norman Ferguson were the supervising animators of Lucifer
Milt Kahl and Norman Ferguson were the supervising animators of The King
Frank Thomas, Milt Kahl, and Norman Ferguson were the supervising animators of The Grand Duke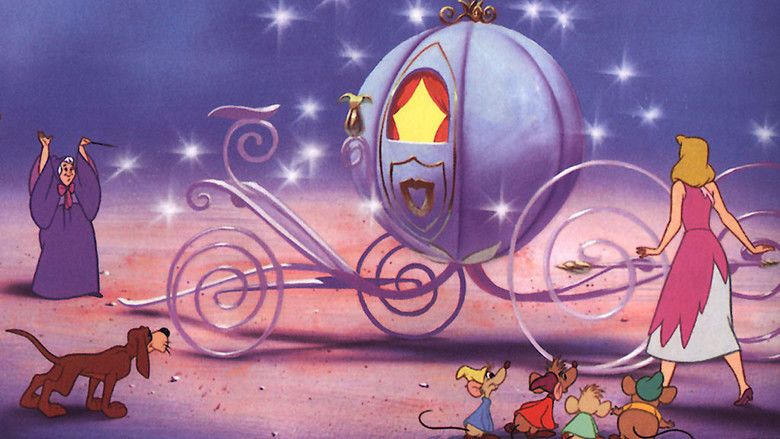 In 1922, Walt Disney produced a Laugh-O-Gram cartoon based on "Cinderella", and he had been interested in producing a second version in December 1933 as a Silly Symphony short. Burt Gillett was attached as the director while Frank Churchill was assigned as the composer. A story outline included "white mice and birds" as Cinderella's playmates. To expand the story, storyboard artists suggested visual gags, some of which ended up in the final film. However, the story proved to be too complicated to be condensed into a short so it was suggested as a possible animated feature film as early as 1938 starting with a fourteen-page outline written by Al Perkins. Two years later, a second treatment was written by Dana Cofy and Bianca Majoli, in which Cinderella's stepmother was named Florimel de la Pochel; her stepsisters as Wanda and Javotte; her pet mouse Dusty and pet turtle, Clarissa; the stepsisters' cat Bon Bob; the Prince's aide Spink, and the stepsisters' dancing instructor Monsieur Carnewal. This version stuck closely to the original fairy tale until Cinderella arrives home late from the second ball. Her stepfamily then imprison Cinderella in a dungeon cellar. When Spink and his troops arrive at the la Pochel residence, Dusty takes the slipper and leads them to free Cinderella.
By September 1943, Disney assigned Dick Huemer and Joe Grant to begin work on Cinderella as story supervisors and given a preliminary budget of $1 million. However, by 1945, their preliminary story work was halted. During the writing stages of Song of the South, Dalton S. Reymond and Maurice Rapf entered into a personal dispute, in which Raft was re-assigned to write for Cinderella. In his version, Cinderella was written to be a less passive character than Snow White, and more rebellious against her stepfamily. Raft explained, "My thinking was you can't have somebody who comes in and changes everything for you. You can't be delivered it on a platter. You've got to earn it. So in my version, the Fairy Godmother said, 'It's okay till midnight but from then in it's up to you.' I made her earn it, and what she had to do achieve it was to rebel against her stepmother and stepsisters, to stop being a slave in her own home. So I had a scene where they're ordering her around and she throws the stuff back at them. She revolts, so they lock her up in the attic. I don't think anyone took (my idea) very seriously."
In spring 1946, Walt held three story meetings, and subsequently received a treatment from Ted Sears, Homer Brightman, and Harry Reeves dated on March 24, 1947. In the treatment, the Prince was introduced earlier in the story reminiscent of Snow White and the Seven Dwarfs, and there was a hint of the cat-and-mouse conflict. By May 1947, the first rough phase of storyboarding was in the process, and an inventory report that same month suggested a different approach with the story "largely through the animals in the barnyard and their observations of Cinderella's day-to-day activities."
Following the theatrical release of Fun and Fancy Free, Walt Disney Productions' bank debt declined from $4.2 million to $3 million. Around this time, Walt acknowledged the need for sound economic policies, but emphasized to the loaners that slashing production would be suicidal. In order to restore the studio to full financial health, he expressed his desire to return to producing full-length animated films. By then, three animated projects—Cinderella, Alice in Wonderland, and Peter Pan—were in development. Walt felt the characters in Alice in Wonderland and Peter Pan were too cold while Cinderella contained elements similar to Snow White and decided to greenlit the project. Selecting his top-tier animation talent, Ben Sharpsteen was assigned as supervising producer while Hamilton Luske, Wilfred Jackson, and Clyde Geronimi became the sequence directors. Nevertheless, production on Alice resumed so that both animation crews would effectively compete against each other to see which film would finish first.
By early 1948, Cinderella had progressed further than Alice in Wonderland, and was fast-tracked to become the first full-length animated film since Bambi. During a story meeting on January 15, 1948, the cat-and-mouse sequences began to grow into an important element in the film so much that Disney placed veteran story artist Bill Peet in charge of the cat-and-mouse segments.
By the late 1940s, Disney's involvement during production had shrunken noticeably. As Walt was occupied with trains and the filming of Treasure Island, the directors were left to exercise their own judgment more on details. Although Walt no longer held daily story meetings, the three directors still communicated with him by mailing him memoranda, scripts, Photostats of storyboards, and acetates of soundtrack recordings while he was in England for two and a half months during the summer of 1949. When Walt did not respond, work resumed and then had to be undone when he did. In one instance when Walt returned to the studio on August 29, he reviewed Luske's animation sequences and ordered numerous minor changes, as well as a significant reworking of the film's climax. Production was finished by October 13, 1949.
Mack David and Jerry Livingston had asked Ilene Woods to sing on several demo recordings of the songs. They had previously known her from her eponymous radio show "The Ilene Woods Show" which was broadcast on ABC. The show featured fifteen minutes of music, in which David and Livingston had their music presented. Two days later, Woods received a telephone call from Disney, with whom she immediately scheduled an interview. Woods recalled in an interview with the Los Angeles Times, "We met and talked for awhile, and he said, 'How would you like to be Cinderella?'," to which she agreed.
For the role of Lucifer, a studio representative asked June Foray if she could provide the voice of a cat. "Well, I could do anything," recalled Foray, "So he hired me as Lucifer the cat in Cinderella".
Starting in spring 1948, actors were filmed on large soundstages mouthing to a playback of the dialogue soundtrack. Disney had previously used live-action reference on Snow White and the Seven Dwarfs, Pinocchio, and Fantasia, but as part of an effort to keep the production cost down, the footage was used to check the plot, timing, and movement of the characters before animating it. The footage was then edited frame-by-frame onto large Photoshat sheets to duplicate, in which the animators found too restrictive as they were not allowed to imagine anything that the live actors did not present since that kind of experimentation might necessitate changes and cost more money. Additionally, the animators were instructed to draw from a certain directorial perspective to avoid difficult shots and angles. Frank Thomas explained, "Anytime you'd think of another way of staging the scene, they'd say: 'We can't get the camera up there'! Well, you could get the animation camera up there! So you had to go with what worked well in live action."
Walt Disney hired actress Helene Stanley to perform the live-action reference for Cinderella, that she before artists began sketching, playing the role of Cinderella in a particular scene, and artists to draw animated frames based on the movements of the actress. She later did the same kind of work for the characters of Princess Aurora in Sleeping Beauty and Anita Radcliff in One Hundred and One Dalmatians. Animators modeled Prince Charming on actor Jeffrey Stone, who also provided some additional voices for the film. Mary Alice O'Connor served as the live-action reference for the Fairy Godmother.
By 1950, the Animation Board—which had been established as early as 1940 to help with the management of the animation department—had settled down to nine supervising animators. Although they were still in their thirties, they were jokingly referred by Walt Disney as the "Nine Old Men" after President Franklin D. Roosevelt's denigration of the Supreme Court. Including Norman Ferguson, the principal animators included Les Clark, Marc Davis, Ollie Johnston, Milt Kahl, Ward Kimball, Eric Larson, John Lounsbery, Frank Thomas, and Wolfgang Reitherman.
Larson was the first to animate the title character whom he envisioned as a sixteen-year-old with braids and a pug nose. Marc Davis later animated Cinderella, in which Larson observed as "more the exotic dame" with a long swanlike neck. Because the final character design was not set, assistant animators were responsible for minimizing the differences. When Walt was asked what was his favorite piece of animation, he answered, "I guess it would have to be where Cinderella gets her ballroom gown", which was animated by Davis.
Milt Kahl was the directing animator of the Fairy Godmother, the King, and the Grand Duke. Originally, Walt intended for the Fairy Godmother to be a tall, regal character as he viewed fairies as tall, motherly figures (as seen in the Blue Fairy in Pinocchio), but Milt Kahl disagreed the characterization. Following the casting of Verna Felton, Kahl managed to convince Walt on his undignified concept of the Fairy Godmother.
Unlike the human characters, the animal characters were animated without live-action reference. During production, none of Kimball's designs for Lucifer had pleased Disney. After visiting Kimball's steam train at his home, Walt saw his calico cat and remarked, "Hey—there's your model for Lucifer". Reitherman animated the sequence in which Jaq and Gus laboriously drag the key up the flight of stairs to Cinderella.
In 1946, story artist and part-time lyricist Larry Morey joined studio music director Charles Walcott to compose the songs. Cinderella would sing three songs: "Sing a Little, Dream a Little" while overloaded with work, "The Mouse Song" as she dressed the mice, and "The Dress My Mother Wore" as she fantasizes about her mother's old wedding dress. In an effort to recycle an unused fantasy sequence from Snow White, the song, "Dancing on a Cloud" was used as Cinderella and the Prince waltz during the ball. After the ball, she would sing "I Lost My Heart at the Ball" and the Prince would sing "The Face That I See in the Night." However, none of their songs were used.
Two years later, Walt turned to Tin Pan Alley songwriters Mack David, Al Hoffman, and Jerry Livingston to compose the songs. The trio had previously wrote the song "Chi-Baba, Chi-Baba" that Walt heard the radio and decided would work well with the Fairy Godmother sequence. They finished the score in March 1949.
Oliver Wallace composed the score, but only after the animation was ready for inking, which was incidentally similar to scoring a live-action film. This was a drastic change from the earlier Disney animated features in which the music and action was carefully synchronized in a process known as mickeymousing.
On February 4, 1950, Billboard announced that RCA Records and Disney would release a Soundtrack album in conjunction with the theatrical release. The RCA Victor album release sold about 750,000 copies during its first release, and hit number-one on the Billboard pop charts.
The soundtrack for Cinderella was re-released by Walt Disney Records on CD on February 4, 1997, and included a bonus demo. On October 4, 2005, Disney released a special edition of the soundtrack album of Cinderella, for the Platinum Edition DVD release, which includes several demo songs cut from the final film, a new song, and a cover version of "A Dream Is a Wish Your Heart Makes". The soundtrack was released again on October 2, 2012, and consisted of several lost chords and new recordings of them. A Walmart exclusive limited edition "Music Box Set" consisting of the soundtrack without the lost chords or bonus demos, the Song and Story: Cinderella CD and a bonus DVD of Tangled Ever After was released on the same day.
All tracks written by Mack David, Jerry Livingston, Al Hoffman.
All tracks written by Mack David, Jerry Livingston, Al Hoffman, except track 12 written and composed by Larry Morey, Charles Wolcott and track 13 written and composed by Jim Brickman, Jack Kugell, Jamie Jones.
All tracks written by Mack David, Jerry Livingston, Al Hoffman.
All tracks written by Mack David, Jerry Livingston, Al Hoffman.
The film was originally released in theaters on February 15, 1950, in Boston, Massachusetts. Cinderella was re-released in 1957, 1965, 1973, 1981, and 1987. Cinderella also played a limited engagement in select Cinemark Theatres from February 16–18, 2013.
The film became a critical success garnering the best reception for a Disney animated film since Dumbo. In a personal letter to Walt Disney, director Michael Curtiz hailed the film as the "masterpiece of all pictures you have done." Producer Hal Wallis declared, "If this is not your best, it is very close to the top." Mae Tinee, reviewing for The Chicago Tribune, remarked "The film not only is handsome, with imaginative art and glowing colors to bedeck the old fairy tale, but it also is told in a gentle fashion, without the lurid villains which sometimes give little lots nightmares. It is enhanced by the sudden, piquant touches of humor and the music which appeal to old and young." However, the characterization of Cinderella received a mixed reception. Bosley Crowther of The New York Times wrote, "The beautiful Cinderella has a voluptuous face and form—not to mention an eager disposition—to compare with Al Capp's Daisy Mae." However, criticizing her role and personality, Crowther opined, "As a consequence, the situation in which they are mutually involved have the constraint and immobility of panel-expressed episodes. When Mr. Disney tries to make them behave like human beings, they're banal." Similarly, Variety claimed the film found "more success in projecting the lower animals than in its central character, Cinderella, who is on the colorless, doll-faced side, as is the Prince Charming."
Contemporary reviews have remained positive. Roger Ebert of the Chicago Sun-Times awarded the film three out of four stars. The review aggregator website Rotten Tomatoes reported the film received an approval rating of 97% based on 30 reviews with an average score of 7.7/10. The website's critical consensus reads, "The rich colors, sweet songs, adorable mice and endearing (if suffering) heroine make Cinderella a nostalgically lovely charmer".
The film was Disney's greatest box office success since Snow White and the Seven Dwarfs earning $8 million in gross rentals. By the end of its original run, it was the sixth highest grossing film in 1950 earning $4.15 million in distributor rentals (the distributor's share of the box office gross). It was the fifth most popular movie at the British box office in 1951.
The success of Cinderella allowed Disney to carry on producing films throughout the 1950s by which the profits from the film's release, with the additional profits from record sales, music publishing, publications and other merchandise gave Disney the cash flow to finance a slate of productions (animated and live action), establish his own distribution company, enter television production, and begin building Disneyland during the decade.
Cinderella has had a lifetime domestic gross of $95.5 million, and a lifetime international gross of $315 million (in 1995 dollars) across its original release and several reissues. Adjusted for inflation, and incorporating subsequent releases, the film has had a lifetime gross of $536,079,700.
It was released on VHS and Laserdisc in 1988 as part of the Walt Disney Classics collection. The release had a promotion with a free lithograph reproduction for those who pre-ordered the video before its release date. Disney had initially shipped 4.3 million VHS copies to retailers, but due to strong consumer demand, more than seven million copies were shipped. At the time of its initial home video release, it was the best-selling VHS title until it was overtaken by E.T. the Extra-Terrestrial. The release was placed into moratorium on April 30, 1989 with seven million VHS copies sold.
In October 4, 1995, the film was released on VHS and LaserDisc under the "Masterpiece Collection" lineup. Both editions were accompanied with "The Making of Cinderella" featurette. A Deluxe LaserDisc included the featurette, an illustrated, hardcover book retelling the classic fairy tale with pencil tests and conceptual art from the film, and a reprint of the film's artwork. Disney shipped more than 15 million VHS copies of which 8 million were sold in the first month.
Disney then restored and remastered the movie for its October 4, 2005, release as the sixth installment of the Walt Disney Platinum Editions series. According to Studio Briefing, Disney sold 3.2 million copies in its first week and earned over $64 million in sales. The Platinum Edition DVD of the original movie along with its sequels went on moratorium on January 31, 2008. In the United Kingdom and Ireland, a "Royal Edition" of Cinderella was released on DVD on April 4, 2011, to celebrate the UK Royal Wedding of Prince William and Catherine Middleton. This release had a unique limited edition number on every slipcase and an exclusive art card.
Disney released a Diamond Edition on October 2, 2012, in a 3-disc Blu-ray/DVD/Digital Copy Combo, a 2-disc Blu-ray/DVD combo and in a 6-disc "Jewelry Box Set" that includes the first film alongside its two sequels. A 1-disc DVD edition was released on November 20, 2012. The Diamond Edition release went back into the Disney Vault on January 31, 2017.
The film received three Academy Award nominations for Best Sound (C. O. Slyfield) lost to All About Eve, Best Music, Scoring of a Musical Picture (Oliver Wallace and Paul J. Smith) lost to Annie Get Your Gun and Best Music, Original Song for "Bibbidi-Bobbidi-Boo" (Mack David, Jerry Livingston, and Al Hoffman) lost to Captain Carey, U.S.A.. At the 1st Berlin International Film Festival it won the Golden Bear (Music Film) award and the Big Bronze Plate award.
In June 2008, the American Film Institute revealed its "10 Top 10"— the best ten films in ten "classic" American film genres—after polling over 1,500 people from the creative community. Cinderella was acknowledged as the 9th greatest film in the animation genre.
American Film Institute recognition:
AFI's 100 Years...100 Movies – Nominated
AFI's 100 Years...100 Passions – Nominated
AFI's 100 Years...100 Heroes and Villains:
Lady Tremaine (Stepmother) – Nominated Villain
Bibbidi-Bobbidi-Boo – Nominated
A Dream Is A Wish Your Heart Makes – Nominated
AFI's Greatest Movie Musicals – Nominated
AFI's 100 Years...100 Movies (10th Anniversary Edition) – Nominated
AFI's 10 Top 10 – #9 Animated film
A direct-to-video sequel Cinderella II: Dreams Come True was released on February 26, 2002.
A second direct-to-video sequel Cinderella III: A Twist in Time was released on February 6, 2007.
Cinderella and the Fairy Godmother have appeared as guests in Disney's House of Mouse.
Cinderella and the Fairy Godmother appear in the video game Kingdom Hearts and a world based on the film, Castle of Dreams, appears in Kingdom Hearts: Birth by Sleep. All the main characters except Gus, Bruno and the King appear.
A scaled-down stage musical version of the film known as Disney's Cinderella KIDS is frequently performed by schools and children's theaters.
A live-action adaptation of the film produced by Walt Disney Pictures, directed by Kenneth Branagh was released in 2015; starring Lily James, Richard Madden, Cate Blanchett, and Helena Bonham Carter.