Name

Christopher Odom





Role

Director






Education

University of California, Los Angeles




Movies

23rd Psalm: Redemption, How to Make It in Hollywood Before You Make It




Similar People

Leslie Mills, Clifton Powell, Tatyana Ali, Jason Burkey, Madelyn Cline
Introduction by Christopher C. Odom
Christopher C. Odom (born July 7, 1970 in Manhasset, New York), is an independent director, producer, writer, cinematographer, editor, composer and actor.
Contents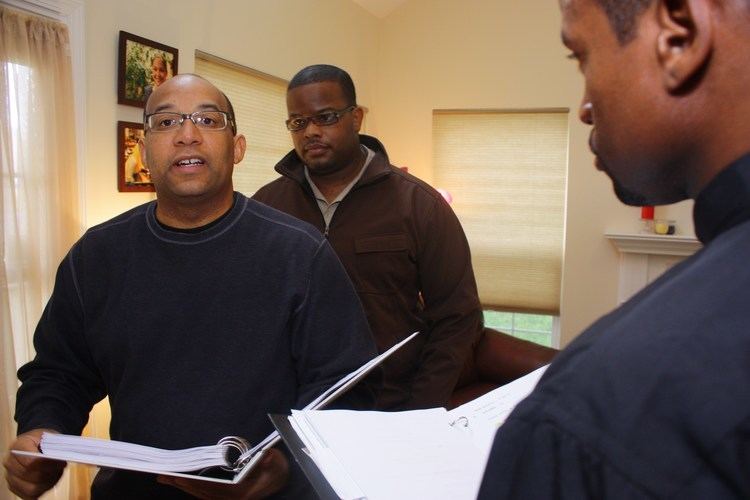 Christopher holds a Bachelor of Arts in Film and Video with a Minor in Theater from Georgia State University in Atlanta, Georgia and a Professional Certificate in Screenwriting, as well as a Master of Fine Arts in Film, Television and Digital Video, from the University of California, Los Angeles.
Biography
In 2003, Chris completed the feature documentary How To Make It In Hollywood Before You Make, on which Chris worked as the producer, director, writer and editor. What started out as a $500 movie, wound up becoming a $5,000 investment.
Currently, Chris is writing, directing, and producing a slate of Hi-Def low-budget Faith-based features.
Influences
Chris' father, an avid movie buff, first laid down Chris' interest in movies. When the family bought their first VCR, they rented every movie with a Black face on it at the video rental store.
Chris, who at first was curious with acting, was encouraged to investigate being involved behind-the-scenes in the entertainment industry. His last year of High School, Chris' older brother, Edward J. Odom IV, brought home a movie called She's Gotta Have It, edited by a young guy his age his brother's age, Spike Lee Chris was impressed and amazed that a guy that young, who happened to also be African American, had made a movie.
That same summer, Chris competed in the Junior NAACP ACT-SO competition in Washington, D.C., as a classical trumpet player, and witnessed a single high school student win an award for being the only person that year to submit a movie for competition. Chris would later go on to idolize Spike Lee, Keenen Ivory Wayans, Robert Townsend, Matty Rich, Allan and Albert Hughes and John Singleton for ushering in a New Black Renaissance in film.
Chris, a student of the arts (singer, actor, writer, dancer, musician) and hungry to apply all of his talents to the filmmaking process, would later become extremely intrigued by Robert Rodriguez, better known for being a "one man crew". When Chris first moved to Los Angeles, California, he wanted to utilize all of his skills, but he was told that trying to wear many hats couldn't be done.
Being a three time film student, Chris is also greatly influenced by Steven Spielberg, Akira Kurosawa, George Lucas, Orson Welles and Peter Greenaway. When Chris first moved to Los Angeles, he was mentored by his father's Omega Psi Phi fraternity brother Samm-Art Williams, then the Executive Producer of the television series "Martin". At that time the seed was planted for Chris to solidify his skills and to one day run and own his own studio.
Selected works
The 23rd Psalm, Feature, Director/Writer/Cinematographer/Editor/Producer, In-Post Production
How To Make It In Hollywood Before You Make It, Documentary, Director/Writer/Cinematographer/Editor/Producer, Tapeworm Video Distributors
Angel of Hate, Feature, Cinematographer, by Michael Marks
References
Christopher C. Odom Wikipedia
(Text) CC BY-SA