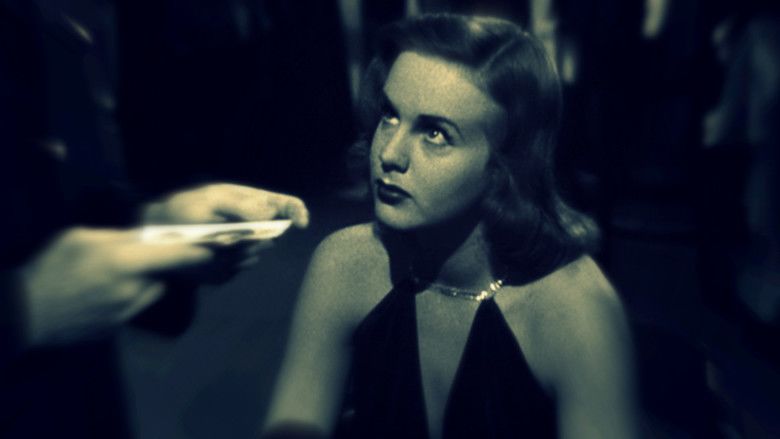 On Christmas Eve in New Orleans, U.S. Army officer Charlie Mason meets beautiful Maison Lafitte hostess "Jackie" (whose real name is Abigail Manette). She tells him, in flashbacks, the story of the decline of her marriage with the charming but unbalanced Robert Manette. When her husband kills a bookie his controlling mother tries to cover it up. When he is caught she and her son blame Abigail. Abigail, feeling guilty when her husband receives a life sentence, becomes a bar hostess. Meanwhile, Robert escapes from jail and comes to see Abigail, but he is shot by police and dies in her arms, leaving her to start again with Charlie Mason.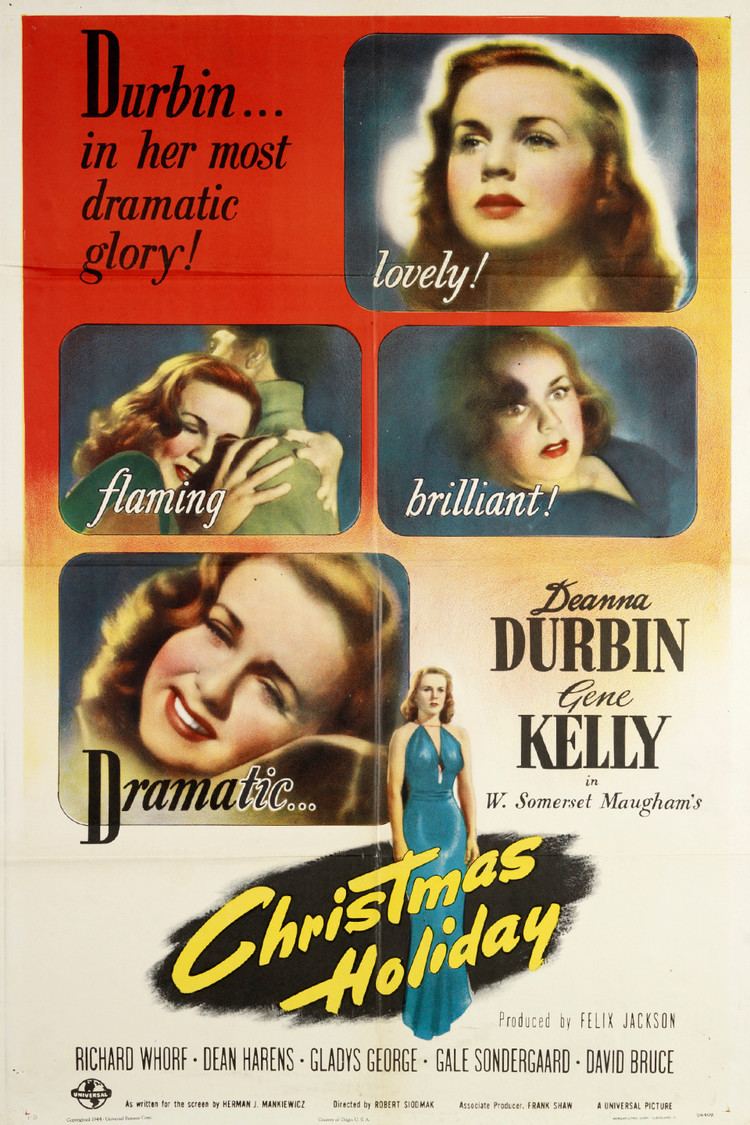 Deanna Durbin as Abigail Manette
Gene Kelly as Robert Manette
Richard Whorf as Simon Fenimore
Dean Harens as Charlie Mason
Gladys George as Valerie de Merode
Gale Sondergaard as Mrs. Manette
David Bruce as Gerald Tyler
Producer Walter Wanger first planned to make W. Somerset Maugham's novel Christmas Holiday into a film in 1939, but the Hays Office rejected his proposal as they felt the novel's story about an Englishman meeting a beautiful Russian prostitute was too sordid. In 1943, Durbin's future husband Felix Jackson gained permission to film the novel provided he change the characters. Universal optioned the book rights in March 1943. Screenwriter Herman J. Mankiewicz changed the setting from a Paris brothel to a nightclub in New Orleans and the main character was changed from a prostitute to a more ambiguous nightclub singer and hostess. Mankiewicz considered the screenplay among his 1940s successes of which he was most proud.
Producer Felix Jackson chose this project as a dramatic vehicle for Deanna Durbin, a change from Durbin's usual lightweight musical fare. Universal loaned Turhan Bey to MGM in exchange for Gene Kelly who played her husband. Gene Kelly and Deanna Durbin are cast against type in this sordid and dark film. Kelly gives a "disturbingly convincing portrayal as a man virtually devoured by his inner demons." Durbin, usually the girl next door in Universal Pictures musicals, plays a naif who falls for him and sticks with him even knowing he's a killer. Christmas Holiday was the first film Durbin starred in that had not been specifically written for her. Gale Sondergaard is cast as Kelly's tyrannical mother.
Durbin sings the songs "Spring Will Be a Little Late This Year" by Frank Loesser and "Always" by Irving Berlin. There are also excerpts from Tristan und Isolde (Liebestod) by Richard Wagner, "Silent Night, Holy Night" by Franz Xaver Gruber, and Latin chant for the Midnight Mass scene (which was footage of an actual Tridentine Mass at the Cathedral of Saint Vibiana).
Although the film was a box office success for Durbin, she was criticised for having tarnished her trademark persona playing a dance-hall "hostess". The film went on to gross more than $2 million at the US box office, making it the highest-grossing film of Durbin's career up to 1944. Durbin later said in an interview with Films in Review that Christmas Holiday was her "only really good film". Christmas Holiday is considered one of the bleakest film noirs of the 1940s, and one of Siodmak's most personally realized films.
In his review for The New York Times, Bosley Crowther called the story "the oldest sort of hat—the kind of dramatic farrago that was being played by faded stars ten years ago." Crowther wrote that it was "really grotesque and outlandish what they've done to Miss Durbin in this film"—forced to play a role that is "a figment within a moody and hackneyed yarn." Crowther criticized Mankiewicz' screenplay, which has "but the vaguest resemblance to the Somerset Maugham novel on which it is 'based'". Although not blaming Durbin for the film's shortcomings, Crowther is severe in his criticism of her performance:
As the piteously wronged young lady, Miss Durbin does all that she can to suggest an emotional turmoil. But her efforts are painfully weak. Her speaking voice is girlish and empty of quality, and her gestures of shock and frustration are attitudinized.
Crowther is no more charitable towards Gene Kelly, who "performs her no good husband in his breezy, attractive style, which is thoroughly confusing, considering the character that he is supposed to be."