Christiane F. – Wir Kinder vom Bahnhof Zoo is a 1981 German film directed by Uli Edel that portrays the drug scene in West Berlin in the 1970s, based on the non-fiction book of the same name written following tape recordings of teenage girl Christiane F. The movie immediately acquired cult status (which it still retains today) and features David Bowie as both himself and the soundtrack composer, which gave the movie a commercial boost.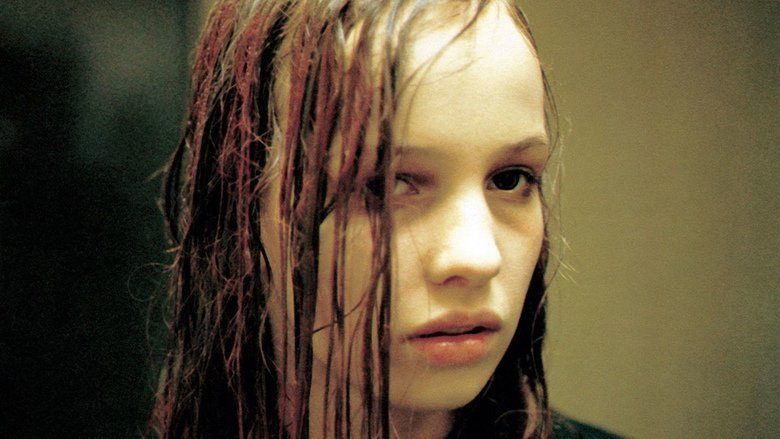 13-year-old Christiane Felscherinow lives with her mother and little sister in a small apartment in a typical multi-story concrete social-housing building in a dull neighbourhood in the outskirts of West Berlin. She's sick and tired of living there and has a passion for singer David Bowie. She hears of Sound, a new disco in the city centre, labelled as the most modern discothèque in Europe. Although she's not old enough to get in, she dresses up in high heels and makeup, and asks a schoolfriend who hangs out there regularly to take her. At the disco, she meets Detlef, who is a little older and is in a clique where everybody experiments with various drugs; one night while running through the Europa Center they vandalize a ticket booth. The next day, Christiane takes pills and LSD, and goes to a David Bowie concert where she meets Babsi, who shares her interests, and tries heroin for the first time by snorting it. As Christiane falls in love with Detlef, she begins using heroin on a regular basis in order to be close to him, gradually becoming more and more dependant on the drug until she is a full-blown addict. After her 14th birthday, Christiane stops going home and spends more and more time at her cohorts' unkempt apartment; she is also drawn to the Bahnhof Zoo, a large railway and subway station notorious for the drug trafficking and prostitution that takes place in its underpasses and backalleys. Christiane starts giving handjobs at first, imitating Detlef, who also sells himself to male clients on a regular basis. She steals from home, sells all her possessions, and sinks to abysmal levels. In one of the crudest scenes, Christiane is jumped in a blood- and urine-soaked cubicle by an older junkie, who forces her to surrender her loaded syringe and proceeds to inject himself in the neck in front of a horrified old woman who happens to be in the lavatories too.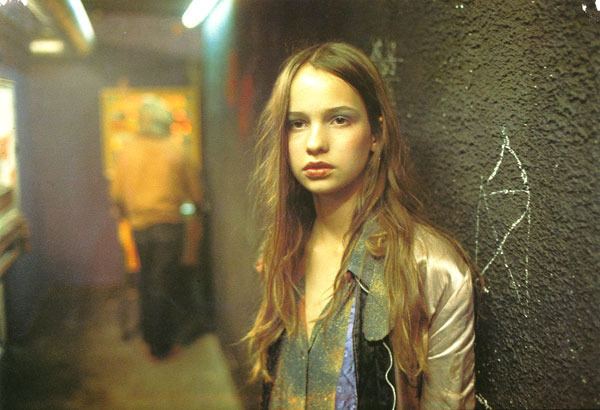 Eventually, Christiane is discovered unconscious on the bathroom floor at home. She tries going cold turkey with Detlef with the help of her mother and stepfather: their withdrawal period is depicted with extreme realism in all its bodily aspects. However, the two relapse the moment they revisit the Bahnhof. Christiane and Detlef then find their best friend and roommate Axel has overdosed and died in the apartment and run away, ending up in the apartment of one of Detlef's male clients. When Christiane walks in on the two men having very loud anal intercourse, she has a breakdown and flees. Christiane goes back to the station to find Babsi, only to discover she is dead of an overdose at barely 14 years old. In despair over her friends' deaths and her inability to break free from heroin, Christiane tries to overdose as well, but the movie abruptly breaks to an off-camera voiceover that says eventually Christiane recovered, but most of her cohorts either died or are still addicts.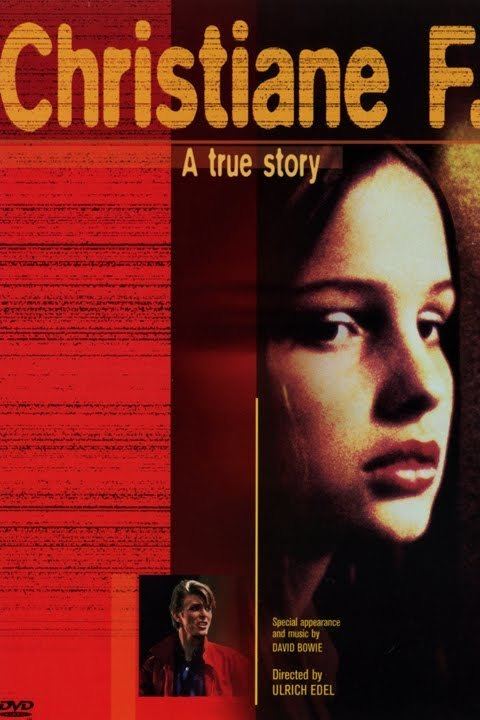 Natja Brunckhorst – Christiane F.
Thomas Haustein – Detlef
Jens Kuphal – Axel
Rainer Wölk – Leiche
Jan Georg Effler – Bernd
Christiane Reichelt – Babsi
Daniela Jaeger – Kessi
Kerstin Richter – Stella
David Bowie – Himself
Both the movie and the book acquired cult status in Europe immediately after release, raising awareness of heroin addiction. The popularity of the movie was greatly boosted by David Bowie's participation as both himself (portrayed giving a concert early in the movie) and as the main contributor to the soundtrack. Bowie's music from his albums made in Berlin during 1976-77 is heavily featured throughout the picture, and as he was at the very peak of his popularity during the late 1970s-early 1980s, his presence helped boost the film's commercial success.
The film shocked European audiences. The heroin plague that swept Western Europe between the mid-1970s and the early 1980s was not yet public knowledge so the film's release was the first many knew of the epidemic; it then became widely known that heroin was killing a large number of European teenagers. The film depicted all the details of heroin addiction in very realistic detail: hustling and scoring, shooting up, the effects of heavy drug withdrawal and heavy drug usage, being too high to stay conscious and dropping onto the floor in a stupor, the scars caused by "shooting up" and the extreme weight loss due to appetite suppression, socialising in rundown neighbourhoods such as peripheral train stations, back alleys, all too familiar to urban citizens in West Germany, Switzerland, the Netherlands, Belgium, Italy and France in those years.
Christiane and her cohorts are seen losing consciousness in decrepit lavatory cubicles amidst urine, vomit and blood, injecting in close-ups, cleaning and re-filling syringes directly from the toilet bowl, vomiting all over themselves and falling asleep right on top of it. The depiction of young addicts from seemingly normal families was particularly alarming: at the time junkies were still perceived in popular culture as much older, wilder characters, such as those depicted in Dennis Hopper's Easy Rider or in Lou Reed's songs. Christiane turns 14 halfway through the film, the same age as her friend Babsi, who fatally overdoses. Christiane's boyfriend in the film is 15, portrayed by a 14-year-old actor. None of their companions, two of whom also fatally overdose, are older than 16, as reported by end titles recalling the birth and death dates of the real-life individuals portrayed in the movie. The fact that the characters prostitute themselves to obtain drugs, both hetero- and homosexually, at such a young age, revolted audiences.
The movie was shot with a low budget in 1980 and released in 1981, but set between 1975 and 1977 in West Berlin. It skips the beginning and the end of the book, and concentrates on the main story, starting when Christiane begins her nightlife in Berlin at around 13 years old, and stops rather abruptly after her suicide attempt by stating that she recovered. In real life, Christiane F. never fully recovered nor did her troubles end with going to Hamburg to begin withdrawal, but the movie focuses on the portrayal of addiction. Originally the movie was going to be directed by Roland Klick, but after a long preparation he was fired only two weeks before shooting, after a fallout with Bernd Eichinger. Uli Edel came in to direct the movie. Cinematography is bleak and dreary, depicting a dilapidated, working-class Berlin with rundown structures and dirty, blighted backdrops. Modern Berlin is very different and most of the landmarks from the movie (the station, the Bülow street stalls, the Sound discothèque) have either been demolished or completely remodeled. The cast is composed mainly of first-time actors, most of whom were still in school at the time and have not pursued acting careers. Natja Brunckhorst is the only cast member who continued to act in German movies and television, starting with 1982's Querelle by Rainer Werner Fassbinder, another exploitation film. Most of the extras at the railway station and at the Sound club were actual junkies, prostitutes and low-lifes rounded up by producers just for the crowd scenes. In the scene where Christiane runs through the alleys of the station to find Babsi, the camera lingers on several terminal junkies leaning against the walls of the underpass. In a 2011 interview, Thomas Haustein, who plays Detlev and was still in school at the time, recalls how terrified he felt being surrounded by all those real-life addicts, but that he was able to successfully copy their behaviour for his character. It would be illegal to have minors act in the film's graphic shootup, nudity and sex scenes today; at the time, however, all the production needed was a written letter of consent from the parents to proceed with filming.
There are some minor historical inaccuracies in the movie:
The Bowie concert featured in the movie actually took place in New York City, with only some of the crew and cast attending, because at the time David Bowie was performing on Broadway several nights a week and could not shoot in Berlin. The mass concert scenes were actually from an AC/DC concert in Germany.
Homosexuality was illegal in West Germany at the time the film takes place and clients had to be discreet when soliciting male prostitutes, while Detlef's client is flamboyant and open about his desires.
All songs written by David Bowie except "Heroes/Helden" written by Bowie/Eno/Maas, "Boys Keep Swinging" and "Look Back In Anger", both written by Bowie/Eno. According to the book, the real Christiane F. had had her first experience with heroin at a David Bowie concert some years earlier; this is told in the film with David Bowie starring as himself. The concert scene was filmed in October 1980 at New York's Hurrah Club, which was redressed to resemble a Berlin nightclub (Bowie was appearing nightly on Broadway at the time so director Ulrich Edel had to shoot the sequence in New York).
"V-2 Schneider"
"TVC 15"
"Heroes/Helden"
"Boys Keep Swinging"
"Sense of Doubt"
"Station to Station" (Live)
"Look Back in Anger"
"Stay"
"Warszawa"