Preceded by

Rick L. Farrar




Role

Attorney




Name

Chris Hazel





Children

Sydney and Brik Hazel




Majority

62.5 percent




Political party

Republican Party







Born

January 25, 1965 (age 50) New Orleans Orleans Parish Louisiana, USA (

1965-01-25

)


Spouse(s)

Karen Frances Centanni Hazel




Residence

Ball, north of Pineville, Louisiana




Alma mater

University of New Orleans Thomas M. Cooley Law School




Education

Western Michigan University Cooley Law School, University of New Orleans
Chris hazel for rapides parish district attorney
Lowell Christopher Hazel, known as Chris Hazel (born January 25, 1965), is an attorney from Pineville, Louisiana, who is a Republican member of the Louisiana House of Representatives for District 27, which encompasses northern Rapides Parish in the central portion of his state.
Contents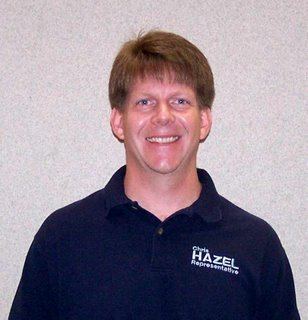 Brassband apeldoorn plays kraken chris hazel arr jan bosveld
Background
Hazel graduated in 1983 from the Roman Catholic Holy Cross High School in his native New Orleans. He then attended United States Marine Corps infantry training school at Camp Pendleton, California, and served in the Marines at 29 Palms, California, until 1986. Thereafter, he was a Lyndon B. Johnson intern for Democratic U.S. Representative Lindy Boggs of Louisiana's 2nd congressional district in New Orleans. In 1990, Hazel received his Bachelor of Arts degree in political science from the University of New Orleans. He attended the United States Border Patrol training institute at Artesia, New Mexico. From 1992 to 1997, he was a Border Patrol agent at the Chula Vista station in San Diego. In 1997, he entered the Thomas M. Cooley Law School in Lansing, Michigan, which conferred on him his Juris Doctor degree in 2000. After law school, he returned to Louisiana at the age of thirty-five to begin a legal career.
Hazel holds membership in the Louisiana Bar and the Louisiana District Attorney's associations, the American Legion, Kiwanis International, the Amerita Club, the Rapides/Pineville Soccer Association, and the National Rifle Association. He is a vestry member at St. Michael's Episcopal Church in Pineville. He is married to the former Karen Frances Centanni; the couple has two children, Sydney and Brik. The Hazels reside in Ball north of Pineville.
Election history
In the October 20, 2007, nonpartisan blanket primary, Hazel unseated Democratic Representative Rick L. Farrar of Pineville, 9,330 votes (62.5 percent) to 5,611 (37.5 percent). Farrar had first won the seat in the primary held on October 19, 1991, when he upset fellow Democrat Carl Newton Gunter, Jr., 7,729 (56.6 percent) to 5,929 (43.4 percent). Gunter had been known for his populist political stance and his fiery opposition to abortion. Farrar was narrowly unseated for the 1996-2000 term by the Republican Randy Wiggins of Pineville, a State Farm Insurance agent in Alexandria. On October 6, 1995, Wiggins defeated Farrar, 6,350 votes (51.1 percent) to 6,077 (48.9 percent). When Wiggins ran for the state senate in 1999 against former Senator Joe McPherson, who did not run in 1995, Farrar staged a successful return to office. In the 2003 primary, Farrar handily defeated Independent "Pete" Ferrington, 7,072 (61 percent) to 4,519 (39 percent).
Randy Wiggins, meanwhile, challenged the reelection of Hazel in the primary held on October 22, 2011, but Hazel handily defeated the former representative, 8,089 votes (60.8 percent) to 5,220 votes (39.2 percent).
Legal career
Hazel served from 2004 to 2007 as an assistant district attorney in Alexandria, the seat of government of Rapides Parish and the largest city in Central Louisiana. From 2003 to 2004, Hazel was the assistant D.A. in Colfax, the seat of neighboring Grant Parish. From 2000-2002, he was a law clerk for Ninth Judicial District Judge Tom Yeager in Alexandria.
Legislative tenure
Hazel is a member of the following committees: Administration of Criminal Justice; Agriculture, Forestry, Aquaculture, and Rural Development; Homeland Security; Joint Capital Outlay; Military and Veterans Affairs; Ways and Means; and Executive (chairman).
Hazel's first bill, HB 148, passed in the 2008 legislative session. It "adds the intentional manufacturing, purchasing, distributing, or attempting to manufacture, purchase, or distribute a controlled dangerous substance in violation of the CDS law in the presence of a minor child as an element of the crime of cruelty to a juvenile."
Hazel introduced HB 303 in March 2008. This bill would authorize former employees of district attorneys and assistant district attorneys to retain their retirement benefits if they become re-employed at a salary less than provided under existing state law. The measure would not apply to Hazel, for he had only four years of such service.
Hazel introduced HB 40 in the 2008 session to help police crack down on prostitution by broadening the legal definition of "sexual intercourse" to include "oral, anal or vaginal" contact. Hazel said that his measure would "close loopholes" so that defense attorneys could not argue over the nuances of sexual relations in certain instances. Despite ridicule from numerous bloggers, Hazel's bill was signed into law by Governor Jindal on June 12, 2008.
Hazel was rated in 2013 and 2014 as 90 percent favorable by the conservative Louisiana Family Forum; the organization scored him 75 percent in 2010. Louisiana Right to Life scored him 100 percent for each year that he has been a legislator. The Louisiana Association of Educators rates him 50 percent. He is ranked from 64 to 78 percent by the Louisiana Association of Business and Industry; in 2012, the National Federation of Independent Business scored him 50 percent.
In 2014, Hazel co-sponsored the requirement that abortion providers have hospital admitting privileges near their clinics; the bill was approved by the full House, 88-5. In 2014, he voted against extending the time for implementation of the Common Core State Standards Initiative. He voted to prohibit the transportation of dogs in the beds of pick-up trucks while traveling on interstate highways; the measure passed the House, 53-34. He voted to require that companies must give notice when they engage in hydraulic fracking; the measure failed, 19-73. He voted for the repeal of the anti-sodomy laws; the repeal failed, 22-67. He voted to authorize surrogacy contracts. He opposed reducing the penalties for the possession of marijuana. He voted to establish lifetime concealed carry gun permits and supported concealed-carry privileges in restaurants that sell alcoholic beverages. He voted against making information about permit holders a matter of public record. He voted in 2013 for an increase in judicial pay and supported the removal of the mandatory retirement age for judges.
In 2012, Hazel voted to ban the use of telephones while driving; the measure passed the House, 68-29. He voted against providing tax incentives for attracting a National Basketball Association team to Louisiana but supported state income tax deductions for individuals who contribute to scholarship funds. He voted to reduce the number of hours that polling locations remain open; Louisiana has traditionally had 14-hour polling days. He co-sponsored the requirement for drug testing of certain welfare recipients, which passed the House, 65 to 26. He supported changes in the teacher tenure law. In 2011, Hazel voted for a permanent tax on cigarettes and opposed the establishment of a commission to consider ways to remove the state income tax. He vote against the anti-bullying measure which proponents claimed would address the problem in public schools; the measure failed 43-54.
Race for district attorney
In April 2014, Hazel confirmed that he would run for Rapides Parish District Attorney in the primary election held on November 4. The long-term incumbent, Jam Downs, a Democrat and son of the late C. H. "Sammy" Downs, retired. Hazel finished a strong second in the primary to Pineville City Judge Phillip Terrell, a Democrat. He polled 15,001 votes (34.6 percent) to Terrell's 15,245 (35.2 percent). The third candidate, Democratic former state Representative Christopher Roy, Jr., the brother of Alexandria Mayor Jacques Roy, trailed with 13,081 votes (30.2 percent). In the runoff election held on December 6, Terrell defeated Hazel, 20,053 votes (52.9 percent) to 17,840 (47.1 percent).
2015 legislative campaign
Hazel won a third term in the state House in the nonpartisan blanket primary held on October 24, 2015. He defeated another Republican candidate, businessman Christopher Dean "Chris" Tyler (born April 1973) of Pineville, 6,342 votes (64.9 percent) to 3,425 (35.1 percent). Defeated candidate Tyler is an Alexandria native who attended Pineville High School and graduated from LSU and Louisiana Tech University in Ruston.
Entering his third and final House term on January 11, 2016, Hazel has announced that he will cross party lines to support the Democrat Walt Leger, III, of New Orleans for Speaker of the Louisiana House of Representatives, the choice of incoming Governor John Bel Edwards. However, in an upset, lawmakers chose not Leger as Speaker but New Iberia Republican Taylor Barras.
References
Chris Hazel Wikipedia
(Text) CC BY-SA