Gender

Male




Age

43




Occupation

Police chief




Status

Alive




Hair color

Blue




Parents

Mrs. Wiggum, Iggy Wiggum






Relatives

Wife: Sarah Son: Ralph Father: Iggy Cousin: Mark




Location

732 Evergreen Terrace, Springfield




Similar

Ralph Wiggum, Apu Nahasapeemapetilon, Moe Szyslak, Grampa Simpson, Principal Skinner
Chief Chauncey "Clancy" Wiggum is a fictional character from the animated television series The Simpsons, voiced by Hank Azaria. He is the chief of police in the show's setting of Springfield. He is the father of Ralph Wiggum and the husband of Sarah Wiggum.
Contents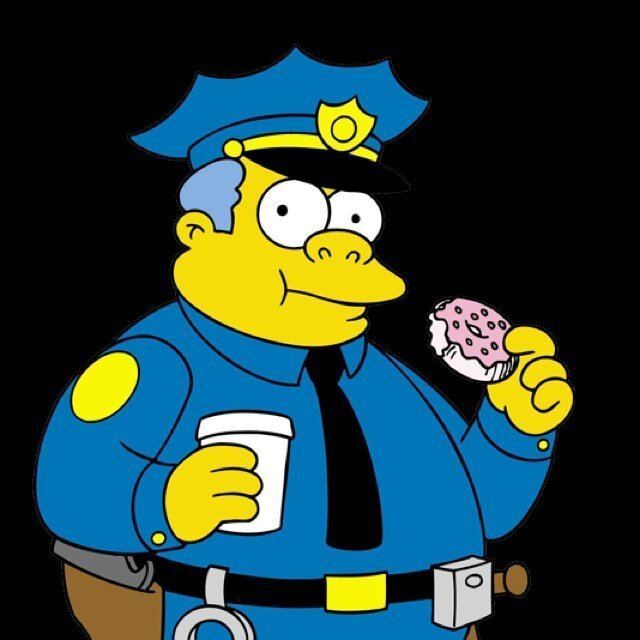 The character's comedic value relies heavily on his incompetence and irresponsibility as a police officer, and his laziness and gluttony. Chief Wiggum's more responsible fellow officers Eddie and Lou play the straight men to his shenanigans.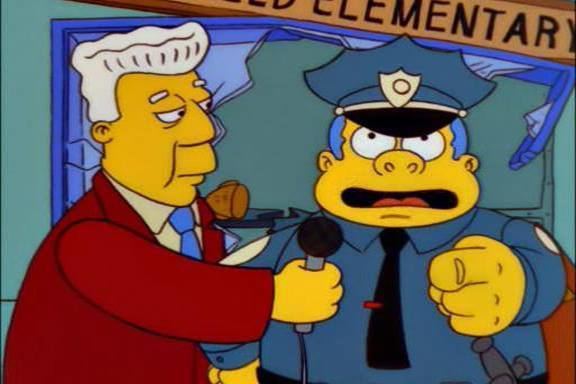 Biography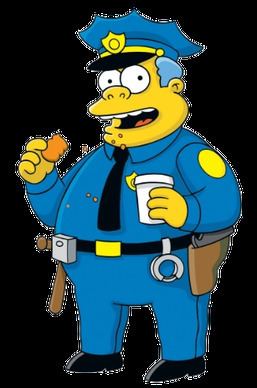 Chief Wiggum was born in Ireland and moved to Springfield at an early age. Per the episode "Raging Abe Simpson and His Grumbling Grandson in "The Curse of the Flying Hellfish"", Wiggum's father, Iggy, served in Abe Simpson's infantry squad, implying the Wiggums emigrated to America by the early 1940s at the latest. In the episode "Mother Simpson", a teenaged Wiggum was a trainee security guard at Springfield University when Homer's mother Mona sabotaged the University's laboratory, which Mr. Burns was using for biological weapons. Antibiotics used to kill the weapons cured Wiggum's asthma, allowing him to join the police force.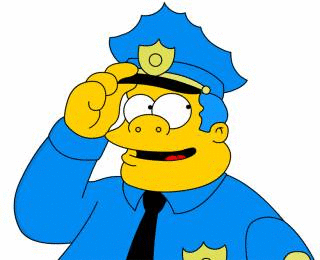 Many episodes have dealt with the back story of how Wiggum, despite his incompetences, occupies such a high role in the police force. As with those of most supporting characters on the show, they are jokes for one episode and contradict each other. Wiggum was temporarily promoted to Commissioner of Police for Springfield's state in the 2005 episode "Pranksta Rap".
Chief Wiggum is the father of Ralph Wiggum, whom he loves and is patient of, but he sometimes does not understand his son's eccentricities.
Incompetence
Wiggum's descriptions of suspects, evidence and location is often very poor. He also has been known to arrest people impulsively, disregarding their involvement of a determined situation or crime, evident in "Brother from Another Series" where he arrested Sideshow Bob for the incidents of the episode, despite Bart and Lisa (the main witnesses) confirming his innocence. In "The Frying Game", he gleefully condemns Homer and Marge to death for murder without conducting an investigation. He has also, on occasion, had people arrested or put in a jail cell for an invalid reason. For example, in "Midnight Rx", he attempts to arrest Grandpa on a charge of startling a police officer rather than for the drug smuggling he had been involved in with Homer during the episode. In "Much Apu About Nothing", he orders Barney to be booked on one count of being an accessory to being a bear, in "Homer's Barbershop Quartet", it is implied that he arrests Homer, Principal Skinner, Barney and Apu for rejecting him from their group The B-Sharps and in "On a Clear Day I Can't See My Sister" he puts Lou in a police cell because his coffee came back cold (despite Lou insisting that Wiggum ordered "an iced coffee"). Furthermore in "The Seven-Beer Snitch", he assists Mr Burns in filling up his newly opened prison with convicts by reinstating old and forgotten laws- which subsequently results in Homer being arrested for "Illegally transporting litter" (five kicks of the same can).
Wiggum also often fails to comply with his police duties in a real emergency, and sometimes does not take emergency calls seriously. Occasionally, he turns off his receiver when he is not in the mood to fight crime, or makes an excuse that he is too busy to help and it is then shown that the police are taking part in a trivial activity. He has demonstrated a lack of respect for firearms safety, having sold parts of his service pistol after losing his job ("Homer vs. the Eighteenth Amendment"), used it to crack walnuts ("I Love Lisa") and eaten donuts off its barrel, nearly killing himself as a result when it goes off (The Simpsons Movie).
It is also frequently implied that Chief Wiggum is corrupt. He has been seen asking both Homer and Troy McLure for bribes and on his badge, it states "Cash Bribes only", something which causes Bart to be arrested for stealing and then trying to bribe Chief Wiggum with stolen wedding presents. In "I Love Lisa", he deliberately smashes one of the headlights on Homer's car after Lisa rejects Ralph Wiggum's advances and then expresses concern when Homer remarks that one day "Honest citizens are going to stand up to you crooked cops". In the same episode, he also bribes Ralph's teacher Mrs. Hoover to give Ralph a leading part in the school play in exchange for her car being unclamped and uses his police car to take his son on a date. In addition in "The Wandering Juvie" when Bart and Gina are caught by the Springfield Police Force after escaping from juvenile hall, Chief Wiggum orders "Plant the evidence on them". When Lou points out that they don't have to as these ones are actually guilty, Chief Wiggum remarks "Super, it makes our job that much easier".
Despite often not being bothered to do his work, Wiggum is emotionally attached to his occupation and his colleagues. On the few occasions where Wiggum loses his commission, he breaks down shockingly fast (as seen in "Poppa's Got a Brand New Badge"), even becoming a mugger (as seen in "Homer vs. The Eighteenth Amendment"). Once in a while, Wiggum will have an argument with his fellow officers, which often end in dramatic, tearful moments of reconciliation. On one occasion, Lou had thought about leaving the force to pursue a career in home security, which leaves Wiggum nearly a tearful mess.
Positive qualities
Despite his general incompetence at his occupation, Wiggum on occasion has helped various other characters, such as helping Homer find his wife in "Marge on the Lam". He rescued Maggie Simpson when she ran away from home to look for Marge in "Homer Alone", by helping Lisa Simpson find Mr. Burns' assailant in "Who Shot Mr. Burns?" as well as helping backing her up in a school protest on one occasion in "The President Wore Pearls". In the episode "Pranksta Rap" he manages to find the presumed kidnapped Bart Simpson in Kirk Van Houten's apartment. He also arrived just in time during crucial moments such as the various times Sideshow Bob had attempted to kill Bart Simpson. Perhaps the best example of this is the episode "Mother Simpson", where it is implied that he leads the FBI astray in their search for Mona Simpson, allowing her to escape in gratitude for curing his asthma. Although Wiggum can often antagonize others as well, it is heavily implied that it is not out of malice but merely because he is doing his job or because he is ignorant of the situation.
Creation
His surname "Wiggum" is Matt Groening's mother's maiden name. As "a conscious pun", Wiggum was designed to look like a pig. Hank Azaria first based his voice for Wiggum on David Brinkley, but it was too slow and he switched it to an Edward G. Robinson impression.
References
Chief Wiggum Wikipedia
(Text) CC BY-SA