The story is based on the exploits of women in Great Britain's Special Operations Executive (SOE) who worked with the French resistance in Nazi-occupied France. The character Charlotte Gray is a composite based on such SOE agents as Pearl Cornioley, Nancy Wake, Odette Sansom and Violette Szabo.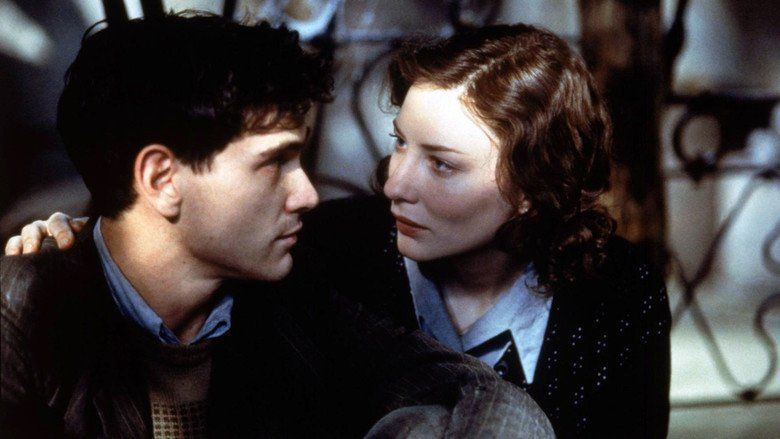 In 1942, a young Scot, Charlotte Gray, travels by train to London to take a job in a surgery. On the train, Richard Cannerley enters the compartment where Charlotte is seated. Cannerley chats with Charlotte, asking questions about her life and expressing interest that she is fluent in French. He gives Charlotte his card with the date, time and address of a book launch party. Social life in London is in full swing, and Charlotte's friends convince her to attend the party. There Charlotte meets handsome Royal Air Force Flight Lieutenant Peter Gregory. Cannerley interrupts Charlotte and Gregory by urging Charlotte to meet some of his acquaintances at the party. Cannerley asks Charlotte to contact him when she leaves the party.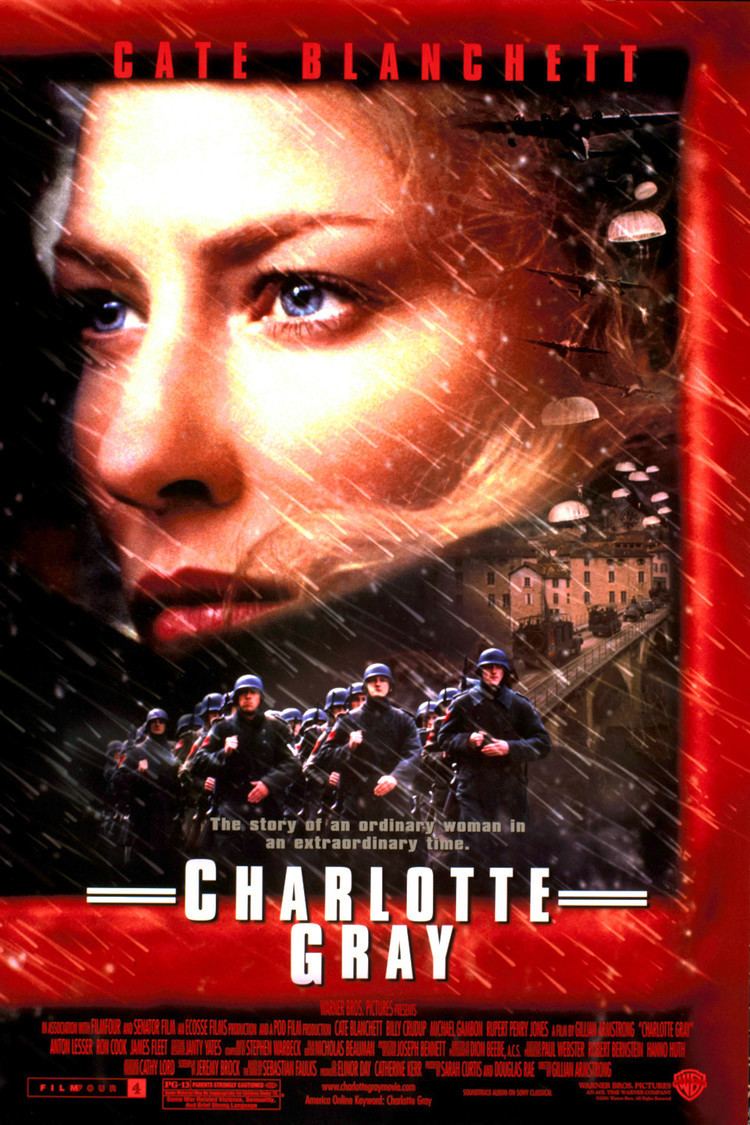 Charlotte and Gregory enjoy a quick wartime romance. As they talk about the war and bravery, Charlotte confides that she thinks Cannerley wants her to try out for some secret organisation in connection with the war. Peter tells her not to get involved because it is too dangerous. Charlotte points out that nothing could be more dangerous than flying air force combat missions. Gregory tells Charlotte that he will be away for the next few weeks flying missions over France.
Charlotte joins the SOE and is seconded to First Aid Nursing Yeomanry with the rank of Driver. She completes rigorous SOE training. Charlotte learns that Gregory's plane has gone down in France and that he is missing in action. Charlotte signs up for SOE operations in France, motivated in part by her desire to find Gregory.
Charlotte enters France by parachute with two men. She lands out of the drop zone because two young boys on the ground are playing with flashlights, which appear to signal the drop zone. The boys run away, half-thinking Charlotte is an angel.
Charlotte's first mission in France is a test run, to deliver radio vacuum tubes to a contact in France. The meeting place is a café. Charlotte's contact hurriedly enters the café, and they exchange the coded greeting to identify one another. The contact explains that she believes that local police are following her. Police enter the café, question the contact, examine her papers and other belongings (including the vacuum tubes), and finally "ask" the contact to follow them out. Charlotte realizes that this encounter compromised her cover.
Charlotte explains this incident to Julien, her main contact in the French Resistance. Julien reassigns her to act as friend and housekeeper to his father, Levade, who lives in a large house in the country. Levade has taken two Jewish children, André and Jacob, into his home to hide them after their parents were arrested. It is not clear whether Charlotte recognizes the boys, but the boys recognize her—they were the boys who were playing with flashlights when Charlotte landed by parachute. As time progresses, the film reveals that the parents were deported to a German concentration camp in Nazi-occupied Poland, and the Vichy government is cooperating with the Nazis in the steadily growing oppression of Jews in France.
Charlotte participates in a Resistance mission: blowing up a train carrying Nazi tanks and armaments. The Nazis bring their own forces and tanks to the village to crush the Resistance in the area. Charlotte's SOE contact tells her that Gregory died after his airplane was shot down. Charlotte grieves for Gregory.
A Vichy official arrives from Paris to work with the Germans and local villagers to ensure that their quota for deporting Jews is met. Renech, the village schoolmaster, follows Charlotte. Renech learns that Levade is hiding Jewish children. He threatens Charlotte with reporting the boys to the Nazis unless she agrees to become his "friend". She agrees and promises to meet Renech the following night.
That night, Julien's Resistance group conducts a mission to guide paratroopers to a safe landing zone. Someone has informed German forces of the mission. German soldiers, armed with machine guns, surprise Julien's Resistance group and kill all of them except Julien.
Believing Charlotte betrayed them, Julien confronts her the next day at his father's house. Soon afterward, German soldiers, with Renech and the Vichy official from Paris, arrive at Levade's house. They meet in Levade's dining room. The Vichy official asks Levade for his papers, especially for documentation that he is not a Jew, and question him about his Jewish ancestry, about which Renech apparently informed him.
Renech takes Julien aside, away from the dining room. Renech tells Julien that he must betray either his father or the boys to satisfy the Nazis' quota of Jews to deport; Renech says he does not care whom Julien chooses to betray. Julien returns to the dining room. Julien announces that his father has Jewish grandparents and acknowledges that this means Julien himself is also of Jewish ancestry. Levade understands Julien made this disclosure to protect the boys. The Vichy official explains that Julien does not qualify for deportation as a Jew because he is only  1⁄8 Jewish. The German soldiers seize Levade.
Renech betrays the boys anyway. Charlotte rushes to the boys' hiding place to move them, but the Nazis arrive first and capture the boys.
Julien enters Renech's apartment while Renech is away. When Renech returns to his apartment, Julien shoots and kills him.
With his Resistance group destroyed and his father deported, Julien decides to go to southern France, perhaps to escape to fight elsewhere. He begs Charlotte to go with him. Charlotte refuses, saying that she still has duties to fulfill in France. Julien says that he does not even know Charlotte's real name. Charlotte simply smiles.
Evading French police, Charlotte rushed to Levade's house where she hurriedly types something and takes it to the railroad station where Jews are being loaded into cattle cars. People from the village run alongside the cars, searching for their loved ones. Hearing the boys and Levade in one of the cattle cars, Charlotte pushes the paper she typed between the boards of the car. Inside the car, Levade takes the document and reads it aloud to the boys. It purports to be a letter from the boys' parents, encouraging them to care for one another, to be careful, to survive, and reminding them of their parents' love. (Much earlier in the film, when Charlotte is interviewed for a position in the SOE, she is asked, "Which is more important: love, hope, or duty?" Charlotte answers, "Hope." Charlotte's fake letter gave the boys the gift of hope.)
Although the screenplay suggests that Julien's father and the Jewish boys are doomed, Faulks's novel states explicitly that they die in a concentration camp.
Some time later, Charlotte leaves France and returns to London.
After the end of the war, Peter Gregory, who in fact survived his airplane crash and has been in hiding, approaches Charlotte. He wants to resume their romance. Charlotte explains that things have changed. She says she grieved for Gregory, but she cannot go back to their romantic relationship.
At the end of the film, Charlotte returns to France and to Julien at his country home (formerly his father's home). When they reunite, Charlotte reminds Julien that he still does not know her real name. "My name is Charlotte Gray," she announces.
Cate Blanchett as Charlotte Gray
James Fleet as Richard Cannerley
Abigail Cruttenden as Daisy
Rupert Penry-Jones as Peter Gregory
Billy Crudup as Julien Levade
Michael Gambon as Levade
Anton Lesser as Renech
Ron Cook as Mirabel
Charlotte Gray received negative reviews from critics. It currently holds a 32% rating on Rotten Tomatoes based on 88 reviews.
Charlotte Gray grossed AUD 4,188,497 at the box office in Australia, USD 1,886,566 in the United Kingdom and Ireland, and only USD 741,394 in the United States, where it had a very limited release (widest release was 52 cinemas).