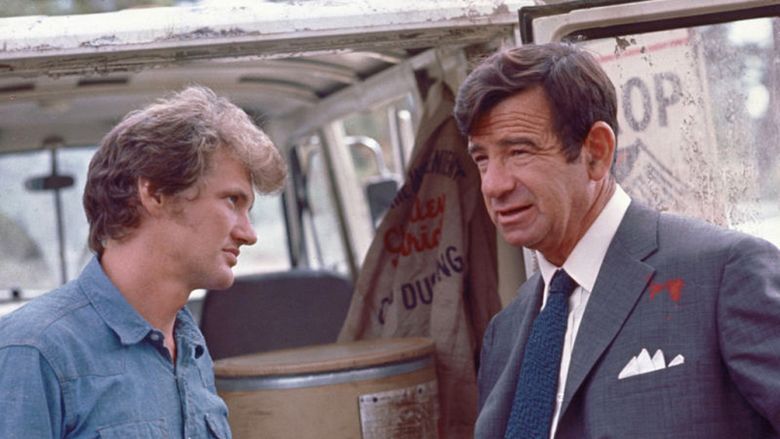 Charley Varrick (Walter Matthau) is a former stunt pilot who pretends to operate a crop-dusting business, which he uses as a cover for small scale robberies. With his wife Nadine (Jacqueline Scott), Al Dutcher (Fred Scheiwiller) and Harman Sullivan (Andrew Robinson), Charley robs a small bank in the rural community of Tres Cruces, New Mexico. While Nadine waits outside in the getaway car, the heavily disguised Charley and his two accomplices draw their guns and demand the safe be opened. Outside, an officer in a passing police car recognizes the license plate of their car as one reported stolen. When the police approach Nadine, she shoots, killing one and seriously wounding the other, who returns fire, wounding her. The melee distracts the robbers inside the bank, and the bank guard kills Dutcher. Sensing that the bank manager is concealing something, Charley forces him to reveal two large satchels of cash. Charley, Harman and Nadine flee, but Nadine dies soon after. Charley and Harman switch to a van marked with the crop-dusting business's signage. They set a charge to blow up their getaway car with Nadine's body inside. They drive away and are stopped by another policeman, but before he can search their van, the timed explosion goes off and the officer races away to investigate.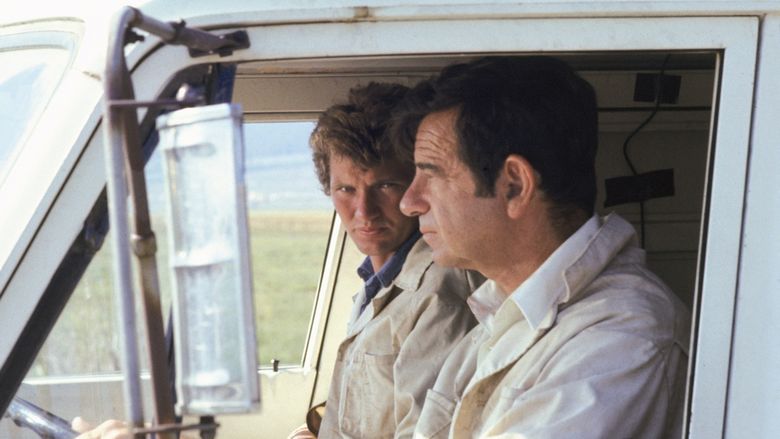 When they return to their trailer and count the money, it is much more than they expected: $765,118. After a local television news broadcast reports that only $2,000 was stolen, Charley realizes the bank must be involved in a mob money laundering operation. He warns Harman that the Mafia will pursue them relentlessly and that their only chance is to lie low and not spend the money for three or four years, but the young, headstrong Harman will not listen. Meanwhile, Maynard Boyle (John Vernon), president of the bank, dispatches hitman Molly (Joe Don Baker) to recover the money.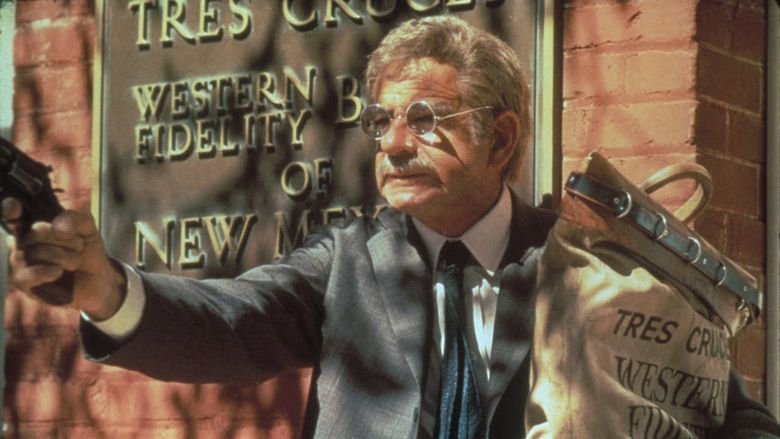 Realizing that Harman's rashness will doom them both, Charley double-crosses him. Because he, Nadine and Harman all had dental work done recently at the same dentist's office, Charley breaks in, stealing his and Nadine's X-rays and swapping Harman's for his own. To obtain illegal passports, Charley contacts gun dealer Tom (Tom Tully), an old accomplice of Dutcher's, who directs him to a beautiful local photographer Jewell Everett (Sheree North); he has his photograph taken, but he also gives her Harman's driver's license, which he has stolen as Harman slept. He leaves her his address, guaranteeing that Molly will find Harman in their trailer, which Charley watches at a distance. Tom immediately informs on Charley. Jewell also betrays Charley, but he never returns for the passports. Molly turns up at Charley's trailer and tortures Harman to death to try to locate Charley and the money.
Boyle meets secretly with Tres Cruces bank manager Harold Young (Woodrow Parfrey), advising Young that his Mafia superiors will suspect that the robbery was an inside job because it occurred during the brief period when the money was there. He suggests that Young will be tortured. Young is so terrified that he later commits suicide.
Charley purchases dynamite, then flies to Reno, where he has flowers delivered to Boyle's secretary, Sybil Fort (Felicia Farr), at her office so he can identify her as she leaves and follow her home. He seduces Fort in her apartment. Fort warns Charley not to trust her boss.
She helps Charley telephone Boyle. Charley offers to return the money. He arranges a rendezvous at a remote automobile wrecking yard and insists that Boyle come alone. Charley overflies the wrecking yard and spots Molly's car. After landing, Charley hugs the confounded Boyle, acting overjoyed as if they have been accomplices in a successful robbery; Molly falls for the ruse, assumes that Boyle is Charley's co-conspirator, and runs Boyle down with his car, killing him. Molly then chases Charley, who tries to fly away, but Molly damages the crop-duster's tail with his car and the aircraft flips over. Trapped upside down in the wreckage, Charley tells Molly that the money is the trunk of a nearby Chevrolet. However, Charley had flipped his aircraft on purpose, a trick he learned in his barnstorming days. When Molly opens the trunk, he sees Harman's body, wearing Charley's wedding ring, and the bank satchels; an instant later, he is killed by a dynamite booby trap. Charley throws a wad of hundred-dollar bills toward the burning car, making it seem that the money has been destroyed, then drives away.
In the latter years of his career, Don Siegel often cast actors he liked in multiple films. He worked with Clint Eastwood on five occasions. Except for Matthau, nearly all of the principal cast members of Charley Varrick worked with Siegel on at least one of his other feature films:
Andrew Robinson memorably played the serial killer Scorpio in Dirty Harry;
John Vernon played the Mayor in Dirty Harry and later featured in The Black Windmill;
Woodrow Parfrey featured in Dirty Harry and Siegel's last feature Jinxed;
Sheree North featured in Madigan, The Shootist and Telefon;
Jacqueline Scott featured in Death of a Gunfighter (for which Siegel insisted on an Alan Smithee directing credit);
Norman Fell featured in Siegel's 1964 telemovie The Hanged Man and the feature The Killers
Tom Tully featured in Coogan's Bluff;
Benson Fong featured in Jinxed.
Charley Varrick also features several cameo appearances:
Veteran actor Tom Tully plays Tom, the wheelchair-bound gun shop owner. Tully was an amputee in real life, having lost his leg several years earlier, due to a parasitical infection he contracted while entertaining US troops during the Vietnam War; Charley Varrick was his last film.
The little boy who tells the sheriff he has blood on his head is played by Walter Matthau's son, Charles.
Nevada brothel operator Joe Conforte, owner of Mustang Ranch, appears as himself when Molly arrives at the brothel. The scene was filmed at the Mustang Ranch.
Siegel appears as the ping-pong player who complains about being bested by Honest John.
Felicia Farr, who plays Boyle's secretary, Miss Fort, was the wife of Walter Matthau's friend and frequent co-star Jack Lemmon.
Director Don Siegel wanted Varrick's company's motto, "Last of the Independents," to be the title of the film. The motto appears on the film poster and briefly as a subtitle in the film trailer.
When the hitman Molly arrives at Jewell's photo studio and introduces himself, Jewell sarcastically replies, "Yeah, I didn't figure you for Clint Eastwood". The role of Varrick was written for Eastwood, who turned it down, reportedly because he could not find any redeeming features in the character. Matthau was also reported to have been unimpressed by the film, and Siegel later claimed that Matthau hurt the film's box-office by publicly stating that he neither liked nor understood it. Matthau sent Siegel a note that said, "I have seen it three times, and am of slightly better than average intelligence (IQ 120) but I still don't quite understand what's going on. Is there a device we can use to explain to people what they're seeing?"
Varrick's aircraft is a Boeing PT-17 Stearman Kaydet (N53039) flown by Hollywood aerial pilot Frank Tallman. The modified crop duster belonged to a California agricultural spraying business.
Siegel filmed several of his movies in northern Nevada, including Charley Varrick, The Shootist and Jinxed! Charley Varrick was set in New Mexico, but filmed primarily in two small Nevada towns, Dayton and Genoa. Both lay claim to being the oldest towns in the state. The opening bank robbery exterior shots were filmed in Genoa at the old Douglas County court house. The sheriff's chase of Varrick and his gang was filmed nearby at Genoa Lane, and on Nevada_State_Route_207 The interior bank scenes were filmed in Minden. The trailer park scenes were shot in Dayton at the trailer park near Red Hawk Casino (closed in 2008) and the Carson River, at the corner of Hart and Louie Streets. The photographer's studio and gun store scenes were filmed in Gardnerville. The aircraft flight scene at the end was shot at City Auto Wrecking in Sparks. Reno locations include the Chinese restaurant at 538 South Virginia Street and the Arlington Towers apartment building where Varrick meets Miss Fort.
Although very well received critically, it was a disappointment at the box office. Reviewer Paul Tatara described Charley Varrick as "intelligent, commercial filmmaking at its finest. They rarely make them like this anymore."
Vincent Canby in his review for The New York Times considered Charley Varrick as both an action film and a mystery:
An intelligent action melodrama is probably one of the most difficult kinds of film to make. Intelligence in this case has nothing to do with being literate, poetic, or even reasonable. It has to do with movement, suspense, and sudden changes in fortune that are plausible enough to entertain without challenging you to question basic premises. If you start asking whether such-and-such could really have happened, or if so-and-so would have acted in a certain way, the action film falls apart.
While not strictly a "remake," 2 Guns (2013) has many of the same film elements as Charley Varrick. The protagonists of the film also rob a bank in Tres Cruces, New Mexico, and make off with a far larger than expected amount of money.
Matthau won the 1974 British Academy of Film and Television Arts Awards for Best Actor in Charley Varrick. In addition, Frank Morriss was nominated for the 1974 British Academy of Film and Television Arts Awards for Best Editing.
Charley Varrick was released as a Region 1 DVD with no extras on December 28, 2004. On February 14, 2008, the film was released as a Region 2 DVD in Europe in widescreen with some special features. Both DVD versions are uncut. On March 19, 2015, the film was released in a Region B locked Blu-ray in Germany. This edition included a 72 minutes documentary on the making of the film, " Last of the independents: Don Siegel and the making of Charley Varrick."
According to Rory Gallagher's long-time bassist Gerry McAvoy, in his book Riding Shotgun: 35 Years on the Road with Rory Gallagher and 'Nine Below Zero', Gallagher's 1978 song "Last of the Independents" was inspired by Charley Varrick.