Motive

School bullying




Education

Santana High School




Conviction(s)

Murder




Injured

13





Date

March 5, 2001




Killed

2




Name

Charles Williams







Born

February 8, 1986 (age 29) (

1986-02-08

)

Frederick, Maryland, U.S.




Criminal penalty

50 years to life in prison




Weapons

Arminius .22 caliber revolver




Similar People

Jeff Weise, Nathaniel Brazill, Charles Carl Roberts




Criminal charge

Murder, Attempted murder



Charles Andrew Williams in Court
Charles Andrew "Andy" Williams (born February 8, 1986) is a convicted murderer who, as a 15-year-old, perpetrated the shooting at Santana High School on March 5, 2001. In the shooting, two students were killed and 13 others were wounded. Williams is currently serving life in prison with the possibility of parole after 50 years.
Contents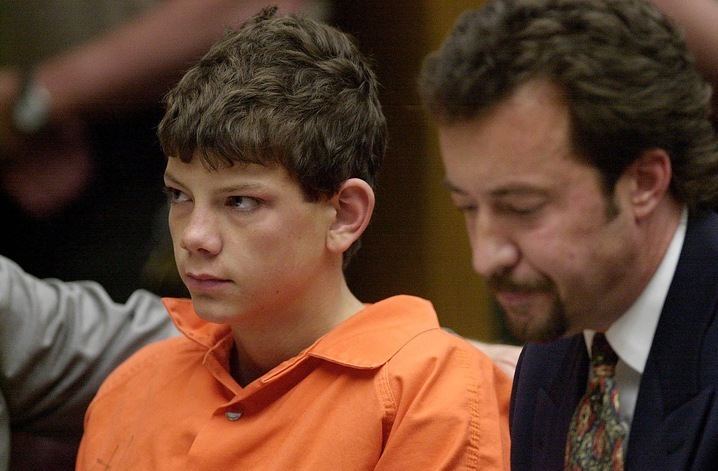 Early years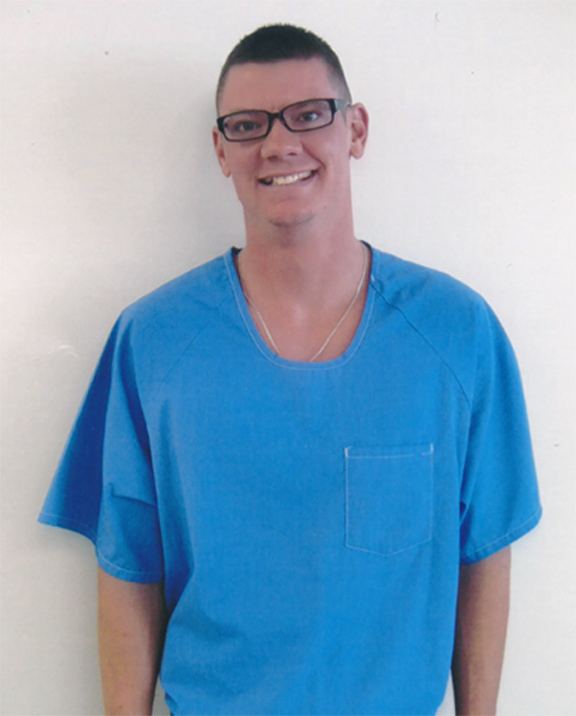 Known by his family as "Andrew" or "Andy" for short and born in Frederick, Maryland on February 8, 1986, he was the second child of Jeff and Sue Williams. In the summer of 2000, Jeff and Sue separated. Jeff and Andy moved to California in the fall. Williams attended Santana High School in Santee, California, where he was bullied by fellow students. He began to spend time with a crowd of skateboarders. Williams was accepted within this peer group; however, at times these individuals also bullied him.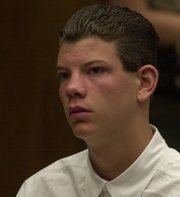 Weeks before the shooting, Williams attempted to speak with a school counselor, but was instructed to return to class because the office was full at the time. As the semester unfolded and the abuse continued, friends came to believe that Williams had just reached a tipping point and mentioned he "didn't want to live anymore", which resulted in more name-calling and threats of bullying. By early 2001, Williams seemed to believe that his problems would not resolve themselves. The Friday before the shooting, Williams and classmates reported that his drama teacher humiliated him in front of the class during an acting exercise, which he perceived as an abusive setup. Williams spoke on two occasions of his plan to "pull a Columbine" at Santana High School, but no reports were ever made of these threats to the school. He also made plans to get on top of the school's roof so that he could hit people more easily. The friends he informed were asked to leave the school. The first occasion was a week before the shooting, the second during the weekend prior to March 5.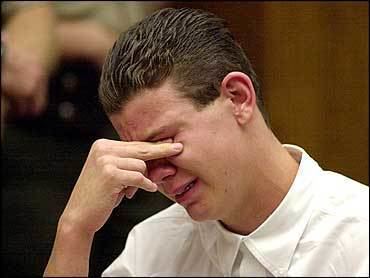 He took his father's Arminius .22 caliber long-rifle double action revolver from the locked gun cabinet in their apartment. After his arrest, he told investigators that he was "tired of being bullied." On the way to juvenile hall, Williams said that he did it because he was dared to by his friends.
Shooting
On Monday, March 5, 2001 at 9:20 a.m., 15-year-old Williams entered a boys' bathroom at Santana High School with a loaded .22-caliber revolver taken from his father's locked gun cabinet and fatally shot a freshman. He then left the bathroom and began firing the revolver indiscriminately at other students, killing another. According to one witness, Williams repeatedly walked out of the bathroom, fired shots, then went back into the bathroom. The scene soon turned chaotic as students and teachers ducked or scrambled to safety. Minutes later the school was on lock-down. Williams reloaded his revolver at least once. A student teacher and campus security supervisor, Peter Ruiz, walked into the bathroom to try to stop Williams, but Williams aimed the revolver at Ruiz shooting him five times. As the student teacher and supervisor walked out, Williams fired and hit Ruiz in the back. Williams was often seen smiling throughout the entire shooting. Two off-duty police officers who were visiting the school were alerted to the shooting; however, they were at different ends of the school. One of them approached the bathroom and called for backup. Police officers quickly arrived and charged the bathroom; they discovered Williams kneeling on the floor with the weapon in his hands. He wanted to kill himself, but was unable to. He told officers that he was by himself. In the end he shot 15 people, two of whom died.
Williams surrendered and was taken into custody. The two students that were killed were 14-year-old Bryan Zuckor and 17-year-old Randy Gordon. Eleven students and two school supervisors suffered gunshot wounds and were treated at either University of California, San Diego Medical Center or Children's Hospital. The San Diego SWAT team was called to "assess and clear" the scene of the shooting.
Reactions
In Washington, President George W. Bush offered his condolences "to the teachers and the children whose lives have been turned upside-down right now." Bush called the shooting "a disgraceful act of cowardice," adding, "When America teaches our children right from wrong and teaches values that respect life in our country, we'll be better off." But, he said, "First things are first. And our prayers go out to the families that lost a child today."
California Governor Gray Davis also said he was "shocked and deeply saddened" by the shooting. Davis' wife Sharon is a Santana High School graduate.
The nu metal band Linkin Park, whom Williams was a fan of, were seen as an influence to Williams in shooting. They released a statement saying "Like everyone else, we are extremely saddened by these events and our hearts go out to the families and friends to the victims."
Imprisonment
On June 20, 2002, Williams pleaded guilty to all charges against him in an effort to avoid trial. On August 15, 2002, a California judge sentenced Williams, as an adult, to 50 years to life in prison, and ordered him to serve his time in the Youth Offender Program at CCI, Tehachapi (since closed) until his 18th birthday, at which time he would be transferred to an adult prison. Williams was given credit for the 529 days that he had served in juvenile hall, fined $10,000.00 and ordered to pay restitution to the Victims Restitution Fund. At his sentencing, Williams apologized and expressed remorse for his actions. On March 1, 2004, he was transferred to an adult prison.
In an interview with "NOVA: Mind of a Rampage Killer", Williams admitted to being suicidal for several months before the shooting. He described his 15-year-old life as tumultuous, describing the pain of his parent's recent divorce, his jolting move across the country from Maryland to California, and death of a friend. His description of his mental state was "Numb", adding that he didn't realize people would die, but he wanted to "Make a lot of noise and then the cops would show up." He admitted that his real plan was to commit suicide by cop, however he "changed his mind at the last minute, dropped his revolver and surrendered."
Currently there are grass-root efforts to have Williams' sentence reduced. His supporters argue that the judge was too harsh in sentencing Williams as an adult and did not take into consideration Williams' age at the time of his offense. They would like to see Williams get a retrial, but as a juvenile, which would have meant confinement by the California Youth Authority until age 25. The California State Attorney General's office handled a total of six appeals filed by Williams supporters, four to the Court of Appeals and two to the California State Supreme Court. The district court denied his petition in September 2010 and the case is now on appeal to the 9th Circuit, according to the California Attorney General's Office.
Williams is currently incarcerated at Valley State Prison in Chowchilla, Madera County, California. He will be eligible for parole in 2052. He will be 66 years of age.
References
Charles Andrew Williams Wikipedia
(Text) CC BY-SA