Name

Chao Piu





Children

Susana Chou






chao kuang piu college plaque unveiling ceremony
Chao Kuang-piu, SBS (Chinese: 曹光彪; pinyin: Cáo Guāngbiāo; Cantonese Yale: Chou4 Gwong1 Biu1), is a Hong Kong industrial tycoon and philanthropist, sometimes referred to as Hong Kong's "Wool Magnate".
Contents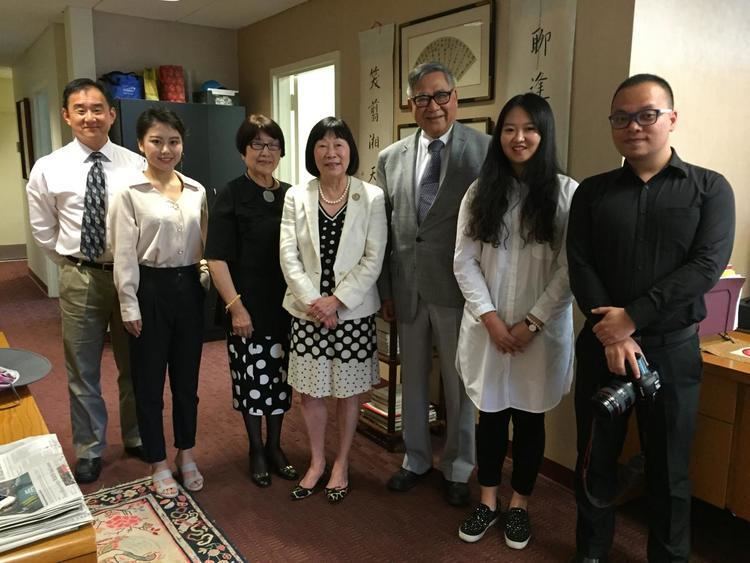 Life
Chao was born in 1920 in Shanghai. His father was also a successful businessman in Shanghai. In 1950, Chao went to Hong Kong to develop his own business. His career has been mainly involved in the Hong Kong textile industry.
Chao was the main founder of the Dragonair, which was the first Chinese air company in Hong Kong. Chao also was the very first businessman who invested in Mainland China when the Chinese Economic Reform started in late 1970s.
Chao is the current Honorary Chairman of the Wharton School's Global Alumni Forum in Hong Kong. He is also the current Chairman of Novel Enterprises Ltd.
Family
Chao's daughter, Susana K J Chou (曹其真, b. 1941), is the first President of the Legislative Assembly of Macau, Macau SAR.
Chao's son, Silas K F Chou (曹其峰), is a director of Novel Enterprises which owned Tommy Hilfiger and Michael Kors. His daughter is socialite Veronica Chou (曹颖惠, b. 1984).
Chao's son, Ronald K Y Chao (曹其镛, b. 1939), is also a director of Novel Enterprises and founded the Bai Xian Scholarship program in Hong Kong. Chao studied Mechanical Engineering at University of Tokyo and obtained MS at the University of Illinois.
Honours and awards
The Asteroid 4566 Chao Kuang Piu is named after him
Silver Bauhinia Star
Wharton School Dean's Medal, awarded by the Wharton School of the University of Pennsylvania
References
Chao Kuang Piu Wikipedia
(Text) CC BY-SA