Country

Thailand




University

Rambhaibarni Rajabhat University




Area

6,338 km2


Capital

Chanthaburi



Chanthaburi (Thai: ; Chong: ???????? Chankabui; "Moon City") is a province (changwat) of Thailand. It is in the east of Thailand, on the border with Battambang and Pailin of Cambodia and on the shore of the Gulf of Thailand. Neighbouring provinces are Trat in the east and Rayong, Chonburi, Chachoengsao, and Sa Kaeo to the west and north.
Contents
Map of Chanthaburi Province
History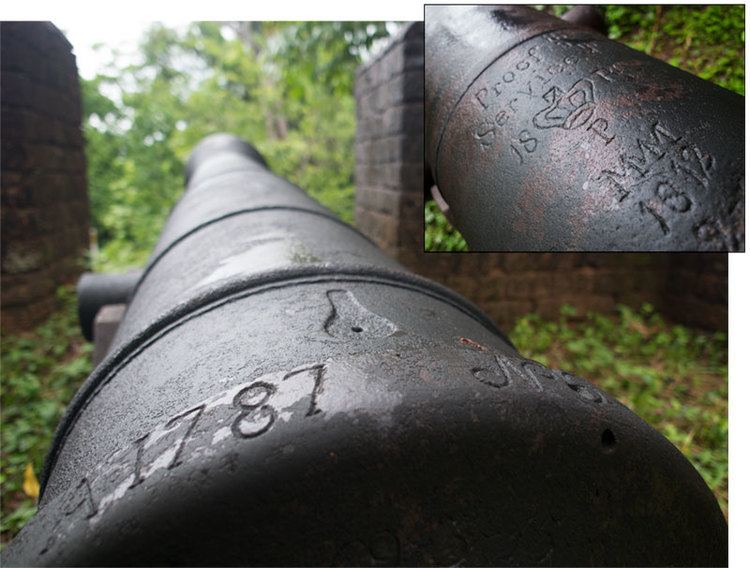 After the Paknam crisis in 1893, French colonial troops occupied Chanthaburi, returning it in 1905 when Thailand gave up ownership of the western part of Cambodia. A significant minority of Chanthaburi citizens are native Vietnamese, who came there in three waves: first in the 19th century during anti-Catholic persecutions in Cochin China; a second wave in the 1920s to 1940s fleeing from French Indochina; and a third wave after the communist victory in Vietnam in 1975. The town of Chanthaburi has been the seat of a Bishop of Chanthaburi since 1944.
Geography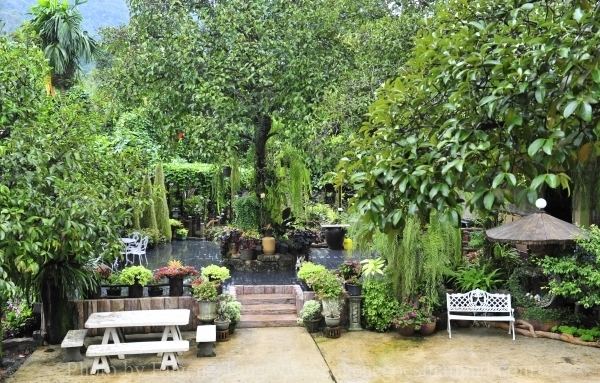 While the southern part of the province is on the shore of the Gulf of Thailand and thus is mostly coastal alluvial plains, the hinterlands of the province are quite mountainous. The Chanthaburi mountain range in the north has the highest elevation of the province, the 1,556 m high Soi Dao Nua Peak. The main river of the province is the Chanthaburi River.
Together with the neighboring province, Trat, Chanthaburi is a center of gemstone mining, especially rubies and sapphires. Tropical fruits are also among the main products of the province. In 2000, it produced nearly 380,000 tonnes of durian, which was 45.57% of Thailands durian production, approximately 27% of the entire worlds production.
Tourism
King Taksin the Great Shrine (????????????????????????????): The shrine is a nonagonal building with a roof taking the shape of a royal hat with a pointed spire constructed in 1920 CE. It houses a statue of King Taksin the Great to whom a large number of people come to pay respect each day.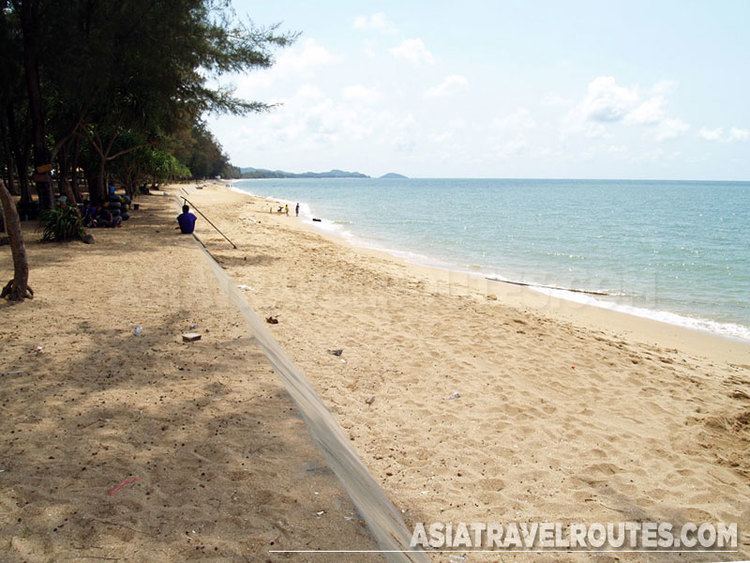 City Pillar Shrine (????????????????????): The shrine is assumed to have been originally built of laterite though what it looked like is unknown. The present shrine and city pillar were constructed in 1981 and have undergone restoration.
King Taksin the Great Monument (????????????????????????????????????????????): The monument of King Taksin the Great accompanied by his 4 trusted soldiers in memorial of the historic liberation of the Kingdom of Ayutthaya is on an islet in the middle of the swamp.
Si Chan Road (????????????) is the commercial area and centre of gem business. Even though gem mining in the province is not as extensive as it used to be, Chanthaburi remains a major centre for gem dealings with stones from neighbouring countries and abroad being bought and sold.
Wat Phai Lom (??????????) Concerning the architecture, the building is surrounded by a boundary wall in four directions with an entrance on each side. Behind the temple, there is a corridor supported by five pillars without decorative capitals. The building's base line is straight, and there is a pagoda with twelve-redented corners within the wall.
The Catholic Church Chanthaburi (???????????????????? ???? ?????????????????????????????????): According to history, the construction of this old and large Catholic Church took 275 years to complete. It was built in Gothic style with beautiful stained glass decorations depicting Christian saints.
Wang Suan Ban Kaeo (??????????????) The palace used to be a royal residence of Queen Rambhai Barni, the Royal Consort of King Rama VII. It also served as the queen's office and demonstration centre where plants were grown and animals raised for the local people.
Wat Phlap (???????) The hall was also used as the place to hold the Ceremony of Murathaphisek or making sacred water - water for pouring over the king's head in the coronation ceremony or other royal rituals - at the beginning of the Chakri Dynasty. Furthermore, behind the temple, there used to be a "Sam Sang", an ancient crematorium which is believed to have remained only in this temple.
Wat Thong Thua (??????????) is the site of an ancient bot which was built over a Khmer-style temple. It has a large collection of ancient Khmer sculptures. Nearby is the Mueang Phaniat archaeological site with its remains of laterite base of a large Khmer religious sanctuary and moats marking the town limit the south.
Boran Sathan Mueang Phaniat (????????????????????) It is assumed that this monument might be the original settlement of Chanthaburi City in an early age, about a thousand years ago. Nowadays, only a ruined sandstone wall and an unidentified earth mound with a height of about 1 – 3 metres remains.
Wat Bot Mueang (?????????????): It is believed to have been constructed in the late Ayutthaya period as evident from its white sandstone boundary markers as well as ordination hall (Phra Ubosot) and Ceylonese bell-shaped Chedi. The temple also houses a lintel of the late Baphuon style (967–1080 CE) depicting the God Indra on his Airavata elephant in a niche.
King Taksin Shipyard (????????????????????) or Samet Ngam Shipyard (??????????????????): From underwater archaeological excavations and examination, several rectangular dock-like areas were found along the shore as well as parts of an old ship believed to be a three-masted Chinese junk using a rudder and measuring 24 metres long and 5 metres wide.
Boran Sathan Khai Noen Wong (???????????????????) The camp space contains an area of the Underwater Archaeology Unit, Fine Arts Department, a storage place of artefacts and pottery taken from the Australian Tide Ship, which trespass Thailands waters in the Gulf of Thailand to illegally transport antiques out of the country.
Panichnavee National Museum (????????????????????????????????): Located within Noen Wong Fort, the 2-storeyed twin building puts on an exhibition on Thai merchant marine as evidenced by over 20 years of underwater archaeological studies.
Chedi Yot Khao Phloi Waen (????????????????????): The round Ceylonese-style Chedi contains the Lord Buddha's relic. There is also a Mondop housing the Buddha's footprint built in 1928 to replace the original one that had been broken.
Wat Takat Ngao (????????????): It contains a scripture hall or Ho Trai built in the middle of a pond by an artisan of the royal school toward the end of King Rama IIIs reign.
Khao Laem Sing Forest Park (????????????????????): It covers a total land and marine area of 9,500 rai, including dry evergreen forest and beach forest which are home to important flora and fauna. Marine life can be found on beaches and islands.
Khao Laem Sing (????????????) a small hill located 172 metres above sea level, with a pile of rocks that look like a crouching lion at the front and that gave it the name Khao Laem Sing or the hill of a lion cape.
In front of Ao Krathing is Ko Nom Sao (?????????), which covers an area of approximately 150 rai of wild and densely growing plants. There are steep cliffs in the south, and beaches and coral reefs of some 500 metres long ideal for diving in the north.
Ao Yang (???????) a small shady beach near Ao Krathing.
Ko Chula (????????) a small island with beautiful corals.
Hat Khung Wiman (????????????): Located 50 Kilometres from Chanthaburi in Amphoe Na Yai Am.
Laem Sadet–Ao Khung Kraben (?????????–??????????????): Ao Khung Kraben also accommodates the royally-suggested Ao Khung Kraben Development Study Centre which won the Thailand Tourism Awards 2002. The centre is responsible for research and study for appropriate development guidelines of Chanthaburis shoreline.
Ao Khung Kraben Non-hunting Area (????????????????????????????????): The area suffered deforestation 40 years ago and has just recently seen pioneer plants. There are 4 types of forest within the area; namely, dry evergreen forest, mixed deciduous forest, beach forest, and mangrove forest.
Hat Chao Lao (???????????): Located 19 kilometres from Amphoe Tha Mai next to Hat Laem Sadet.
Laem Sadet Arboretum (??????????????????????????): 25 kilometres from Amphoe Tha Mai, the picturesque small beach is shady with pine trees and beach plants.
Khao Chamao–Khao Wong National Park (??????????????????????–?????) the headwater of Lam Nam Prasae–Rayongs principal river, covering a total area of approximately 83 square kilometres in Amphoe Khao Chamao, Rayong Province, and Amphoe Kaeng Hang Maeo, Chanthaburi Province.
Tham Khao Wong (????????): surrounded by limestone mountains and evergreen forest which is a habitat of Chan Pha (Dracaena loureiri Gagnep.)–an endangered species of wild animal. More than 80 caves have been discovered in this area with a complex of some 20 connected caves divided into 3 zones.
Wat Khao Sukim (???????????): The objective of the temple is to be used as a meditation venue. The temple also houses a large collection of religious items and valuable antiques donated by the public. On display are wax sculptures of over twenty Buddhist monks highly revered by the public.
Khao Khitchakut National Park (????????????????????????): Its moist evergreen forests, hill evergreen forest as well as deciduous forest abound in various herbs, wild orchids, and the rare eaglewood. Its mountainous area provides home for copious wild animals. Places of interest within the national park include:
Namtok Krathing (???????????) a large 13-tiered waterfall originating from the Khitchakut Range. There are bamboo forests and various plant species along the way, with a blanket of moss and ferns on both sides. There is also a large beach formed by sand washed down by a flash flood in 1999.
Yot Khao Phrabat (????????????) Interesting spots on top of Khao Phrabat are formed by geological phenomena and related to Buddhist legends such as Sila Chedi, the Buddha's footprint, stone in the shape of an overturned alms bowl, Tham Ruesi or hermit cave, God Indra's carriage racing ground, and stones in the shape of a giant turtle and elephant.
Namtok Khlong Chang Se (???????????????) located some 10 kilometres from the national park's headquarters on the way up the Khao Phrabat. It is a circular nature trail starting from the Safeguard Unit.
Namtok Khlong Krasan (???????????????) a large waterfall amid shady surroundings located near Safeguard Unit 2 (Khlong Phaibun) 8 kilometres from the national park's headquarters.
Chanthaburi Herbal Garden (??????????????????) an agency under the Medical Science Department, Ministry of Public Health, 25 kilometres from Chanthaburi provincial town.
Khiri Than Dam (?????????????) is a multi-purpose dam for electricity generation, irrigation, fishery, as well as, prevention and alleviation of floods in the rainy season. Its highest altitude for water is 205 metres from sea level, with a carrying capacity of approximately 76 million cubic metres.
Chong Phakkat Thai-Cambodian Border Market (?????????????-??????? ??????????) located at Ban Khlong Yai, Mu 4 Tambon Khlong Yai, 30 Kilometres from Pong Nam Ron District Office, 20 Kilometres from Pailin and 68 kilometres from Preah Tabong in Cambodia.
Ban Laem Thai-Cambodian Border Market (?????????????-??????? ????????) located at Ban Laem, Mu 4 Tambon Thep Nimit, 46 kilometres from Pong Nam Ron District Office.
Namtok Hin Dat (???????????) The 12-tiered waterfall is surrounded by an intact evergreen forest, with its 9th-12th tiers being especially breathtaking.
Namtok Khao Soi Dao (??????????????) The waterfall has 16 tiers with a large swarm of butterflies ideal for butterfly watching and plant study.
Wat Mangkon Buppharam or Wat Leng Hua Yi (???????????????? ???? ?????????????) There is a reception hall and ordination hall, decorated with mosaics in different beautiful patterns.
Namtok Phlio National Park (????????????????????????) covering a total area of 84,063 rai with various species of flora such as Khanun Pa, Krathon Pa, Phimsen, etc., and fauna, the most frequently seen including boar, serow, mongoose, ground squirrel, Asiatic black bear, gibbon, monkey, etc. It is also home to several kinds of fish.
Namtok Khlong Narai (????????????????) otherwise known as "Namtok Khao So Bap", some 8 kilometres from the provincial town on the Chanthaburi – Laem Sing route.
Namtok Phlio (??????????) It is a medium-scale waterfall originating from an underground stream that springs and cascades over the cliff down to a pool below. Before reaching the waterfall, there is a pool which is a natural habitat of soro brook carp that reside in the stream of waterfalls in some regions only. There are also 2 important monuments within the waterfall area including:
Alongkon Chedi (?????????????) built from laterite in 1876 CE by King Rama V in memory of the king and his beloved consort, Queen Sunantha Kumarirat, and their visit to the waterfall in 1874.
Phranang Ruea Lom Pyramid (????????????????????) a pyramidal stupa built from granite in 1881 in memory of the affectionate love of King Rama ?toward Queen Sunantha who was killed in a boat accident on the Chao Phraya River.
Namtok Trok Nong (????????????) The waterfall has 3 tiers. The 1st tier is known as "Namtok Mai Si" (Mai Si refers to bamboo). The 2nd tier is called "Namtok Klang" which is about 1 kilometres away from the 1st tier. The 3rd tier is "Namtok Trok Nong" located about 1 Kilometres from the 2nd tier and cascades down a cliff of approximately 20 metres high.
Phuttha-utthayan Wat Chak Yai (????????????????????) It is a Buddhist park featuring a fine sculptural exhibition of the Life of the Lord Buddha with narrative signs.
Khuk Khi Kai (?????????) was built to hold Thais who were against the French occupation of Chanthaburi in 1893. A 7-metre high, square-shaped prison, it was built in bricks with each side measuring 4.40 metres.
Tuk Daeng (??????) A single storey, red-tiled roof building, today it serves as the Laem Sing district public library.
Hat Laem Sing (????????????) The beach itself is shaded with pine trees lining the entire shore and cooled by constant gentle breezes.
Oasis Sea World (??????? ?? ??????) It is the place to reproduce and conserve dolphins in Chanthaburi's watercourses.
Hot Springs (????????????) 3 natural hot springs surrounded by longan and durian orchards, located 18 kilometres from Amphoe Pong Nam Ron on Highway No. 3193.
"Manut Boran" Archaeological Site (???????????? "???????????") excavation site located 25 kilometres from Amphoe Pong Nam Ron. Prehistoric human skeletons, stone tools, artefacts, pottery and ornaments of some 4,000 years old, now removed from the pits, were unearthed.
Khao Sip Ha Chan National Park (???????????????????????????) or Namtok Nam Pen (????????????) Places of interest include waterfalls like Namtok Saba, Namtok I Kek and especially Namtok Khao Sip Ha Chan, a breathtaking 15-tier waterfall with water all year round.
Khao Sam Ngam, 34 km from Chanthaburi.
Culture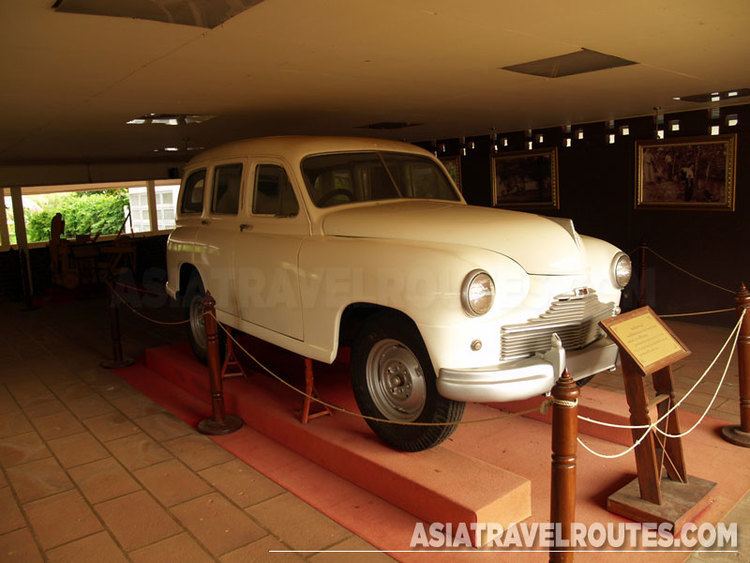 Festivals
Phra Phutthabat Phluang Homage-paying Fair (???????????????????????????) held on the new Mun day of the 2nd lunar month during the period of the Chinese New Year to Magha Puja (around January–March) on top of Khao Khitchakut, Tambon Phluang, Amphoe Makham. The fair features an offering ceremony to guardian angels, gilding the Lord Buddha's footprint, and climbing up Khao Khitchakut. The tradition has been observed for generations out of a folk belief that climbers will gain high merit, in addition, to mental endurance from so doing. In the past, merit-makers had to walk on foot for a distance of some 15 kilometres up the mountain.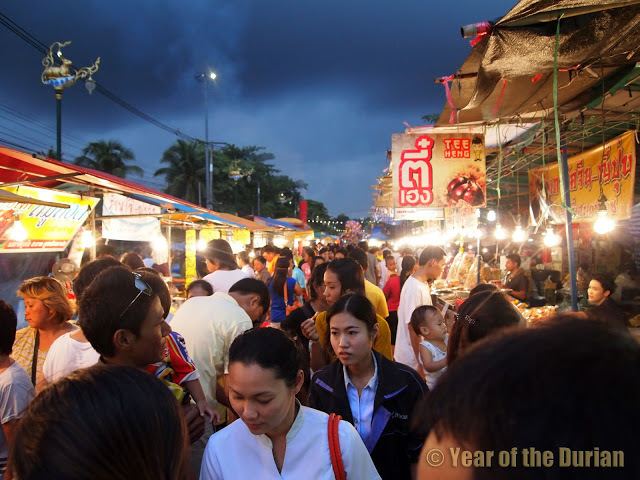 Phra Phutthasaiyat Gilding Fair (???????????????????????) held around the period of the Chinese New Year to pay homage and gild the image of Phra Phutthasaiyat or Reclining Buddha at Wat Phai Lom and featuring Dharma preaching and various forms of entertainment.
Rajamangala Rak Lueang Chan Festival (??????????????????????????) is held in February of every year at Rajamangala Institute of Technology (Eastern Campus). There will be an academic exhibition, Lueang Chanthabun Orchid Competition, and sales of agricultural products and plants.
Kwian Phrabat Tug-of-war Tradition (????????????????????????????) held around the Songkran Festival at Wat Tapon Yai, Amphoe Khlung. This tradition has been observed for more than a century and will feature a Rot Nam Dam Hua ceremony (pouring scented water onto the hands of the elderly to seek their blessing), Kwian Phrabat or the Buddha's footprint cart tug-of-war, and various forms of entertainment during the night.
World Durian Festival (???????????????????) held annually for 1–2 weeks in the month of May at the Triangular Na Choei Ground. The fair features contests of fruit decorated floats, beauty queens, Eastern famous fruits such as rambutan, durian, mangosteen, Rakam and Sala zalaccas and varieties of santol and Thai ridgeback dog, as well as booth displays of gems and jewellery and other farmer housewife groups.
Chanthaburi Gemstone and Local Product Fair (??????????????????????????????????) is the largest jewellery fair in the eastern region, held during 8–12 December of every year, at the Chanthaburi Gems Centre, on Tri Rat and Chanthanimit Roads.
King Taksin the Great Commemoration Day and Chanthaburi Red Cross Fair (???????????????????????????????????? ??????????????????????????) annually held from 28 December to the first week of January at the Provincial Stadium to commemorate his courageous liberation of the Kingdom of Ayutthaya. The fair will feature exhibitions by public agencies, booth display of the province's local products, and Miss Chanthaburi Beauty Pageant.
Khao Soi Dao Tourism Festival (?????????????????????????) held toward the end of the year at viewpoints of Soi Dao District Office and Khao Soi Dao Wildlife Sanctuary. Activities include selling of agricultural produce and OTOP products, cultural performances, Soi Dao lucky draw, and sales of the district's famous fruits such as longan, sweet tamarind, etc.
References
Chanthaburi Province Wikipedia
(Text) CC BY-SA
(,)http://lotusgemology.com/images/library/articles/gemologyarticles/moontown/chanthaburi-canon.jpg(,)http://www.ruby-sapphire.com/images/chanthaburi/mouhot-laem-singh.jpg(,)https://www.travel-impact-newswire.com/wp-content/uploads/2011/11/NationalMartimeMuseum.jpg(,)http://www.bangkokpost.com/media/content/dcx/2014/10/24/699456.jpg(,)http://www.bangkokpost.com/media/content/dcx/2014/10/24/699455.jpg(,)http://travelfish-sg.s3.amazonaws.com/blogs/thailand/wp-content/uploads/2012/08/Chanthaburi-112.jpg(,)http://genweb.nationmultimedia.com/specials/drive/blogger/wp-content/gallery/weekenddrives11/11-Chanthaburi.jpg(,)http://previews.123rf.com/images/olalaja/olalaja1404/olalaja140400041/27825610-Old-church-of-Roman-Catholic-Christianity-and-Virgin-mary-statue-at-Chantaburi-province-ThailandStock-Photo.jpg(,)http://www.ruby-sapphire.com/images/chanthaburi/chanthaburi-seal.gif(,)http://www.tour-bangkok-legacies.com/images/chanthaburi-old-house.jpg(,)http://www.tour-bangkok-legacies.com/images/chanthaburi-mueang-phaniat8.jpg
(,)http://www.eugenegoesthailand.com/wp-content/uploads/2014/08/10.jpg
(,)http://media-cdn.tripadvisor.com/media/photo-s/01/e7/fe/f6/the-aquarium-at-laem.jpg(,)http://www.mapsofworld.com/thailand/maps/chanthaburi-map.jpg(,)http://media-cdn.tripadvisor.com/media/photo-s/04/6b/a0/57/thai-local-style-curry.jpg(,)http://media-cdn.tripadvisor.com/media/photo-s/01/e9/97/1a/cathedral-of-the-immaculate.jpg(,)https://www.colourbox.com/preview/7091187-old-church-of-roman-catholic-christianity-in-chantaburi-province-thailand.jpg(,)http://travelcommunication.net/wp-content/uploads/2013/11/travel_index_423.jpg(,)http://www.urban-thai.com/wp-content/uploads/2014/03/Pad_Thai.JPG_500x500.png
(,)http://news.asiainterlaw.com/wp-content/uploads/2014/05/ssd.png(,)http://4.bp.blogspot.com/-tcxbjdUFpU8/Ua4A1va8WPI/AAAAAAAAJB8/1RkuzbriPk4/s640/P6035132-1.jpg(,)http://www.tatnews.org/wp-content/uploads/2013/11/ChanthaburiWorldGems.jpg(,)http://www.nationmultimedia.com/new/2015/04/08/travel/images/30257567-02_big.jpg(,)http://lh4.ggpht.com/-4c-LAY9UqmQ/Tlmy7ynj12I/AAAAAAAAEa8/u9EouESkd9I/durian_thumb%2525255B1%2525255D.jpg%3Fimgmax%3D800(,)http://www.tatnews.org/wp-content/uploads/2015/05/Chanthaburi-Fruit-Festival-2015.jpg(,)http://www.raw-food-health.net/image-files/durianfestivalotherfruit.jpg(,)http://www.tatnews.org/wp-content/uploads/2013/11/Chanthaburi-World-Gems-4.jpg
(,)http://www.asiatravelroutes.com/images/thailand/chanthaburi/culture/provincial-cultural-center-2.jpg(,)http://www.asiatravelroutes.com/images/thailand/chanthaburi/culture/provincial-cultural-center-6.jpg(,)http://www.asiatravelroutes.com/images/thailand/chanthaburi/monuments/noen-wong-fortress-3.jpg(,)http://cache3.asset-cache.net/gc/96174470-thailand-chanthaburi-province-chanthaburi-gettyimages.jpg%3Fv%3D1%26c%3DIWSAsset%26k%3D2%26d%3DpJH838MrEfwIhq9AqLuy6Fadsk%252FR0caHImjXp26OvmJtmZDSGsFZHVciNdtiwsfO(,)http://previews.123rf.com/images/theyok/theyok1403/theyok140300140/26943983-The-Roman-Catholic-Church-Chanthaburi-Province-Thailand-Stock-Photo.jpg(,)http://cache3.asset-cache.net/xc/491895853.jpg%3Fv%3D2%26c%3DIWSAsset%26k%3D2%26d%3D-fBFkf5ixyCmBjstRxhltzKv0y7ZpZ7DS25MGhfQnZhISlb7OH0ltYuAtCk5Wy360(,)http://cache3.asset-cache.net/xc/491917395.jpg%3Fv%3D2%26c%3DIWSAsset%26k%3D2%26d%3Dfs18IIjK_ku9NcrRWWfNzx75YAKOYXbbZX_e5YZoy2jqXhpxCW1n8JhI7uoYrZ3E0(,)http://previews.123rf.com/images/jieophoto/jieophoto1406/jieophoto140600024/28848822-The-Roman-Catholic-Church-Chanthaburi-Province-ThailandStock-Photo.jpg(,)http://cache2.asset-cache.net/xc/491913529.jpg%3Fv%3D2%26c%3DIWSAsset%26k%3D2%26d%3DaQuFWUVszjCBTyWB6rz1FYclK9LgrcJaSSDjKRn8G-_D96QImXU338iawDptOFQ90
(,)http://www.tripsthailand.com/images/Major_Thailand/chanthaburi.jpg(,)http://www.asiatravelroutes.com/images/thailand/chanthaburi/beaches/laem-sadet-beach-1.jpg(,)http://media-cdn.tripadvisor.com/media/photo-s/07/5b/26/df/caption.jpg(,)http://www.asiatravelroutes.com/images/thailand/chanthaburi/namtok-phlio-national-park/phlio-waterfall-2.jpg(,)http://www.asiatravelroutes.com/images/thailand/chanthaburi/aquariums/oasis-sea-world-1.jpg(,)http://www.thailandwanderer.com/wp-content/uploads/2012/10/The-town-of-Chanthaburi-en.wikipedia.org_.jpg(,)http://www.asiatravelroutes.com/images/thailand/chachoengsao/temples/wat-sothon-worawihan-temple-1.jpg(,)http://www.thai-tour.com/thai-tour/east/chanthaburi/images/large-pic/cathedral.jpg