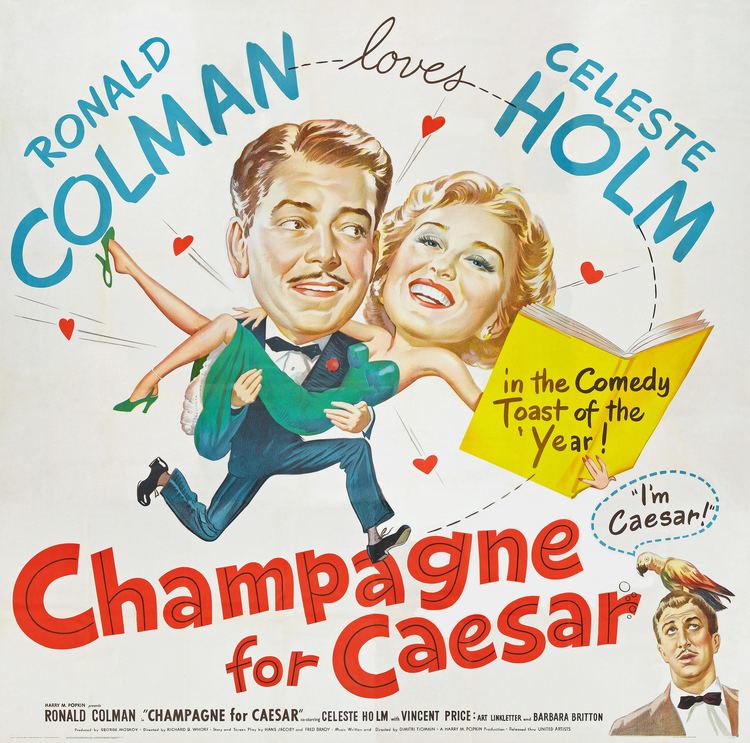 Beauregard Bottomley (Ronald Colman) is an unemployed PhD physicist who lives in Los Angeles with his piano-instructor sister Gwenn (Barbara Britton) and the alcohol-guzzling parrot of the film's title, Caesar (Mel Blanc, voice). Beauregard and Gwenn live in a bungalow court, surrounded by books. Beauregard is an omnivorous reader, knowledgeable on any subject -- except, as he admits, how to hold a job. Beauregard learns of a job opportunity at the Milady Soap Company. He meets the eccentric owner, Burnbridge Waters (Vincent Price), for an interview. Waters disapproves of Beauregard's humour and turns him down for the job, humiliating him in the process.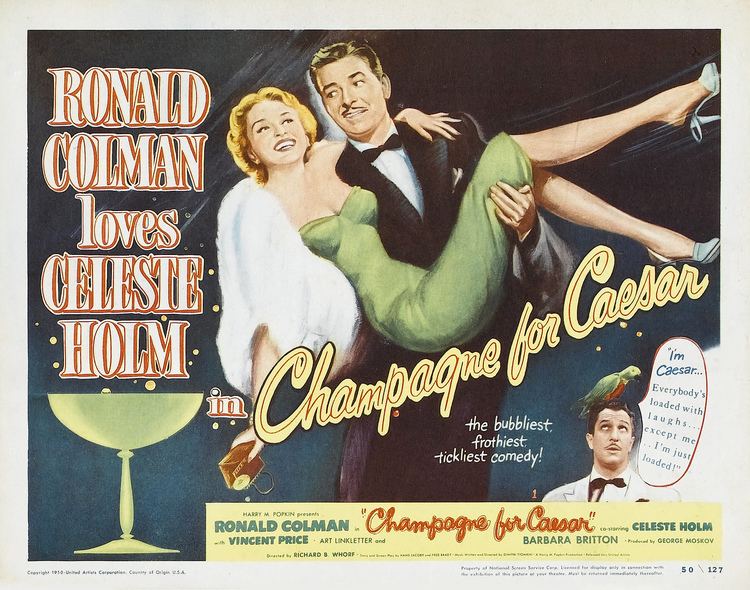 In front of an appliance store window, Beauregard, Gwenn and others, none of whom have television sets at home yet, watch a quiz show, Masquerade for Money, whose sponsor is Milady Soap. The prize won by costume-wearing contestants doubles with each correct answer (in the style of the 1940s radio show The $64 Question). If anyone misses just one question, he or she loses all that was won to that point.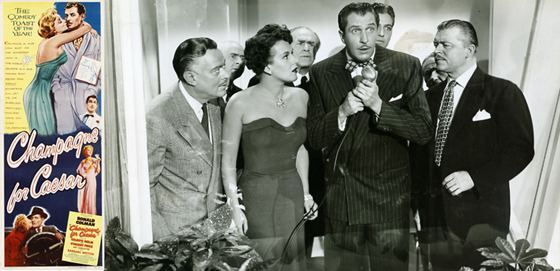 Beauregard is contemptuous of television and what he deems its anti-intellectual nature, particularly after seeing Masquerade for Money and its flamboyant host, Happy Hogan (Art Linkletter). However, it gives him a brilliant idea for revenge on Burnbridge Waters. He goes on the program dressed as an encyclopedia, prepared to answer any question. Starting from an initial $5 prize, Beauregard easily answers the maximum five questions. The show runs out of time, but Beauregard promises to come back the next week if people will write in to Milady Soap demanding he be allowed to return.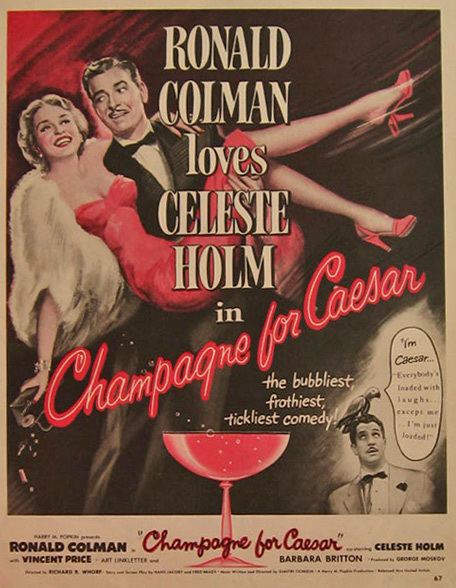 An avalanche of mail inspires Waters. He decides to invite Bottomley back for one question per show. As soon as Milady has reached a new high in soap sales, the show will stump him with an impossibly hard question and drop him. Masquerade for Money becomes a ratings triumph. The country tunes in each week to watch Beauregard, who appears with Caesar on the covers of Look and Life Magazines. The questions become more erudite and challenging, but Bottomley keeps answering them with ease. Nothing can rattle Beauregard, not even the "obnoxious" Happy Hogan's sudden romantic interest in his sister.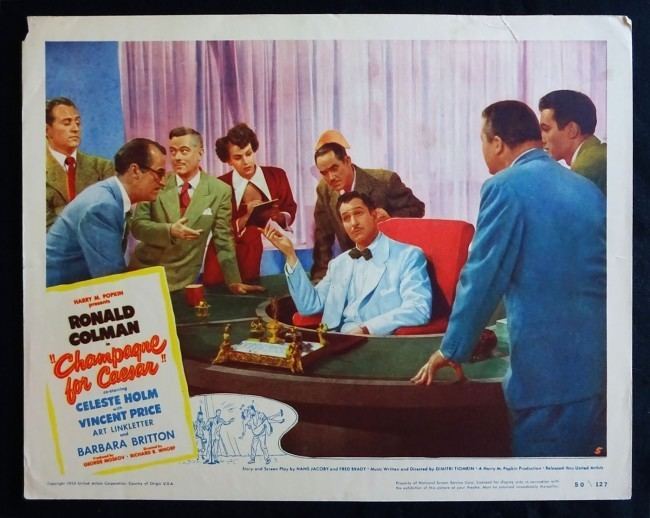 With Beauregard's continuing success and increasing prize amount, Waters becomes uneasy, as the winnings will potentially erode Milady's profits. Visiting the soap factory, Beauregard explains to Waters that his ultimate goal is to break Waters by winning $40 million - the entire worth of Milady Soap - and then perhaps buy the company himself. A desperate Waters calls in a clever and beautiful woman, "Flame" O'Neill (Celeste Holm), to seduce and distract Beauregard, as well to find a subject where his knowledge is lacking. In parallel, Happy Hogan works on Gwenn to persuade her to have Beauregard simply pocket his winnings to date.
Beauregard falls ill with a cold, so Flame insinuates herself into the Bottomley household as a nurse, pretending to be a member of his fan club. He quickly succumbs to Flame's charms, losing his usual self-confidence and poise. Gwenn is suspicious of Flame's motives, just as Beauregard is suspicious of Hogan's interest in her. Flame's flirtations followed by sudden aloofness leave Beauregard totally baffled. He also reveals to her on one date that he never quite mastered Albert Einstein's theory of relativity.
With $20 million at stake, the next question on Masquerade for Money presented to him by Happy is, indeed, for Beauregard to explain Einstein's theory. Now realizing Flame's true purpose, Beauregard struggles to come up an answer. It is incorrect and he loses all of his money. Waters rejoices as the studio audience groans. Beauregard leaves the stage, defeated. However, a phone call from a viewer in Princeton, New Jersey is placed to the studio, turning out to be from Albert Einstein himself. Happy Hogan takes the call, then informs a jubilant audience that Beauregard's answer is correct. Waters faints.
With all of America expected to be watching, the quiz show's final episode is moved to the Hollywood Bowl. Waters will be bankrupt if Beauregard answers correctly. In the meantime, Happy appears to have genuinely fallen in love with Gwenn. Flame shows remorse at her part in the plot. Beauregard and his sister caution each other that Happy and Flame could be in this strictly for the money. Each sibling telephones the respective partner to see if they would be willing to be married before the prize money is won or lost. Happy and Flame each come up with excuses.
On the big night, Waters announces to the audience, "May the best man lose." Beauregard comes onstage, cheered by the audience. It is time for one final question for $40 million or nothing. Happy asks if Beauregard is caring his wallet. Handing it over, Beauregard is then asked a simple question, one requiring information that does not come from a book -- to identify his own Social Security number. Beauregard states it, then hesitates, then changes it and answers incorrectly, to the tremendous relief of Waters and the disappointment of the crowd.
Back home, a subdued Beauregard and Gwenn wait to see what happens next. To the joy of both, Happy and Flame each appear, willing to marry Gwenn and Beauregard after all. Waters also appears, bearing gifts, including champagne. It turns out that Caesar used to be Waters' pet parrot. As Beauregard and Flame drive off to be married, Beauregard reveals that he and Waters agreed to a backroom deal where he would lose, but receive his own radio show, as well as Milady Soap stock. Beauregard then admits that he genuinely didn't know the answer to the final question.
In his 1950 review of the film in The New York Times, Bosley Crowther speculated on the origin of the film's premise:
"This corner gratefully remembers an old New Yorker cartoon in which a triumphant quiz-show contestant, surrounded by loot which she had won, was ruefully being announced the winner of control of the sponsor's company. It was a very funny cartoon — a very shrewd and fantastic conceit — in which the monstrous extravagance of quiz shows was swiftly and neatly ridiculed. And apparently Hans Jacoby and Fred Brady remembered it, too, for their screen play for Champagne for Caesar is a mere elaboration of this idea."
However, contemporary criticism of the story indicated that the film violated Beauregard's criticism of the nature of quiz shows in its final plot twist, with Beauregard being given his own quiz show - unless Beauregard were to use the opportunity to reform quiz shows by having one that is truly intellectually stimulating.
Nicholas Laham has analysed the treatment of Beauregard as a highly educated, yet unemployable, character in the context of how scholars were regarded in the 1950s, and in anticipation of the unemployment of information-based, highly educated people in later decades in the information age/"new economy". Laham also places Champagne for Caesar in the historical lineage of screwball comedy, over a decade after that genre had reached its peak before World War II.