Covid-19
Cap insignia




1890




Midwest League




Western Division




Jake Mauer







Class-A (1934–1937, 1962–present)




Class B (1896–1899, 1902–1909, 1920–1921, 1938–1942, 1950–1961) Class C (1949) Class D (1901, 1913–1917, 1922–1932)




Central Association (1949) Western League (1934–1937) Mississippi Valley League (1922–1932) Central Association (1913–1917) Illinois–Indiana–Iowa League (1901–1909, 1920–1921, 1938–1942, 1950–1961) Western Association (1896–1899) Eastern Iowa League (1895) Illinois–Iowa League (1890–1891)




Minnesota Twins (2013–present)




Cedar Rapids, Iowa, United States




Veterans Memorial Stadium (2002–)
The Cedar Rapids Kernels are a Class A minor league baseball team based in Cedar Rapids, Iowa. The team is affiliated with the Minnesota Twins and plays in the Midwest League. The Kernels are owned by Cedar Rapids Ball Club, Inc. (also known as Cedar Rapids Baseball Club, Inc.).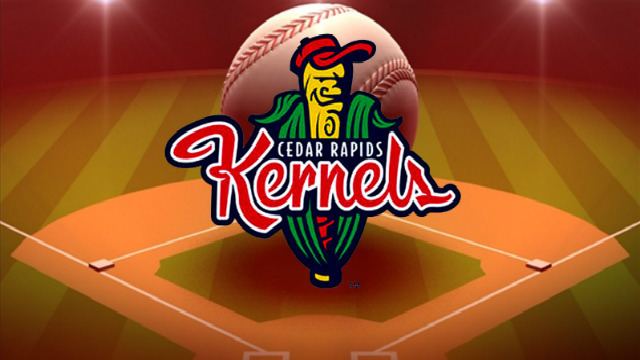 Cedar Rapids first began play in 1890 and have played 110 seasons through 2015. The franchise has been a member of various leagues preceding the Midwest League. They have been a member of the Central Association (1949), Western League (1934–1937), Mississippi Valley League (1922–1932), Central Association (1913–1917), Illinois–Indiana–Iowa League (1901–1909, 1920–1921, 1938–1942, 1950–1961), Western Association (1896–1899), Eastern Iowa League (1895) and the Illinois–Iowa League (1890–1891). The team also had numbeous nicknames prior to joining the Midwest League: Cedar Rapids Braves (1958–1962), Cedar Rapids Raiders (1953–1957), Cedar Rapids Indians (1950–1952), Cedar Rapids Rockets (1949), Cedar Rapids Raiders (1934–1942), Cedar Rapids Red Raiders (1963–1964), Cedar Rapids Bunnies (1904–1932), Cedar Rapids Rabbits (1896–1903) and Cedar Rapids Canaries (1890–1891).
When Cedar Rapids was awarded a Midwest League franchise in 1962, the franchise switched back to the Red Raiders (1962–1964) nickname. Subsequently, the team used the name of the major league franchise it affiliated with: the Cardinals (1965–1972), the Astros (1973–1974), the Giants (1975–1979), and the Reds (1980–1992). The team adopted the current "Kernels" nickname before the 1993 season. On the field, the franchise won Midwest League championships in 1988, 1992, and 1994.

The team's first home ballpark was Belden Hill Park, followed by the original Veterans Memorial Stadium, which opened in 1949. In August 2000 voters approved a referendum to build a new ballpark adjacent to the old one, which was demolished after the 2001 season. The new Veterans Memorial Stadium was completed in time for the opening of the 2002 season, and the Kernels set a franchise attendance record of 196,066 in the new park's inaugural year.
Lou Boudreau (1938) 7 x MLB AS; 1948 AL Most Valuable Player; Baseball Hall of Fame (1970)
John McGraw (1891); 3 x Led NL in on-base Pct; 2 x Led NL in runs; Baseball Hall of Fame (1937)
Allie Reynolds (1940–41) 5 x MLB AS; 1952 AL ERA Leader
Rocky Colavito (1952) 6 x MLB AS; 1959 AL Home Run Leader; 1965 AL RBI Leader
Bob Brenly (1977) MLB AS; MGR: 2001 World Series Champions - Arizona Diamondbacks
Eric Davis (1982) 2 x MLB AS
Paul O'Neill (1982) 5 x MLB AS
Chris Sabo (1983) 3 x MLB AS; 1988 NL Rookie of the Year
Trevor Hoffman (1991) 7 x MLB AS; 2 x NL Saves Leader (1998, 2006); 601 Career Saves
John Lackey (2000) MLB AS; 2007 AL ERA Leader
Mike Trout (2009–10) 4 x MLB AS; 2012 AL Stolen Base Leader; 2014 AL RBI Leader; 2012 AL Rookie of the Year; 2014 AL Most Valuable Player; 2016 AL Most Valuable Player
Joe Mauer (2014) 3 x GG; 5 x MLB AS; 3 x AL Batting Title (2006, 2008, 2009); 2009 AL Most Valuable Player
Cedar Rapids Kernels Wikipedia