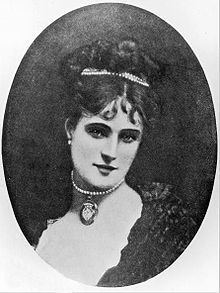 Catherine Walters was born the third of five children at 1 Henderson Street, Toxteth, Liverpool, grew up in the Liverpool area and moved to London before her twentieth birthday. Her father was Edward Walters, a customs official, who died in 1864. Her mother was Mary Ann Fowler.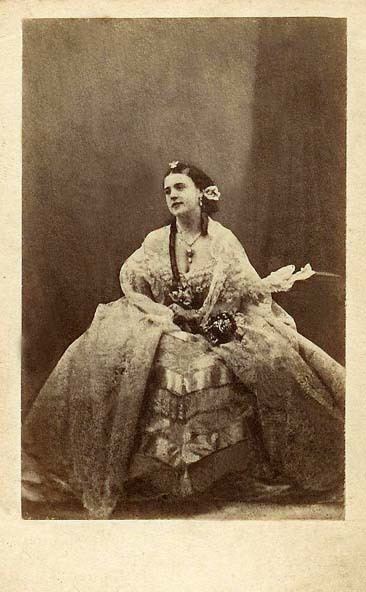 Her nickname is thought to have originated from her working at a bowling alley in Chesterfield Street near Park Lane. (Skittles is the game which evolved into bowling.) At other times she was known as "Mrs Behrens" and "Mrs Baillie", even though she is not thought to have married.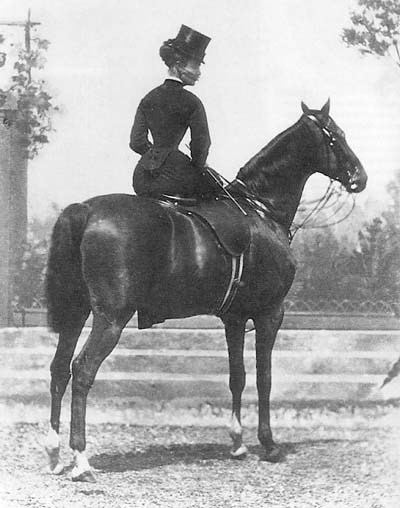 Her classical beauty was matched by her skill as a horsewoman, for which she was almost equally renowned. In the 1860s the fascinating sight of Catherine riding on Rotten Row in Hyde Park drew huge crowds of sightseers. Aristocratic ladies copied the cut of her perfectly fitting "Princess" riding habit, and she was well known as a trendsetter.
A letter written to The Times in July 1862 described in detail the fever of anticipation among the waiting admirers of a thinly disguised Catherine:
"Expectation is raised to its highest pitch: a handsome woman drives rapidly by in a carriage drawn by thoroughbred ponies of surpassing shape and action; the driver is attired in the pork pie hat and the Poole paletot introduced by Anonyma; but alas!, she caused no effect at all, for she is not Anonyma; she is only the Duchess of A–, the Marchioness of B–, the Countess of C–, or some other of Anonyma's many imitators. The crowd, disappointed, reseat themselves, and wait. Another pony carriage succeeds – and another – with the same depressing result. At last their patience is rewarded. Anonyma and her ponies appear, and they are satisfied. She threads her way dexterously, with an unconscious air, through the throng, commented upon by the hundreds who admire and the hundreds who envy her. She pulls up her ponies to speak to an acquaintance, and her carriage is instantly surrounded by a multitude; she turns and drives back again towards Apsley House, and then away into the unknown world, nobody knows whither".
She counted among her lovers Aubrey de Vere Beauclerk, with whom she eloped for some months to America in the second half of 1862; Spencer Cavendish, Marquess of Hartington (later the eighth Duke of Devonshire), whom she pursued to New York during the American Civil War; Napoléon III; French finance minister Achille Fould; and the Prince of Wales (later King Edward VII). She was also the first love of the poet Wilfrid Scawen Blunt, who remained infatuated with her for the rest of his life.
During her life as a courtesan, her discretion and loyalty to her benefactors became the focal point of her career. There were many rumours about her being involved with certain wealthy men of the time, but she never confirmed or denied these rumours. This gave her great weight in the courtesan lifestyle, and made her a sought-after commodity. It also gave long life to her career, and helped her to retire a wealthy woman of society around 1890. Her estate was worth a very considerable £2,764 19s. 6d at her death. As well as her home in Mayfair, which according to DNB she had from 1872, she seems to have had other addresses, judging from a court case in which she was sued for non-payment of a tailoring bill. The other addresses may have been properties she owned. Two were hotels, one in France.
Catherine Walters died of a cerebral haemorrhage at her home at 15 South Street, Mayfair, and was buried in the graveyard of the Franciscan Monastery in Crawley, West Sussex..