The film was directed by Elliot Silverstein from a screenplay by Walter Newman and Frank Pierson from the novel The Ballad of Cat Ballou by Roy Chanslor. Chanslor's novel was a serious Western, and though it was turned into a comedy for the movie, the filmmakers retained some darker elements. The film references many classic Western films, notably Shane.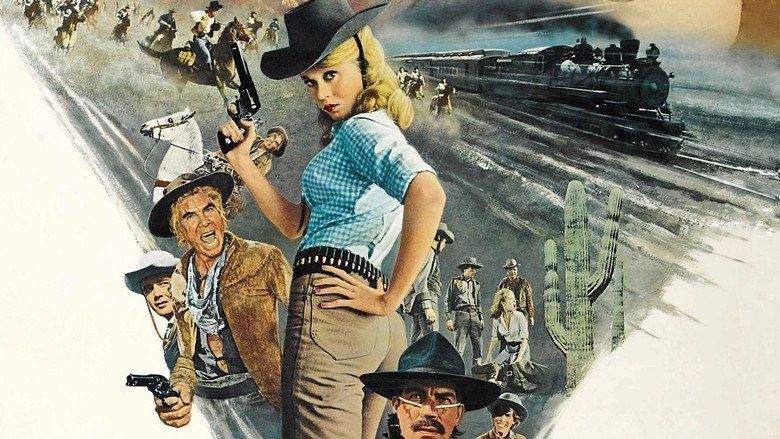 Catherine Ballou (Jane Fonda), who wants to be a schoolteacher, is returning home by train to Wolf City, Wyoming, to the ranch of her father, Frankie Ballou (John Marley). On the way, she unwittingly helps accused cattle rustler Clay Boone (Michael Callan) elude his captor, Sheriff Maledon (Bruce Cabot), when Boone's Uncle Jed (Dwayne Hickman), a drunkard disguised as a preacher, distracts the lawman.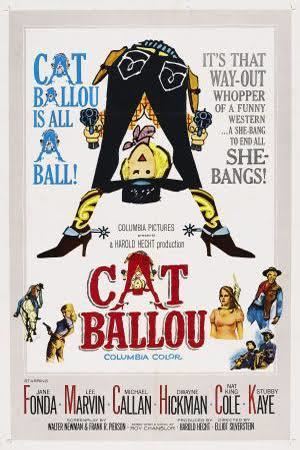 At the ranch, she learns that the Wolf City Development Corporation is scheming to take the ranch from her father, whose sole defender is his ranch hand, an educated Native American, Jackson Two-Bears (Tom Nardini). Clay and Jed appear and reluctantly offer to help Catherine, and she hires legendary gunfighter Kid Shelleen (Lee Marvin) to help protect her father from gunslinger Tim Strawn (also played by Lee Marvin), the hired killer who is threatening him.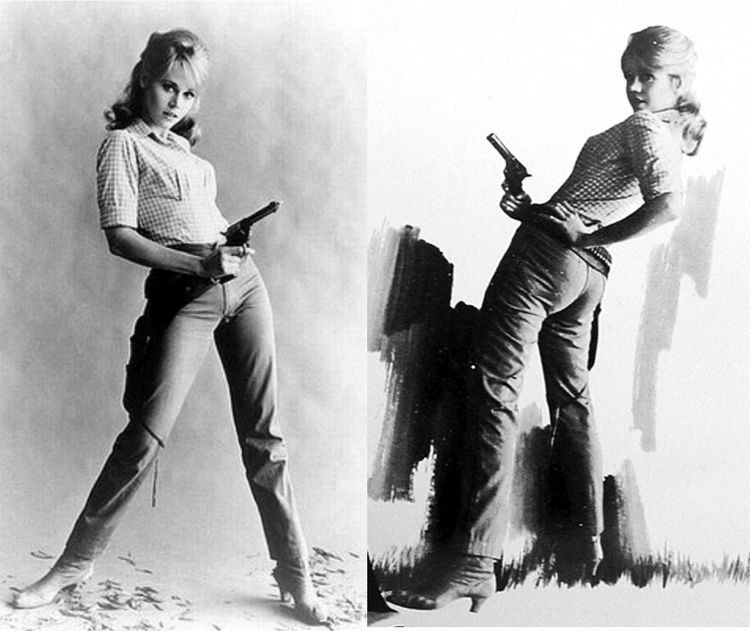 Shelleen arrives, a drunken bum whose pants fall down when he draws his gun, and who is unable to hit a barn when he shoots. Strawn kills Frankie, and when the townspeople refuse to bring Strawn to justice, Catherine becomes a revenge-seeking outlaw known as Cat Ballou. She and her gang rob a train carrying the Wolf City payroll, then take refuge in "Hole-in-the-Wall", where desperados go to hide from the law, but are thrown out when it is learned what they have done, since Hole-in-the-Wall can only continue to exist on the sufferance of Wolf City. Shelleen, inspired by his love for Cat, works himself into shape, dresses up in his finest gunfighting outfit, and goes into town to kill Strawn, casually revealing later that Strawn is his brother. In a humorous scene, Shelleen enters the funeral parlor where Frankie's body is resting, and sings "Happy Birthday" before blowing out the candles.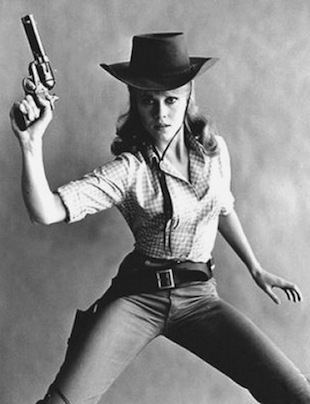 Cat poses as a prostitute and confronts Sir Harry Percival (Reginald Denny), the head of the Wolf City Development Corporation. A struggle ensues, Sir Harry is killed, and Cat is sentenced to be hanged on the gallows. With Sir Harry dead, there's no hope for Wolf City's future, and the townspeople have no mercy for Cat. As the noose is placed around her neck, Uncle Jed appears, again dressed as a preacher, and cuts the rope just as the trapdoor is opened. Cat falls through and onto a wagon and her gang spirits her away in a daring rescue.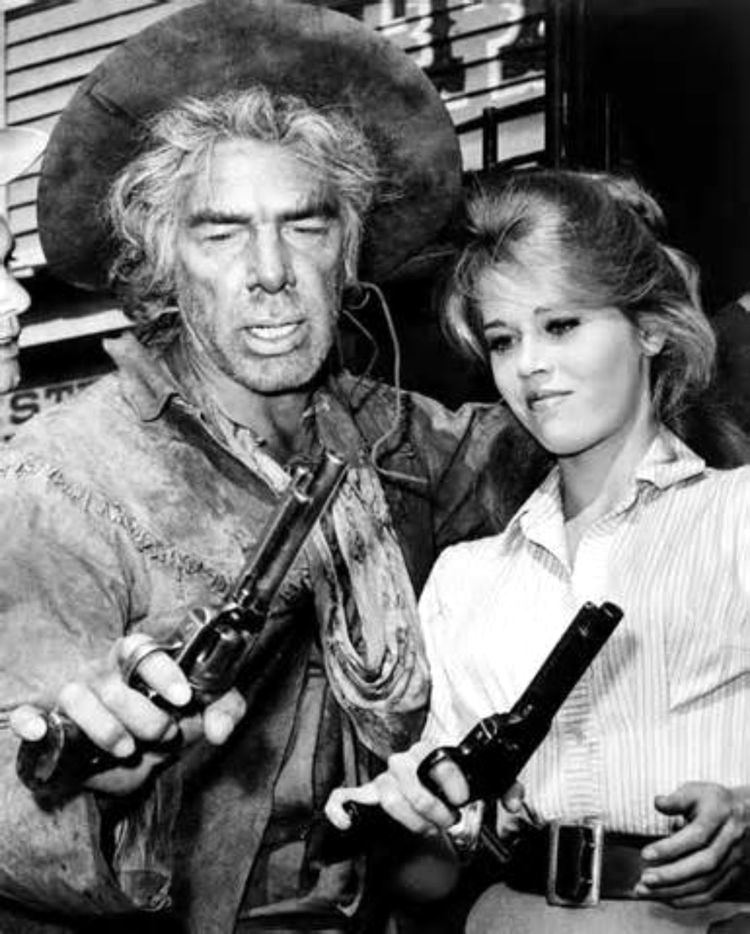 Jane Fonda as Catherine "Cat" Ballou
Lee Marvin as Kid Shelleen and Tim Strawn
Michael Callan as Clay Boone
Dwayne Hickman as Jed
Nat King Cole as The Sunrise Kid
Stubby Kaye as Professor Sam the Shade
Tom Nardini as Jackson Two-Bears
John Marley as Frankie Ballou
Reginald Denny as Sir Harry Percival
Jay C. Flippen as Sheriff Cardigan
Arthur Hunnicutt as Butch Cassidy
Bruce Cabot as Sheriff Maledon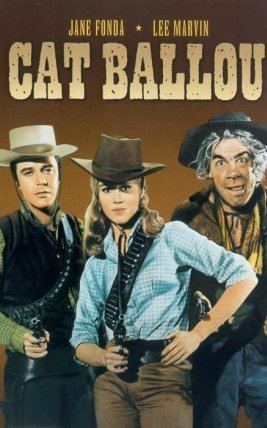 Cast notes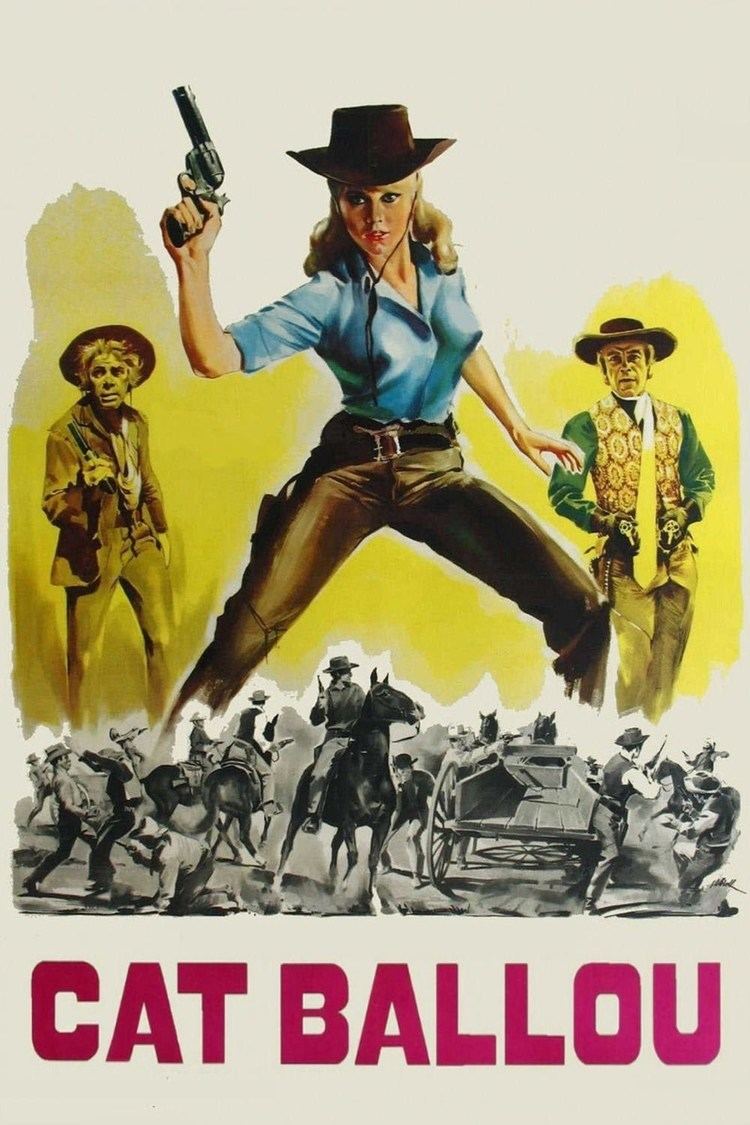 Cole and Kaye are billed simply as "Shouters". They act as a Greek chorus, intermittently narrating the story through verses of "The Ballad of Cat Ballou", which, along with other songs in the film, was written by Mack David and Jerry Livingston.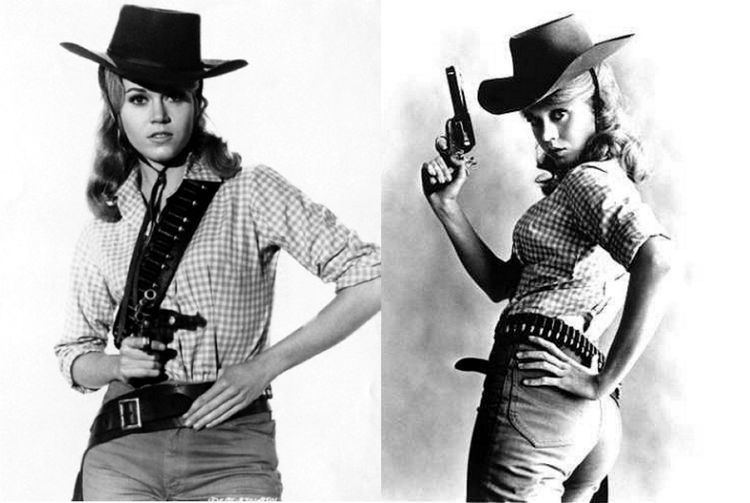 The film was director Elliot Silverstein's second feature film, and his relationship with producer Harold Hecht while filming was not smooth.
Ann-Margret was the first choice for the title role but her manager turned it down without letting the actress know. Ann-Margret wrote in her autobiography that she would have wanted the part.
Among others, Kirk Douglas allegedly turned down the role of Shelleen. Ironically, years later he would play a similar double role in The Man from Snowy River.
Nat King Cole was ill with lung cancer during the filming of Cat Ballou. A chain smoker, Cole died four months before the film was released.
The film was shot in 28 days.
Noted make-up artist John Chambers created the prosthetic nose worn by Lee Marvin as Strawn in the film.
A former Great Western Railway of Colorado 2-8-0 Consolidation steam locomotive, number 51, owned by Boulder Scientific Company of Boulder, Colorado, was used in the film, with scenes shot at Canon City, Colorado, in September 1964.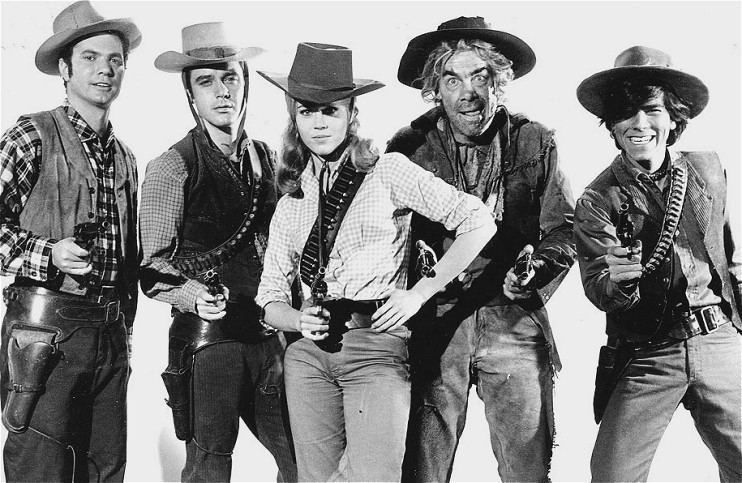 The film was well received by critics and was popular with moviegoers and earned over $20.6 million in ticket sales in 1965, making it one of the top ten moneymaking movies that year.
Lee Marvin awards won
1965 Academy Award for Best Actor in a Leading Role
1965 British Academy Award Winner for Best Actor
1965 Golden Globe Award Winner for Best Actor
1965 Silver Bear for Best Actor at the 15th Berlin International Film Festival
In his Oscar acceptance speech, Lee Marvin concluded by saying, "I think, though, that half of this belongs to a horse somewhere out in San Fernando Valley," a reference to the horse Kid Shelleen rode, which appeared to be as drunk as Shelleen was.
Academy Award nominations
Best Film Editing
Best Music, Scoring of Music, Adaptation or Treatment
Best Music, Song - Jerry Livingston and Mack David for "The Ballad of Cat Ballou"
Best Writing, Screenplay Based on Material from Another Medium.
The film is recognized by American Film Institute in these lists:
1998: AFI's 100 Years...100 Movies – Nominated
2000: AFI's 100 Years...100 Laughs – #50
2003: AFI's 100 Years...100 Heroes & Villains:
Tim Strawn – Nominated Villain
2004: AFI's 100 Years...100 Songs:
"The Ballad of Cat Ballou" – Nominated
2007: AFI's 100 Years...100 Movies (10th Anniversary Edition) – Nominated
2008: AFI's 10 Top 10:
#10 Western Film

In June 2008, AFI revealed its "Ten top Ten"—the best ten films in ten "classic" American film genres—after polling over 1,500 people from the creative community. Cat Ballou was acknowledged as the tenth best film in the Western genre.
Cat Ballou is the favorite film of comedy directors Bobby and Peter Farrelly, as stated in The AFI 100 Years, 100 Laughs television special. The Balladeers from their film, There's Something About Mary, are inspired by similar characters in Cat Ballou.
Imagery from the hanging scene of Jane Fonda was spoofed advocating her execution for treason following her 1972 visit to Hanoi. A brief shot from that scene was used as part of Alex DeLarge's sadistic reverie in the movie A Clockwork Orange.
"Cat Ballou" is a card in the spaghetti western board game Bang!.
In a 2014 interview on NPR, actor Bryan Cranston called Cat Ballou the "movie that had the most impact" on him when he was growing up.