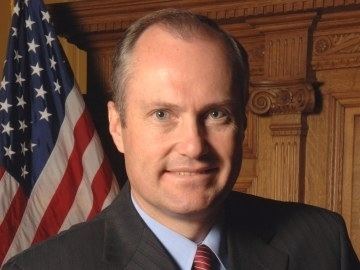 Cagle was born Lowell S. Casey Cagle in Gainesville, Georgia and raised by his single mother. He is a seventh generation resident of Hall County, Georgia. According to his legislative biography, he "attended eight different elementary schools by age six, but persevered to graduate from Hall County's public schools." After graduating from Johnson High School, Cagle attended Gainesville State College and Georgia Southern University to play football. After an injury ended his dreams of playing college football, Cagle entered the business world, starting his first venture, a small tuxedo shop in Gainesville, when he was 20 years old.
After returning to Gainesville in 1986, Cagle started what would turn into a successful tuxedo rental company. He expanded the retail business into multiple locations throughout North Georgia. He founded Southern Heritage Bank in 1999 and served as its chairman until it merged into Gainesville Bank & Trust in 2004, and later SunTrust Banks in 2008. Cagle joined the board of directors of GB&T in 2005. According to filings, his estimated net worth is $3 million.
In 1994, at age 28, Cagle ran for the Georgia Senate in Senate District 49 that included Hall County and parts of Dawson County and Forsyth County. He upset the Democratic incumbent, Jane Hemmer, and became the youngest member of the State Senate. He was re-elected five times and served from 1995 to 2006. During this time, Cagle served as Chairman of the State Senate Finance Committee, Vice Chairman of Science and Technology Committee, and as a member of the Natural Resources and the Environment Committee and the powerful Appropriations Committee.
In early 2005, Cagle declared his candidacy for Lieutenant Governor of Georgia. He was opposed in the Republican primary by nationally known Christian conservative activist Ralph Reed. Initially considered the underdog, Cagle emerged as a serious challenger to Reed. Reed accused Cagle of negative campaigning, blaming Cagle for unfavorable media attention arising from the federal investigation into the Jack Abramoff Indian lobbying scandal. On July 18, 2006, Cagle defeated Reed in the Republican Party primary with Cagle taking 56% of the vote to Reed's 44%. He then went on to successfully face former state representative Jim Martin in the general election and won with 54.1% to Martin's 42.3%.
According to Cagle's official website, "the time for small ideas and quick fixes on transportation has passed. Instead, we should recognize that our state's economic future rests on our courage to make real reform." Into 2009, transportation continues to be a major problem for Georgia and Metro Atlanta. According to Forbes, Atlanta is the seventh-worst congestion "traffic trap" in the United States.
In early 2015, Cagle's position was called into question regarding his stance on Senate Bill 63, the "Beer Jobs Bill". As published by conservative blogger Eric Erickson on February 25, 2015, Cagle had taken $130,756.57 in campaign contributions from the alcoholic beverage industry. Cagle's position regarding his unbiased approach towards a bill that would allow breweries to sell a limited volume of beer directly from the brewery was called into question due to this connections with beer wholesalers.
Cagle filed paperwork for the Republican nomination for Governor of Georgia. According to documents filed with the Georgia State Ethics Commission, the Georgians for Cagle campaign raised $1,255,543.45 in the second half of 2008. This was nearly $700,000 more than Insurance Commissioner John Oxendine who raised $564,270.00.
On April 15, 2009, Cagle withdrew from the governor's race, citing a degenerative spinal condition and unspecified nerve and bone problems that required surgical treatment. He ran for and won re-election as lieutenant governor instead.
Georgia's lieutenant governor office does not have the same two-term limit as the governorship, so Cagle ran for and won a third term as lieutenant governor in 2014. He ran unopposed in the Republican primary and defeated DeKalb County Commissioner Connie Stokes in the general election.
Cagle is married to his high school sweetheart Nita, and they are the parents of three sons, Jared, Grant, and Carter. The Cagles live in Chestnut Mountain, Georgia where they are active members of Blackshear Place Baptist Church.
State Senator Primary Election Results
State Senator General Election Results
Lieutenant Governor Primary Election Results
Lieutenant Governor Primary Election Results
Lieutenant Governor General Election Results