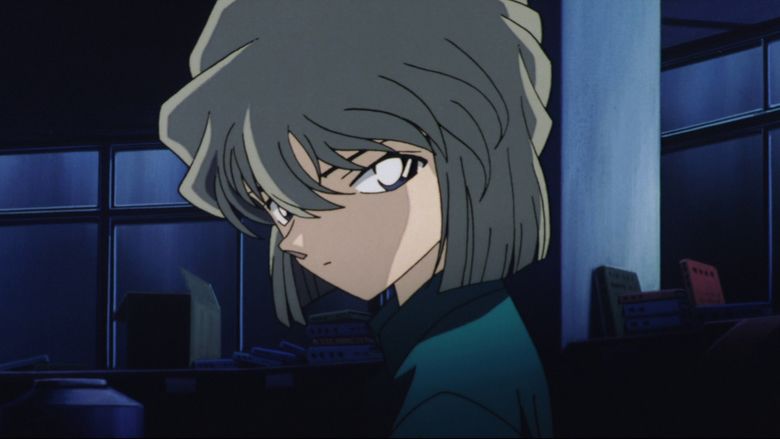 Gin and Vodka, on a hunt for Shiho Miyano, sneak into Akemi Miyano's flat and listen to the messages on the answering machine. They discover that Shiho will attend a private viewing of two new skyscrapers in Tokyo. Gin and Vodka plan to end Shiho at the towers.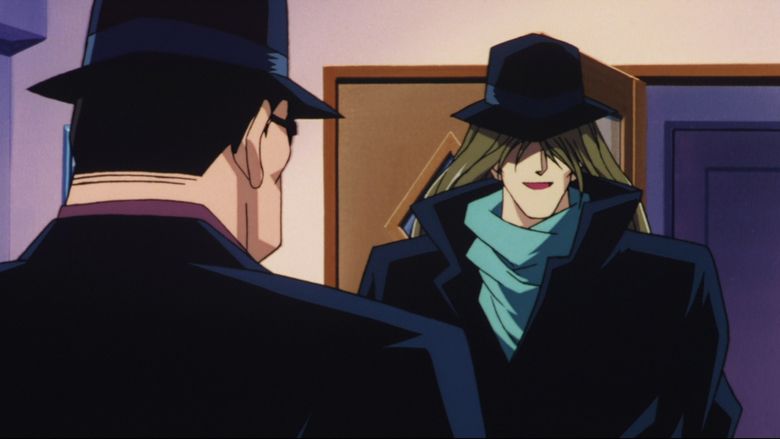 At the viewing, Yoshiaki Hara and Tokiwa Mio are murdered, after Ohki Iwamatsu, a builder of the skyscrapers, was killed in his apartment. Sake cups left at each murder scene links the three together in a serial murder case.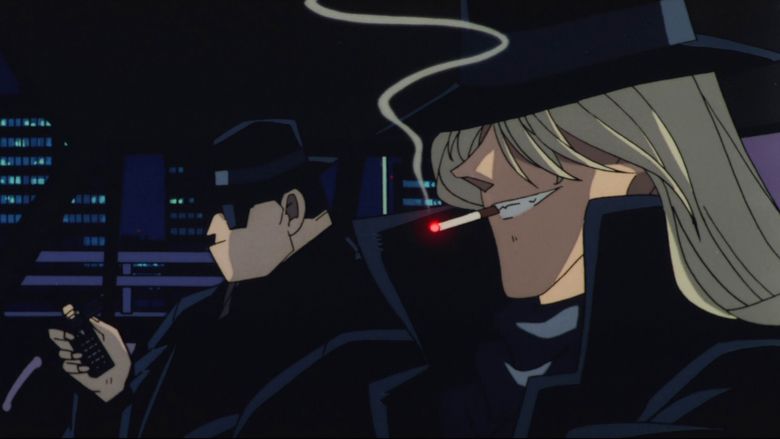 Before the murderer's identity is revealed, the bombs planted by the Black Organization detonate, setting the building ablaze. Sonoko, Conan and Ran evacuate in a glass elevator when it stops. Conan realizes that with her new perm, Sonoko looks like Shiho Miyano from behind. Conan distracts Sonoko, making her turn around, saving her from being shot by Gin, who thought she was Shiho.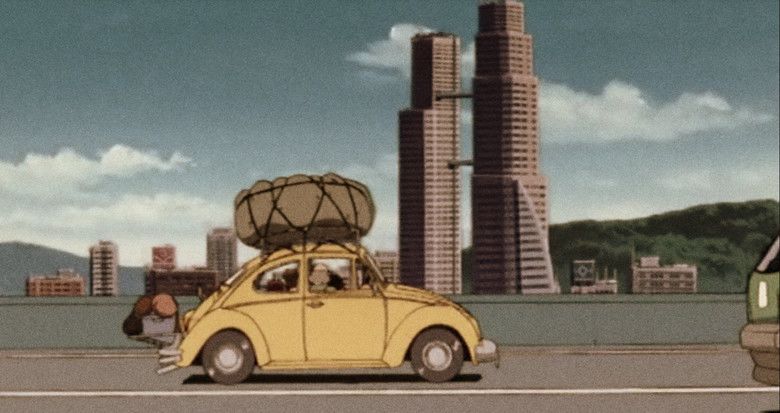 After arriving safely to the ground, Conan re-enters the tower after learning that the Junior Detective League has not evacuated. He leaves them and confronts the serial murderer, Kiseragi, an elderly painter. Kiseragi blamed the tower employees for the construction of the tower, an edifice that obstructed his view of the Fuji Mountains. Conan shoots Kiseragi with his tranquilizer dart as the painter prepares to commit suicide.
With the bridges blown off and the bottom floors in flames, Conan powers a Ford Mustang convertible with the force of an explosion to propel the kids and him to safety. Viewing the inferno from afar, Gin and Vodka confirm that Shiho Miyano was not at the towers and abandon their search for her.
Licensed by: FUNimation Entertainment
ADR Director: Leah Clark
Script: Eric Vale
Executive producer: Gen Fukunaga
Producer: Carly Hunter & Justin Cook
ADR Engineer: Cris George
Assistant ADR Director: Brina Palencia
Head Writer: Eric Vale
Line Producer: Zach Bolton
Mix Engineer: Adrian Cook
Post-Production Assistant: Casey Barteau & Niki Cooper
Production Assistant: Gino Palencia, Michael Harcourt & Trenton Jons
Senior Video Editor: Daniel Mancilla & Jeremy Jimenez
Talent Coordination: Tara Williams
Video Editing: Jessie Mancilla, Joe Harris, Josh Tyler & Robert Bell
Video Engineer: Michael Rivas & Sarah Mueller
Video Post-Production Coordinator: Margaret Yabs
Video Post-Production Director: Brandon Tyler
The film's ending theme song is "Always" by Mai Kuraki.
The VHS of the movie was released April 10, 2002. It was discontinued soon after 2006 as it was switched to DVD.
The DVD of the film was released on December 21, 2001. A new DVD was released on February 25, 2011, significantly lowering the original price and added the trailer as a special feature.
Funimation released the English dub of Countdown to Heaven on DVD on January 19, 2010.
The Blu-ray version of the film was released on September 23, 2011. The Blu-ray contains the same content of the DVD plus a mini-booklet explaining the film and the BD-live function.