Preceded by

Nydia Velazquez




Alma mater

Greensboro College




Preceded by

Susan Molinari




Religion

Presbyterianism





Succeeded by

Joseph Crowley




Name

Carolyn Maloney




Political party

Democratic




Role

U.S. Representative






Full Name

Carolyn Jane Bosher




Born

February 19, 1946 (age 69) Greensboro, North Carolina, U.S. (

1946-02-19

)


Spouse

Clifton Maloney (m. 1976–2009)




Office

Representative (D-NY 12th District) since 2013




Previous office

Representative (NY 14th District) 1993–2013




Education

Greensboro College (1964–1968)




Children

Christina Maloney, Virginia Maloney




Similar People

Jerrold Nadler, Nydia Velazquez, Joseph Crowley, Kirsten Gillibrand, Edolphus Towns




Profiles




Twitter
Dc 37 wtc congress member carolyn maloney psa
Carolyn B. Maloney (née Bosher; born February 19, 1946) is the U.S. Representative for New York's 12th congressional district. She is a member of the Democratic Party.
Contents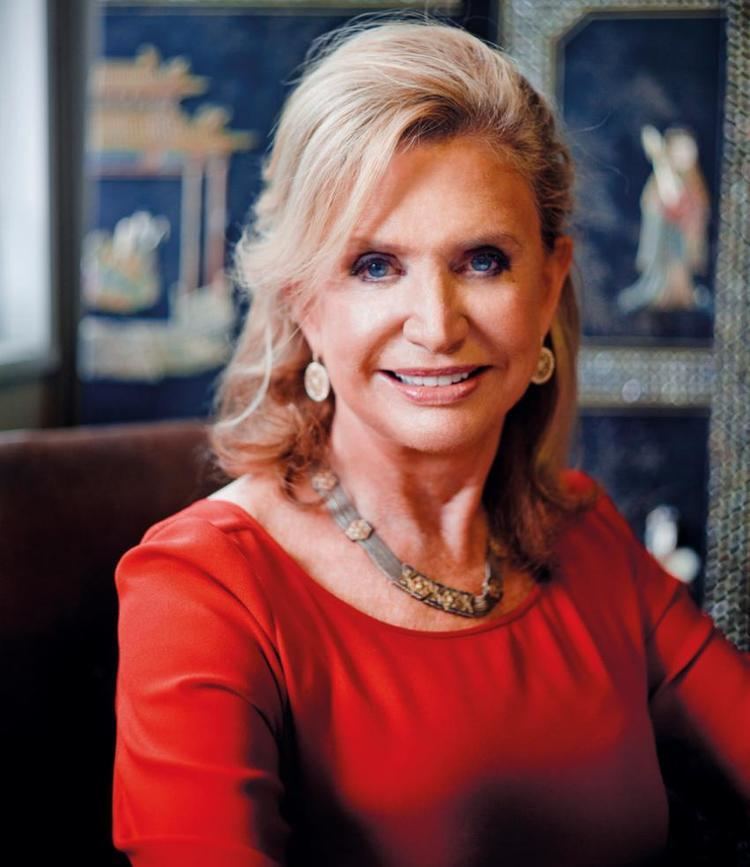 Rep. Carolyn Maloney: We Are United
Early life, education and career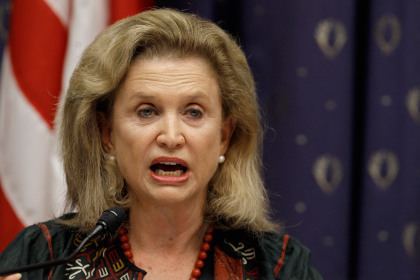 Born in Greensboro, North Carolina, the daughter of Christine Elizabeth (née Clegg) and Ralph George Bosher. She attended Greensboro College. After graduating, she visited New York City in 1970 and decided to stay.
For several years, she worked as a teacher and an administrator for the New York City Board of Education. In 1977, she obtained a job working for the New York State Legislature and held senior staff positions in both the State Assembly and the State Senate. Maloney was the first woman to represent New York City's 7th Council district (where she was the first woman to give birth while in office); and was the first woman to chair the Joint Economic Committee, a House and Senate panel that examines and addresses the nation's most pressing economic issues. Nicholas Kristof said of her work in the battle against human trafficking: "No one has been a greater champion than Carolyn Maloney" in the fight against human trafficking. Her question: "Where are the women?", asked at a hearing by the Government Oversight Committee created a minor controversy in 2012.
New York City Council
Maloney was elected to the New York City Council in 1982, defeating incumbent Robert Rodriguez in a heavily Spanish-speaking district based in East Harlem and parts of the South Bronx. She served as a Councilmember for 10 years. On the council, she served as the first Chair of the Committee on Contracts, investigating contracts issued by New York City in sludge and other areas. She authored legislation creating the City's Vendex program, which established computerized systems tracking information on City contracts and vendors doing business with the City. Maloney also introduced the first measure in New York to recognize domestic partnerships, including those of same-sex couples. She was the first person to give birth while serving as a City Councilmember, and the first to offer a comprehensive package of legislation to make day care more available and affordable.
Committee assignments
Committee on Financial Services
Subcommittee on Capital Markets and Government-Sponsored Enterprises (Ranking Member)
Subcommittee on Financial Institutions and Consumer Credit
Subcommittee on Oversight and Investigations
Committee on Oversight and Government Reform
Subcommittee on TARP, Financial Services and Bailouts of Public and Private Programs
Joint Economic Committee (Ranking Member)
Caucus memberships
House 9/11 Commission Caucus
House Caucus on Women's Issues
International Conservation Caucus
Congressional Arts Caucus
Americans Abroad Caucus - founder and co-chair
Legislative initiatives
In 2011, a Daily News survey found that Rep. Maloney ranks first among New York's 28 representatives for activity with 36 proposed bills, resolutions and amendments.
In the 2013 legislative session, Govtrack.us scored her 3rd among House Democrats for "Leadership," 3rd among all representatives for "Powerful Co-sponsors," 3rd highest in the New York delegation for "Working with the Senate," and 5th highest among all representatives for "Bills Sponsored."
In the midst of the 2014 election cycle, the New York Daily News ran a story that noted "Maloney has proposed more legislation than any other House member, according to records." and calling her "James Zadroga 9/11 Health and Compensation Act, giving compensation to Ground Zero workers who have fallen ill, as big a bill for the New York area as any in the last decade."
For the 2015 legislative session, Govtrack.us scored Maloney 1st for "Leadership" among House Democrats, based on sponsoring the most bills. They scored her 2nd among all Representatives for having the most co-sponsors, 2nd among all Representatives for "Working with the Senate" and 4th among House Democrats for having Powerful Cosponsors. She was ranked in the highest 10 percent of all Representatives for bills introduced, noting that "Maloney introduced 26 bills and resolutions in 2015."
Politically, Maloney is ranked in the National Journal's annual ranking as the 114th most liberal (or 314th most conservative) member of Congress, with more liberal scores on foreign policy than on economic and social policy. Her score of 75.5 ranks her as modestly more liberal than the New York Congressional delegation as a whole.
As a Congressional Representative, Maloney was a super delegate at Presidential Conventions. In the 2016 election cycle she was an early supporter of former Secretary of State and New York Senator Hillary Clinton.
National security and 9/11 issues
Maloney was a major force behind the passage of an extension of the James B. Zadroga Health and Compensation Act passed by Congress in December 2015. The bill extends the World Trade Center Health Program to 2090, and provides full compensation to survivors and first responders through the September 11 Victim Compensation Fund. The two programs were in the process of shutting down after Congress missed a reauthorization deadline. Maloney had been the lead House sponsor of the original bill and she joined forces with first responders and other members of the New York delegation in a months long battle to extend the program.
Following the terrorist attacks of September 11, 2001, Maloney worked to ensure that the Bush administration maintained its commitment to New York's recovery and security efforts, prompting Wayne Barrett of the Village Voice to write that Maloney was "like a tiger in the House on every dollar due New York."
After the 9/11 Commission published its findings, Maloney co-founded the bipartisan House 9/11 Commission Caucus and helped write and secure the enactment into law of many of its recommendations to reform the nation's intelligence agencies Congressional Quarterly wrote in its annual guide, 2006 Politics in America: "In the 108th Congress, Maloney reached out beyond her usual roles as a liberal gadfly and persistent Bush administration critic, helping win enactment of a sweeping bill to reorganize U.S. intelligence operations."
Following the Dubai Ports World controversy, Maloney helped secure the passage and enactment of her bill to reform the system for vetting foreign investments in the United States. Maloney has supported Scientology's "New York Rescue Workers Detoxification Project".
Gun control
In response to a number of high-profile incidents of gun violence, Congresswoman Maloney sponsored two bills to address the issue. The Gun Trafficking Prevention Act of 2013 would make gun trafficking a federal crime for the first time and substantially stiffen the penalties for "straw buyers" who knowingly help convicted felons, domestic abusers, the violently mentally ill and others, obtain guns. A second bill, reintroduced in 2014 and 2015, would require gun owners to maintain liability insurance, just as most car owners must do.
In 2014, she joined with Senator Ed Markey in sending a letter to President Barack Obama asking him to insert $10 million into the budget for the Center for Disease Control and Prevention to resume research on gun violence and "conduct scientific research on the causes and prevention of gun violence."
Good government
After reports of corruption among military contractors in Iraq and Afghanistan, Maloney later secured House passage of her bill to create a database to better monitor all federal contracts, the key provisions of which were later adopted into law as part of the defense budget.
In 2010, the Project On Government Oversight, a government watchdog group, presented Maloney with its Good Government Award for her contributions to government transparency and oversight, including her investigations into corruption and mismanagement in the Minerals Management Service and her support of a Federal Contractor Misconduct Database similar to POGO's.
Health-care issues
Maloney has taken several actions on health care issues. Her measure to provide Medicare coverage for annual mammograms was included in the Fiscal Year 1998 federal budget.
She was a leading advocate for the cause of providing federal support for medical monitoring and health care for rescue and recovery workers who were exposed to toxic smoke and dust at the Ground Zero site after the 9/11 attacks. Maloney authored the James Zadroga 9/11 Health and Compensation Act and led the fight for years to push for its passage. In 2010 President Barack Obama signed the bill into law. It provides $4.3 billion in federal funds to provide 9/11 responders and survivors with treatment and compensation for their injuries. In June 2012, it was announced that the program would be expanded to cover care for a variety of cancers of the lung, trachea, stomach, colon, rectum, liver, bladder, kidney, thyroid and breast.
In 2015 when roughly 33,000 responders and survivors were battling an assortment of ailments, Maloney led the effort to extend the bill permanently. After a prolonged and very public push, a total of $8.5 billion in funding was included in the Omnibus Spending bill that was passed in Dec. of 2015 and extended the life of the monitoring and health insurance coverage for 75 years.
In the 111th Congress, Maloney introduced "The Breastfeeding Promotion Act" to protect breastfeeding in the workplace under civil rights law and make it illegal for women to lose their jobs or otherwise be discriminated against for expressing milk during lunchtime or on breaks. Maloney has advocated for international women's health and family planning programs supported by the United Nations Population Fund.
A co-founder and co-chair of the Congressional Working Group on Parkinson's Disease, she serves on the boards of the Michael Stern Parkinson's Research Foundation and the Fisher Center for Alzheimer's Research Foundation, both in New York City.
Responding to the concerns of many parents, Maloney introduced the "Comprehensive Comparative Study of Vaccinated and Unvaccinated Populations Act of 2007" (H.R. 2832), legislation that would require the National Institutes of Health (NIH) to conduct a comprehensive comparative study of vaccinated and unvaccinated populations, in support of the spurious claims asserting a link between autism and vaccine components, including thimerosal and aluminum. The original bill did not pass, but Maloney re-introduced the legislation in 2008. Maloney introduced similar legislation with Representative Bill Posey in 2013 to direct the Secretary of Health and Human Services to conduct or support a study comparing total health outcomes, including risk of autism, between vaccinated and unvaccinated populations.
Financial and economic issues
Maloney serves on the Committee on Financial Services, the Committee on Oversight and Government Reform, and is the Ranking Democratic member of the Joint Economic Committee. She was previously the Chair of the Democratic Task Force on Homeland Security. From January 2009 to January 2011, Maloney served as Chair of the Joint Economic Committee, the first woman to do so.
Maloney was the author of the "Credit Cardholders' Bill of Rights" or (the Credit CARD Act of 2009) while serving as Chair of the Subcommittee on Financial Institutions and Consumer Credit, in the 110th Congress. A 2014 study by the Social Science Research Network estimated that since its passage, the CARD Act has saved consumers $11.9 billion per year. The measure was fiercely opposed by credit card companies, but it drew praise from editorial boards and consumer advocates. The bill was passed as the Credit Card Accountability Responsibility and Disclosure Act by both houses of the 111th Congress, prompting Money magazine to dub Maloney the "best friend a credit card user ever had." President Barack Obama signed the Credit Card Bill of Rights into law in a Rose Garden ceremony at the White House attended by Maloney on May 22, 2009.
Days after voting against cancellation of a $1 billion, 10-year subsidy plan for U.S. sugar farmers within the 2007 U.S. Farm Bill, Maloney hosted a fundraising event that netted $9,500 in contributions from sugar growers and refiners, according to Federal Election Commission records. Maloney's election attorney, Andrew Tulloch, called the timing of the July 31 fundraiser a "pure coincidence." The bill passed the House by a 282-144 vote. The Sunlight Foundation pointed out that among the 435 members of the U.S. House of Representatives, Maloney has the ninth-highest amount of investment in oil stocks. Maloney received a perfect 100 rating from the Defenders of Wildlife Action Fund in 2007, a perfect 100 rating from Environment America in 2008 and a perfect 100 from the League of Conservation Voters in Feb. of 2008. And in 2008, Maloney introduced the Minerals Management Service Improvement Act (HR 7211) as a House companion to Integrity in Offshore Energy Resources Act (S. 3543). The legislation would impose dramatically tougher ethics rules for the Minerals Management Service, which was at the center of a major corruption scandal stemming from its employees' relationships with oil company representatives.
Women's, children's and family issues
In 2013 Maloney introduced a bill with the long term goal of establishing a National Women's History Museum on or near the National Mall. Her bill, titled Commission to Study the Potential Creation of a National Women's History Museum Act of 2013 (H.R. 863; 113th Congress). called for the establishment of a commission to study the issue and prepare a report containing recommendations for establishing and maintaining a National Women's History Museum in Washington, D.C..
The 8-member bi-partisan commission would have 18 months to produce the report and submit it to the Congress. Maloney argued that "the museums and memorials in our nation's Capitol demonstrate what we value. We have museums dedicated to flight, postage stamps, law enforcement and many other important people and issues of interest, but not to women. This bill would provide women, comprising 53% of our population, a long overdue home on our National Mall to honor their many contributions that are the very fabric of our country."
Maloney's bill was co-sponsored in the House by Rep. Marsha Blackburn (R-TN) and co-sponsored in the Senate by Senators Barbara Mikulski (D-MD) and Susan Collins (R-ME). It was signed into law in December 2014.
The Commission was established in 2015 and after 18 months of study, issued their final report to Congress on November 16, 2016. The all-women, bi-partisan commission unanimously recommended the establishment of an American Museum of Women's History to "tell the stories, celebrate the accomplishments, and illuminate American women's history in ways that will inspire and inform people of all ages and all walks of life" on or near the national mall. The report proposes Congress either donate land or an existing building for the museum site. If Congress approves the museum, it would likely take another a decade to complete. "The commission has really embodied the often-elusive bipartisan cooperation that we need in Washington to get things done," Maloney said.
Maloney has been active on many other issues involving women, children and families since the beginning of her career. A former Co-Chair of the House Caucus on Women's Issues, she authored and helped secure the enactment into law of a measure to provide federal funding to clear the backlog of rape kits for which evidence had been collected, but never entered into law enforcement DNA databases. It was called "the most important anti-rape legislation ever considered by Congress" by the Rape Abuse and Incest National Network. Maloney's bill, included in the "Justice for All Act of 2005", was named the Debbie Smith Act in honor of Debbie Smith, a rape survivor. The effort to enact the bill was later the subject of a Lifetime Television movie, A Life Interrupted: The Debbie Smith Story, in which Maloney was played by Lynne Adams. Maloney also co-authored and helped secure passage of bipartisan legislation to curb the demand for sex trafficking.
In April 2014, Maloney argued strongly in favor of the Debbie Smith Reauthorization Act of 2014 (H.R. 4323; 113th Congress), a bill that would reauthorize the Debbie Smith Act. The bill would reauthorize funding through Fiscal Year 2019 for the Debbie Smith DNA Backlog Grant Program, sexual assault forensic exam program grants, and DNA training and education for law enforcement, correctional personnel and court officers. The bill would authorize the appropriation of $968 million over the 2015-2019 period. The grant program would go to the states to run programs to analyze DNA samples from crime victims. Maloney argued that "this is one of those rare bills that virtually guarantees that it will put real criminals behind bars and protect people more effectively against one of the most traumatic assaults imaginable." The Justice for All Reauthorization of 2016, containing Maloney's provisions was signed into law in November 2016.
She introduced the Child Care Affordability Act of 2007 to increase access to child care by providing tax credits. Maloney's amendment to a foreign aid bill succeeded in securing $60 million in funding for programs for Afghan women and girls and to help establish an Afghan commission on human rights. She is the chief House sponsor of the Equal Rights Amendment. In 2008 and again in 2009, Maloney authored, and secured House passage of, a bill to provide four weeks of paid parental leave to federal employees.
She has also authored and introduced the Family and Medical Leave Inclusion Act that would expand the 1993 Family and Medical Leave Act to include couples in domestic partnerships, civil unions, and same-sex marriages. Legislation to create a National Women's History Museum that was jointly introduced by Maloney and her colleague Eleanor Holmes Norton was passed by the U.S. House of Representatives in October, 2009.
In 2011, she sponsored the Campus Sexual Violence Elimination Act, known as the Campus SaVE Act. It became part of the reauthorization of the Violence Against Women Act of 2013. The measure guarantees counseling, legal assistance, and medical care on campuses for victims of sexual assault, establishes minimum, national standards for schools to follow in responding to allegations of sexual assault and sexual violence, and makes it explicit that schools must provide to both the alleged perpetrator and the alleged victim the same rights, including access to advisers, written notifications, as well as appeals processes during campus disciplinary proceedings.
Human trafficking
Maloney is the co-chair and co-founder of the Human Trafficking Caucus. She has authored numerous bills to combat human trafficking and sex trafficking, including: The Prevention of Trafficking of Tsunami Orphans Act of 2005; The End Demand for Sex Trafficking Act of 2005; The Human Trafficking Fraud Enforcement Act of 2010; The Domestic Minor Sex Trafficking Deterrence and Victims Support Act of 2010; The International Women's Freedom Act of 2011. In 2012 Maloney joined forces with Republican Representative Marsha Blackburn in a letter to Google questioning how the company's advertising practices addresses human trafficking. Explaining her concerns, Maloney stated that: "100,000 children in the United States—most of whom are American citizens—are exploited through commercial sex every year, with the average age of first exploitation between 12-13 years old."
District issues
In Congress, Maloney has placed major focus on infrastructure and helped secure funding for major mass transit projects, resulting in the commitment of billions of federal dollars for New York State.
Maloney has been hailed as a champion of the Second Avenue Subway. Maloney predicted it will be "life-changing for those going and coming home from work." Maloney also advocated for the East Side Access project, to bring Long Island Rail Road (LIRR) trains directly to Grand Central Terminal and create a new LIRR stop in Sunnyside, Queens.
In December 2006, the federal government signed a full funding grant agreement promising $2.63 billion to New York to complete East Side Access. In November 2007, the federal government signed a full funding grant agreement with New York State , committing to providing $1.3 billion in federal funds for the subway's first phase on Manhattan's Upper East Side.
First proposed in the 1920s, the Second Avenue Subway is being built in two phases. The first phase will provide service from 96th St. to 63rd St. as an extension of the Q Line train. It will serve approximately 200,000 daily riders and decrease crowding on the Lexington Avenue Line by as much as 13%. Travel time will be reduced by 10 minutes or more for many riders traveling from the Upper East Side. It opened on Dec. 31st, 2016.
Maloney also joined with her colleagues early in her tenure, to secure $306.1 million in federal funds for the 63rd Street Connector, a $645 million project that significantly expanded transit capacity between Queens and Manhattan.
She helped secure $670 million in federal funding to replace the crumbling Kosciusko Bridge. The bridge carries more than 160,000 vehicles between Brooklyn and Queens each day. The new span will be designed to last for the next 100 years.
In the wake of Superstorm Sandy in 2012,Maloney worked with Mayor de Blasio, Senator Schumer, and the entire New York Delegation to secure over $4.9 billion in federal funding to help the MTA recover from the severe flooding, and to harden the area from Montgomery Street to 23rd Street as well as fund the East Side and the East Side Coastal Resiliency Project. The funds will also create new parks and new barriers to prevent the lower East Side from flooding in the future.
Maloney co-sponsored the 2009 reintroduction of the Fair Copyright in Research Works Act (H.R. 801, originally introduced as H.R. 6845 in 2008) as well as the Research Works Act (H.R. 3699) introduced in 2011. Both bills aim to reverse the NIH's Public Access Policy, which mandates open access to NIH-funded research. The Association of American Publishers-backed Research Works Act was criticized by some scientists. In a New York Times op-ed, Michael Eisen described how the bill would force the public to pay $15–$30 per paper to read the results of research they had already paid for as taxpayers. (Such results must now be published in Pubmed Central (PMC) after an embargo period of up to 12 months: this embargo period was imposed to minimize financial harm to publishers who were concerned that their readership would diminish if the results appeared concurrently in PMC, though authors of the paper are required to submit their papers to PMC as soon as their paper gets accepted for publication by a peer-review journal.) Some have suggested that Maloney supports the measure because she is the recipient of campaign contributions from Elsevier, the largest scholarly publishing company. On February 27, 2012, following a boycott of the organization, In a letter to constituents, Maloney noted that "it is important to be mindful of the impact of various industries on job creation and retention. New York State is home to more than 300 publishers that employ more than 12,000 New Yorkers, many of whom live in or around New York City in my district. New York City scientific publishers represent a significant subset of the total, and more than 20 are located in Manhattan, publishing thousands of scientific journals and employing thousands of New Yorkers." Elsevier withdrew their support for the legislation.
At the urging of many of her district constituents, in 2010 Maloney began an effort to persuade the US Postal Service to issue a seasonal commemorative stamp honoring the joyous Hindu Festival of Diwali. The effort began with a series of letters to the Citizens Advisory Stamp Committee. Then, in 2013, Maloney introduced H.R.47 with 46 cosponsors, expressing the sense of the U.S. House of Representatives that the CSAC should issue a Diwali stamp. She reintroduced it in 2015 as H.R. 32, with 71 cosponsors. And more than 100 community organizations across the US also petitioned the CSAC.
They had a lot of competition. The Postal Service receives approximately 40,000 suggestions for stamp ideas annually. The ideas are then reviewed by the Citizens' Stamp Advisory Committee, which selects about 25 of them for the Postmaster General's approval.
But after years of steady effort, Maloney and the Hindu community got their stamp. In October 2016, the nation's first Diwali Stamp was issued and the first-day-of-issue dedication ceremony took place at the Consulate General of India in New York City.
Book and notable television appearances:
In 2012, a clip of Maloney asking "Where are the women?" created a bit of a firestorm. She asked the question of an all-male panel at a hearing of the House Committee on Oversight and Government Reform. The panel had been called by the Republican members of the Committee to testify on the issue of birth control and new health care reform regulations. In her opening statement, Maloney said: "Where are the women? When I look at this panel, I don't see one single woman representing the tens of millions of women across the country who want and need insurance coverage for basic, preventative health care services, including family planning," Maloney continued. Then she repeated: "Where are the women?" The clip and a photo of the all male panel quickly went viral and became a rallying cry for women's groups. Women's issues and their reproductive rights took on great significance during the 2012 Presidential campaign.
In 2008, Rodale Press published Maloney's book on women's issues, Rumors of Our Progress Have Been Greatly Exaggerated: Why Women's Lives Aren't Getting Any Easier—and How We Can Make Real Progress for Ourselves and Our Daughters. In the book, Maloney argues that progress for women has stalled and offers recommendations for resuming their advance toward full equality.
Maloney appeared on The Colbert Report in the Better Know a District segment on July 29, 2008, speaking about women's issues.
Political campaigns
In 1992, Maloney was elected to the House of Representatives, narrowly defeating 15-year incumbent Bill Green, a progressive Republican, to become the second woman to represent the district after Susan Molinari. The 14th and its predecessors had been one of the few districts in the city where Republicans usually did well; in fact, they held the seat for all but eight of the 56 years between 1937 and Maloney's victory. Although the district had been made significantly more Democratic in redistricting, Maloney's win is still considered an upset.
Following Maloney's win, Republicans continued to hold most of the State Senate, Assembly, and City Council seats on Manhattan's East Side for nearly another decade. Since 2002, the Democrats have dominated the area, and now hold all of the area's seats in the state legislature and City Council.
Maloney faced significant opposition from Republican City Councilman Charles Millard in 1994, the year of a Republican tidal wave in the midterm congressional elections. She defeated Millard handily, taking 64 percent of the vote. She has not faced credible opposition since, and has been reelected eight more times by an average of 77 percent of the vote.
In 2004, Maloney faced a potential Democratic primary challenge from Robert Jereski, a former Green Party political candidate and unsuccessful candidate for delegate to the 2004 Democratic National Convention on the slate of Dennis Kucinich. Jereski opposed the Iraq War while Maloney had initially voted for the resolution to authorize force; she later forcefully renounced the war, including most memorably at a town hall meeting in her district with antiwar Congressman John Murtha. However, Jereski didn't qualify for the ballot because his petition was found to have invalid signatures, leaving him 4 short of the 1250 required.
In December 2008, Maloney hired a public-relations firm to help bolster her efforts to be named by Governor David Paterson as Hillary Clinton's successor as a New York Senator. Maloney toured parts of the state, but was overshadowed by Caroline Kennedy's promotional tour for the same seat. Maloney interviewed with the governor for 55 minutes. Public opinion polls placed Maloney's support for the Senate seat in the single digits, trailing the front-runner, then-New York State Attorney General Andrew Cuomo, although her bid was endorsed by the National Organization for Women Political Action Committee, the Feminist Majority Political Action Committee, New York Times columnist Nicholas Kristof, and other columnists and editorial boards.
On January 23, 2009, Paterson named Congresswoman Kirsten Gillibrand to the post. Many urged Maloney to run against Gillibrand in 2010.
Although she had been leading Gillibrand in both the Rasmussen and the Quinnipiac polls, Maloney ruled out a run for the U.S. Senate and instead retained her congressional seat.
In the Democratic Primary for Congress on September 14, 2010, Maloney defeated a well-funded opponent, Reshma Saujani, a 34-year-old Indian-American hedge fund lawyer, by a landslide, 62-percentage point margin, racking up more than 81% of the vote to Saujani's 19 percent. Her success was due in large part to a substantial grassroots effort, with volunteers and a motivated field team reaching out to registered voters across the district. That night, Saujani said, "I'm definitely running again", but three months later announced publicly that she would not challenge Maloney again.
In 2012 Maloney's Republican challenger was Christopher Wright, who took a leave of absence from J. P. Morgan to campaign. Maloney won with 80.9% of the total and by a margin of over 120,000 votes.
In 2014 she was challenged by Republican Nicholas Di Iorio who was a "financial contractor with Pfizer." Maloney won with 80% of the vote.
In the 2016 Democratic primary, she defeated her challenger Pete Lindner with 90.1% of the vote, and in winning General Election contest, against Republican Robert Ardini, she received more votes than any other candidate, Republican or Democrat, running for a Congressional seat in New York state
Criticism
When Maloney proposed her Credit Card Holders Bill of Rights, she was widely criticized by Credit Card Issuers. Among the many claims that were leveled against the bill: "credit cards would be more difficult to get, limits would be lower, and interest rates would be higher for everyone." However a study by the Pew Foundation two years after the bills passage found that: "Credit card holders are seeing stabilized interest rates, the elimination of overlimit penalty charges, a reduction in late fees charged by banks and minimal changes in annual fees since the Credit CARD Act of 2009 took effect."
A 2013 study by the Social Science Research Network found that the CARD Act may have saved credit cardholders over $20 billion annually since its implementation and that there was no evidence of an increase in interest charges or reduction in access to credit.
Maloney's initiative to implement firearm liability insurance has been met with widespread criticism from pro-gun advocates. Experts in insurance law state liability insurance would not deter gun violence, as criminal activity and suicides—comprising 97% of firearm deaths—do not fall under liability policies. Economists from Stanford University have also theorized the main motivation of advocates of firearm liability laws is to discourage gun ownership by raising the cost of owning a gun.
On July 20, 2009, Maloney apologized after using the word "nigger" in repeating a critical comment made by a third party about Senator Kirsten Gillibrand. Maloney was quoted by the City Hall News:
I got a call from someone from Puerto Rico, [who] said Gillibrand went to Puerto Rico and came out for English-only (education). And he said, 'it was like saying nigger to a Puerto Rican'.
In 2012 Maloney received $8500 from Elsevier to co-sponsor the Research Works Act.
Personal life
She married Clifton Maloney, an investment banker, in 1976. The couple had two daughters, Christina and Virginia. Her husband, the oldest American ever to summit an "eight-thousander", the world's fourteen mountains that surpass 8,000 meters in altitude, died on a climbing expedition on September 25, 2009, while descending from the world's sixth tallest peak, Cho Oyu in Tibet. Before retiring to his tent for some sleep, Mr. Maloney's last words were reportedly: 'I am the happiest man in the world. I just climbed a beautiful mountain."
Maloney is a member of The Junior League of the City of New York.
Awards
In 2006, Maloney received the Edith I. Spivack Award from the New York County Lawyers' Association's Women's Rights Committee. That same year she received the Crime Fighter Award from the Rape Abuse and Incest National Network (RAINN)
In 2007, Maloney was the American Honoree of the Friends of the United Nations Population Fund
She was awarded with a 2009 Legislative Achievement Award from AARP for her efforts to protect consumers
She received the 2011 Public Official of the Year Award from Earth Day New York and the New York office of the Natural Resources Defense Council
In 2012 Maloney received the Bella Award from the Bella Abzug Leadership Institute.
Maloney was honored with a 2012 Artemis Award by the Euro-American Women's Council
In 2013 Maloney received the Philip Hart Public Service Award from the Consumer Federation of America.
In 2015, Congresswoman Carolyn Maloney received the Women's Leadership Award for her longstanding dedication to women's rights and social justice.
In 2016, Congresswoman Maloney was the recipient of the 2016 LifeWay Network Freedom Award in acknowledgement of her leadership in championing the fight against human trafficking.
In May 2016 she received an honorary Doctor of Humane Letters degree from LIM College, recognizing her work in support of New York's Fashion Industry.
Scores by Interest Groups
Maloney's current ratings by various interest groups include the following:
The American Association for University Women gives her a 100.
NARAL Pro-Choice America gives her a 100.
Drug Policy Action gives her an A for 2015/2016.
Planned Parenthood gives her a 100.
The Human Rights Campaign gives her a 100.
The Alliance for Retired Americans gives her a 100.
The League of Conservation Voters gives her a 96 for 2013 and 95 lifetime.
The Human Rights Campaign gives her a 100.
The Children's Defense Fund gives her a 90 for 2011.
The National Education Association gives her an A.
The American Public Health Association gives her a 100.
AFSCME gives her a 100.
The AFL-CIO gives her a 100.
The Humane Society gives her a 100+.
The Brady Campaign to Prevent Gun Violence gives her a 100.
The NRA gives her an F.
The Gun Owners of America give her an F.
References
Carolyn Maloney Wikipedia
(Text) CC BY-SA