Carnival Ecstasy (formerly Ecstasy) is a Fantasy-class cruise ship operated by Carnival Cruise Line. Built by Kværner Masa-Yards at its Helsinki New Shipyard in Helsinki, Finland, she was floated out on January 6, 1991, and christened Ecstasy by television hostess and entertainer Kathie Lee Gifford. During 2007, in common with all of her Fantasy-class sisters, she had the prefix Carnival added to her name.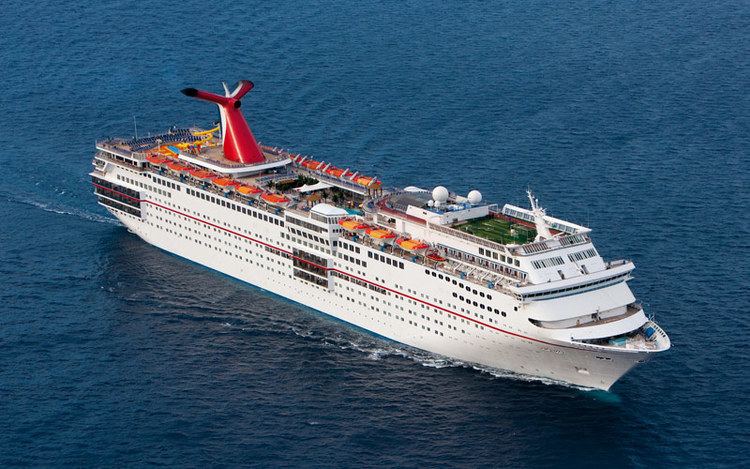 Ecstasy is currently the second oldest ship in the fleet. Her features include a pool, four whirlpools, numerous restaurants, nightclubs, a casino, and duty-free shopping.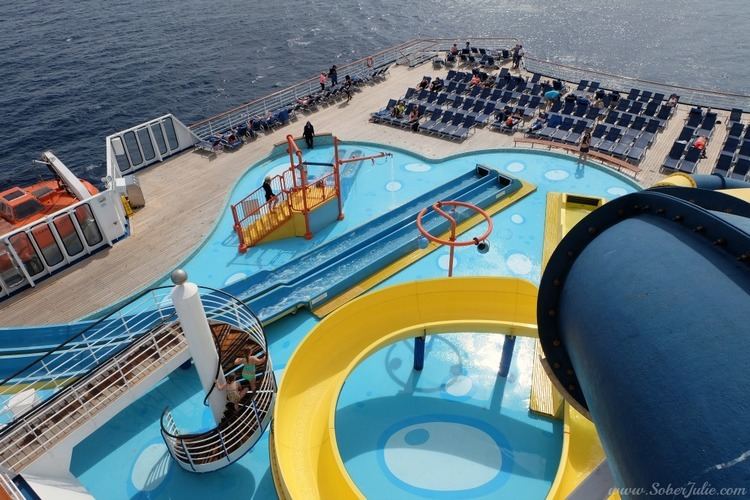 Carnival Ecstasy offers four- to seven-day cruises to the Bahamas, Bermuda and Eastern Caribbean out of Charleston, South Carolina. Cruises depart Charleston varying days of the week, depending on the itinerary booked. The four-day Bahamas cruises stop at Nassau, Bahamas, while the Bahamas five-day cruises stop at Nassau and either Freeport, Bahamas or Carnival's private Half Moon Cay (Little San Salvador Island) Six-day Bahamas Cruises stop at Nassau, Freeport and Half Moon Cay. Seven-night Eastern Caribbean cruises offer varied itineraries that may include Nassau, Grand Turk Island and Amber Cove of Puerto Plata (province) in the Dominican Republic, and Half Moon Cay. One seven-day cruise to Bermuda from Charleston is scheduled in 2016. The cruise departs Saturday, November 5 and includes two days at sea to Bermuda, two nights at port in Bermuda and departs Bermuda at noon for 1 1/2 days at sea returning to Charleston.

Carnival Ecstasy replaced the Carnival Fantasy in Charleston, South Carolina in 2016 when Fantasy was relocated to Miami, Florida where it offers three- to eight-day cruises to the Bahamas and Caribbean.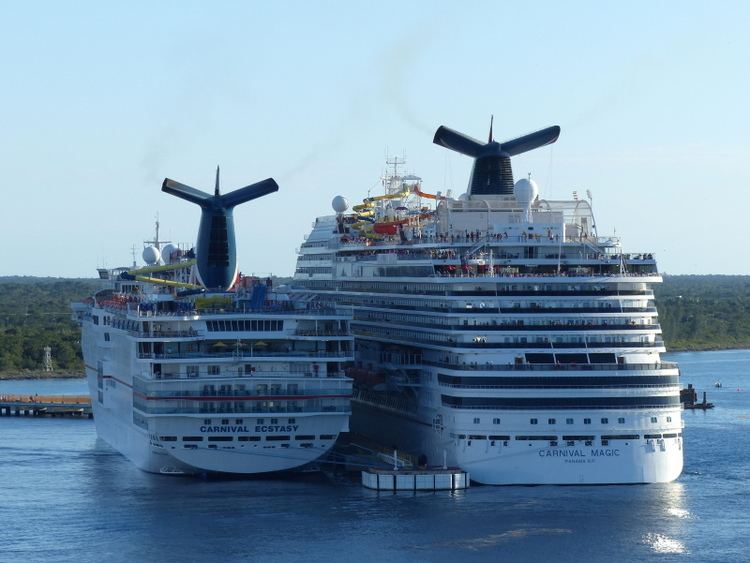 After Hurricane Katrina, the ship spent six months in New Orleans serving as quarters for evacuees and relief workers.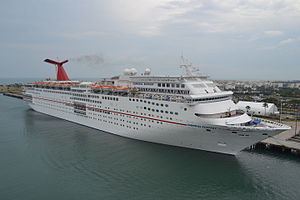 On the afternoon of July 20, 1998, Ecstasy departed the Port of Miami, Florida, en route to Key West, Florida, with 2,565 passengers and 916 crew members aboard. A fire started in the main laundry room and spread through the ventilation system to the aft mooring deck, where mooring lines ignited. As Ecstasy was attempting to reach an anchorage north of the Miami sea buoy, the vessel lost power and began to drift. The master then radioed the U.S. Coast Guard for assistance. Six tugboats responded to help fight the fire and tow Ecstasy. The fire was brought under control by onboard firefighters and was extinguished about 9:09 PM. Fourteen crew members and eight passengers suffered minor injuries. One passenger required medical treatment as a result of a pre-existing condition and was categorized as a serious injury victim because of the length of her hospital stay. Losses from the fire and associated damages exceeded $17 million.

The National Transportation Safety Board determined that the probable cause of fire aboard Ecstasy was the unauthorized welding by crew members in the main laundry that ignited a large accumulation of lint in the ventilation system and the failure of Carnival Cruise Lines to maintain the laundry exhaust ducts in a fire-safe condition. Contributing to the extensive fire damage on the ship was the lack of an automatic fire suppression system on the aft mooring deck and the lack of an automatic means of mitigating the spread of smoke and fire through the ventilation ducts. Passengers received a full refund and were offered a complimentary cruise for the inconvenience.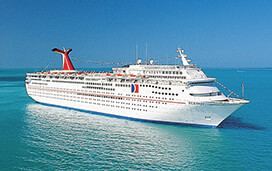 On July 1, 2007, David Ritcheson, the victim of the April 22, 2006 Harris County, Texas assault incident, jumped off the deck of Carnival Ecstasy and died.
On April 21, 2010, at approximately 12.55 pm U.S. central time, the ship was forced to perform a maneuver to avoid an object in the water which resulted in the ship briefly listing to the port side. The object was a large buoy which was adrift and mostly submerged thereby preventing it from being detected by the ship's radar. Carnival Ecstasy was on the final leg of a five-day cruise that departed Galveston on Saturday, April 17 with stops in Cozumel and Progreso, Mexico.
On April 17, 2013, Carnival Ecstasy experienced a mechanical problem that caused a power failure at sea for 12 minutes, which affected the propulsion system. This delayed her return to Port Canaveral by a few hours.
On December 27, 2015, a maintenance worker was crushed by an elevator and later died from his injuries. The Miami-Dade Police Department later stated that the deceased crew member was 66-year-old Jose Sandoval Opazo.
Ecstasy has undergone two major refurbishments. The first, begun in 2007 and completed in 2009, was part of Carnival's Evolutions of Fun program. The ship's name was changed to Carnival Ecstasy, all staterooms were refurbished, and a mini golf course was added. Children's facilities were improved and adult-only "Serenity" decks were added. The second refit, in 2014, was part of the Fun Ship 2.0 program. It added the Red Frog Rum Bar, Blue Iguana Tequila Bar, Hasbro: The Game Show, Playlist Productions (Scenic), and The Punchliner Comedy Club Presented by George Lopez. The third refit, in 2017, was also part of the "Fun Ship 2.0" program. It added, Guy's Burger Joint, Blue Iguana Cantina, Cherry On Top, Alchemy Bar, and Crew Area Renovations