Carmen Messina (born September 8, 1988) is an American football linebacker who is currently a free agent. He was signed as an undrafted free agent by the Detroit Lions after the 2012 NFL Draft. He played college football at New Mexico.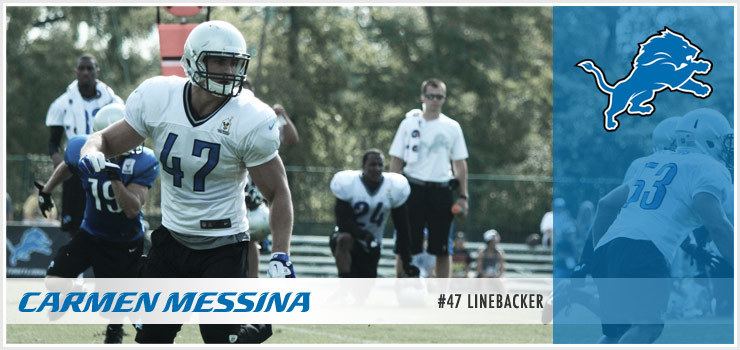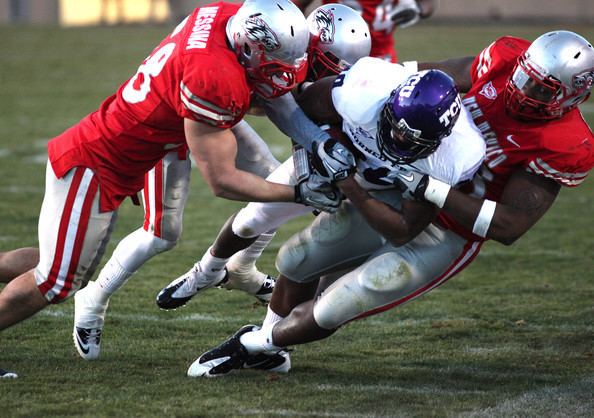 He played college football at New Mexico. NEW MEXICO: One of the most productive defenders in UNM history...team captain and leader of the Lobo defense who has established himself as one of the top linebackers in the country...two-time first-team All-Mountain West selection, along with one second-team honor...leaves as the all-time Mountain West leader in tackles with 454 stops...also finished third on the school's career tackles list, placing just behind Johnny Jackson (483 from 1981-84) and Blake Irwin (474 from 1994-97)...ranked ahead of a pair of Lobos who had long careers in the NFL Brian Urlacher (442 from 1996-99) and Robin Cole (406 from 1973-76)...three-time leader on the team in tackles...led the nation in tackles (162) in 2009 en route to first team all-Mountain West Conference and honorable mention All-America recognition...first Lobo since Urlacher (1998-99) to record back-to-back-to-back 100-tackle seasons...has led the MWC in stops in three consecutive years...has had at least one tackle in every Lobo game during his career...27 double-digit tackle games during his collegiate career...simply relentless all four quarters on the field and does not take plays off no matter the situation...has emerged as a vocal leader and sets a great example for his teammates...a workout warrior who has gotten bigger and stronger through his effort in the offseason...outstanding power in the weight room, but is also one of the fastest LBs on the team (4.76 in the 40) and leads the group with a 33.5-inch vertical jump...smart player who is responsible for getting the defensive front in the right alignment...will be even more of a force in 2011 as he continues to polish his technique and improves in pass coverage...was the most productive LB off the bench in his debut season in 2008 when he gained a lot of experience playing behind veterans Zach Arnett and Herbert Felder.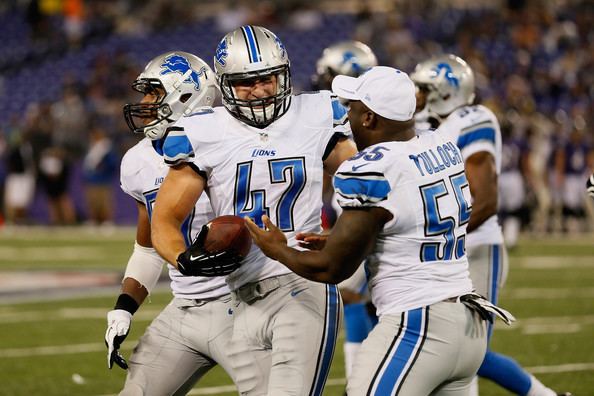 2011 (SENIOR): First-team All-Mountain West after leading the conference in tackles with 142 for the third straight season, finishing tied for sixth nationally...nine games of double-digit tackles and seven in a row...76 tackles in his last five games...also had a career-high 12.5 tackles for loss; that was good enough for sixth place in the Mountain West...saved his personal best for last, finishing with a career-high 21 tackles in the season finale at No. 8 Boise State...earned co-MW Defensive Player of the Week honors after his 14-tackle performance in UNM's 21-14 victory over UNLV in week 10...stripped UNLV quarterback Taylor Barnhill of the football at the Rebels 34 with 2:35 left of a 14-14 game...teammate Jaymar Latchison recovered to set up the offense for the game-winning drive...had 15 tackles against San Diego State, including 14 solos, which tied for the fourth most in a single game in the nation...15 tackles against Air Force.
2010 (JUNIOR): Second-team All-MWC after leading the league in tackles (115) for the second consecutive season...became the first Lobo since Brian Urlacher in 1998-99 to have back-to-back 100-tackle seasons and lead the conference in tackles in consecutive seasons...battled through a high ankle sprain early in 2010 but finished the season with eight straight games of double-digit tackles...had a season-high 17 stops at Air Force...had 6.0 TFLs for 17 yards...recorded 1.5 sacks and had a QB hurry along with four pass breakups.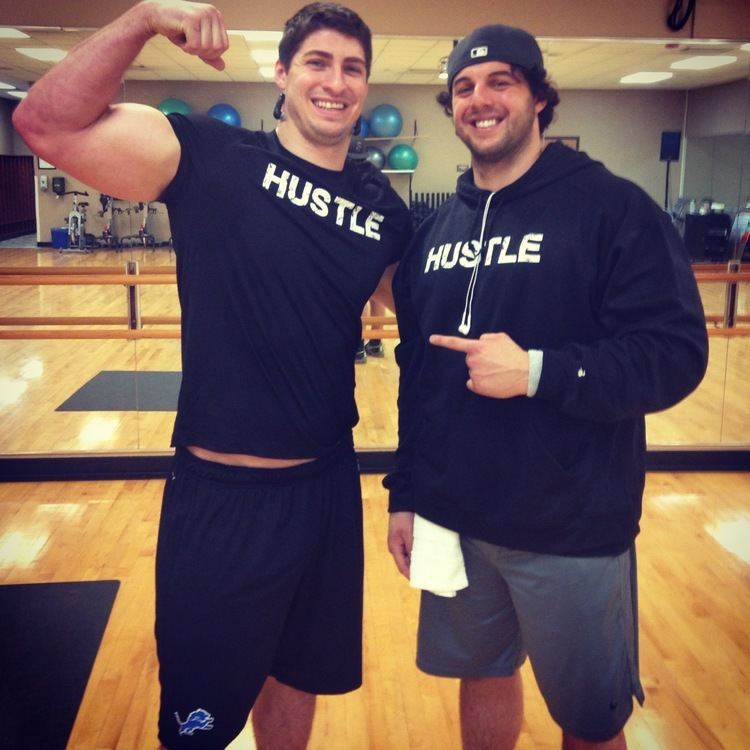 2009 (SOPHOMORE): Was one of the most productive linebackers in the country in his first 12 career starts, earning consensus first team all-MWC honors and Honorable Mention All-America recognition by both CollegeFootballNews.com and SI.com...was one of just two sophomore LBs named to CFN's All-America team...CFN also listed him as the ninth-best player in the Mountain West regardless of position...teammates voted him Defensive Player of the Year and co-Defensive Captain of the Year...he was the Lobos' youngest defensive MVP since 1994...led the nation with an MWC record 162 tackles (13.5/game - 1.35 more than the nearest player) - the most by a Lobo since Brian Urlacher had a school record 178 as a junior in 1998 and third-most in UNM history...delivered some big shots on ball carriers and played faster each week...had double-digit tackles in 10 games, including 8 straight (games 2-9, 14.8 avg.) - the longest streak by a Lobo since Urlacher went 11 straight games with 10+ tackles in 1998 (final 8 games) and `99...5 games with 15+ stops...also ranked 4th on the team with 8.0 tackles for loss (7 solo, 2 assisted) and has 3.0 sacks for 32 yards in losses...also had 2 forced fumbles (T-5th MWC), an interception, PBU, 5 QB hurries/hits, and blocked a PAT as well...showed tremendous toughness as well, battling through injuries to stay on the field and continue making plays.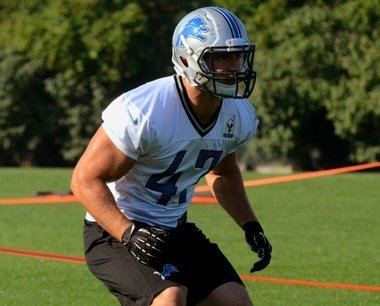 `09 HIGHLIGHTS: at No. 4 TCU...Capped the season with a relentless effort against the MWC champs...game-high 17 stops (9 solo)...vs. Colorado State...Game-high 12 tackles (8 solo) and quietly made one of the defensive plays of the game in the 4th quarter...prevented a TD that would have given CSU a 34-26 lead with under 6 minutes to play when he stopped RB John Mosure in the open field at the UNM 5 after a 15-yard gain on a screen pass...Mosure fumbled on the next play to keep the Lobos' within a point...at No. 14 Utah...Relentless effort, matching his career-high 19 tackles (9 solo)...had a solo tackle for loss on a 3rd-and-1 play...stuffed ball carriers at the line of scrimmage and ran down breakaway runners downfield all 4 quarters, even when the score got out of reach...played virtually every snap despite being severely limited with a deep thigh bruise the previous week of practice...at San Diego State...Credited for a game-high 11 tackles (all solo), including an 11-yard sack that knocked the Aztecs out of UNM territory and led to a punt...QB hurry and stayed in the game despite suffering a knee injury early in the 2nd half that had him limping significantly after the game...vs. UNLV...Racked up 17 tackles (9 solo), including sevearl big hits, and chased down elusive QB Mike Clausen for a 4-yard sack...at Wyoming...Another strong game in frigid, snowy conditions...11 more stops (3 solo) and broke up a pass...also skied to block an extra point...was helped off the field midway through the 4th quarter with an ankle injury, but returned a few series later...at Texas Tech...Outstanding game against the pass-heavy Red Raiders, recording 12 tackles (11 solo), including 2 behind the line of scrimmage for 23 yards in losses...got his first sack of the year when he forced an intentional grounding penalty and shook up QB Taylor Potts, who entered the game as the nation's leading passer...jarred the ball loose from a Tech WR with a solid hit later in the game...vs. New Mexico State...15 more tackles (8 solo), including 2 solo tackles for loss, and had a diving interception to set up a Lobo TD...had a 4-yard TFL on a 3rd-and-3 play to force a punt...vs. Air Force...Was all over the field with a career-high 19 tackles - the most by a Lobo since LB Mike Mohoric had 20 in the 2005 season finale vs. Air Force...got in on a tackle for loss and also forced a fumble in Falcon territory...vs. Tulsa...Career and game high 14 tackles, including an assisted TFL...delivered one of the hits of the night on a scrambling QB G.J. Kinne...also had QB hurry...at Texas A&M...9 tackles in his first collegiate start...played over 90 snaps on the warm, humid night.
2008 (REDSHIRT FRESHMAN): Was one of the first linebackers off the bench and an excellent special teams player in all 12 games...made his lone start in week 6 at Wyoming...was the most productive reserve LB with 35 tackles, 3.5 tackles for loss (3 solo), and 1.5 sacks...also forced two fumbles and recovered a pair of fumbles...did a nice job of pressuring the pocket as well with 7 QB hurries...season-high 6 tackles (4 solo) and 2.0 TFL in the finale at Colorado State.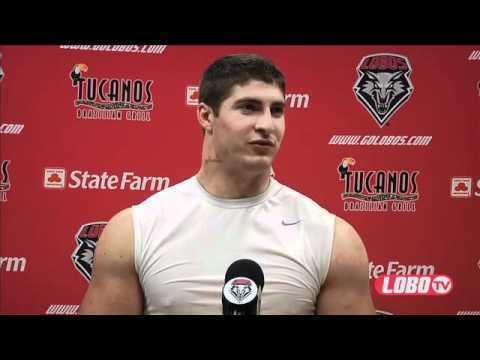 HIGH SCHOOL: A 2007 graduate of Addison (Ill.) Trail High School...all-state linebacker and running back last fall at this 7A school located about 25 minutes southwest of Chicago...8A is the largest classification in the state of Illinois...finished as the Blazers' career rushing leader with more than 3,000 yards and 40 TDs...also two-time team Most Valuable Player...Addison Trail was conference champs in 2004 and `06...played for head coach Paul Parpet...all-academic pick his sophomore season.
PERSONAL: Born Sept. 8, 1988, in Melrose Park, Ill...full name is Carmen Anthony Messina...son of Louis and Donna...has five brothers and sisters...cousin Richard Coady played at Texas A&M and was a member of the St. Louis Rams' 2000 Super Bowl championship team...interested in Business Administration at UNM.

MESSINA CAREER STATS
Year G/GS UT AT Total Sacks TFL FF FR PBU Int.-Yds 2008 12/1 17 18 35 1.5 3.5 2 2 1 0 2009 12/12 80 82 162 3.0 8.0 2 0 1 1-0 2010 12/11 52 63 115 1.5 6.0 2 1 4 0 2011 12/12 68 74 142 3.0 12.5 1 0 3 1-1 Total 48/36 217 237 454 9.0 30.0 7 3 9 2-1
MESSINA CAREER HIGHS Tackles: 21 at Boise State (12/3/11) Tackles For Loss: 2.0, four times Sacks: 1.0, seven times QB Hurries: 2 at Texas A&M (9/5/09)
Messina was signed by the Lions as an undrafted free agent in 2012. He was released on August 31, 2012 when the Lions established their final 53 roster but was signed to their practice squad the next day after he cleared waivers.
He signed a futures contract with the Detroit Lions on January 1, 2013. On August 11, 2013, Messina was waived/injured by the Lions. He cleared waivers and was placed on the Lions' injured reserve list. On August 16, 2013, he was waived with an injury settlement.