Born in Vildemoinhos, near Viseu, Portugal, Carlos Lopes worked as a stonecutter's helper. He wanted to play football at the local club, but his father opposed this, so he turned to other forms of athletics. In 1967 he was personally invited to join the athletics team of Sporting Clube de Portugal, and remained there until the end of his career in 1985. He was an average quality runner, until he made an astonishing breakthrough in 1976, aged 29.
At the Rotterdam Marathon in 1985, he broke the World Record with the age of 38. This WR stood for more than 12 years.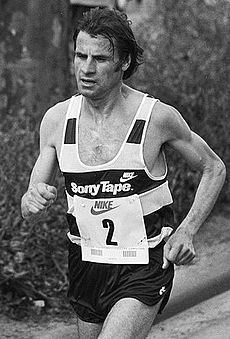 Lopes' 1976 campaign began with a victory at the prestigious IAAF World Cross Country Championships in Chepstow, Wales. Competing in the 10,000 meters at the Montreal 1976 Summer Olympics, Lopes set the pace from the 4000m mark, and the only athlete to follow him was defending double Olympic champion Lasse Virén. Virén passed Lopes with a lap to go to win the gold medal, and Lopes finished a comfortable second. Lopes ran the first 5,000 metres in 14:08.94, and the second 5,000 metres in 13:36.23, a remarkable proof of his ability to steadily accelerate his pace. What he generally lacked in the track races, however, was an ability to sharply increase his pace in the final lap or so (see, for example, Antero Raevuori, ed., "Lasse Virén: The Gilded Spikes" / Lasse Viren – Kullatut piikkarit, Helsinki: Weilin+Göös, 1976).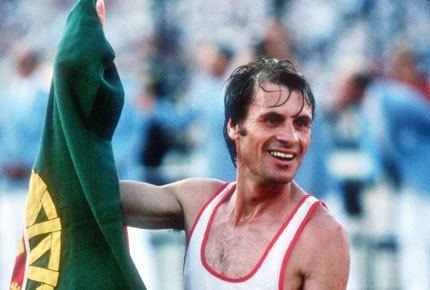 He failed to regain his Cross-Country title, in Düsseldorf (1977), finishing second.
After the superb 1976 season, Lopes slipped back into the same relative obscurity in which he had been before 1976, failing to qualify for the Moscow Olympics due to several injuries.
In 1982, he returned to top form, and in Oslo, he broke the 10,000 m European record — 27:24.39 — which belonged to his teammate Fernando Mamede. After setting the pace from 6,000 metres to 9800 meters at the 1982 European Athletics Championships 10,000-metre race, he finished fourth in 27:47.95, behind Italy's Alberto Cova, East Germany's Werner Schildhauer, and Finland's Martti Vainio (see, for example, some Finnish-language sports books, such as "Highlights of Top Sports" / Huippu-urheilun tähtihetkiä; see also the related video clip about the final 600 metres of the 1982 European Athletics Championships 10,000-metre race in YLE's Living Archives, www.yle.fi/elavaarkisto/; the following links should be used: Sports / Urheilu, Athletics / Yleisurheilu, European Athletics Championships / Yleisurheilun EM-kisat, 1982 European Athletics Championships / 1982 yleisurheilun EM-kisat, European Athletics Championships bronze medal for Vainio / EM-pronssia Vainiolle) (see, for example, Markku Siukonen, ed., "The Big European Championships Book" / Suuri EM-kirja, Jyväskylä, Finland: Sportti Kustannus / Publishing Ltd., 1990). In 1983, he finished second in Gateshead.
Lopes attempted his first marathon at the end of 1982 (New York), but he did not finish due to an accident in which he crashed into a spectator. The following year, he made his second attempt at the marathon, this time at (Rotterdam). He finished a close second in a European record time of 2:08:39, just two seconds behind the race victor, Rob de Castella of Australia. Lopes decided to run a 10,000 m at the first World Championships, in Helsinki, where he finished a disappointing sixth. After that he decided to concentrate on the marathon.
1984 was Lopes' greatest year. In New Jersey, he regained his cross-country world title in front of thousands of ecstatic Portuguese emigrants. In Stockholm, he helped teammate Fernando Mamede to break Henry Rono's 10,000 m world record of 27:22.5 (Wolfgang Wunsche, Heroes of the Race Tracks, 1984 edition, Helsinki, Finland), with Mamede winning in 27:13.81 and Lopes finishing second in 27:17.48.
An accident almost prevented Lopes from participating in the 1984 Olympics when, a week before the Games, he was run over by a car in Lisbon. Amazingly, he was not hurt. The Olympic marathon at Los Angeles was run in very warm conditions, and as the favorites gradually fell away, it was the 37-year-old Lopes who led the field into the stadium and won the gold medal with a 200m advantage and in an Olympic record 2:09:21. With this victory, he improved his reputation as a runner, because he could run the last 7.2 kilometres (4.5 mi) at an average speed of 2:55 per km (4:42 per mile), a remarkably quick pace at the end of a marathon (see, for example, "The Big Olympic Book" / Suuri Olympiakirja, Helsinki: "Runner" / Juoksija magazine, 1984). Portugal erupted in celebration of its first ever Olympic gold. Lopes' Olympic record stood until the 2008 Summer Olympics in Beijing, when the young Kenyan sensation Sammy Wanjiru broke it in dominating fashion with a time of 2:06:32, bringing home to Kenya its first gold medal in the Olympic marathon.
Portuguese prime minister, Mário Soares, decorated Lopes with the Grand-Cross of the Order of the Infant (Grã-Cruz da Ordem do Infante).
A year later, he won the cross-country world championship, held in Lisbon, for the 3rd time.
In the last major competitive race of his career, the 1985 Rotterdam marathon, Lopes took 53 seconds off the world's best marathon time, setting a new standard of 2:07.12, and becoming the first man to run 42.195 km in less than 2 h 8 min.
L'Équipe: "Fantastic! Extraordinary! There aren't enough strong words to label Lopes Rotterdam achievement. In less than 3 years, he became the first man to approach the unreal. Who would think, 20 years ago, that a man would run the marathon at 20 km/h?"'
Rotterdam press: "With his magic talent, Carlos Lopes took 54 seconds off the previous world best. With his fabulous pace he reached the world record with apparent ease. It's said he received US$150,000 just to come to Rotterdam, plus US$67,000 in prizes. A lot of money for a single man. But, in marathon's fantasy world, only a man—aged 38—is able to run it in 2:07.12: Carlos Lopes".
Grand Cross of the Order of Prince Henry
Carlos Lopes appears in the 14th episode of the season 12 of The Simpsons, as Homer is watching great moments of the Olympic history. He is credited with being the oldest ever winner of the Marathon, at 38, and inspires Homer, who claims to be almost his age, to enter Springfield Marathon. The age presented is inaccurate because Lopes was 37 when he won the marathon. His name however is correctly pronounced in Portuguese (Lopes).