Carlos Stolk







Doctor Carlos Eduardo Stolk Mendoza (4 April 1912 – 9 November 1995 from Caracas, Venezuela) was Chairman of the Delegation of Venezuela of the United Nations General Assembly, represented Venezuela between 1942 and 1949.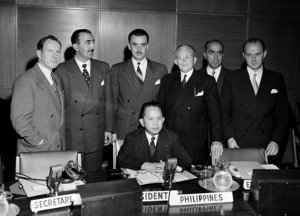 Stolk earned a Juris Doctor and a Master in Political Science from Central University of Venezuela.
His efforts as a representative of the United Nations and Chairman to various Committees led to the creation of the State of Israel after voting in favor of Resolution 181 (United Nations Partition Plan for Palestine) (1947) of the United Nations Organization. He was part of the Inter-American Juridical Committee and the Economic and Social Council. Stolk served as Chairman of the Third Committee for Social, Humanitarian and Cultural Questions.
He also served as Chairman of the Board and President of Empresas Polar between 1952 and 1985. His first cousin Lorenzo Alejandro Mendoza Fleury was the founder of the business conglomerate. Under his leadership Fundación Polar (Empresas Polar's company-backed foundation and one of Venezuela's largest charities) was founded.
Lorenzo Mendoza, the current third-generation family member managing Empresas Polar as their present CEO is Carlos Eduardo Stolk's cousin.
Carlos Eduardo Stolk Wikipedia