Carlos Adriano de Sousa Cruz, or simply Adriano (born 28 September 1987 in Valença), is a Brazilian footballer who currently plays for Chinese side Shijiazhuang Ever Bright F.C.. He plays as a striker. Sometimes, he is called by his nickname, "Adriano Michael Jackson" which he earned for his eccentric goal celebration where he imitates the late American pop star's dance.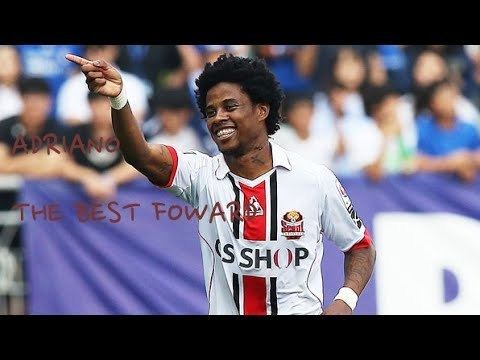 He played for many Brazilian sides; Ceará, America-RJ, Esporte Clube Bahia, and Palmeiras. Espescilly, when he was in America-RJ, he played with his role model Romário. Romário came on during the 68th minute of the match between America and Artsul, replacing Adriano.
In Palmeiras, he was a top scorer in 2011 Copa do Brasil.
On 8 June 2011, Adriano transferred to Chinese Super League side Dalian Shide on a four-year deal with a reported fee of 3.8 million US dollars. He made his Super League debut for Dalian on 14 June in a 2–0 home victory against Chengdu Blades, coming on as a substitute for Ahn Jung-Hwan in the second half. His first goal in China came on 7 August, which ensured Dalian secure a 1–1 draw against Liaoning Whowin. He managed to score 4 goals in 12 appearances in the 2011 league season.
On 26 June 2012, Adriano scored 5 goals in the third round of 2012 Chinese FA Cup as Dalian Shide beat League One club Yanbian Baekdu Tigers 8–0 at Jinzhou Stadium. He broke the Chinese FA Cup record for most goals scored in a match (the record was 4 goals in original, held by Wang Tao in 1998 and Mark Williams in 1999).
On 13 March 2014, Adriano joined South Korean side Daejeon Citizen in K League Challenge.
On 28 July 2015, Adriano joined South Korean side FC Seoul in K League Classic.
Adriano scored 35 goals in all competitions in the 2016 season, setting a new record in South Korean football history.
On 16 January 2017, Shijiazhuang Ever Bright announced that they have signed Adriano.
Correct as of 31 September 2013.
Correct as of 3 December 2016.
Note: 2014 season was the second division, K League Challenge.
Daejeon Citizen
K League Challenge: 2014
FC Seoul
Korean FA Cup: 2015
K League Classic: 2016
Palmeiras
Copa do Brasil Top Scorer: 2011
Daejeon Citizen
K League Challenge MVP: 2014
K League Challenge Top Scorer: 2014
K League Challenge Best XI: 2014
FC Seoul
K League Classic Best XI: 2015, 2016
AFC Champions League Top Scorer: 2016
Korean FA Cup Top Scorer: 2016