Carla Rhodes is an American ventriloquist, comedian and musician who was mentored by Shari Lewis as a teenager. She currently lives in New York City and appears regularly at alternative performance establishments and rock clubs all over New York City and Brooklyn (such as Joe's Pub, The Cutting Room, Arlene's Grocery, Le Poisson Rouge, Highline Ballroom and Issue Project Room). She adds a new twist to the old art of ventriloquism. Rhodes' puppets include Mick Jagger, Keith Richards and a cantankerous 1920s gentleman named Cecil Sinclaire.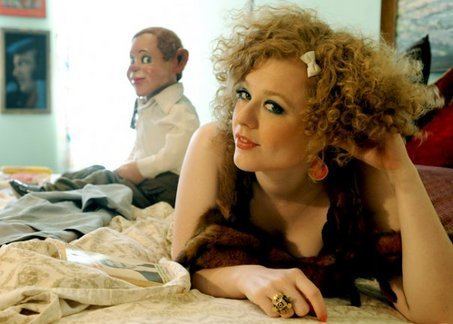 Rhodes taught herself ventriloquism at the age of 9 after seeing Shari Lewis and Lamb Chop on television. She began performing professionally at the age of 13 in a local (Louisville, Kentucky) magic shop. By the age of 15, she was performing regularly at the local comedy club.
Examiner.com stated, "A few of the most popular contemporary ventriloquists are Carla Rhodes, Jeff Dunham, Terry Fator and Mally Lewis." In 2009, New York Magazine named Rhodes as one of the "Ten New Comedians That Funny People Find Funny."
While attending college in Tennessee, Rhodes recorded a full-length comedy music album in Nashville. "I Love Animals," a track from Carla's Golden Hits, vol 6, was played on the Dr. Demento's "Top Funny Five," eventually placing at number two.
At the age of 16, Rhodes was featured on The Learning Channel's documentary Dummies. She has also appeared on The Today Show (interview with Candice Bergen), FUSE, VH1 News, Arte (Let It Bleed - Rolling Stones documentary), Canal + (Megalopolis), Last Comic Standing and wrangled a shout-out on the Late Show with David Letterman.
Her most recent project is Positively 5th Street, a web series documenting her daily life with Mick Jagger and Keith Richards.