Occupation

Actress




Height

1.65 m




Role

Actress





Name

Carla Gugino




Years active

1988–present




Parents

Carl Gugino









Born

August 29, 1971 (age 52) (

1971-08-29

) Sarasota, Florida, U.S.


Partner

Sebastian Gutierrez (2005–)




TV shows

Wayward Pines, Californication, Karen Sisco, Spin City


Movies

San Andreas, Watchmen, Sin City, Sucker Punch, Elektra Luxx


Similar People

Alexandra Daddario, Sebastian Gutierrez, Malin Akerman, Dwayne Johnson, Alexa Vega


Profiles




Twitter

Instagram

Facebook
Carla gugino tells us why she isn t included in entourage 2 talks on working with the rock
Carla Gugino (; [ɡuˈdʒiːno]; born August 29, 1971) is an American actress. She is known for her roles as Ingrid Cortez in the Spy Kids trilogy, Sally Jupiter in Watchmen (2009), Dr. Vera Gorski in Sucker Punch (2011), and as the lead characters of the television series Karen Sisco and Threshold. Her feature film work includes starring roles in Son in Law (1993), Sin City (2005), Night at the Museum (2006), Mr. Popper's Penguins (2011), San Andreas (2015), and The Space Between Us (2017) as well as Kelor in the DC Extended Universe. Gugino has had lead roles in the TV series Political Animals (2012), Wayward Pines (2015), and Roadies (2016).
Contents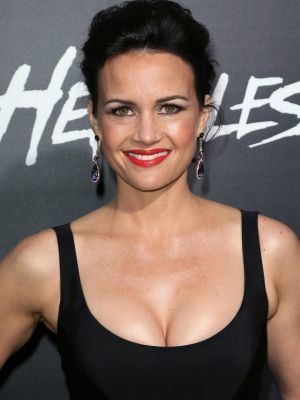 Carla gugino hotel noir 2012
Early life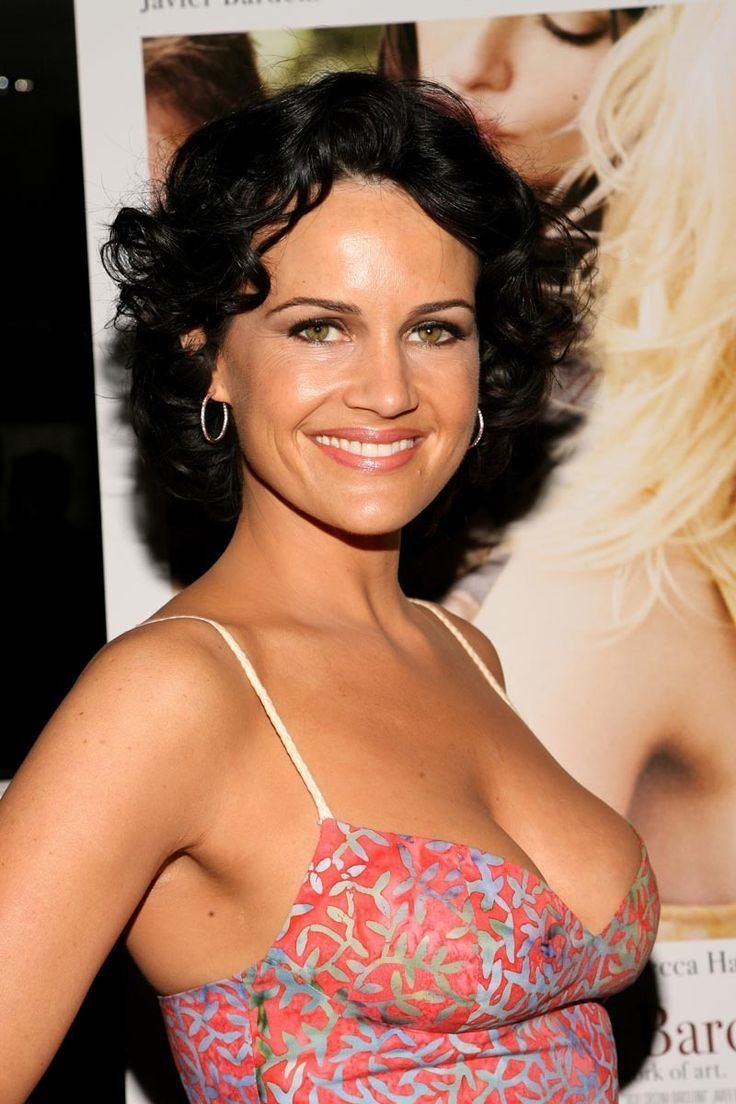 Gugino was born in Sarasota, Florida, to Carl Gugino, an orthodontist of Italian descent, and a mother of English-Irish descent described as "Bohemian". Her parents separated when she was two, after which she traveled between her father and half-brother Carl Jr.'s home in Sarasota, and her Paradise, California home, to which her mother moved her when she was four. She has said of her upbringing, "I lived in a tepee in Northern California and a van in Big Sur. With my dad, I lived in a beautiful house with a swimming pool and a tennis court and went to Europe for the summers. So I feel like I lived two childhoods." She worked as a teenage fashion model, and took acting classes at the suggestion of her aunt, former Let's Make a Deal spokesmodel Carol Merrill. She eventually came to support herself, and with her parents' support, was legally emancipated by the time she was 16.
Career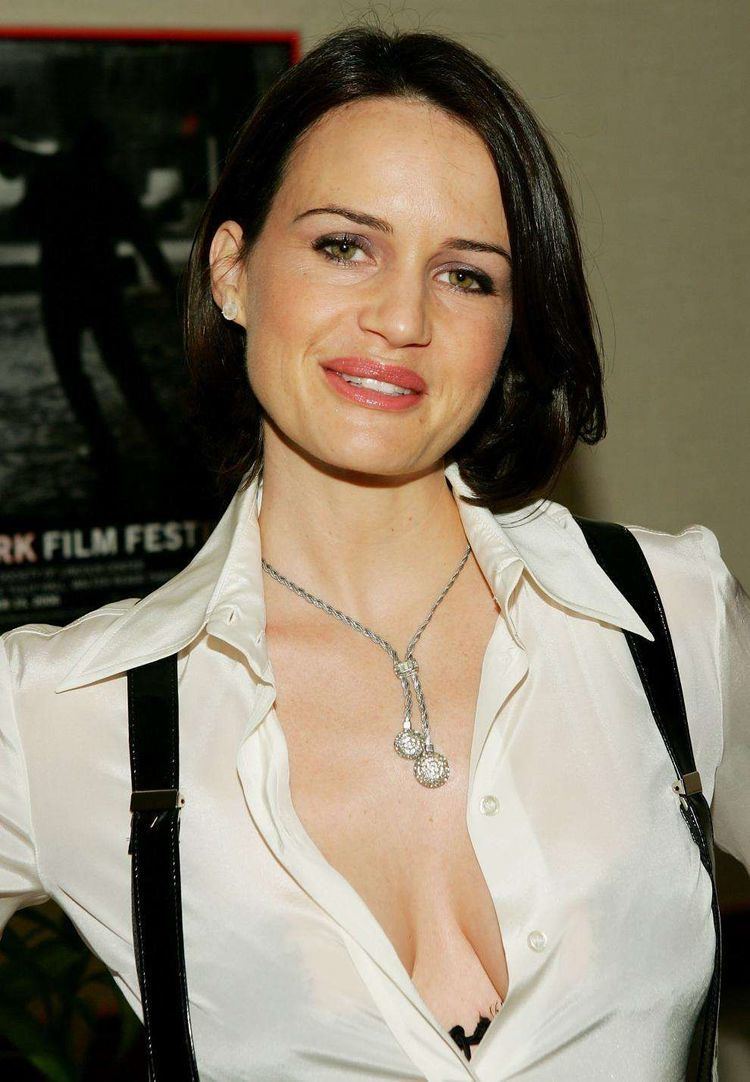 Gugino's television work during the late 1980s and early 1990s included appearances on Saved by the Bell, Who's the Boss?, ALF, Doogie Howser, M.D., The Wonder Years and a recurring role on Falcon Crest.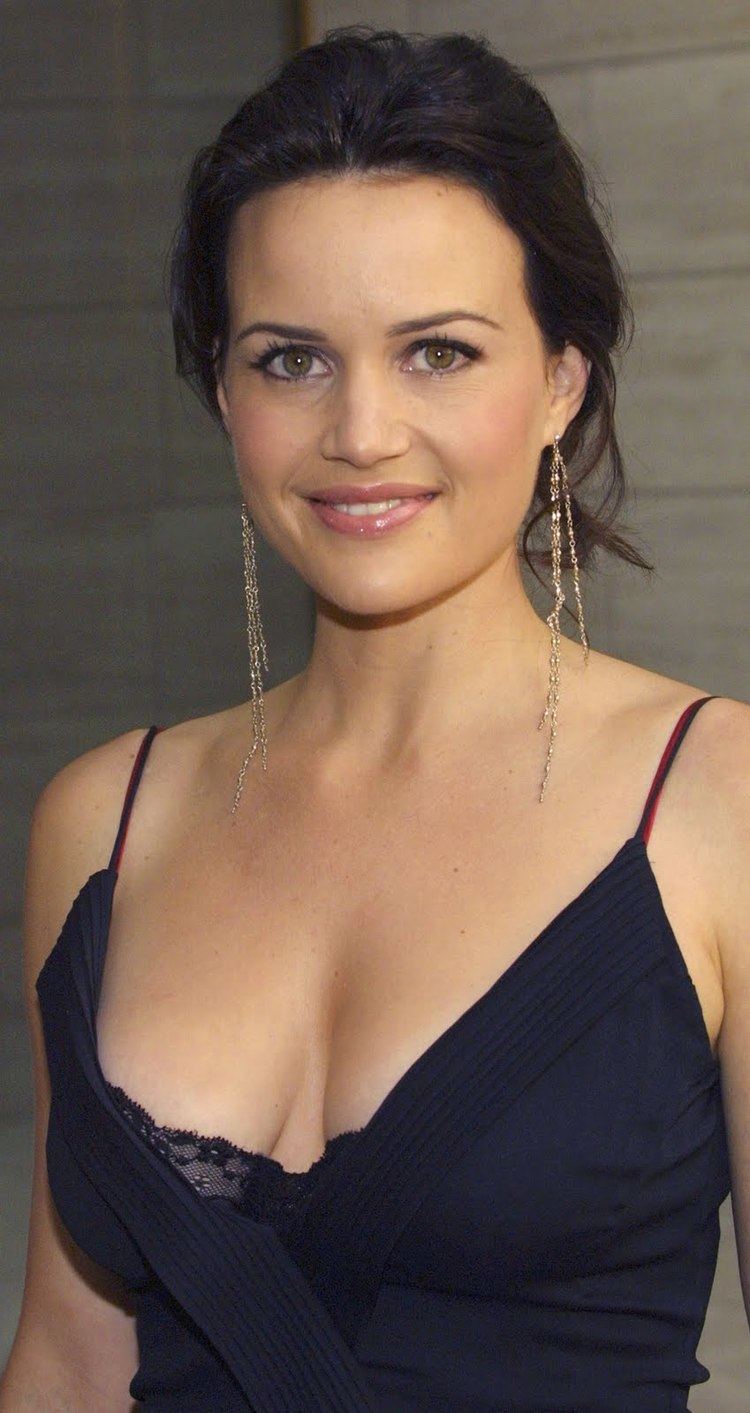 In film, Gugino appeared in the Shelley Long film Troop Beverly Hills, and co-starred with Pauly Shore in the 1993 romantic comedy Son in Law. She later appeared in the video to Bon Jovi's 1994 song "Always".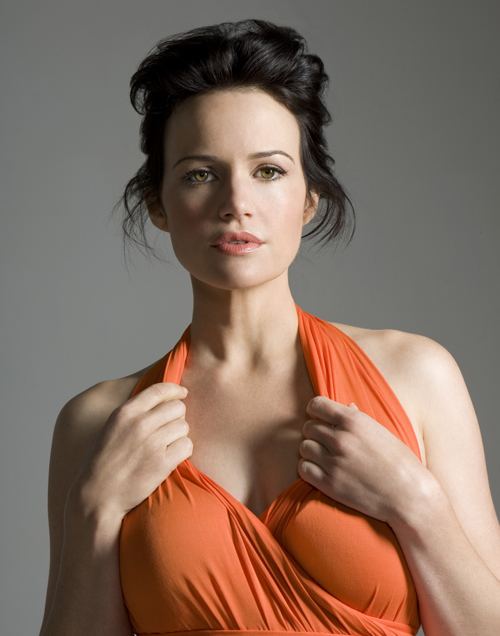 In 1995, Gugino appeared as Nan St. George (later the Duchess of Trevenick) with Greg Wise and James Frain in the BBC miniseries The Buccaneers, an adaptation of Edith Wharton's last novel.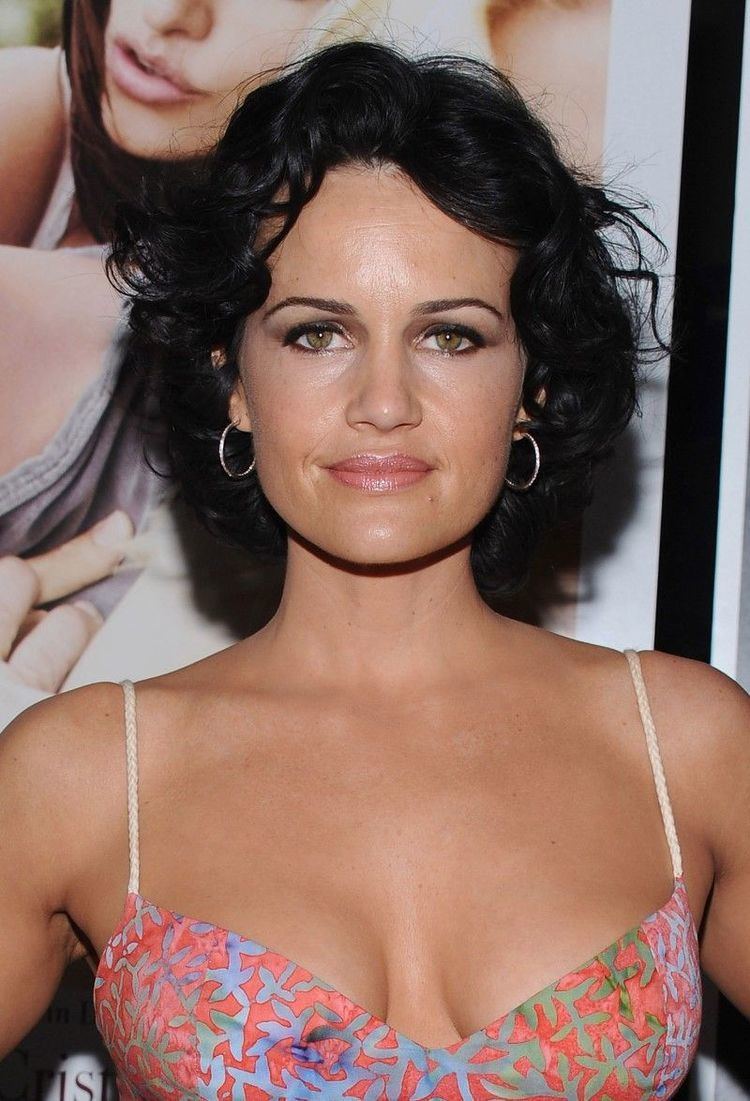 After playing Michael J. Fox's love interest, Ashley Schaeffer, during the first season of the sitcom Spin City in 1996, Gugino starred with Nicolas Cage in Brian De Palma's Snake Eyes, and in Judas Kiss, which she also co-produced. She appeared as Dr. Gina Simon during the 1999–2000 final season of Chicago Hope.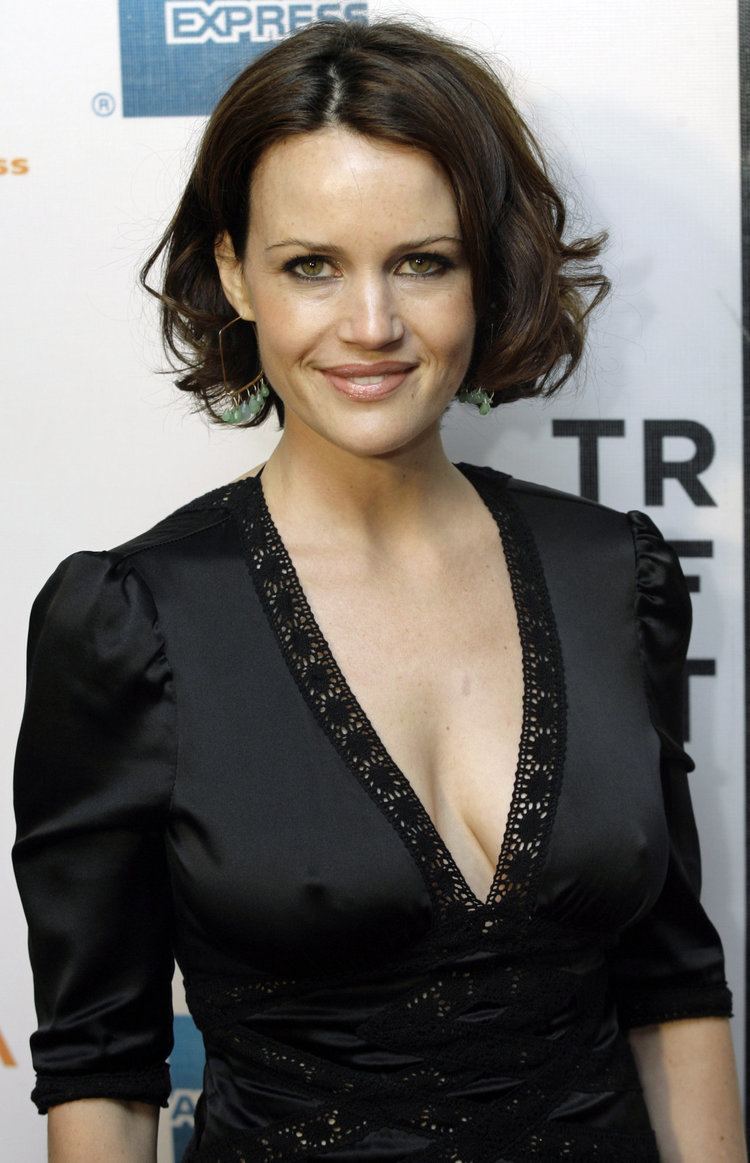 In 2001, she appeared as family matriarch Ingrid Cortez in the first Spy Kids film (as well as the film's two sequels in 2002 and 2003). That same year she appeared as Jet Li's love interest in the martial arts action thriller The One.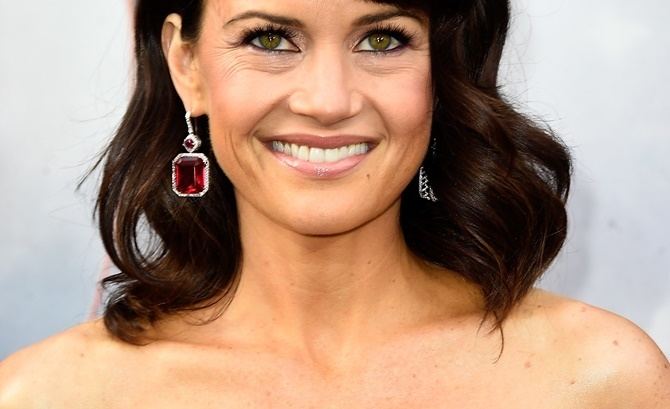 She starred in two short-lived TV series: ABC's Elmore Leonard crime drama Karen Sisco in 2003, and CBS's science fiction series Threshold in 2005. That same year, Gugino appeared as Lucille in the feature film adaptation of Frank Miller's graphic novel, Sin City. The following year, she appeared in the movie Night at the Museum.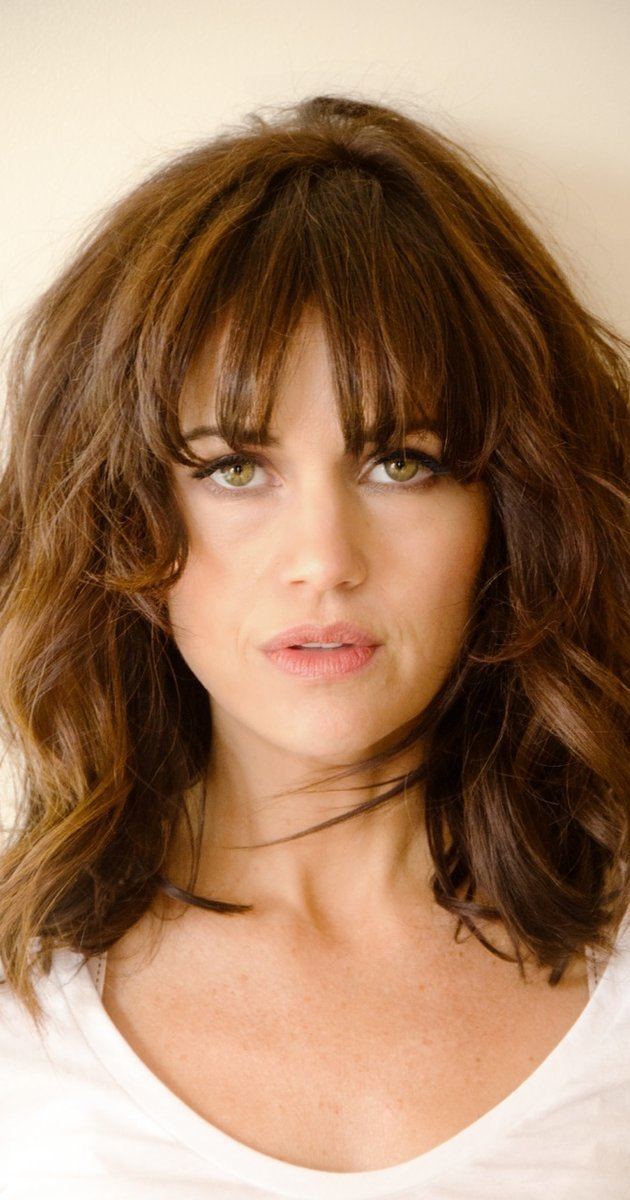 Gugino appeared in the Roundabout Theatre Company play After the Fall opposite Six Feet Under's Peter Krause. In late 2006, she appeared in an Off-Broadway production of Tennessee Williams' Suddenly Last Summer opposite Blythe Danner.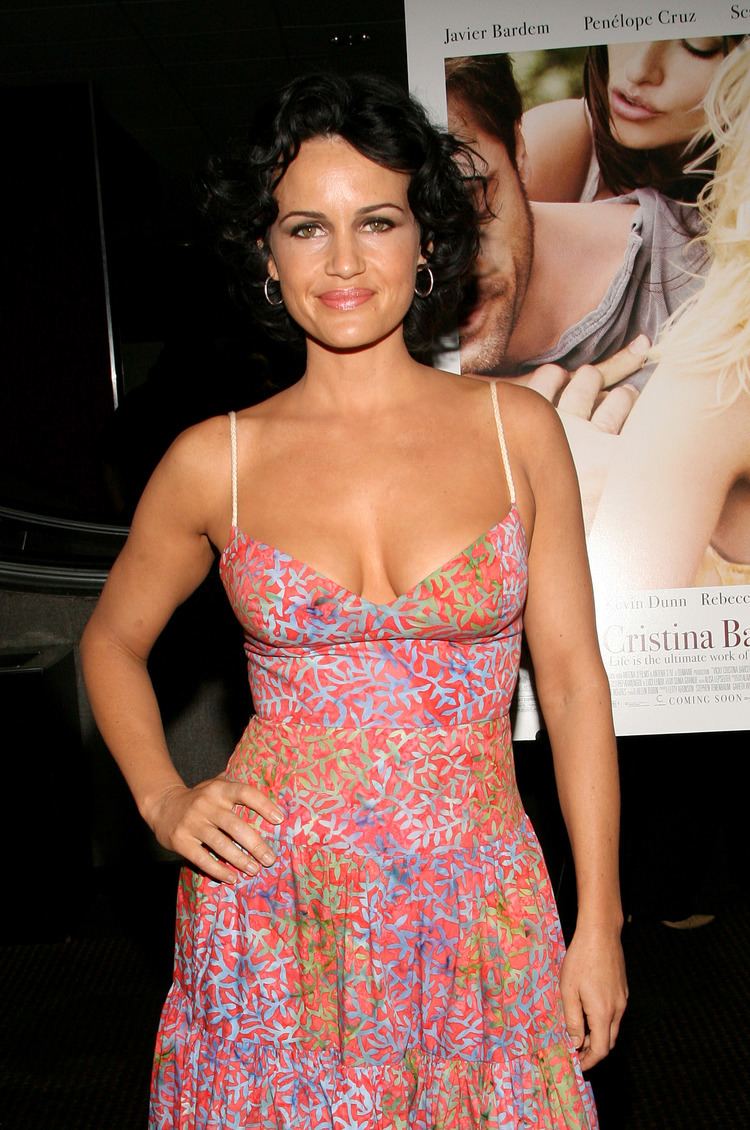 Gugino appeared as Amanda, Vincent Chase's agent, in a dozen episodes of the cable television series Entourage. Gugino appeared nude in the May 2007 issue of Allure. That same year she appeared in the action-horror film Rise: Blood Hunter and the feature film American Gangster. The following year, she played the female lead in the thriller Righteous Kill, opposite Robert De Niro and Al Pacino.
Gugino starred in Chicago's Goodman Theater production of Eugene O'Neill's Desire Under the Elms from January 17 to February 17, 2009, in the role of Abby. Charles Isherwood of The New York Times praised Gugino's performance, saying, "Ms. Gugino displays a depth and range of expression that I cannot imagine any other actress achieving with such blazing honesty and wrenching truth. She is simply magnificent." During the first three months of 2009, three feature films premiered featuring Gugino: the thriller The Unborn, the film Watchmen, in which she played Sally Jupiter, and the adventure remake Race to Witch Mountain, in which she starred opposite Dwayne Johnson. That April, she received an Outer Critics Circle Award nomination for Outstanding Actress In a Play for her performance in Desire Under the Elms. Later in November of that year, she appeared as a pornographic actress in the comedy film Women in Trouble, which spawned a sequel in 2010, Elektra Luxx, titled after her character.
In 2011, Gugino appeared as Madame Vera Gorsky in Zack Snyder's action-fantasy film Sucker Punch alongside Abbie Cornish and Emily Browning. Gugino sang a duet with co-star Oscar Isaac, which appeared in the end credits and in the film's soundtrack. She also guest starred on the fourth season of Californication as Abby Rhodes, Hank Moody's attorney and love interest.
In the mid-2012, Gugino had a lead role as Susan Berg, a Washington D.C. investigative reporter, on the USA Network's miniseries Political Animals.
Personal life
As of 2005, Gugino is in a relationship with her collaborator, Venezuelan writer/producer/director Sebastian Gutierrez. She stated in 2009 that they had no plans to marry, commenting, "[Marriage] isn't important for us. We like being boyfriend and girlfriend; there's something sexy and fun about that. We're very much about, 'There's nothing holding us here other than our desire to be together.'"
Accolades
In 2009, Gugino was honored by the National Italian American Foundation (NIAF). During the Foundation's 34th Anniversary Gala in Washington, D.C., she received NIAF's Special Achievement Award for Entertainment, presented by her close friend, actress Connie Britton.
Filmography
Actress
-
Lisa Frankenstein (post-production)
2023
The Fall of the House of Usher (TV Mini Series) (post-production)
- Episode #1.1 (2023)
- Episode #1.8
- Episode #1.7
- Episode #1.6
- Episode #1.5
- Episode #1.4
- Episode #1.3
- Episode #1.2
2023
The Girls on the Bus (TV Series) (post-production)
as
Grace Gordon Greene
2022
Leopard Skin (TV Series)
as
Alba Fontana
- The Myth of the Guilty Murderess (2022) - Alba Fontana
- All Is Well in the Well of Loneliness (2022) - Alba Fontana
- Private Lives, Part 2 (2022) - Alba Fontana
- Still Life with Cat and Canary (2022) - Alba Fontana
- The Claustrophobic Diver (2022) - Alba Fontana
- Private Lives, Part 1 (2022) - Alba Fontana
- All Your Questions Answered (2022) - Alba Fontana
- The Map and the Territory (2022) - Alba Fontana
2022
American Hostage (Podcast Series)
as
Barbara
- Live: On National Television (2022) - Barbara
- To Kill or Not to Kill (2022) - Barbara
- Playing with Fire (2022) - Barbara
- The Profiler (2022) - Barbara
- The Man with the Microphone (2022) - Barbara
- The Man with the Gun (2022) - Barbara
2021
Midnight Mass (TV Mini Series)
as
Judge
- Book I: Genesis (2021) - Judge
2021
Gunpowder Milkshake
as
Madeleine
2021
With/in: Volume 2 (segment "20 Questions")
2021
Zack Snyder's Justice League
as
Ship (voice)
2020
The Haunting of Bly Manor (TV Mini Series)
as
The Storyteller / Older Jamie
- The Great Good Place (2020) - The Storyteller
- The Beast in the Jungle (2020) - Older Jamie
- The Romance of Certain Old Clothes (2020) - The Storyteller (voice, uncredited)
- The Two Faces, Part Two (2020) - The Storyteller (voice, uncredited)
- The Jolly Corner (2020) - The Storyteller (voice, uncredited)
- The Altar of the Dead (2020) - The Storyteller (voice, uncredited)
- The Way It Came (2020) - The Storyteller (voice, uncredited)
- The Pupil (2020) - The Storyteller (voice, uncredited)
- The Two Faces, Part One (2020) - The Storyteller (voice, uncredited)
2020
Manhunt (TV Series)
as
Kathy Scruggs
- Unabubba (2020) - Kathy Scruggs
- Run Rudolph Run (2020) - Kathy Scruggs
- Land of the Noonday Sun (2020) - Kathy Scruggs
- Eric (2020) - Kathy Scruggs
- Join or Die (2020) - Kathy Scruggs
- Bombingham (2020) - Kathy Scruggs
2019
Jett (TV Series)
as
Daisy 'Jett' Kowalski
- Miljan Bestic (2019) - Daisy 'Jett' Kowalski
- Dillon (2019) - Daisy 'Jett' Kowalski
- Rosalie (2019) - Daisy 'Jett' Kowalski
- Josie (2019) - Daisy 'Jett' Kowalski
- Bennie (2019) - Daisy 'Jett' Kowalski
- Frank Sweeney (2019) - Daisy 'Jett' Kowalski
- Phoenix (2019) - Daisy 'Jett' Kowalski
- Charles Junior (2019) - Daisy 'Jett' Kowalski
- Daisy (2019) - Daisy 'Jett' Kowalski
2018
The Haunting of Hill House (TV Mini Series)
as
Olivia Crain
- Silence Lay Steadily (2018) - Olivia Crain
- Screaming Meemies (2018) - Olivia Crain
- Witness Marks (2018) - Olivia Crain
- Eulogy (2018) - Olivia Crain
- Two Storms (2018) - Olivia Crain
- The Bent-Neck Lady (2018) - Olivia Crain
- Open Casket (2018) - Olivia Crain
- Touch (2018) - Olivia Crain
- The Twin Thing (2018) - Olivia Crain
- Steven Sees a Ghost (2018) - Olivia Crain
2018
Elizabeth Harvest
as
Claire
2018
Robot Chicken (TV Series short)
as
Joyce Byers / Meg Altman
- Mr. Mozzarella's Hamburger Skateboard Depot (2018) - Joyce Byers / Meg Altman (voice)
2017
Nashville (TV Series)
as
Virginia
- If Tomorrow Never Comes (2017) - Virginia
2017
The Space Between Us
as
Kendra Wyndham
2016
Roadies (TV Series)
as
Shelli Anderson
- The Load Out (2016) - Shelli Anderson
- The Corporate Gig (2016) - Shelli Anderson
- The All Night Bus Ride (2016) - Shelli Anderson
- Carpet Season (2016) - Shelli Anderson
- Longest Days (2016) - Shelli Anderson
- Friends and Family (2016) - Shelli Anderson
- The City Whose Name Must Not Be Spoken (2016) - Shelli Anderson
- The Bryce Newman Letter (2016) - Shelli Anderson
- What Would Phil Do? (2016) - Shelli Anderson
- Life Is a Carnival (2016) - Shelli Anderson
2015
Wayward Pines (TV Series)
as
Kate Hewson
- Enemy Lines (2016) - Kate Hewson
- Cycle (2015) - Kate Hewson
- A Reckoning (2015) - Kate Hewson
- The Friendliest Place on Earth (2015) - Kate Hewson
- Betrayal (2015) - Kate Hewson
- Choices (2015) - Kate Hewson
- The Truth (2015) - Kate Hewson (credit only)
- One of Our Senior Realtors Has Chosen to Retire (2015) - Kate Hewson
- Our Town, Our Law (2015) - Kate Hewson
- Do Not Discuss Your Life Before (2015) - Kate Hewson
- Where Paradise Is Home (2015) - Kate Hewson
2016
Batman v Superman: Dawn of Justice
as
Ship Voice (voice)
2016
Bling
as
Catherine (voice)
2015
San Andreas: Deleted Scenes (Video short)
as
Emma Gaines
2015
The Brink (TV Series)
as
Joanne Larson
- There Will Be Consequences (2015) - Joanne Larson
- Just a Little Crazy Talk (2015) - Joanne Larson
- Tweet Tweet Tweet (2015) - Joanne Larson
- I'll Never Be Batman (2015) - Joanne Larson
- Baghdad My Ass (2015) - Joanne Larson
- Half-Cocked (2015) - Joanne Larson
2015
San Andreas
as
Emma Gaines
2014
HitRECord on TV (TV Series)
as
Aliens (segment "Destination Trash")
- RE: Trash (2014) - Aliens (segment "Destination Trash")
2013
Doubt (TV Movie)
as
Linda
2013
Man of Steel
as
Kelor (voice)
2012
New Girl (TV Series)
as
Emma
- Bathtub (2012) - Emma
- Eggs (2012) - Emma
- Menzies (2012) - Emma
2012
Hotel Noir
as
Hanna Click
2012
Political Animals (TV Mini Series)
as
Susan Berg
- Resignation Day (2012) - Susan Berg
- 16 Hours (2012) - Susan Berg
- Lost Boys (2012) - Susan Berg
- The Woman Problem (2012) - Susan Berg
- Second Time Around (2012) - Susan Berg
- Pilot (2012) - Susan Berg
2012
Justified (TV Series)
as
A.D. Karen Goodall
- Cut Ties (2012) - A.D. Karen Goodall
2011
Hide (TV Movie)
as
D.D. Warren
2011
New Year's Eve
as
Spiritual Dr. Morriset (segment "Maternity Ward")
2011
Mr. Popper's Penguins
as
Amanda
2011
Californication (TV Series)
as
Abby Rhodes
- -And Justice for All (2011) - Abby Rhodes
- The Last Supper (2011) - Abby Rhodes
- The Trial (2011) - Abby Rhodes
- Another Perfect Day (2011) - Abby Rhodes
- The Recused (2011) - Abby Rhodes
- Lawyers, Guns and Money (2011) - Abby Rhodes
- Freeze-Frame (2011) - Abby Rhodes
- Monkey Business (2011) - Abby Rhodes
- Suicide Solution (2011) - Abby Rhodes
- Exile on Main St. (2011) - Abby Rhodes
2011
Sucker Punch
as
Dr. Vera Gorski
2011
Girl Walks Into a Bar
as
Francine Driver
2011
I Melt with You
as
Officer Boyde
2007
Entourage (TV Series)
as
Amanda Daniels
- Porn Scenes from an Italian Restaurant (2010) - Amanda Daniels
- Hair (2010) - Amanda Daniels
- Bottoms Up (2010) - Amanda Daniels
- First Class Jerk (2008) - Amanda Daniels
- Fire Sale (2008) - Amanda Daniels
- The All Out Fall Out (2008) - Amanda Daniels
- Unlike a Virgin (2008) - Amanda Daniels
- The Return of the King (2007) - Amanda Daniels
- Gotcha! (2007) - Amanda Daniels
- Manic Monday (2007) - Amanda Daniels
- Dog Day Afternoon (2007) - Amanda Daniels
- Less Than 30 (2007) - Amanda Daniels
2010
Tell Tale (Short)
as
Femme Fatale
2010
Elektra Luxx
as
Elektra Luxx / Celia (as Taryn Gugino)
2009
The Mighty Macs
as
Cathy Rush
2009
Apocrypha (Short)
as
Woman
2009
Under the Hood (Video short)
as
Sally Jupiter
2009
Women in Trouble
as
Elektra Luxx
2009
Race to Witch Mountain
as
Dr. Alex Friedman
2009
Watchmen
as
Sally Jupiter / Silk Spectre
2009
The Unborn
as
Janet Beldon
2008
Righteous Kill
as
Karen Corelli
2007
American Gangster
as
Laurie Roberts
2007
Rise: Blood Hunter
as
Eve
2006
Night at the Museum
as
Rebecca
2005
Threshold (TV Series)
as
Dr. Molly Anne Caffrey
- Alienville (2006) - Dr. Molly Anne Caffrey
- Vigilante (2006) - Dr. Molly Anne Caffrey
- Outbreak (2006) - Dr. Molly Anne Caffrey
- The Crossing (2006) - Dr. Molly Anne Caffrey
- Progeny (2005) - Dr. Molly Anne Caffrey
- Revelations (2005) - Dr. Molly Anne Caffrey
- The Order (2005) - Dr. Molly Anne Caffrey
- Pulse (2005) - Dr. Molly Anne Caffrey
- Shock (2005) - Dr. Molly Anne Caffrey
- The Burning (2005) - Dr. Molly Anne Caffrey
- Blood of the Children (2005) - Dr. Molly Anne Caffrey
- Trees Made of Glass: Part 2 (2005) - Dr. Molly Anne Caffrey
- Trees Made of Glass: Part 1 (2005) - Dr. Molly Anne Caffrey
2003
Karen Sisco (TV Series)
as
Karen Sisco
- He Was a Friend of Mine (2004) - Karen Sisco
- No One's Girl (2004) - Karen Sisco
- Dog Day Sisco (2004) - Karen Sisco
- Nobody's Perfect (2003) - Karen Sisco
- Dear Derwood- (2003) - Karen Sisco
- Nostalgia (2003) - Karen Sisco
- Justice (2003) - Karen Sisco
- The One That Got Away (2003) - Karen Sisco
- Dumb Bunnies (2003) - Karen Sisco
- Blown Away (2003) - Karen Sisco
2003
Spy Kids 3: Game Over
as
Ingrid Cortez
2003
The Singing Detective
as
Betty Dark / Hooker
2002
Spy Kids 2: Island of Lost Dreams
as
Ingrid Cortez
2001
The One
as
T.K. / Massie Walsh
2001
She Creature (TV Movie)
as
Lily
2001
The Center of the World
as
Jerri
2001
Spy Kids
as
Ingrid Cortez
1999
Chicago Hope (TV Series)
as
Dr. Gina Simon
- Have I Got a Deal for You (2000) - Dr. Gina Simon
- Everybody's Special at Chicago Hope (2000) - Dr. Gina Simon
- Thoughts of You (2000) - Dr. Gina Simon
- Miller Time (2000) - Dr. Gina Simon
- Devoted Attachment (2000) - Dr. Gina Simon
- Cold Hearts (2000) - Dr. Gina Simon
- Simon Sez (2000) - Dr. Gina Simon
- Painful Cuts (2000) - Dr. Gina Simon
- Gray Matters (2000) - Dr. Gina Simon
- Boys Will Be Girls (2000) - Dr. Gina Simon
- Letting Go (2000) - Dr. Gina Simon
- Faith, Hope & Surgery (2000) - Dr. Gina Simon
- Hanlon's Choice (2000) - Dr. Gina Simon
- The Golden Hour (1999) - Dr. Gina Simon
- The Heart to Heart (1999) - Dr. Gina Simon
- White Rabbit (1999) - Dr. Gina Simon
- Upstairs, Downstairs (1999) - Dr. Gina Simon
- Humpty Dumpty (1999) - Dr. Gina Simon
- Vigilance and Care (1999) - Dr. Gina Simon
- Oh What a Piece of Work Is Man (1999) - Dr. Gina Simon
- Y' Gotta Have Heart (1999) - Dr. Gina Simon
- Team Play (1999) - Dr. Gina Simon
- Curing Cancer (1999) - Dr. Gina Simon
1999
A Season for Miracles (TV Movie)
as
Emilie Thompson
1999
Bonne Nuit (TV Movie)
as
Carol Reeves
1999
Hotel Alexandria (TV Mini Series)
- Il factotum (1999)
- La morte corre su internet (1999)
- L'alibi (1999)
- Gli innocenti (1999)
- Il debito (1999)
- Romeo & Julie (1999)
1996
Spin City (TV Series)
as
Ashley Schaeffer
- It Happened One Night (1998) - Ashley Schaeffer
- Criss Cross (1996) - Ashley Schaeffer
- Dog Day Afternoon (1996) - Ashley Schaeffer
- The Competition (1996) - Ashley Schaeffer
- Meet Tommy Dugan (1996) - Ashley Schaeffer
- The High and the Mighty (1996) - Ashley Schaeffer
- Grand Illusion (1996) - Ashley Schaeffer
- A Star Is Born (1996) - Ashley Schaeffer
- The Rivals (1996) - Ashley Schaeffer
- Pride and Prejudice (1996) - Ashley Schaeffer
- The Apartment (1996) - Ashley Schaeffer
- The Great Pretender (1996) - Ashley Schaeffer
- Pilot (1996) - Ashley Schaeffer
1998
Judas Kiss
as
Coco Chavez
1998
Snake Eyes
as
Julia Costello
1998
Jaded
as
Megan 'Meg' Harris
1996
Wedding Bell Blues
as
Violet
1996
The War at Home
as
Melissa
1996
Homeward Bound II: Lost in San Francisco
as
Delilah (voice)
1995
The Buccaneers (TV Mini Series)
as
Nan St. George
- When Nan (1995) - Nan St. George
- Plunder (1995) - Nan St. George
- Capture (1995) - Nan St. George
- Ambush (1995) - Nan St. George
- Conquest (1995) - Nan St. George
- Invasion (1995) - Nan St. George
1994
Bon Jovi: Always (Music Video short)
as
Carla Gugino
1994
Rebel Highway (TV Series)
as
Leann Morris
- Motorcycle Gang (1994) - Leann Morris
1994
Motorcycle Gang (TV Movie)
as
Leann Morris
1993
Son in Law
as
Rebecca Warner
1992
A Private Matter (TV Movie)
as
Mary Beth
1992
Davis Rules (TV Series)
as
Kathi
- Someone to Watch Over Them (1992) - Kathi
- A Father Makes All the Difference (1992) - Kathi
1992
Quantum Leap (TV Series)
as
Michelle Temple Cutter
- Ghost Ship - August 13, 1956 (1992) - Michelle Temple Cutter
1992
Murder Without Motive: The Edmund Perry Story (TV Movie)
as
Allison Connors
1991
The Wonder Years (TV Series)
as
Sandy
- Triangle (1991) - Sandy
1991
Doogie Howser, M.D. (TV Series)
as
Sara Newman
- Planet of the Dateless (1991) - Sara Newman
1990
Ferris Bueller (TV Series)
as
Ann Peyson
- Stand-In Deliver (1990) - Ann Peyson
1990
Welcome Home, Roxy Carmichael
as
Young Roxy
1990
American Dreamer (TV Series)
as
Young Jessica
- Pilot (1990) - Young Jessica
1989
Falcon Crest (TV Series)
as
Sydney St. James
- Walking Money (1990) - Sydney St. James
- Finding Lauren (1990) - Sydney St. James
- Brotherly Love (1990) - Sydney St. James
- Four Women (1990) - Sydney St. James
- Madness Descending (1990) - Sydney St. James
- Time Bomb (1990) - Sydney St. James
- Danny (1989) - Sydney St. James
- Merry Christmas, Charley (1989) - Sydney St. James
- Luck Wave (1989) - Sydney St. James
- Doctor Dollars (1989) - Sydney St. James
- God of the Grape (1989) - Sydney St. James
1989
Troop Beverly Hills
as
Chica Barnfell
1989
ALF (TV Series)
as
Laura
- Standing in the Shadows of Love (1989) - Laura
1988
Good Morning, Miss Bliss (TV Series)
as
Karen
- Summer Love (1988) - Karen
1988
Who's the Boss? (TV Series)
as
Jane
- Prom Night II (1988) - Jane
Producer
2019
Jett (TV Series) (executive producer - 9 episodes)
- Miljan Bestic (2019) - (executive producer)
- Dillon (2019) - (executive producer)
- Rosalie (2019) - (executive producer)
- Josie (2019) - (executive producer)
- Bennie (2019) - (executive producer)
- Frank Sweeney (2019) - (executive producer)
- Phoenix (2019) - (executive producer)
- Charles Junior (2019) - (executive producer)
- Daisy (2019) - (executive producer)
2010
Tell Tale (Short) (producer)
1998
Judas Kiss (co-producer)
Soundtrack
2012
Hotel Noir (performer: "Shiny Diamonds")
2011
Sucker Punch (performer: "Love Is the Drug")
2010
Elektra Luxx (performer: "All I Wanna Do Is Fall In Love")
1995
The Buccaneers (TV Mini Series) (performer - 1 episode)
- Invasion (1995) - (performer: "Up in a Balloon" - uncredited)
Thanks
2013
Don Jon (the producers wish to thank)
2011
Margin Call (very special thanks)
Self
2022
Hollywood Insider (TV Series)
as
Self
- The Rise and Journey of Shawn Levy - Producer & Director of Enjoyable Cinema (2022) - Self
2021
That Scene with Dan Patrick (Podcast Series)
as
Self - Guest
- Carla Gugino Takes Us Back inside "Hill House" (2021) - Self - Guest
2011
Made in Hollywood (TV Series)
as
Self
- Gunpowder Milkshake/Miracle Workers: Oregon Trail/Virgin River/Lansky (2021) - Self
- The Space Between Us/I Am Not Your Negro/La La Land/Pinocchio Blu-ray/DVD (2017) - Self
- Episode #6.29 (2011) - Self
- Episode #6.20 (2011) - Self
- Episode #6.13 (2011) - Self
2021
The Badass Questionnaire (TV Mini Series documentary)
as
Self
- Carla Gugino (2021) - Self
2004
Live with Kelly and Mark (TV Series)
as
Self - Guest / Self
- Live's Amazing Kids Week - Day 2 (2021) - Self - Guest
- Carla Gugino/Billy Porter/NOTD/Georgia Ku (2019) - Self
- What the Hack? Week - Day Three (2017) - Self - Guest
- Guest Co-Host Josh Gad/Miles Teller/Carla Gugino (2016) - Self - Guest
- Jeremy Piven/Carla Gugino (2015) - Self
2020
Love in Action: A Telethon to Support the LGBTQ Community During Covid-19 (TV Special)
as
Self - Guest
2020
Stars in the House (TV Series)
as
Self
- Night at the Museum - 200th Episode! (2020) - Self
2015
Today (TV Series)
as
Self - Guest / Self
- Episode dated 27 February 2020 (2020) - Self - Guest
- Episode dated 29 July 2019 (2019) - Self - Guest
- Episode dated 31 October 2018 (2018) - Self - Guest
- Episode dated 1 February 2017 (2017) - Self - Guest
- Episode dated 19 May 2015 (2015) - Self
2015
The Tonight Show Starring Jimmy Fallon (TV Series)
as
Self
- Rachel Brosnahan/Carla Gugino/Ty Dolla $ign (2019) - Self
- Aziz Ansari/Carla Gugino/Jeff Dye (2016) - Self
- Jamie Foxx/Carla Gugino/Jamie Foxx feat. Kid Ink (2015) - Self
2019
The IMDb Show (TV Series)
as
Self - Guest
- Carla Gugino (2019) - Self - Guest
2015
Entertainment Tonight (TV Series)
as
Self
- Episode #38.170 (2019) - Self
- Episode dated 27 May 2015 (2015) - Self
- Episode dated 14 May 2015 (2015) - Self
2017
Seven Bucks Digital Studios (TV Series short)
as
Self
- ACTION SCIENCE: The Rock vs. A Tsunami in "San Andreas" (2017) - Self
2017
Harry (TV Series)
as
Self
- "Wolves" Star Carla Gugino/Cooking with Harry's Wife, Jill Goodacre/"Sun Records" Star Billy Gardell/Get It Guide: Fashion Must Haves (2017) - Self
2017
Sidewalks Entertainment (TV Series)
as
Self - Guest
- Ryan, Kyle and Carla (2017) - Self - Guest
2017
On the Scene with Lindalee (TV Series)
as
Self
- The Space Between Us - World Premiere (2017) - Self
2016
The Black Eyed Peas feat. The World: #WheresTheLove (Music Video)
as
Self
2003
Jimmy Kimmel Live! (TV Series)
as
Self / Self - Guest
- Liev Schreiber/Carla Gugino/The Head & the Heart (2016) - Self
- Episode #8.190 (2010) - Self
- Episode #7.47 (2009) - Self
- Episode #6.128 (2008) - Self - Guest
- Episode #2.32 (2003) - Self
2015
San Andreas: Gag Reel (Video short)
as
Self
2015
San Andreas: Dwayne Johnson to the Rescue (Video short)
as
Self
2015
San Andreas: The Real Fault Line (Video short)
as
Self
2015
The Talk (TV Series)
as
Self - Guest
- Guest Co-Hostesses Melissa Rivers, Kelly Osbourne & Carnie Wilson/Carla Gugino/Cindy Williams/Chef Brian Malarkey (2015) - Self - Guest
2015
Janela Indiscreta (TV Series)
as
Self
- Episode #1.277 (2015) - Self
2015
The Late Late Show with James Corden (TV Series)
as
Self
- Carla Gugino/Chris Hardwick (2015) - Self
2008
Up Close with Carrie Keagan (TV Series)
as
Self
- Episode dated 29 May 2015 (2015) - Self
- Episode dated 22 March 2011 (2011) - Self
- Episode dated 11 March 2011 (2011) - Self
- Episode dated 4 March 2009 (2009) - Self
- Episode dated 27 November 2008 (2008) - Self
2005
The Late Late Show with Craig Ferguson (TV Series)
as
Self / Self - Guest
- Episode #8.284 (2012) - Self - Guest
- Carla Gugino/Joe Matarese (2011) - Self - Guest
- Carla Gugino (2011) - Self - Guest
- Episode #7.118 (2011) - Self
- Episode #6.41 (2009) - Self
- Episode #4.46 (2007) - Self
- Episode #2.4 (2005) - Self
- Episode #1.56 (2005) - Self
2011
Chelsea Lately (TV Series)
as
Self - Guest
- Episode #6.109 (2012) - Self - Guest
- Episode #5.43 (2011) - Self - Guest
2009
Late Night with Jimmy Fallon (TV Series)
as
Self
- Episode dated 23 July 2012 (2012) - Self
- Episode dated 10 November 2010 (2010) - Self
- Episode dated 18 May 2009 (2009) - Self
2011
SXSW Flashback 2011 (TV Special)
as
Self
2011
Sucker Punch: Maximum Movie Mode - Exploring the Fantasy World (Video short)
as
Self
2005
The View (TV Series)
as
Self
- Episode dated 9 November 2010 (2010) - Self
- Episode dated 15 November 2005 (2005) - Self
2010
IMDb's 20th Anniversary Star of the Day (TV Series documentary)
as
Self
- Carla Gugino (2010) - Self
2009
Watchmen Focus Point: Girls Kick Ass (Video short)
as
Self
2009
Watchmen Focus Point: Minutemen (Video short)
as
Self
2009
Watchmen: Story Within a Story, the Books of Watchmen (Video short)
as
Self
2009
Race to Witch Mountain: Bloopers (Video short)
as
Self (uncredited)
2009
The Phenomenon: The Comic That Changed Comics (Video documentary short)
as
Self
2005
The Ellen DeGeneres Show (TV Series)
as
Self
- Episode #6.121 (2009) - Self
- Episode #3.13 (2005) - Self
2009
Film '72 (TV Series)
as
Self - Interviewee
- Episode dated 3 March 2009 (2009) - Self - Interviewee
2009
Xposé (TV Series)
as
Self
- Episode #3.114 (2009) - Self
2009
Righteous Kill - The Investigation: An In-Depth Look at 'Righteous Kill' (Video documentary short)
as
Self
2007
The Making of 'Night at the Museum' (Video short)
as
Self / Rebecca
2007
The 61st Annual Tony Awards (TV Special)
as
Self - Presenter
2006
Reel Comedy (TV Series)
as
Self
- Night at the Museum (2006) - Self
2006
A Night at the Museum with McFly (TV Movie)
as
Self
1998
Late Night with Conan O'Brien (TV Series)
as
Self - Guest / Self
- Episode #14.61 (2006) - Self
- Harry Connick Jr./Carla Gugino (2001) - Self - Guest
- Jimmy Buffett/Carla Gugino/Dwayne Kennedy (1998) - Self - Guest
2006
In the Cutz (TV Series)
- Xmas in March-. (2006)
2004
Late Show with David Letterman (TV Series)
as
Self / Self - Guest
- Episode dated 18 November 2005 (2005) - Self
- Episode #12.4 (2004) - Self - Guest
2005
CBS Cares (TV Series)
as
Self
- Episode dated 1 January 2005 (2005) - Self
2002
Last Call with Carson Daly (TV Series)
as
Self / Self - Guest
- Episode dated 3 September 2004 (2004) - Self
- Carla Gugino/Heather Mitts/Filter (2002) - Self - Guest
2002
Jet Li Is 'the One' (Video documentary short)
as
Self - various roles
2002
The Late Late Show with Craig Kilborn (TV Series)
as
Self
- Episode dated 2 August 2002 (2002) - Self
2001
The Rosie O'Donnell Show (TV Series)
as
Self
- Episode dated 19 March 2001 (2001) - Self
1998
The Daily Show (TV Series)
as
Self
- Carla Gugino (1998) - Self
1998
The Tonight Show with Jay Leno (TV Series)
as
Self
- Episode #6.139 (1998) - Self
Archive Footage
2021
Salty Cracker (TV Series)
as
Self
- Alec Baldwin Just Shot & Killed a Crew Member On Set - "Accidently" (2021) - Self
2021
Live with Kelly and Mark (TV Series)
as
Self
- Emily Blunt/Carla Gugino/Laurie Gelman (2021) - Self
2019
Entertainment Tonight (TV Series)
as
Self
- ET Cast Reunions & Milestones! (2020) - Self
- ET Biggest TV and Movie Reunions (2019) - Self
- Episode #38.192 (2019) - Self
- Episode #38.191 (2019) - Self
- Episode #38.174 (2019) - Self
2017
Hoy nos toca (TV Series)
as
Self
- Episode dated 2 March 2017 (2017) - Self
2016
Superheroes Who Have Been Nude (Video short)
as
#12 - Sin City (2005)
1999
Spin City (TV Series)
as
Ashley Schaeffer
- That's Entertainment (1999) - Ashley Schaeffer
References
Carla Gugino Wikipedia
(Text) CC BY-SA