Carl Wendle Morton (January 18, 1944 – April 12, 1983) was a starting pitcher in Major League Baseball who played for the Montreal Expos (1969–72) and Atlanta Braves (1973–76). He threw (and batted) right-handed. In an eight-season professional career, Morton posted an 87–92 record with 650 strikeouts and a 3.73 ERA in 1648.2 innings.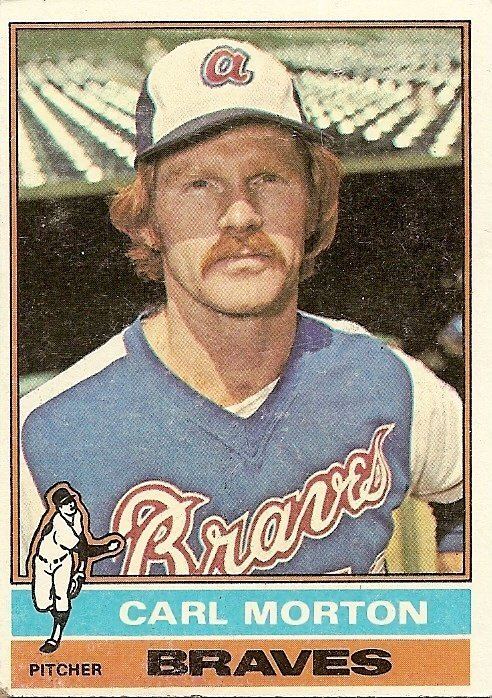 Carl Wendle Morton, a native of Kansas City, Missouri, grew up in West Tulsa, where he played baseball on the same Webster High School team as future major-leaguer Rich Calmus. Morton went on to play outfield for the University of Oklahoma.
Morton started his pro career as an outfielder in the Atlanta Braves organization and later converted to a pitcher. He was selected by the Montreal Expos in the 1968 expansion draft.
In 1970, Morton compiled an 18–11 record for the last-place Expos and was the National League Rookie of the Year, chosen over Bernie Carbo, Larry Bowa and César Cedeño. That same year he also received the Sporting News Rookie of the Year Award, becoming the first Montreal player to receive the honors. He also pitched 10 complete games, including four shutouts, and compiled a 3.60 ERA.
But Morton was never able to recapture the same success for the rest of his stint in Montreal. Plagued by low run support, he went 10–18 in 1971 and slipped to 7–13 in 1972. Then he was shipped back to the Braves before the 1973 season.
In Atlanta, Morton strung together three consecutive 15+ win seasons for mediocre Braves teams, with a high 17 victories in 1975. A year later, he won only four games.
Morton finished his career in the minors, pitching for the Rangers, Phillies and Pirates Triple-A teams until 1978.
Morton died on April 12, 1983 in Tulsa, Oklahoma, of a heart attack after jogging.