Carl Brutananadilewski is a fictional character on the Adult Swim animated television series Aqua Teen Hunger Force (also known by various alternative titles) and the online series Carl's Stone Cold Lock of the Century of the Week. Carl is a short-tempered, vulgar, tacky, ignorant and sarcastic man who is often the victim of the villainous plots or the antics of Master Shake or Meatwad, and he is frequently subject to non-canon deaths. Carl was created and designed by series creators Dave Willis and Matt Maiellaro, and Willis provides his voice. Carl's interests are in sports (big New York Giants fan), pornography, and the bands Foreigner, Loverboy, Foghat, and Boston, especially their song "More Than a Feeling". Willis has called him a stereotype of men in general.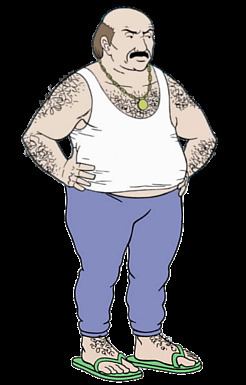 Like the other main characters, Meatwad, Frylock, and Master Shake, Carl made his first official appearance in the show's first episode, "Rabbot". Carl was voiced by MC Chris as an eight-year-old in "Cybernetic Ghost of Christmas Past from the Future" and was performed in the season six episode "Last Last One Forever and Ever" as a live action person by David Long, Jr., who had won a contest through Burger King for the role. As of 2007 the character has hosted Carl's Stone Cold Lock of the Century of the Week, an online sports commentary series on the Adult Swim website. Carl has appeared in several video games and albums related to the series, including the 2007 film Aqua Teen Hunger Force Colon Movie Film for Theaters.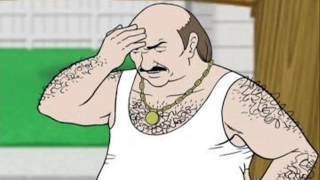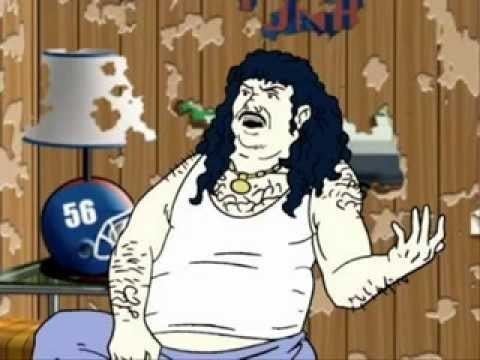 Carl Brutananadilewski lives next door to Master Shake, Frylock, and Meatwad in a suburban neighborhood in South New Jersey, which is identified as Seattle, Washington during the eleventh season, and later Seattle, New Jersey. Carl has a strong dislike of Master Shake, Frylock and Meatwad, he regularly lashes out at them and sometimes refers to them as "animals", among other insults. On rare occasions he gets along with them, and shows a nice attitude for them. He is often the victim of the villainous plots or the antics of Master Shake or Meatwad, and he is frequently subject to non-canon injury and/or death.
He has a strong passion for sports (His favorite NFL team is the New York Football Giants) and knows several stats off the top of his head. He is also a fan of various bands such as Foreigner, Loverboy, and Boston, with their song "More Than a Feeling" being his favorite song. Carl has a car he named "2Wycked," which is a heavily modified Dodge Stealth. 2Wycked was purchased with a home equity loan which Carl thinks is worth the risk from this faulty endeavor due to imagined increased female interest. Carl owns his own personal above ground pool in his backyard, which causes him irritation when used by his neighbors uninvited. In later seasons he owns a 21-inch plasma screen television, which appears extremely tiny when mounted to his wall. His property is frequent subject to non-canon destruction.
Specifics about his occupation have never been established; when asked about it in "Rabbot," he claims to "work out of the home." In the episode "Moonajuana," Carl told Frylock that he used to work at a Styrofoam peanut factory. The episode "Gene E" revealed that Carl studied "elevator repair," and in another episode he is seen trying to sell cheap counterfeit clothing made by Chinese immigrants. One of the Internet shorts revealed that Carl sells unauthorized Slippery When Wet beer koozies out of his basement. Carl has said that he works for 20 hours a week. Carl's expenses are divided between Chinese food, beer and strippers.
Carl's age is never officially determined. In "Remooned" it is revealed that Carl was born on February 19, 1961, when drivers license is briefly seen. Carl is not typically depicted as being religious. In the season four episode "Handbanana," it is implied that Carl might have faith in God, when he states, "I don't know if I believe in God, but I think he must hate me. Because he allowed you to create a dog that constantly rapes me!" Carl has also stated that he was Catholic in an episode of Carl's Lock.
Carl is the son of a cruel father who worked in a carpet factory, and made him work there as a child, even on Christmas. His father was also the former star of a series of amateur porn videos on VHS that Carl owns and treasures. Carl's mother lives at a VA Hospital, and occasionally asks him for very small amounts of money such as $10 for food, which Carl immediately dismisses. Carl sometimes loses tolerance when she asks him for favors, but has been shown on occasions that he genuinely loves her.
Carl has a cousin named Terry, an illegal plastic surgeon who is an ex-con and is in the Mafia, who he occasionally gambles with. Carl also has a second-cousin named Denese, who once gave a handjob to Meat Loaf, and is now a single mother with whom Carl often berates out of misguided affection. In the episode "Mail Order Bride" he and Master Shake were both briefly married to a mail-order bride from Chechnya named Svetlana, who quickly runs off after the marriage. In "Big Bro" he accidentally impregnates a woman named Darlene, and later fakes his own death to avoid responsibility, leaving Frylock to raise his illegitimate son (which has never been seen or mentioned in later episodes).
Carl Brutananadilewski was created and designed by series creators Dave Willis and Matt Maiellaro. Carl made his first appearance in the first episode of the series entitled "Rabbot". "Rabbot" originally aired on Cartoon Network on December 30, 2000, as part of a preview of upcoming Adult Swim shows. The episode later made its official television debut on September 16, 2001. The voice of Carl Brutananadilewski has been provided by Willis throughout the entire series and other official appearances he has made, with the exception of one episode in season 2 in which he was voiced by Bryan Scordino. While "Brutananadilewski" is the common spelling of his name, his name can also be spelled as "Brutanunanulewski".
Carl Brutananadilewski is the only main character who is a human. Carl wears blue sweatpants, a white tank top, flip flops, and a golden chain. Carl has a mustache and is overweight, balding, and has hair all over his body, even on the bottom of his feet.
David Long, Jr. provided a live action interpretation of Carl in "Last Last One Forever and Ever", and appears exactly as he does as an animated character, unlike the other main protagonists who look significantly different as living beings. In Carl's Stone Cold Lock of the Century of the Week his attire is notably different than in the series. His tank top is red, white, and blue with a "1" on it and his sweatpants are a darker blue with black stripes on them, similar to Zubaz.
As of 2007, Carl hosts his own online series on the Adult Swim website, entitled Carl's Stone Cold Lock of the Century of the Week. Each episode includes him ranting on about his comments and feelings on sports, among other topics, and also features his "Stone Cold Lock of the Century of the Week", where he talks about current issues in the NFL. The series takes place in Carl's living room, which is full of sports related merchandise and his oversized entertainment center. Carl's internet series was originally titled Carl's Pissed in the first season, but was changed to Carl, by the second season. All episodes of Carl from season one, except "Super Bowl '09 Odds", were released as a special feature on the Aqua Teen Hunger Force Volume Six DVD on December 16, 2008.
Carl's Stone Cold Lock of the Century of the Week used to appear on the SVP & Russillo show on ESPN radio in the 2:00 to 3:00 PM EST block every Friday during football season and is simulcast on ESPNEWS. Scott Van Pelt, one of the show's hosts, is a fan of Aqua Teen Hunger Force. However, the series now airs Fridays during the midnight version of SportsCenter (also hosted by Scott Van Pelt) on ESPN.
In a 2008 IGN interview, Patrick Kolan said "Carl is one of TV's all-time great every-man characterizations. We all know somebody just like him, and they rarely wear pants".
Common Sense Media describes Carl as being "probably one of the worst role models on TV."
Carl serves as a protagonist in Aqua Teen Hunger Force Colon Movie Film for Theaters, a 2007 feature film based on the series. Carl's voice also appears on the film's soundtrack, and the 2009 series album Have Yourself a Meaty Little Christmas. Carl also appears in the video game Aqua Teen Hunger Force Zombie Ninja Pro-Am. The cowpunk band Nine Pound Hammer composed a single completely devoted to Carl entitled "Carl's Theme", which is featured in the credits of the film.
Carl makes a cameo appearance in the video game Grand Theft Auto V, as an angry caller on the in-game radio station FlyLo FM. Carl has appeared in promotional videos for KFC and Carl's Jr..