Captain morgan black spiced rum 1
Captain Morgan is a brand of rum produced by alcohol conglomerate Diageo. It is named after the 17th-century Welsh privateer of the Caribbean, Sir Henry Morgan who died on 25 August 1688. Since 2011, the label has used the slogan "To Life, Love and Loot."
Contents
Captain morgan commercial
History
In 1944, the Seagram Company started producing rum under the name Captain Morgan Rum Company.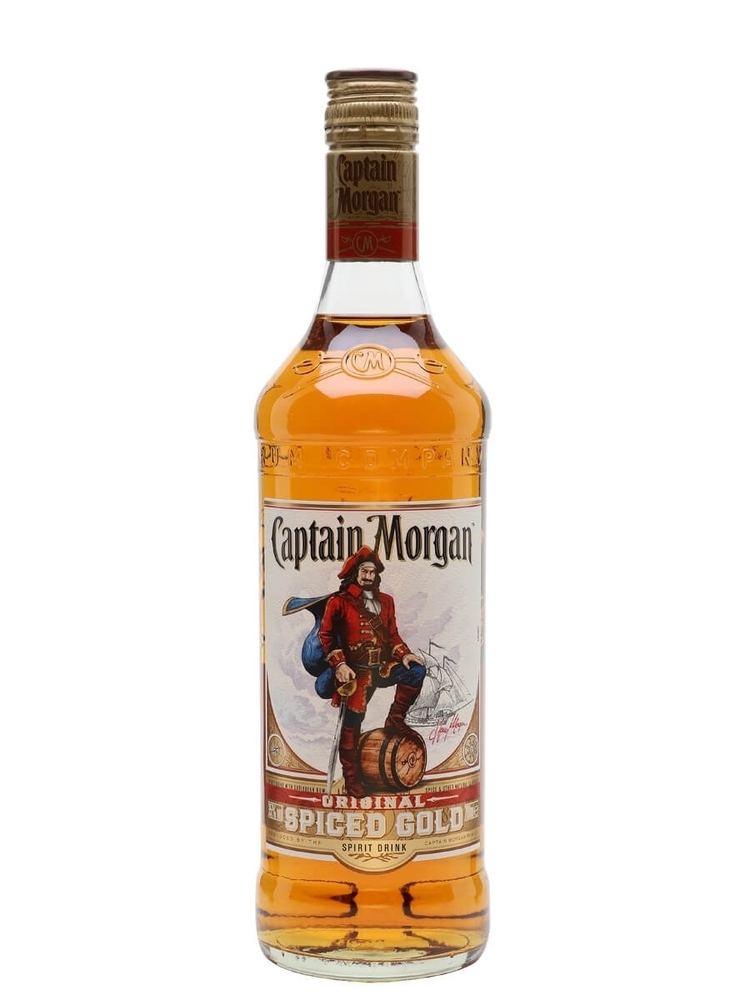 Seagram CEO Samuel Bronfman purchased a distillery named Long Pond from the Jamaican government. Among the buyers of raw rum from the Long Pond distillery was a Kingston pharmacy named Levy Brothers. The Levy family had been purchasing raw rum, adding medicinal herbs and spices, aging, and bottling it. Bronfman liked the rum product and bought the rights to it.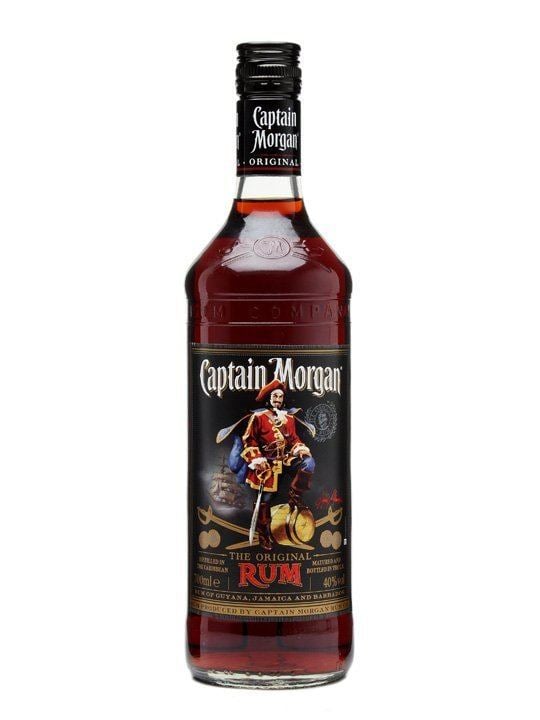 In the 1950s the governments of both the United States and its Puerto Rico commonwealth territory instituted a number of job creation programs in Puerto Rico. Taxes on rum entering the contiguous 48 states from Puerto Rico were made lower than those on rum coming from foreign countries. At this time both Seagram's and the Bacardi family built large new plants near San Juan. In 1985, Seagrams sold its rum distillery and manufacturing facilities in Camuy and Arecibo—and doing business as Puerto Rican Destillers—to Destilería Serrallés, a Puerto Rican concern that had been producing the Don Q brand in Puerto Rico since 1865. As part of the contract Seagrams also licensed to Serralles the rights to produce and distribute the "Captain Morgan" brand in Puerto Rico and the rest of the Caribbean until 2012.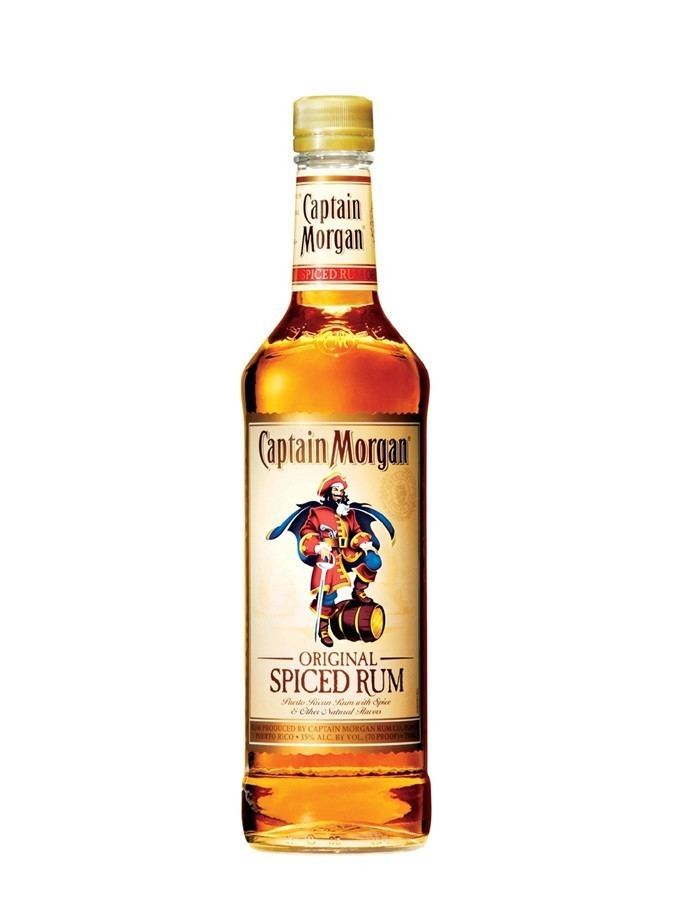 In 2001, Seagrams sold the "Captain Morgan" brand to Diageo. Diageo made an announcement on 24 June 2008, that it intends to build and operate a new rum distillery on St. Croix, Virgin Islands beginning in 2010 and to source from it beginning at the end of their current supply contract in 2012.
In 1984, Captain Morgan Original Spiced Rum was introduced to the United States. Captain Morgan is, by volume, the second largest brand of spirits in the United States, and the seventh largest worldwide. In 2007, 7.6 million 9-liter cases were sold. Most Captain Morgan rum is sold in the United States, Canada, Great Britain, South Africa, and Global Travel.
In November 2009, the NFL banned a covert ad campaign, allegedly put on by Diageo. It was understood that for each NFL player striking the "Captain Morgan" pose on camera during a regular season game, Diageo would donate $10,000 to the Gridiron Greats (a non-profit which helps retired NFL players with various hardships after leaving the game). The league made this announcement following such a celebration by Brent Celek of the Philadelphia Eagles.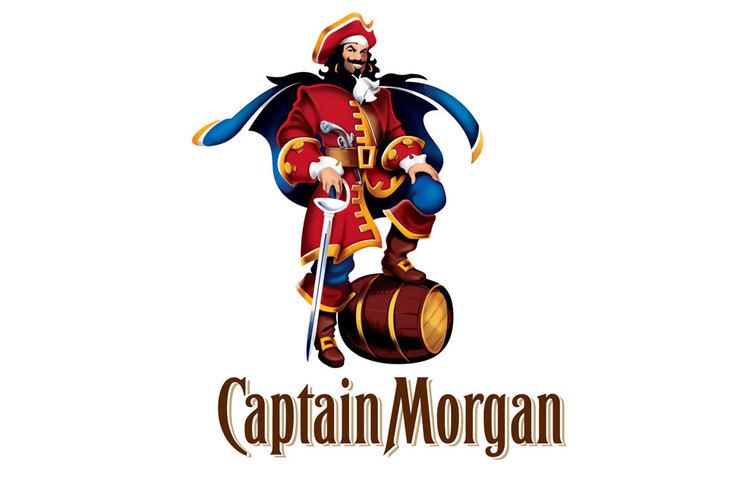 In 2010 two American territories, Puerto Rico and the United States Virgin Islands bickered over plans for the Captain Morgan to move operations to the U.S.V.I under tax incentives. The matter came to a head when it created a debate in the United States Congress over the USVI's attempt to use tax benefits to lure the company to that territory.

In 2011, to bring it into line with the international version, Morgan's Spiced in the UK was rebranded as Captain Morgan's Spiced. This was accompanied by a large media campaign and parties hosted around the UK in clubs and bars to advertise the new rum. The "Captain Morgan" mascot was introduced along with "Morganettes".
The likeness of the Captain Morgan character was created by award winning artist Don Maitz.
Distillation process
Captain Morgan's Rum is distilled from sugar cane. The combination of the type of yeasts employed for fermentation, distillation method, aging conditions, and blending determines the characteristic flavor of rum. Made with molasses, water, mash and yeast, Captain Morgan Original Spiced rum is distilled in a continuous still. Once distilled, the clear spirit is aged in oak barrels for up to a year, adding a golden color and character to the rum before the flavors and spices are added. The brand's taste is achieved through a proprietary recipe, which is blended into the rum mixture at the final stages of production, making use of spices indigenous to the Caribbean Islands.
Varieties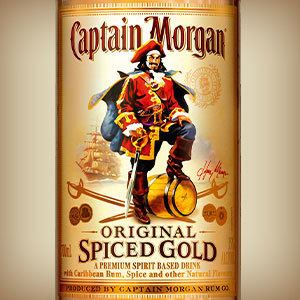 Black - The original Captain Morgan rum, this is a full-bodied blend of pot and continuous still rums from Jamaica, Guyana & Barbados aged in oak, has a dark colour and distinctive rich taste. Available only in the United Kingdom, Germany, Scandinavia, South Africa, and some other countries. Packaged in a traditional Captain Morgan bottle with a black label highlighting the words "Jamaica Rum". 100 proof (USA - 80 proof)
Black Spiced Rum - Crafted from Caribbean Blackstrap rum and select ingredients, including "rich clove spice and premium cassia bark ... finished with double charred blackened oak for a premium, smooth taste". Advertised as a bold alcohol that carries the taste of cinnamon and clove, followed by "hints of warm spice and vanilla for a smooth finish". Only available in the USA, Canada, and Australia. Packaged in a distinct stout-bodied clear-glass bottle with a white label printed on both sides. 94.6 proof (Australia - 80 proof)
Dark Rum - A blend of Caribbean and Canadian Rum. 80 proof
Deluxe Dark - A blend of dark Caribbean rums, aged in white oak barrels, only available in Canada. 80 proof
Lime Bite - A silver lime-spiked spiced rum. 70 proof
Limited Edition Spiced - Similar to Spiced Gold. 70 proof
Long Island Iced Tea - A pre-mixed cocktail of rum, vodka, whiskey, gin and triple-sec liqueur. Only available in the USA and Canada. 35 proof
Original Spiced - Aged Caribbean rum, with spices and other natural flavours. 70 proof
Original Spiced Gold - A blend of rum and other spirits. Mellow aged and enhanced with fruit flavours, spices, and a heavy touch of vanilla. 70 proof
Parrot Bay - White rum offered in a variety of flavourings including coconut, key lime, mango, orange, passion fruit, pineapple and strawberry. This range appears to have been introduced to compete with the flavoured vodkas in mixed cocktails. 42 proof (formerly 48). Also offered in a 90 proof version of the coconut flavour.
Private Stock - Rich, dark and full-bodied, blends hints of island spices with a smooth texture. Packaged in a distinctive squat bottle with a small label. 80 proof
Silver Spiced - Aged in oak barrels for over a year, with a smooth taste and a well-rounded, vanilla character. 70 proof
Tattoo - An extra-dark, lower-proof rum with fruit flavours described as berry or citrus, introduced to compete with Jägermeister for market share. Unavailable in Canada. 70 proof
White Rum - A five times distilled rum that is aged in white oak barrels for over a year, and then filtered to remove the color. Only available in the USA and Canada. 80 proof
White Rum flavoured - White Rum in a variety of flavourings including coconut, grapefruit & pineapple. 70 proof
100 Proof - The highest alcoholic content of the Captain Morgan line of drinks. Closest relation is Captain Morgan's Original Spiced Rum. 100 proof
1671 - A smooth, dark sipping rum. 70 proof
Cannon Blast - A sweet citrus flavored rum, often used for a shot. 70 proof
Sherry Oak - A limited edition rum with either sherry oak chips soaked in it, or some sherry has been added 70 proof
In popular culture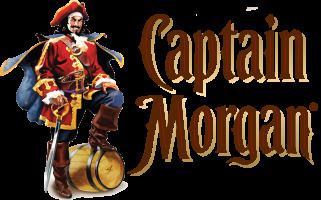 Before and after the 2015 SummerSlam event, John Cena used the brand as a nickname for Seth Rollins (the WWE World Heavyweight Champion) on WWE's Monday Night Raw show. In 2016, Diageo created special limited edition bottles to commemorate Wes Morgan captaining Leicester City F.C. to the 2015-16 Premier League title.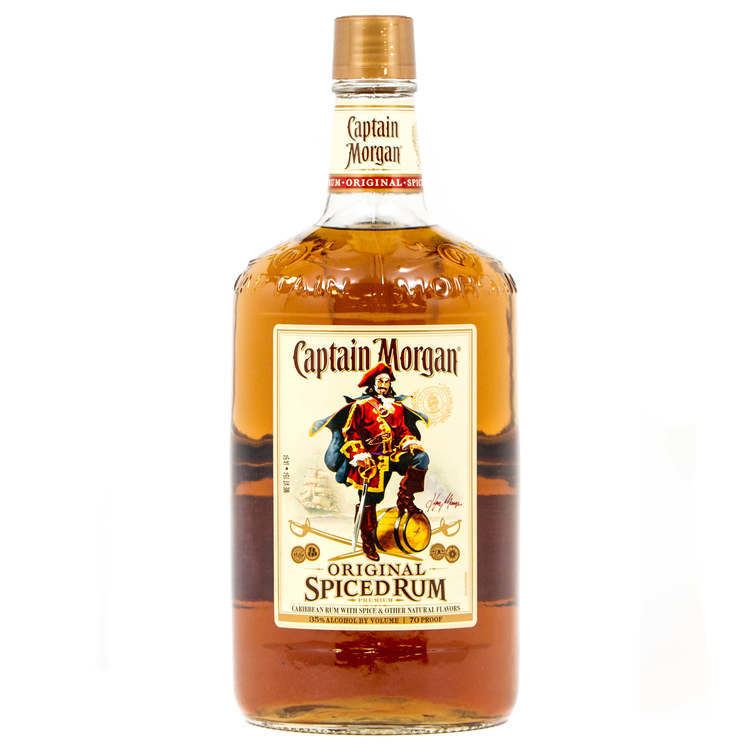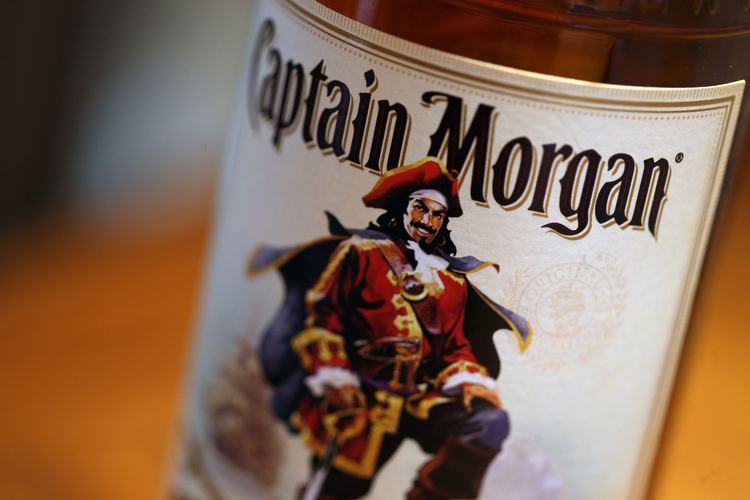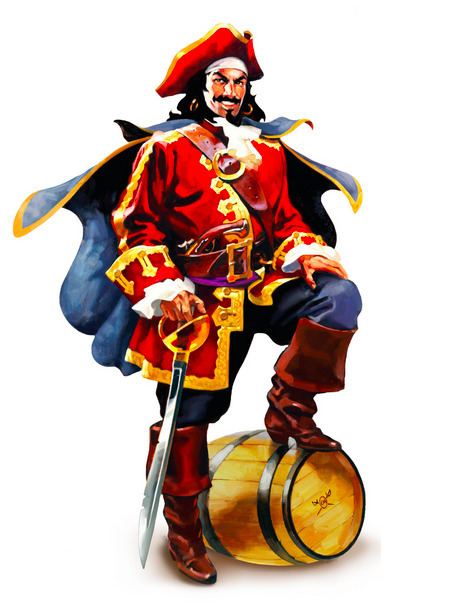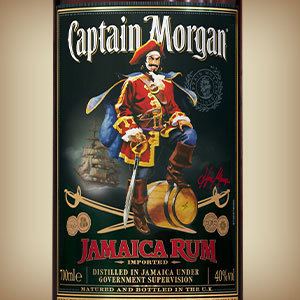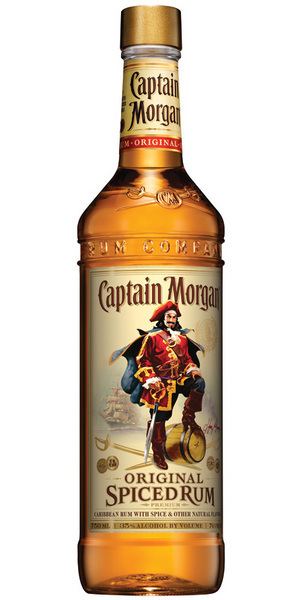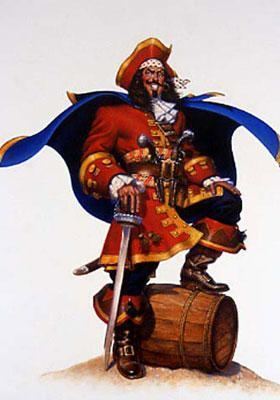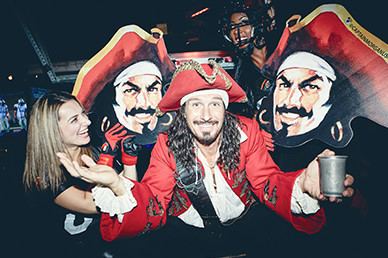 References
Captain Morgan Wikipedia
(Text) CC BY-SA