Morris died in prison in March 2014, aged 84, after serving 45 years, by which time he was one of Britain's longest-serving prisoners.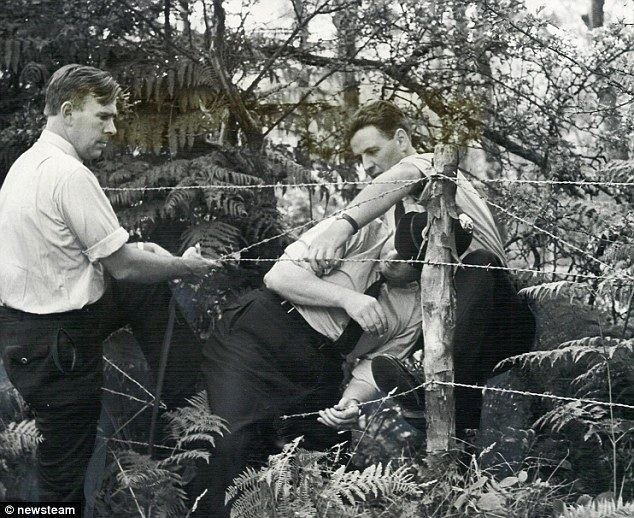 Raymond Leslie Morris was born on 13 August 1929 in Walsall, Staffordshire. He lived in Walsall his entire life and was reported to have an IQ of 120. Morris went through a variety of jobs before landing a position as a foreman engineer at a precision instruments factory in Oldbury, West Midlands, in 1967. In 1951, he married 'the girl next door", who was two years younger than him, and fathered two boys. He kicked her out of the house after eight years of marriage, then divorced her on the grounds of adultery when she had another man's child. Morris's first wife would later describe him as a man with a need to express violent sexual dominance. At the age of 35, Morris was married again, this time to a 21-year-old woman named Carol. He had been suspected of taking indecent photographs of schoolgirls in October 1966, though he was not arrested as police failed to find any evidence. At the time the A34 murders were committed, Morris and his wife lived at Flat 20, Regent House, Green Lane, Walsall – a council-owned flat in Birchills, directly opposite the police station.
On 1 December 1964, 9-year-old Julia Taylor was lured into a car in Bloxwich by a man claiming to be a friend of her mother. The girl was sexually assaulted, strangled and left for dead, and was only saved from exposure after she was spotted by a passing cyclist.
On 12 January 1966, the bodies of Margaret Reynolds, age 6, and Diana Joy Tift, age 5, were found together in a ditch at Mansty Gully on Cannock Chase in Staffordshire. Reynolds went missing on her way to school in Aston, Birmingham, on 8 September 1965, and Tift went missing on a short walk to her grandmother's house in Bloxwich on 30 December that year. Two thousand people searched for Reynolds in the hours following her disappearance.
On 22 August 1967, a soldier who was a member of a search party found the sprawled, naked body of seven-year-old Christine Darby beneath brushwood only a mile away from where Reynolds and Tift were discovered. Christine had been enticed into a car by a strange man near her home in Camden Street, Caldmore, Walsall, on three days earlier. Witnesses in Walsall explained that they saw a man in a grey car who spoke in a local accent, while two others who had been on Cannock Chase remembered seeing a grey Austin A55 or A60.
The three murders were similar in that each victim was determined to have been coaxed into a car while near her home, then murdered after being sexually assaulted. Darby, Reynolds, and Tift lived within a seventeen-mile radius of each other and near the A34 road that passes through Cannock Chase. Furthermore, a 10-year-old girl named Jane Taylor had been abducted while riding her bicycle in the village of Mobberley in August 1966, and investigators could not disprove her disappearance was linked to what were colloquially known as the "A34 murders".
The murders were collectively known as the "A34 murders" or "Cannock Chase murders". The murders sparked one of the biggest murder investigations in British criminal history. The manhunt was larger than that of the infamous Moors murders. Prior to making an arrest, 150 detectives visited 39,000 homes, interviewed 80,000 people and checked over a million car forms. Culling 25,000 vehicles from 1,375,000 files, investigators checked every Austin A55 and A60 in the Midlands. The hunt for the Cannock Chase murderer was led by Sir Stanley Bailey, Staffordshire's Assistant Chief Constable at the time. A facial composite was used for the first time in British criminal history, and though no one came forward to identify anyone on the basis of the drawing, when police eventually arrested Morris they were struck by his resemblance to the picture.
On 4 November 1968, at Bridgeman Street at the junction with Queen Street, Walsall, 10-year-old Margaret Aulton escaped from a man who attempted to force her into his green and white Ford Corsair. This incident was witnessed by an 18-year-old woman who made a mental note of the vehicle registration plate. The police were called, who in turn called out the local vehicle registrations officer for Walsall. The woman had mixed up two of the numbers from the registration she had remembered. The police played around with the numbers and located a local record for a green and white Ford Corsair which was registered to Morris. Morris was arrested in connection with the attempted abduction. The police were aware that Morris, who had been interviewed four times in four years, had owned a grey Austin A55 similar to the one used in the abduction of Darby. He had been considered a suspect in Darby's death, but his wife provided him with an alibi by stating that the couple were shopping together the day she went missing. A police search of the Morris flat uncovered pornographic photographs of a young girl who was later determined to be Carol Morris's five-year-old niece. Scotland Yard detectives arrested Raymond Morris for Darby's murder on 16 November 1968. Two charges of indecent assault on the niece and one for the attempted abduction of Aulton would also be filed against Morris.
Carol Morris would eventually become the chief witness for the prosecution and retract what she had initially told investigators about shopping on the day of Darby's murder. During the trial, at Stafford Crown Court, Inspector Pat Molloy reported that when charged with murder Morris had said "Oh God. Was it the wife?"; Morris denied making such a statement, and alleged that he had been beaten in police interrogations.
On 18 February 1969, Raymond Leslie Morris was found guilty of the rape and murder of seven-year-old Christine Darby, with bthe jury deliberating for less than two hours before reaching their verdict. He was sentenced to life imprisonment. (During the trial, a now teenage Julia Taylor was removed from the public gallery after crying out "That's him. That's the man that did it to me.")
Although convicted only of murdering Christine Darby, Morris is considered the chief suspect in the deaths of both Reynolds and Tift, despite a lack of sufficient evidence for him to be charged with either murder. Reynolds's relatives consider Morris to be her killer. After the trial, it was discovered that his brother had entered Cannock police station stating that he believed Morris to be capable of abducting the two girls, whose bodies had yet to be found. However, as he had no evidence his statement had been marked 'No Further Action' and due to a filing error this incident was not discovered until after the trial.
In November 2010, Morris was granted a judicial review of the refusal of the Criminal Cases Review Commission not to refer his case to the Court of Appeal, in a bid to overturn his conviction. A statement from Morris's defence team said:
The application for a judicial review is the first stage in his attempts to have the matter referred back to the Court of Appeal after 42 years in prison. If Morris's conviction was overturned it would be the longest running miscarriage of justice in British history. It might also potentially mean that a child murderer had remained at large for more than 40 years during Morris's incarceration.
However, Mr. Justice Simon rejected the judicial review and Morris later indicated that he had abandoned any further appeal.
Raymond Leslie Morris died at HMP Preston health facility of natural causes on 11 March 2014. He was aged 84 at the time of his death, and had spent the final 45 years of his life in prison. He was reportedly issued with a whole life tariff by a Home Secretary or High Court judge at some stage, although this was never confirmed by the Home Office. By the time of his death, he was one of the oldest and longest-serving prisoners in England and Wales. The only known prisoner to have remained in custody longer is Moors Murderer Ian Brady, who was jailed three years earlier, and who died in 2017.
Morris has been dubbed the Cannock Chase murderer. A 1971 book compared and analysed various English newspapers' handling of the widely reported discovery of Reynolds's and Tift's remains. Morris was featured in a 1995 report in Central Independent Television's crime magazine series Crime Stalker and a 2004 documentary of the Cannock Chase murders was televised on the ITV series To Catch A Killer. Morris and the Cannock Chase murders are referred to in David Peace's novel Nineteen Seventy-Four and the Channel 4 adaptation, Red Riding.